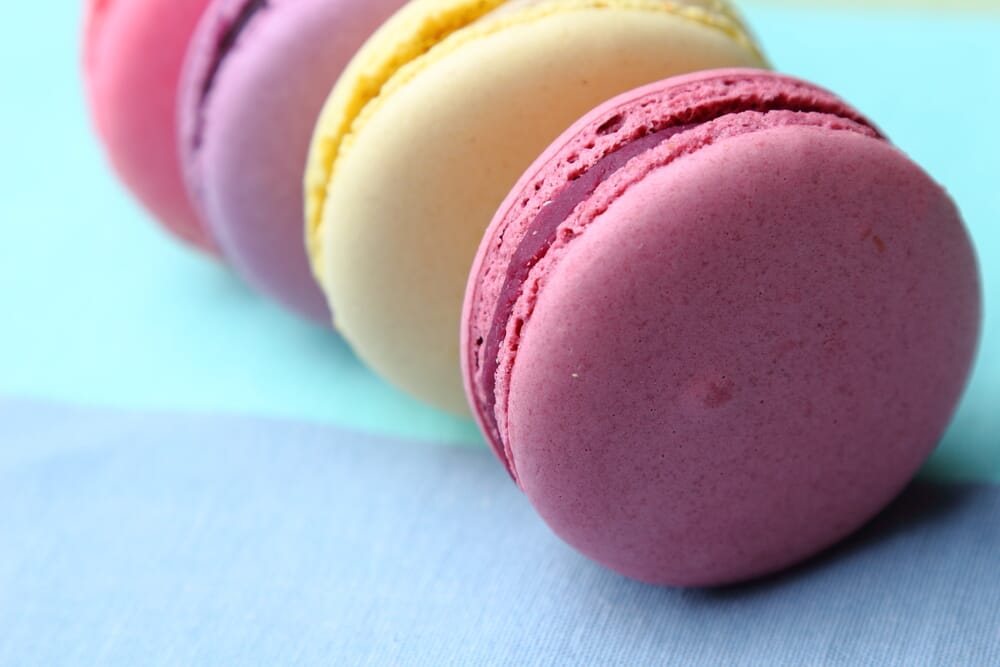 PARIS, France – There is no sweeter way to spend a Sunday in Paris than this: sugar-crumbing your lips with macarons at Ladurée Pâtisserie. 
For those of you who don't know your macarons from your marbles, let me help.
Le macaron is the ultimate in luxury Parisian sweet-treat; made from two soft, colourful meringue shells, glued delicately together with a whip of buttercream, ganache or jam.
And the ultimate place to sink your lips into a macaron is the world-famous tea-room, Ladurée Pâtisserie.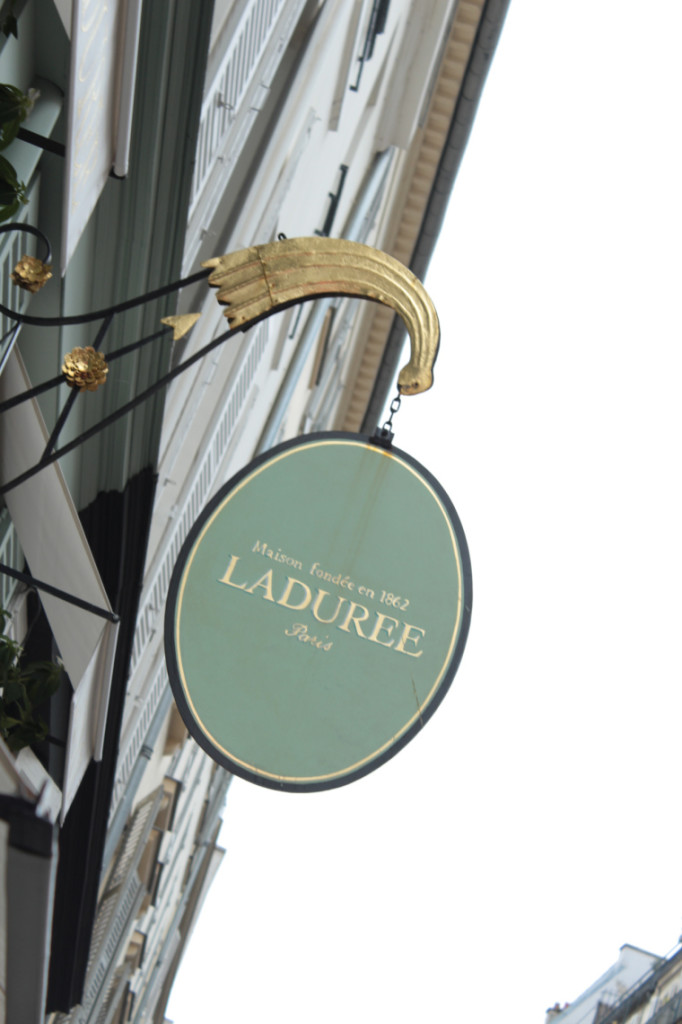 Ladurée has been in Paris since the 1862 when it was established by Louis-Ernest Ladurée as a chic Parisian meeting place.
But it was in the 1930s that Ladurée's grandson, Pierre Desfontaines, had the idea of sticking two macaron shells together.
The rest, as they say, le histoire.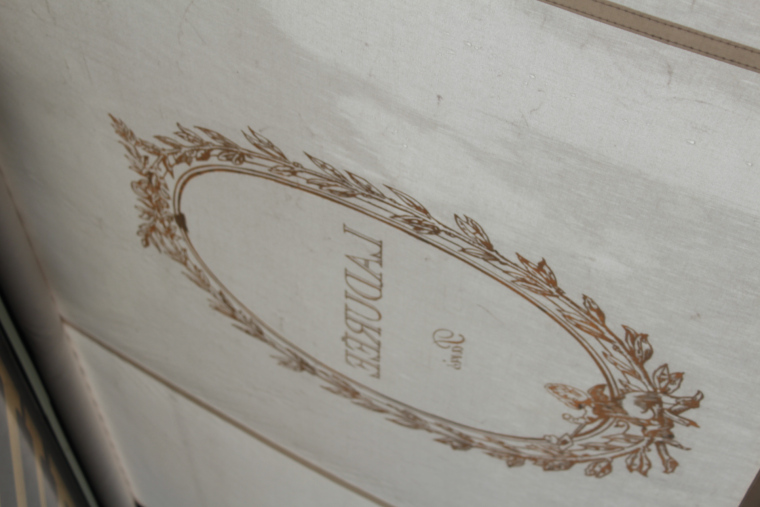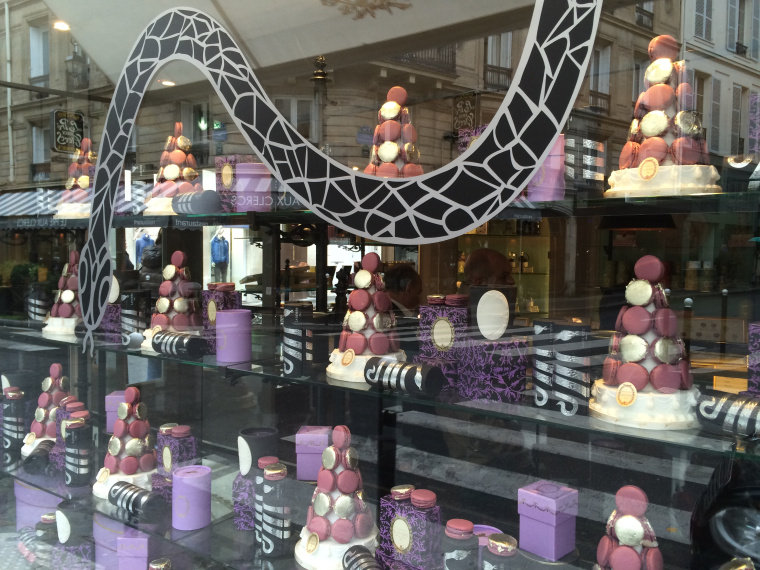 For your Sunday in Paris, there are 3 Ladurée options to choose from: Ladurée on the Avenue des Champs-Élysées; Ladurée on Rue Royale (the site of the original Ladurée bakery); and the one I snuck into on my Sunday in Paris, 21 Rue Bonaparte.
I'd advise giving the Avenue des Champs-Élysées Ladurée a wide berth – the queues are long and the tourists a-plenty.
Head instead to Rue Bonaparte or Rue Royale – these affluent Parisian neighbourhoods offer peace away from the crowds, especially on a Sunday.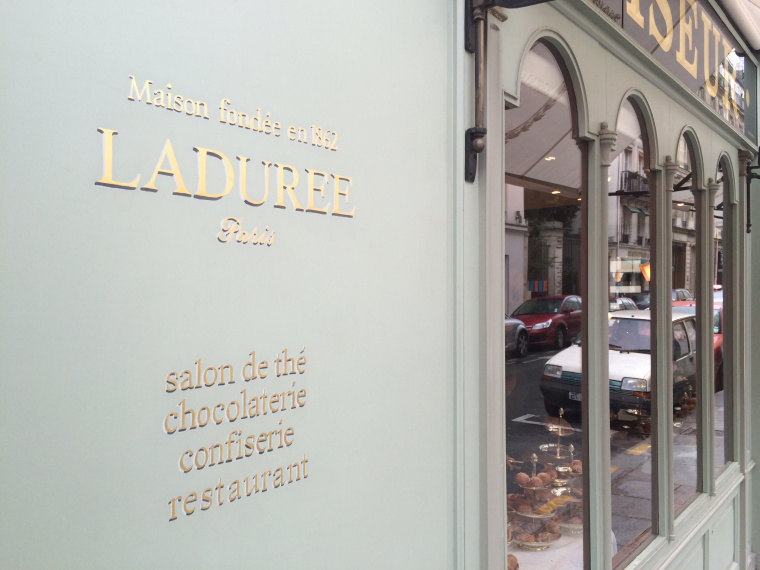 The stoopid pink hat is optional.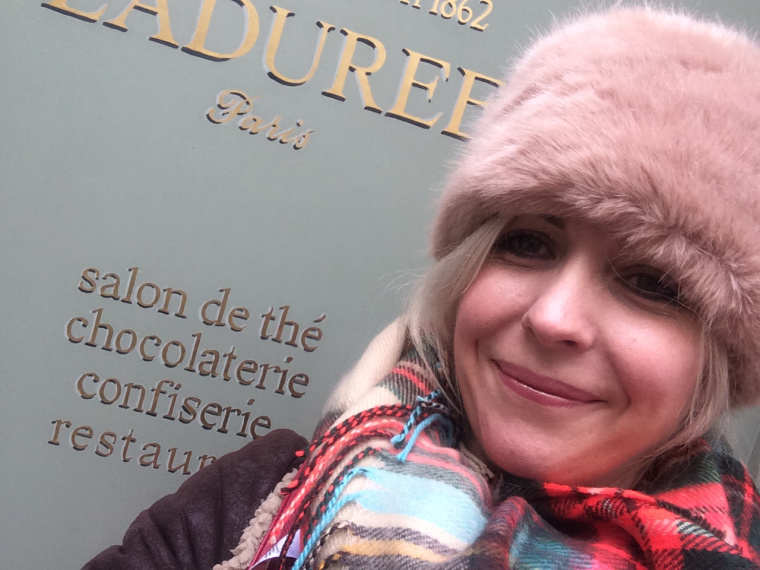 Once inside, it's hard not to swoon over the kaleidoscope of goodies in front of you.
The pastries and macarons are achingly pretty and artful, and the room itself is a dizzying swirl of pastel green and gold.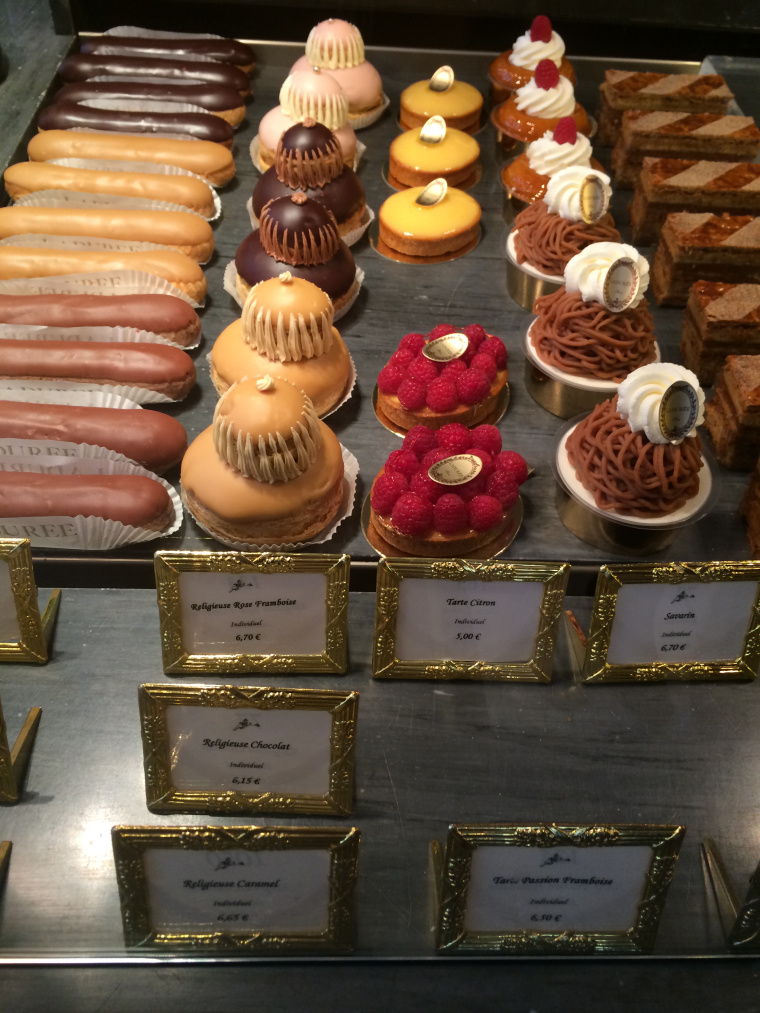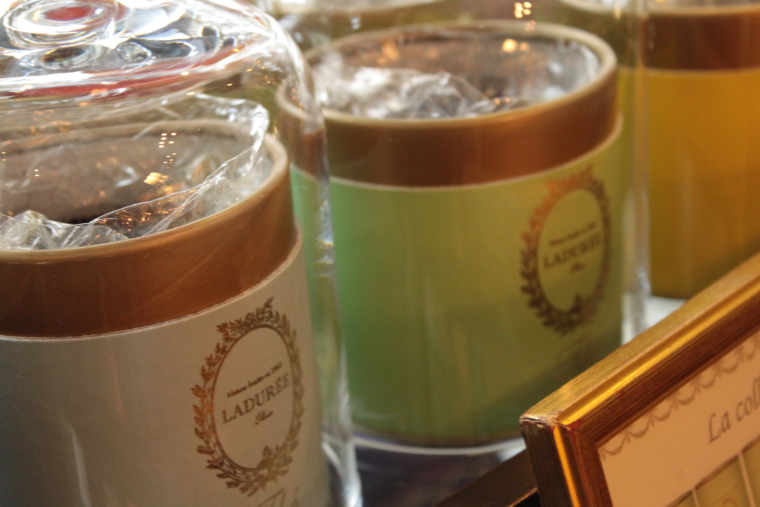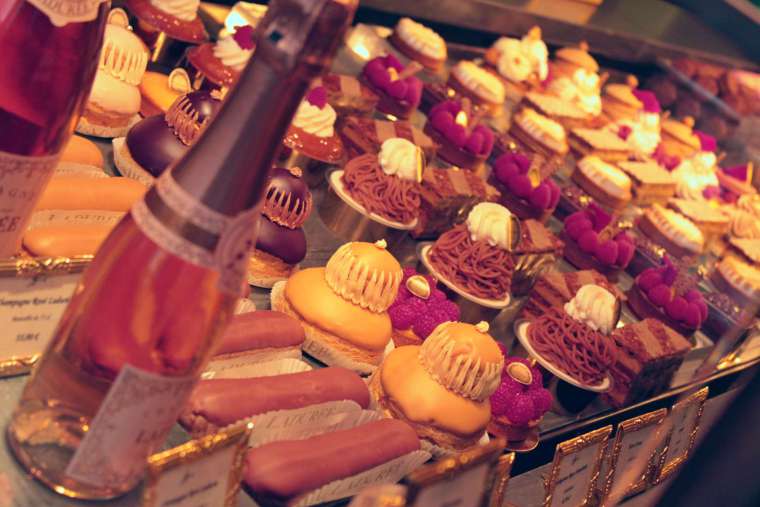 If you want to, you could save your precious macarons until later and sweep upstairs to the chic tea-room for a petit déjeuner of French toast and unashamedly thick chocolat chaud Ladurée – another Parisian must.
Do be prepared to blush at the prices, however. Eating in at Ladurée isn't cheap.
Alternatively, you can copy me: select your Ladurée macarons from the field of colours, wait patiently as the immaculately-dressed staff pack your treasures into a dainty pink box, then head to the nearest private spot to scoff the lot in one out-of-control crumb-fest.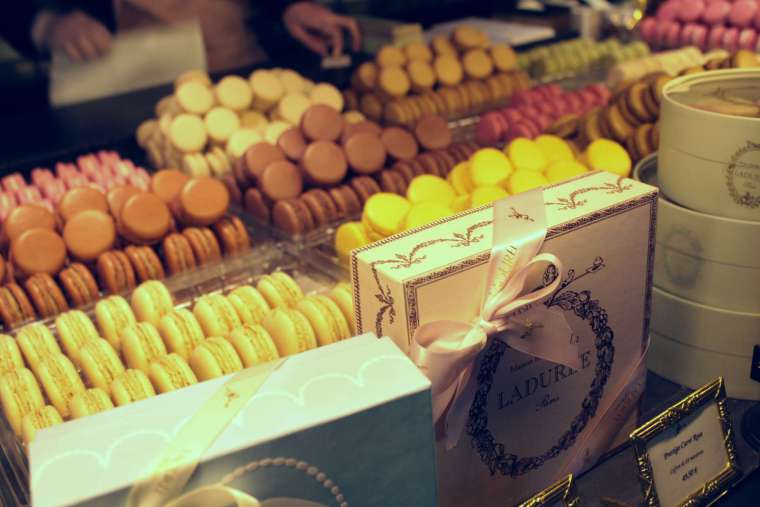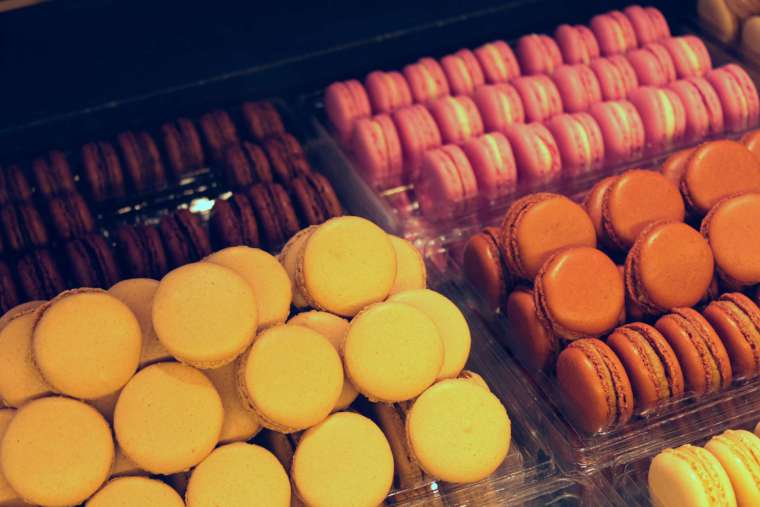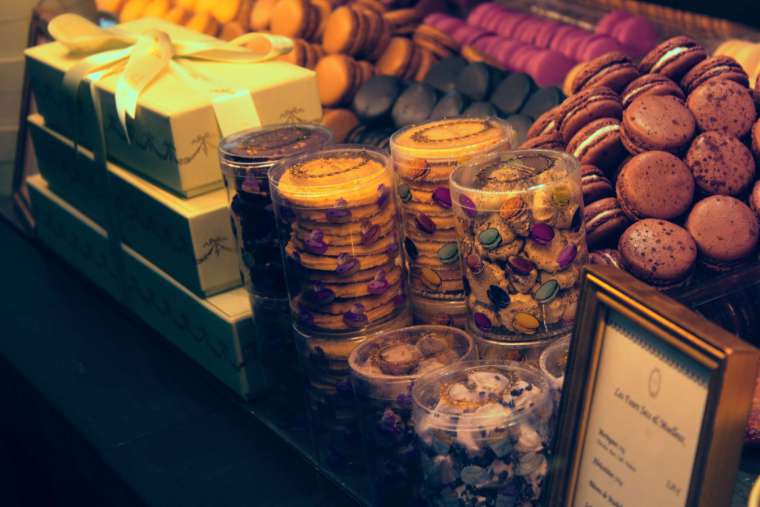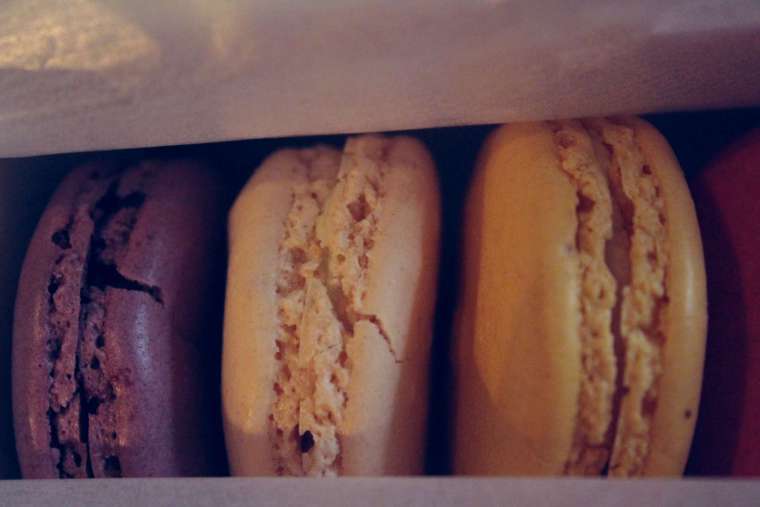 So, what will it be? There are so many flavours to choose from: raspberry, praline, pistachio, lemon, mint… the melt-in-the-mouth menu goes on and on.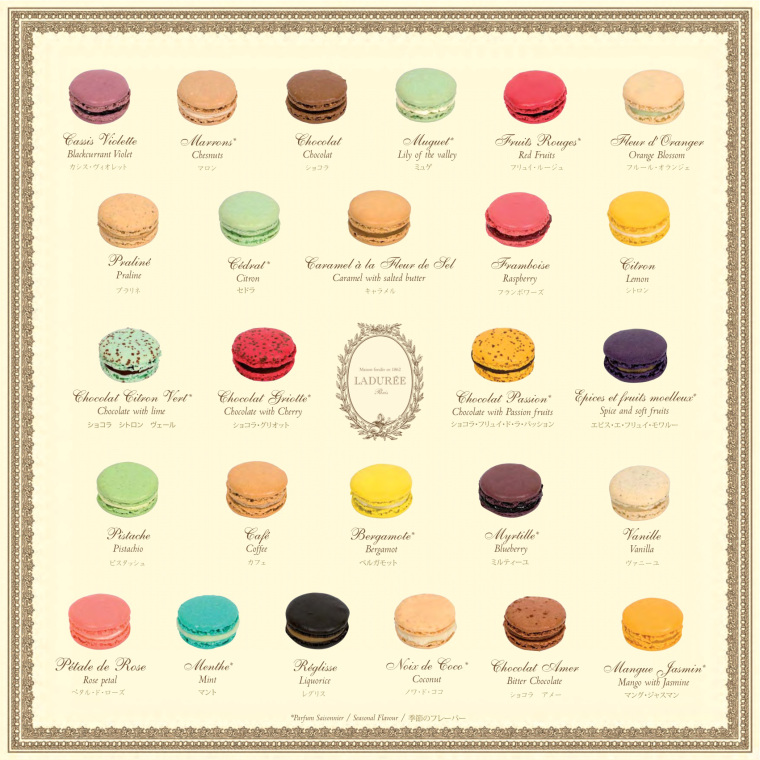 Perhaps a box of traditional chocolate and vanilla macarons will take your fancy? Or maybe a new world selection of orange blossom and rose petal is the one for you?
Half the fun is in the deciding.
The other half is in the nom, nom, nom.
Ladurée Pâtisseries in Paris – what you need to know:
The Quiet One:
Address: 21 Rue Bonaparte, 75006
Nearest transport: Saint-Germain-des-Prés (4)
Hours: Monday-Friday 8:30am-7:30pm, Saturday 8:30am-8:30pm, Sunday and Holidays 10am-7:30pm
The Original One:
Address: 16 rue Royale, 75008
Nearest transport: Madeleine (8, 12, 14)
Hours: Monday-Thursday 8:30am-7:30pm, Friday-Saturday 8:30am-8pm, Sunday and Holidays 10am-7pm
The Touristy One:
Address: 75 avenue des Champs Elysées, 75008
Nearest transport: George V (1)
Hours: Monday-Friday 7:30am-11:30pm, Saturday 8:30am-12:30am, Sunday 8:30am-11:30pm
 Have you been to Ladurée in Paris?
Do you think you'll head there next time you're in Paris?
Let me know in the comments below – I always reply.