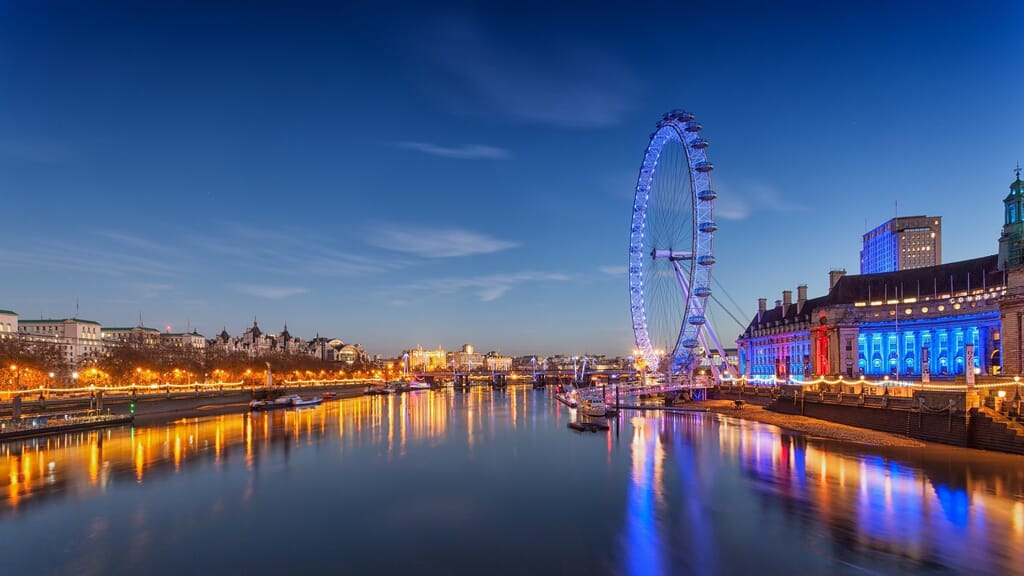 Do you know what January is perfect for? Becoming a weekender. By that I mean, swapping chore-filled Saturdays and Sundays for getting out and exploring the UK.
As you know, I've been exploring the UK and Europe on a weekend for the last two years – and I love it. It takes preparation. It takes saving. But most of all, it takes the desire to squeeze more from life and more from the places on your doorstep.
So are you with me? Do you fancy taking more holidays this year, without it breaking the bank?
Then let's slot your short break plans into place with my 'Year of Weekend Breaks Guide'. Read on and you'll discover 12 of top weekends away in the UK – all turned into short, simple itineraries for you to try.
Welcome to the weekend jetset, darlin'.
PIN FOR LATER: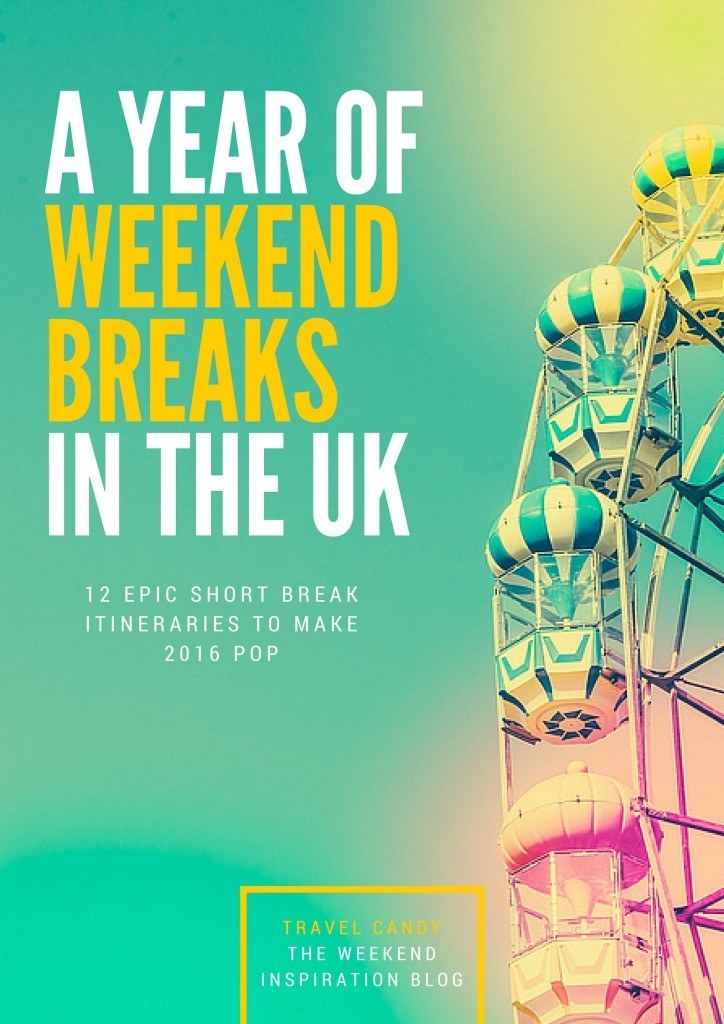 ---

JANUARY
A Winter Weekend in Devon
Best for: Beach combers; crowd-free pub-lovers; slow-paced window shoppers.
See and do: Walk the powdery sands of Bigbury-on-Sea and head for Burgh Island – using the sea tractor to cross the tidal strip if necessary. Feast on sweeping cliff views and marvel at long-time haunt of Agatha Christie, The Burgh Island Hotel.
Afterwards, head to Salcombe for ice-cream coloured houses and a swirl of pretty streets. Browse the traditional shops, stop in at the oldest sweet shop in Devon – Cranch's – and then take the ferry to East Portlemouth. Follow the National Trust Coast Path around the rocky terrain to Gara Rock Hotel for a well-earned glass of bubbly.
Eat here: Soar Mill Cove is the ultimate in clifftop dining chic. This out-of-the-way stylish retreat is known for its secluded location and famous visitors, including Audrey Hepburn. The 2 Rosette prix fixe menu is only £39. Make sure you order the Hepburn pavlova to finish the evening with an A-list twist.
Stay: Fuscia Cottage (sleeps 4), just 10 minutes from Kingsbridge and 5 minutes from Salcombe. Ideal for couples or small families.
Budget: ££
Discover more: A Winter Weekend in South Devon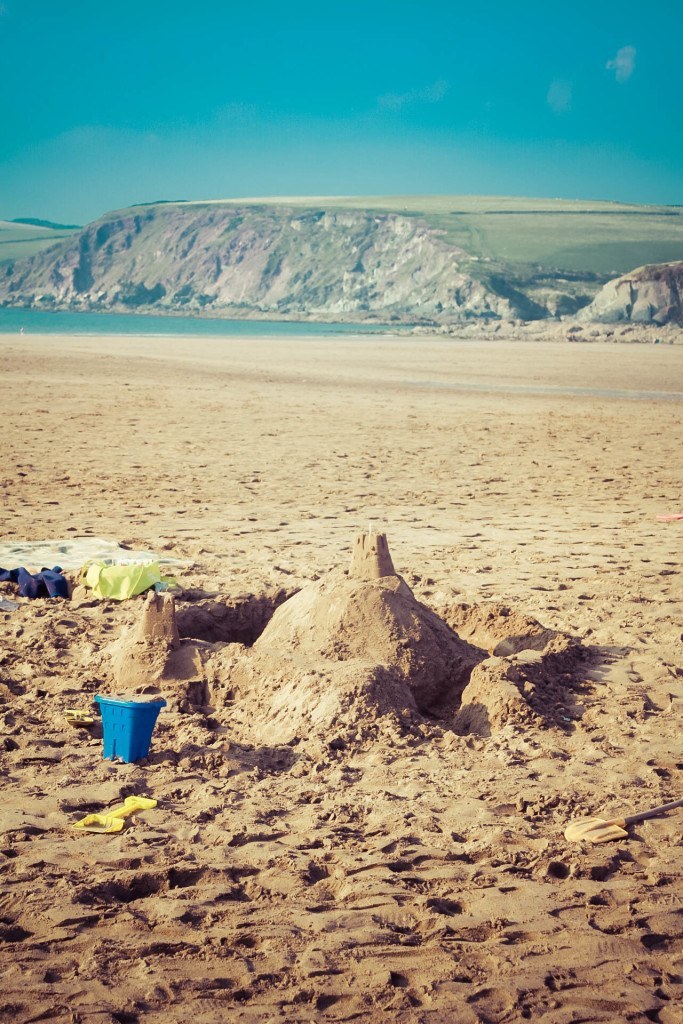 ---
FEBRUARY
A Banksy Weekend in Bristol
Best for: Street art enthusiasts; graffiti lovers; urbanites.
See and do: Zip straight to Bristol's gritty graffiti core with a Where the Wall Banksy Street Art Tour. Led by street art legend – and Banksy mentor – John Nation, it's 2 hours of brilliance serving up works by Banksy, Inky, Stik and Nick Walker.
Cruise around Stokes Croft for a while longer – the tour ends here – lapping up the eclectic vibe before heading to Bristol's historic waterfront. Bristol Harbourside today is almost Parisian in its cosmopolitan style. Trendy bars, shops and galleries flag the dock where the city once traded with new colonies.
The Arnolfini is a dream for modern art fans. For those who want more gristle, cross to the M-Shed where Bristol's past and people are innovatively celebrated in 3 exhibit-filled floors. Don't forget to check out the famous Banksy The Grim Reaper on the First Floor just outside the Bristol People Gallery. For another Banksy must-see pop into the Bristol Art Gallery and Museum where his iconic Paint Pot Angel awaits fans.
Eat here: Fill your belly with a distinctly modern crust in Pieminister, Stokes Croft. Industrial in décor, inventive in design, it's got enough hipster pies to satisfy the most fussy pie-lover.
Stay: Retreat to the enchanting Boutique Arthouse B&B five minutes' drive from Bristol's city centre. Run by art lecturer Sadie Spikes and her husband, it's a B&B that'll leave your soul nourished and your spirits forever lifted. I can't wait to return.
Budget: ££
Discover more: What to do in Bristol in 2 Days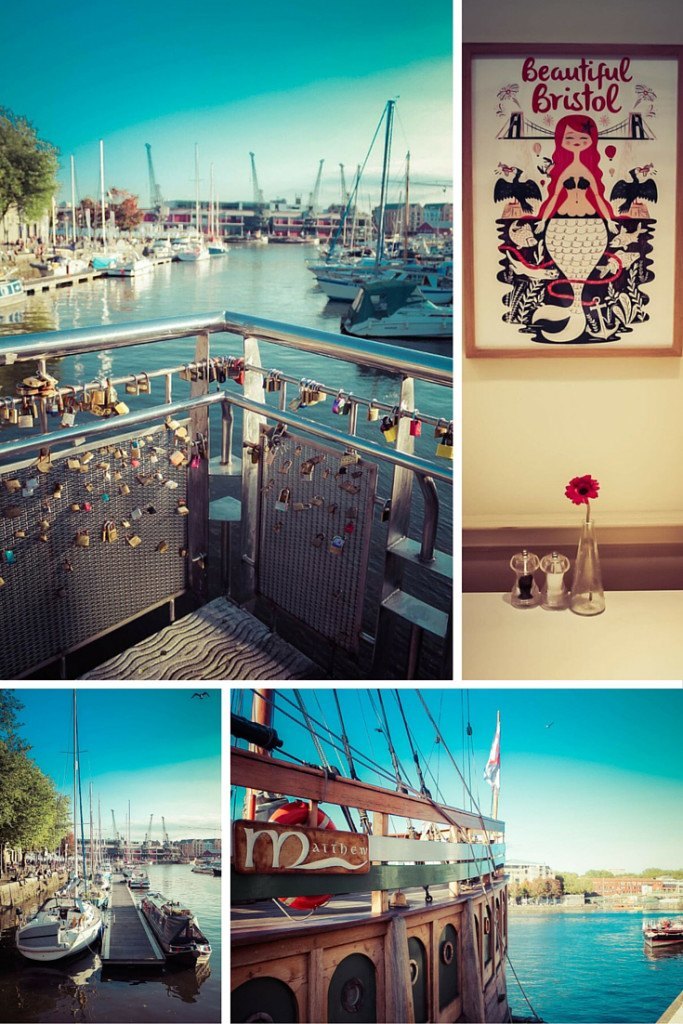 ---
MARCH
An Arty Weekend in Dartmouth
Best for: Budding photographers; aspiring artists; comedy fans.
See and do: Dartmouth is awash with picturesque galleries and studios dotted along the willowy streets, offering contemporary splashes of art and designs, as well as traditional flashes of sculpture and crafts. Simon Drew, an English illustrator and cartoonist (known for his nonsense verse and pun-tastic humour), has a gallery in Foss Street – which is well worth the detour.
Next, turn heel and hike up to Gallants Bower for sweeping views over the River Dart Estuary and Start Bay. In spring paths blaze with wild flowers so be sure to pack your camera or easel.
Fun comes to town this month in the form of the Dartmouth Comedy Festival, 8th – 12th. Book in for a pre-gig supper or drinks at the Cru @ The Flavel Arts Centre – Dartmouth's cultural hub before catching Patrick Monahan or Rob Beckett who are headlining the weekend.
Eat here: Grab rockstar fish and chips at Mitch Tonk's Rockfish Restaurant facing pretty Kingswear. It's a fast-paced joint, with plenty of vim and vigour and an inventive chip shop menu. Mains start from around £7.95.
Stay: Ready your sea-legs to sleep aboard the Faithful (sleeps 2) – a handsomely converted fishing boat moored in Darthaven Marina. Comes with use of the leisure facilities at the neighbouring Dart Marina Spa Hotel. 3 nights from £400.
Budget: £££
Discover more: 12 hours in Dartmouth; The Rockfish, Dartmouth; Dreamy Dartmouth Phototour
---
APRIL
A Wild Weekend in Northumberland
Best for: Nature-lovers; outdoorsy types with dogs; heritage geeks.
See and do: The Farne Islands are a craggy outcrop of 15 – 20 islands off the coast of Northumberland. They're a haven for wildlife and a must-do for those with a penchant for puffins and seals.
Catch a boat from Seahouses and you'll be looking into the puppy-dog eyes of the grey seals before you can say 'why-aye pet'. I took the Grey Seals Cruise with Billy Sheil's, (£13 for adults and £9 for children).
Swap cormorants for wild cattle – the only wild cattle in the world – courtesy of Chillingham Castle.
Beware the castle's ghostly residents as you explore its grounds. Next, escape to Bamburgh with its heart-thumping castle on the beach.
After venturing through treasure-filled rooms, take the path by the base of the castle for one of the most magnificent dog-friendly beaches in the UK. Walk the shore, with it's incredulous spread of honeyed sands, until you reach a thick smattering of rock pools at its far end. After all, fishing for crabs isn't just for kids.
Eat here: The Wynding Inn is an elegantly refurbed offshoot of The Lord Crewe Hotel on Front Street, an 8-minute walk from Bamburgh Castle. Expect traditional North Eastern cuisine with a modern twist, served swiftly and with lashings of Northumberland hospitality. My tip: try the chips – epic doesn't even cut it.
Stay: No. 5 Appletree in Beadnell – a luxury apartment that's more cosy than microwavable socks, sleeping 1 – 2 people. If you're bringing the dog, try the multi-award-winning Battlesteads Hotel on the edge of the Northumberland National Park.
Budget: ££
Discover more: A Weekend boat trip to the Farne Islands; 12 hours in Bamburgh; Luxury Northumberland Apartment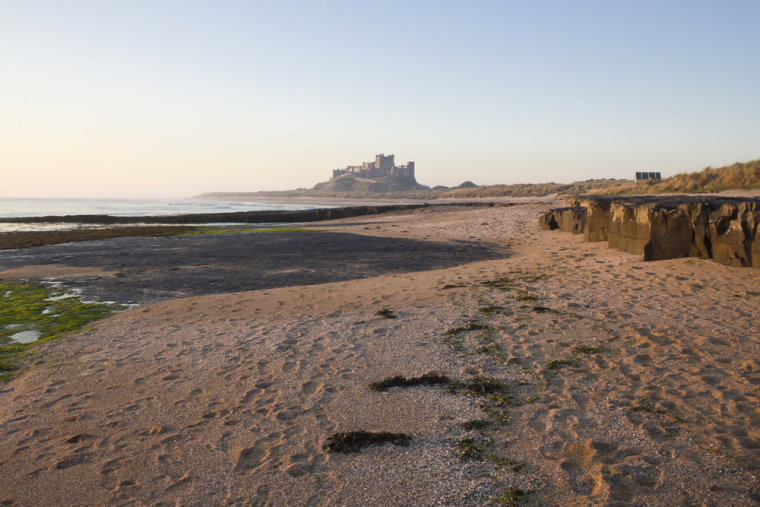 ---
MAY
A Literary Weekend in Lyme Regis
Best for: Bookworms; Jane Austin fans; seaside lovers.
See and do: Lyme's famous Cobb and heady coastal views attract thousands of visitors every year – many come for the fossils, others come because Lyme was loved by Jane Austin (her book, Persuasion, was set in the town). Follow in her footsteps by booking a 1h30m Jane Austin Tour with Literary Lyme Walking Tours (£10).
Then swot up on Lyme's other famous faces at the Lyme Regis Museum (£3.95). Mary Anning is the town's much-lauded 19th-century palaeontologist whose ichthyosaur and plesiosaur finds brought her much acclaim.
The museum celebrates her life and findings with exceptional exhibits, as well as marking the town's connection to other notable authors, including John Fowles, Henry Fielding, and Beatrix Potter. Head afterwards to The Sanctuary Bookshop – one of the cosiest secondhand bookshops going. Lose yourself in the pages of literary greats, or even join in a book chat by the fire.
Eat here: By the Bay is a grown-up, but very warm and welcoming, dog-friendly eatery just along from Lyme's antiques centre and arcade. Pick a table on the deck overlooking the bay and order the moules frites (£14.95). Portions are Jurassic so come with an empty stomach.
Stay: Continue the literary theme by staying in the former home of John Fowles, author of The Magus and The French Lieutenant's Woman. Belmont is an 18th-century maritime villa that sleeps 8 people and offers breathtaking views over the Cobb from Fowles' former writing room (4 nights from £640).
Budget ££££
Discover more: A Jurassic Weekend in Lyme Regis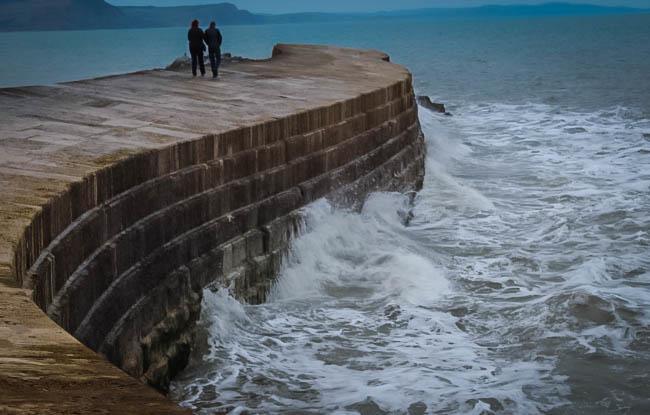 ---
JUNE
A Festival Weekend in Wales
Best for: Outdoor adventurers; festival fans; bookworms; music lovers.
See and do: Hay on Wye is a quiet Welsh market town at the edge of the Brecon Beacons which every year plays host to one of the most famous book festivals in the world: The Hay on Wye Festival of Arts and Literature.
Whether you've tickets to see the events or not this year (25th May – 5th June), a day hanging out here, rubbing shoulders with some of the world's literary elite, is an unforgettable one. A counterpoint to the book vibe is the town's highly popular philosophy and music festival: How the Light Gets In. Simon Armitage, Maria McKee and Rae Morris have all made an appearance in the past.
Afterwards, mooch your way into Hay town where you'll find two-dozen second-hand bookshops to sex your brain cells, along with a scattering of independently-owned eateries and soul-pleasing boutiques. My favourite bookshop? Murder and Mayhem on lion Street.
Eat here: Head to The Old Electric Shop on Broad Street where antique furniture tangos with thoughtfully-sourced vegetarian food playing out to a funky vibe.
Stay: Opt for a luxury safari tent as your weekend break base on the Drover's Rest glamp site, 10 minutes from Hay. Set in 10 beautiful acres, with a communal barn serving drinks and homemade food, as well as your own private bathroom, it's camping but not as you know it! (£600 for 3/4 nights.)
Budget: ££££
Discover more: A Glamping Weekend in Hay on Wye; Hay Festival – The Booklover's Glastonbury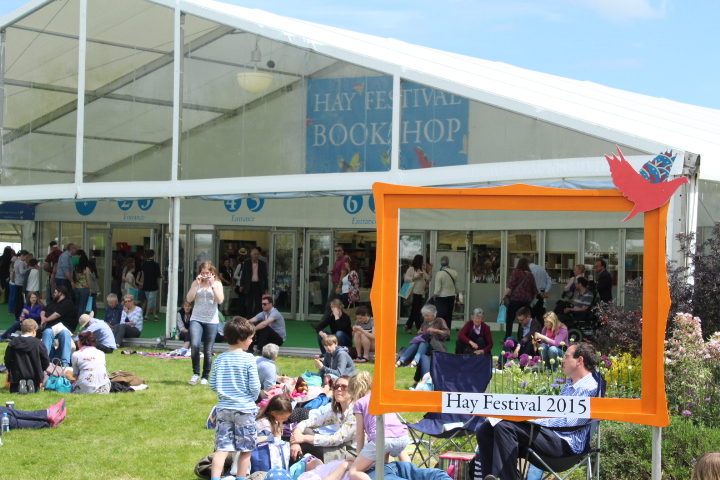 ---
JULY
An Historical Weekend in Oxford
Best for: History nerds; city-break fans; book worms.
See and do: Ease yourself into the city by taking a guided tour with Oxford Official Guided Walking Tours. I opted for the Oxford Universities Tour – a 90-minute stroll through the city's history, stopping to get nose-to-nose with Corpus Christie College and the Bodleian Library.
Afterwards, make tracks for the Covered Market – a lexicon of independent trader stalls. Here grab a giant cookie from Ben's cookies before your next excursion: Christ Church College Meadows. This is Lewis Carroll's stomping ground, where he met his 6-year-old muse, Alice Liddell. The Deanery Garden is where Alice played and a small wooden door in its protective wall was, it's claimed, the door to Wonderland.
Finish up with a picnic cruise along the River Thames from Folly Bridge. Oxford River Cruises and Salter's Steamers offer a range of sight-seeing options. Salter's Alice in Wonderland Cruise costs £17.50 for adults and £10.00 for children. Oxford River Cruise's Experience Cruise costs £12 for adults and £6 for children.
Eat here: For an affordable bite, with extra historical relish slip into the Pizza Express at 16th century Golden Cross. Pop upstairs and see the painted rooms that were once Elizabethan bedrooms. William Shakespeare is said to have stayed in the room at the end.
Stay: Get your bygone kicks at the Malmaison in Oxford's Castle Quarter. Once a prison housed within a medieval castle, it's now one of the trendiest places to stay in the city. The cells are now rooms, complete with barred windows and iron doors.
Budget: £££
Discover more: A Nerdy Weekend in Oxford; Oxford's Alice in Wonderland Sweet Spots.
---
AUGUST
A Surf Weekend in Brighton
Best for: Beach bums; water babes; adrenaline addicts.
See and do: Hit the waves early with Pure Spirit Surf School. Run by 2 x English Masters Champion, Cliff Cox, this small, tight-knit surf school offers one-to-one coaching for £65 for adults and £45 for kids. Surf for the entire day, throw in complimentary lunch, and it costs £130.
Dry off with a mandatory stroll along one of England's last great beach piers, Brighton Pier. Play the penny arcade, savour foam-topped sea views, then spin your mind with gut-wrenching thrill rides hiding at the end of the pier.
Afterwards, let Brighton's historic Lanes District pepper your evening with simple, traditional British food and beer. Head to the area's most notable pubs: The Market Inn, The Druids Head and The Sussex.
Eat here: Spice up the weekend at RikiTik Beach Bar, a laid-back rum shack on the Brighton seafront. Expect blissed-out guest-DJs, potent rum punches, and Caribbean beach food.
Stay: Keep it cool at Snooze – Brighton's funkiest B&B. Located in Brighton's hip Kemptown District, this uber-funky bolt-hole offers six retro doubles and two 70s' style suites all for reasonable prices (rooms start at £75, suites £95).
Budget: ££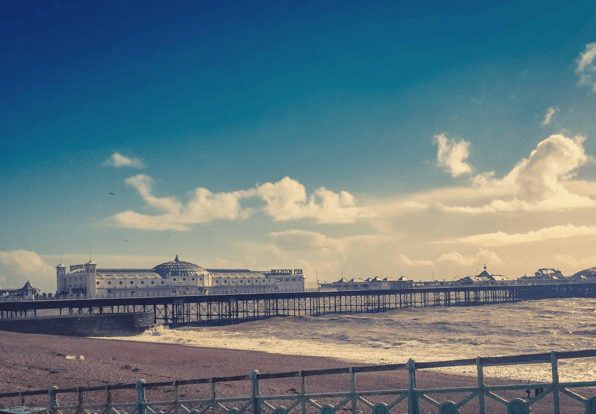 ---
SEPTEMBER
An Alternative Weekend in London
Best for: Non-conformists; excitement seekers; adventurers.
See and do: Leave the traditional museums and sights to others. First up, try your hand at a live escape game (£22 each, min 3 players). Head to HintHunt in Euston and solve the clues to escape a locked room before your time runs out. There are five rooms to try.
Once you've escaped, settle your nerves with a silent movie at the Barbican, complete with a live orchestra to heighten the action. If cinema classics don't spin your reels, try The Aubin Cinema in Shoreditch with its lazy-boy velvet sofas and cocktails on tap (tickets cost from £8).
For an unforgettable end to your weekend in London, book an 02 Sunset Expedition. See London against an auburn sky as you follow your climb guide up and over the 02, safely clipped onto the walkway (£35pp).
Eat here: Dans Le Noir, Clerkwell, where food and drinks are served in the dark and your senses zap with the thrill. Choose from 5 surprise menus, arranged into dining preference. Then prepare yourself for an unbelievable experience. (2 courses start at £46).
Stay: Be square and check yourself into Qbic London. Sleep in a 'cubi' – a trendy cuboid with comes with a comfortable bed and a 32-inch flat screen TV. Prices from £69 per night.
Budget: £££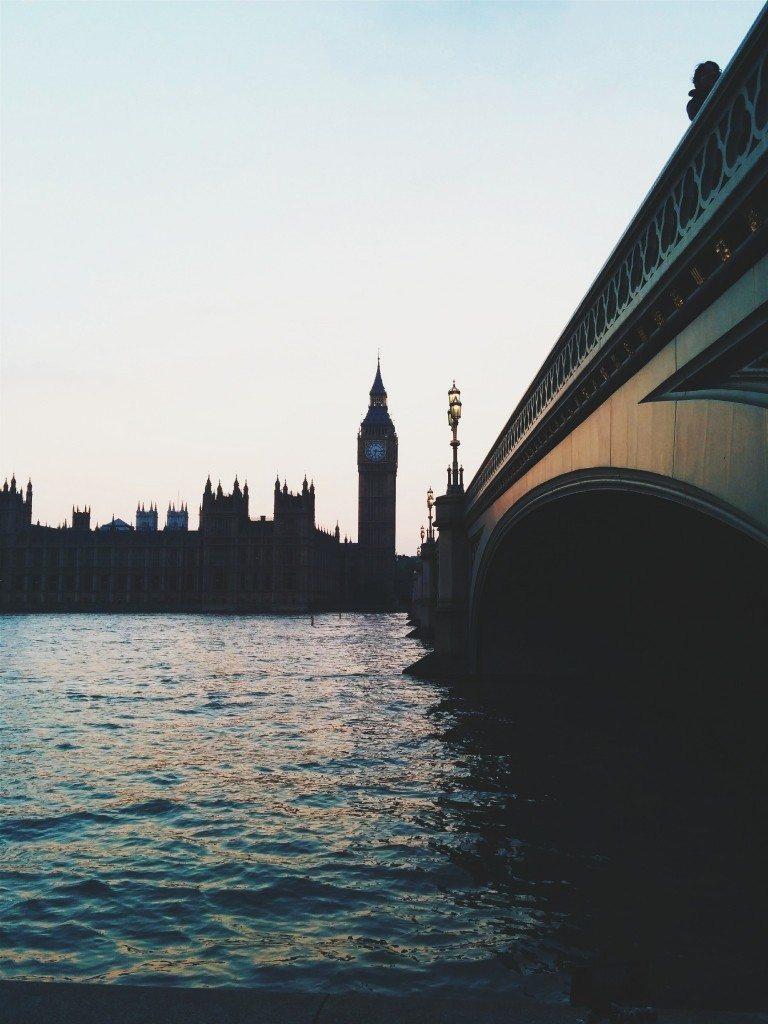 ---
OCTOBER
A Spooky Weekend in Co. Durham
Best for: Halloween celebrators; ghost-hunters; history nerds.
See and do: Once home of the Durham Prince Bishops and today a Durham University halls of residence, Durham Castle in Durham City is your first spook spot. Book onto a 45-minute tour and brave the groaning 17th-century Black Staircase. The staircase is apparently haunted by The Grey Lady who, it's claimed, fell to her death from here.
Durham's monumental cathedral has many tales to tale that'll flash you with goosebumps: allegedly there's a secret passage running from Durham Cathedral to Finchale Abbey, but no person can survive the journey because it is so terrifying. Beyond the main cathedral door, the interior is truly awe-inspiring. Look out for the 14th-century Bishop's Throne and the famous Sanctuary Knocker, which medieval felons would strike to gain 37 days asylum within the cathedral before standing trial or leaving the country.
Screams abound at Beamish – The Living Museum of the North – on Halloween. Every brick, every door, every fixture and fitting of Beamish once stood pride of place in areal Victorian or Edwardian community. Throw a cast of zombies, ghouls and skeletons into this historical wonderland and Beamish becomes the North East's most exhilarating – and possibly the most popular – Halloween experience (adults £13, children £9).
Eat here: Steady your nerves with tradition tea and cake at Vennels Tea Room. Located through an ancient Durham vennel (North Eastern term for a narrow alleyway between 2 buildings), Vennels Café is spread across 2 floors of an historic building and the 16th-century courtyard outside. Loved by students and locals.
Stay: Feeling brave? Head to Lumley Castle for the night. Home to various ghostly residents, this beautiful Grade I listed 14th-century castle is said to be one of the most haunted places in Co. Durham. (Rooms start from approx. £90)
Budget: ££
Discover more: The Ultimate Halloween Fright Fest at Beamish Museum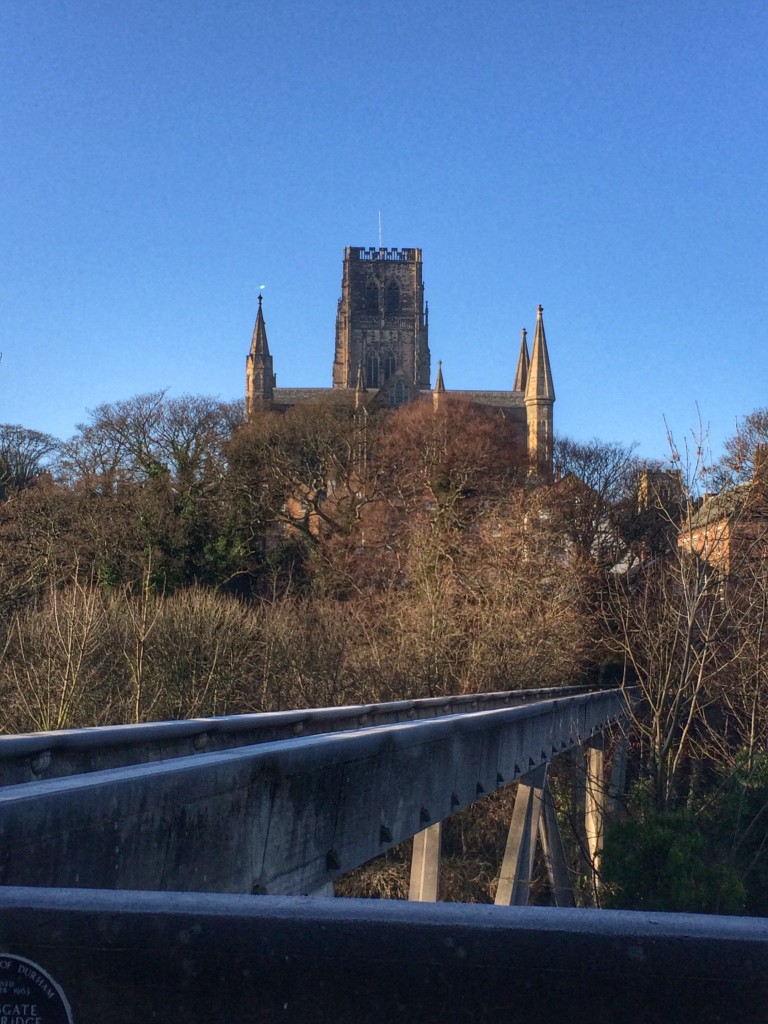 ---
NOVEMBER
Chic Weekend in Cheltenham
Best for: Ladies who lunch; ladies who shop; ladies who drink gin.
See and do: With Regency boutiques, refined eateries, and well-manicured gardens you can see why Cheltenham lured the rich of 18th-century England. Start in the chicest part of town: Montpellier.
Stroll along Montpellier Walk where caryatids (draped female figures based on those on the Acropolis in Athens) laze as structural supports between the shops. Then take a path through Montpellier Gardens heading for the Gardens Gallery to see work by local artists.
Afterwards, amble your way across the might Imperial Gardens towards the Promenade, reputed to be one of England's finest boulevards. A great photo spot is by the Neptune Fountain built in 1893 and loosely based on Rome's Trevi Fountain.
If you can, catch a play at the Everyman Theatre on Regent Street. It's open all year round, with a smorgasbord of ballets, operas, comedies and dramas to choose from. Make sure you sup an aperitif beforehand at Lily Gins cocktail joint. Loud, proud and unashamedly awesome.
Eat here: The Daffodil started life as Cheltenham's first purpose-built picture palace, opening in 1922. Today, it 's a fine dining restaurant retaining its original Art Deco charm. Where the stars of the silver screen once flickered, there's now a huge open kitchen allowing diners to enjoy the buzz of a busy kitchen. (Mains from £13.50).
Stay: No.38 The Park – a beautiful Georgian Townhouse dripping with modern elegance and luxury. With 13 individually style rooms, an honesty bar, uber-chic breakfast room, sitting room and courtyard garden, it is an elegance end to a chic weekend in Cheltenham. (Rooms from £120).
Budget: ££££
Discover more: No.38 The Park – A Gorgeous Georgian Getaway; A Weekend in Cheltenham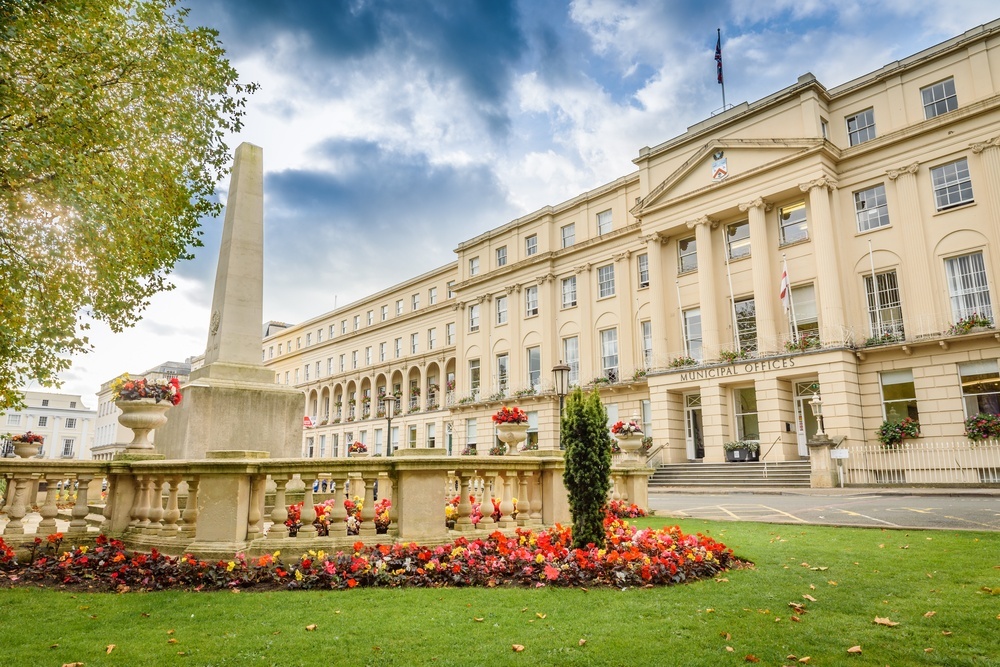 ---
DECEMBER
A Cosy Weekend in Stow-on-the-Wold
Best for: Antique hunters; tweed wearers; country lovers.
See and do: The achingly pretty Cotswold wool town of Stow-on-the-Wold is a bumper-pack of country delights; especially at Christmas. First off, head to the town's brilliant flea market and collectors fair, held every month in the impressive upstairs gallery of St. Edwards Hall.
Be careful not to lose the entire day amongst the vintage treasures; trust me: it's easy to do. Bag your bargains, then settle for coffee in the upstairs café to replenish your energy.
Afterwards, wander the teensy streets of crooked honey-coloured houses, grabbing pictures by the town's famous stocks and snuffling free samples in the Cotswolds Chocolate Shop.
St. Edwards Church has to be next on your list with its ethereal north entrance. Flagged by two yew trees that appear to grow right out from the brick, this is a church that wouldn't look out of place in Hogsmeade. If the weather bites, seek comfort in the floured walls of Lucy's Tea Room where warm scones and even warmer welcomes await.
Eat here: Circa 947 AD, The Porch House claims the title as the oldest pub in England. As candlelit-cosy as a burrow, with the right blend of contemporary vs history, it's the perfect spot for a winter's lunch or warming evening meal. (Mains start from £13.50 on a Sunday. Booking is essential).
Stay: While The Old Stocks Inn may sound like your typical Cotswold bolthole, it's not. The 17th-century golden stone façade hides a delectable interior.
Downstairs things come Scandinavian chic with arty slogans and a la mode furnishings. Upstairs expect sexy bedrooms and equally seductive bathrooms. This is a young-at-heart boutique hotel without a pompous bone in its body. (Rooms start at £189.)
Budget: £££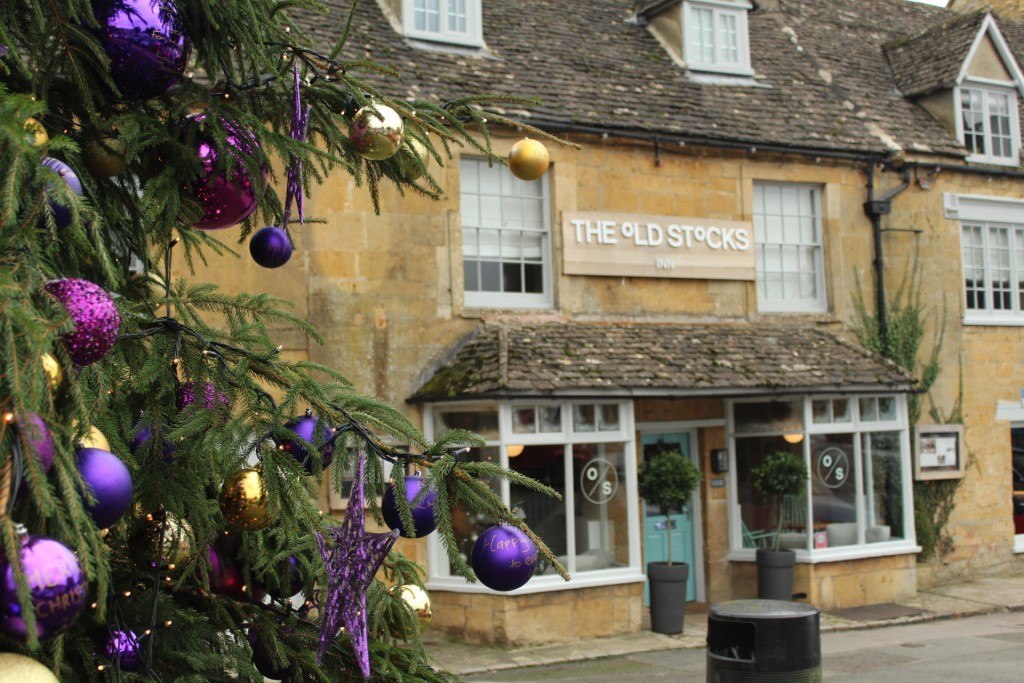 Tell me, where do you plan weekending this year?
Anywhere I've missed out that I really should try?
Comment below – I always reply.