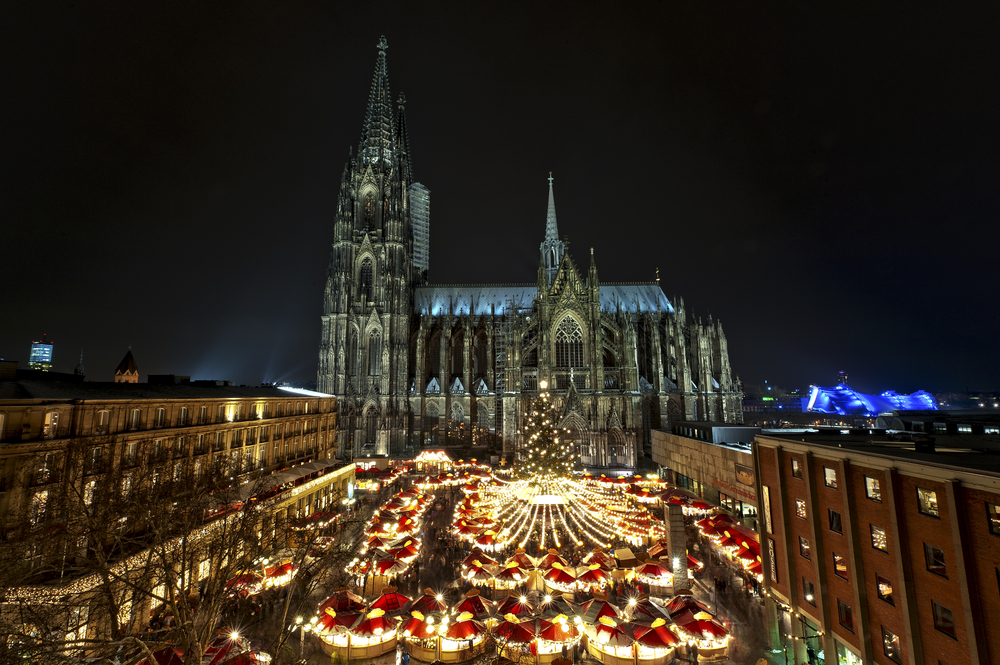 Europe is positively brimming with Christmas markets, each with its own enchanting history and unique allure.
But which Christmas market has the best atmosphere for a weekend break? Which Christmas market is the best for families? And which Christmas market is perfect for festive shopping?
To help, here's my quick guide to 5 of Europe's best Xmas markets to visit for the weekend.
PIN FOR LATER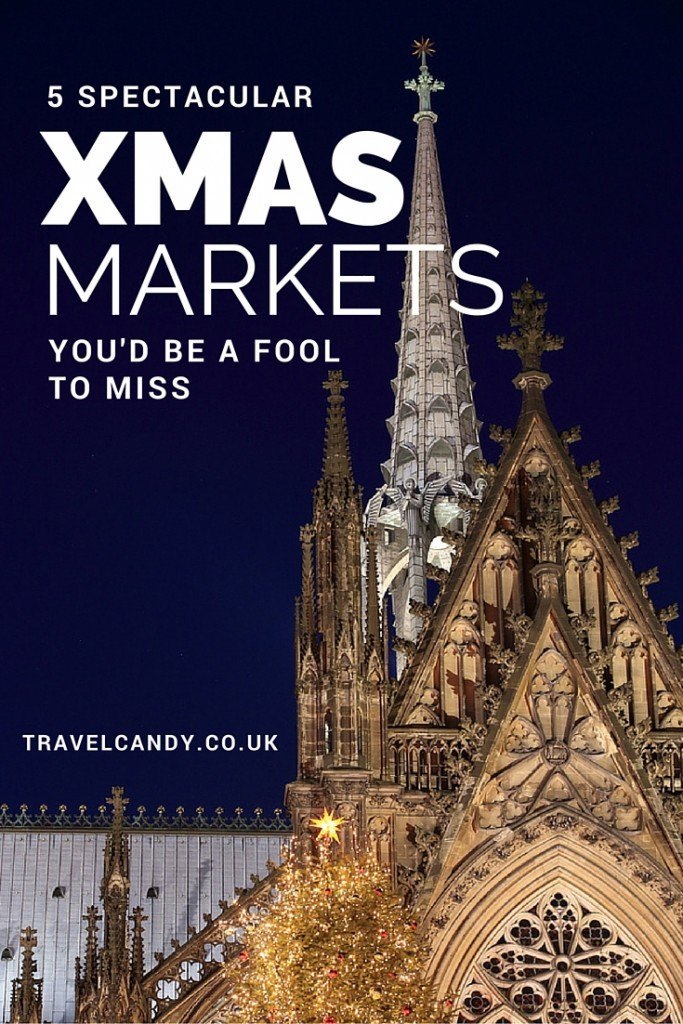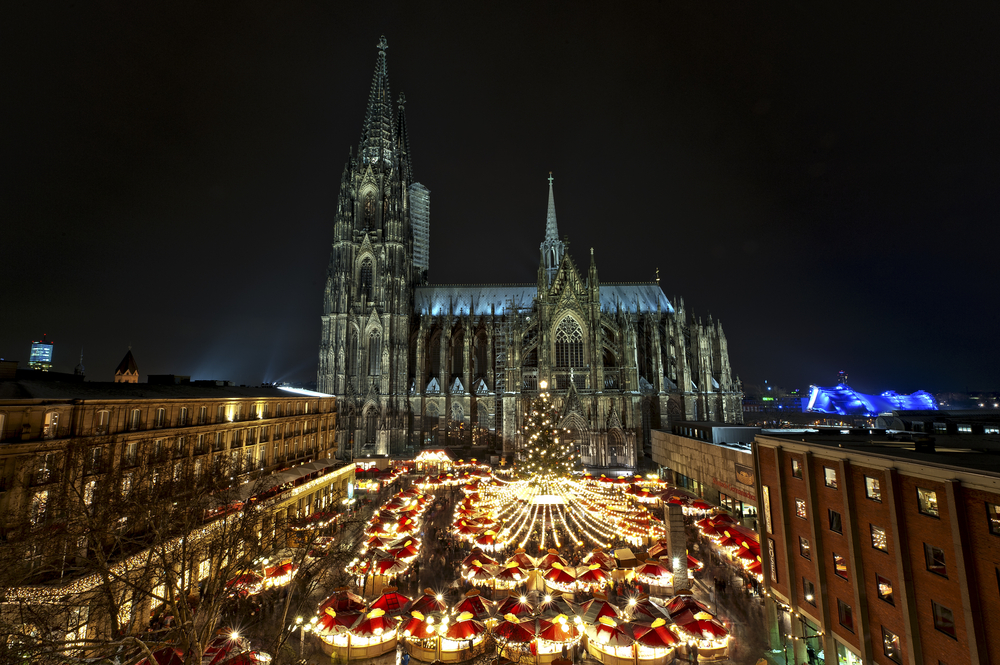 1. Cologne: The Colossal One
You'll get not one, not two, but seven Christmas markets in Cologne. Four of these are real show-stoppers: check out the Christmas market at Cologne Cathedral, the market on the Alter Markt, Neumarkt Christmas market, and the market on the Rudolfplatz.
Cologne's biggest and most impressive market, however, is the Cathedral Christmas market. It's a festive hot-pot of 160 quaint huts or "Buden", clustering below a towering Norwegian spruce – the largest in the Rhineland – with the city's stunning gothic cathedral providing the dramatic backdrop.
When: 23rd November – 23rd December
Best for: Authentic and traditional German gifts, including jewellery and Christmas decorations
Also: As well as plenty of stalls, you'll find street performers, hot chestnuts, and Santa's grotto
Get there: You can fly direct from London Stanstead to Cologne with Ryanair for as little as £140 pp return.

2. Strasbourg: The Famous One
France's oldest Christmas market – Christkindelsmärik – conjures up enough treats to give Santa backache, including glass paintings, marquetry, music boxes, embroidered tablecloths and earthenware pottery. The first Strasbourg Christmas market jingled to life in 1570 and is one of the most famous Christmas markets in Europe.
There are over 300 chalets in total at Strasbourg Christmas market, scattered in 11 sites around the capital, including Place du Château, Place d'Austerlitz and Place du Cordeaux. The most most fizzy of them is situated close to Strasbourg's majestic cathedral on Place Broglie.
When: 27th of November to 24th of December
Best for: Vin chaud (mulled wine), Christmas cakes, biscuits and gingerbread
Also: Make sure you see the Great Christmas Tree standing at about 100 feet, and one of the best in Europe
Get there: Easyjet will take you direct to Strasbourg from Gatwick for £138pp.

3. Bruges: The Fairytale One                                            
Sweet-laden stalls, a honey-scented breeze, and velvety hot chocolate on tap – yes indeed, Bruges Christmas market could be the fairest of them all.
The main action takes place in the ancient Flemish Grote Markt (Market Square), where you can slip your way into the Christmas spirit on the ice rink, and then warm your iced toes in the the Chocolate Museum or Pralinette – Bruges' largest and best praline store.
Away from the Market Square, Bruges Christmas market conjures up a flurry of smaller attractions down the hushed cobbled streets, where you can pick up a range of craft gifts and even a Christmas sweater to wear or take-away as a gift.
All of this comes served with medieval houses, snowy canals and the gentle clip-clop of horse-drawn carriages. Magic.
When: 20th November until 3rd January
Best for: Haute couture chocolate and confectionary – did you know there are 55 chocolatiers in Bruges?
Also: Bruges' Snow and Ice Sculpture Festival is not to be missed, with its breath-taking ice sculptures – held at the station in Bruges (Stationsplein).
Get there: Take the Eurostar and you'll be there in just over 3hrs, with a quick change in Brussels.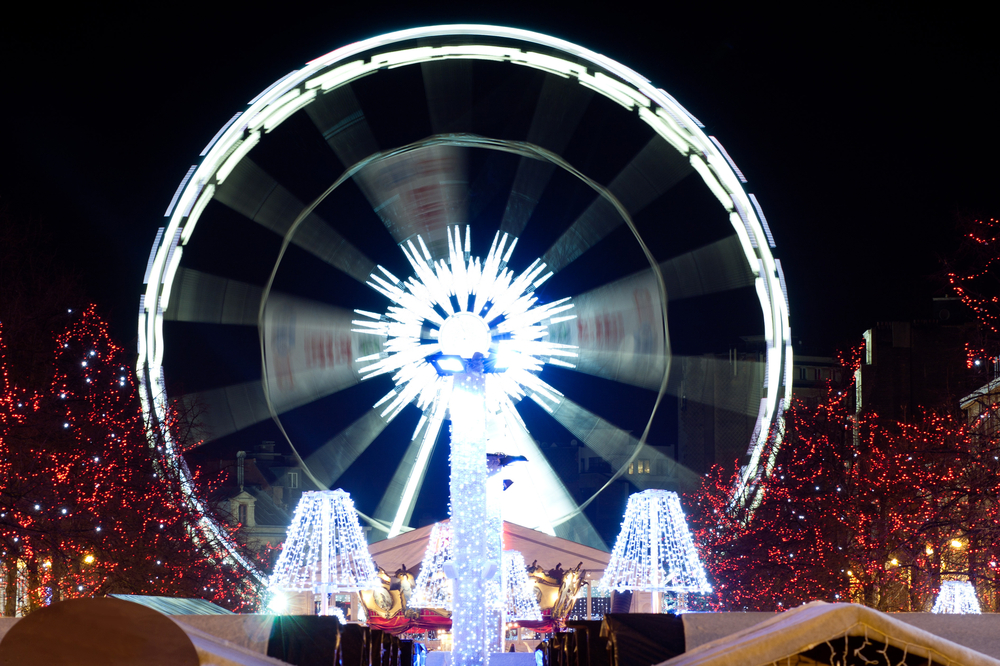 4. Brussels: The Modern One
Stretching an eye-dazzling 2 kilometres from Grand Place to Place Sainte-Catherine, the Plaisirs d'Hiver – known as Winter Wonders in English – is Belgium's largest Christmas market, and a relatively new contender: established in 2000.
Because of Brussels' strong multi-cultural heritage, this Christmas market has a contagious continental spirit. Expect 240 snow-topped wooden-roofed huts twinkling with stocking fillers, decorations and seasonal food and drink from around the world.
And at the centre of Grand Place, marvel at the monumental 25 metre-high electric Christmas tree. You can climb its stairway trunk too for a breath-taking panorama of the square below.
For family magic and sparkle, head to Place Sainte-Catherine. Once there, you can spin upon the baroque merry-go-round, fly on the Ferris wheel (the vista is gob-smacking), or scream down the toboggan run.
When: 27th November until 3rd January
Best for: The mood-inducing spectacle of lights, colour, sounds, smells
Also: Brussels' puts on a spectacular sound and light show, which illuminates the Grand Place in a incredible explosion of colours dancing in time with music
Get there: I found a flight to Brussels International from Heathrow for just £122pp return with Brussels Airlines on Skyscanner.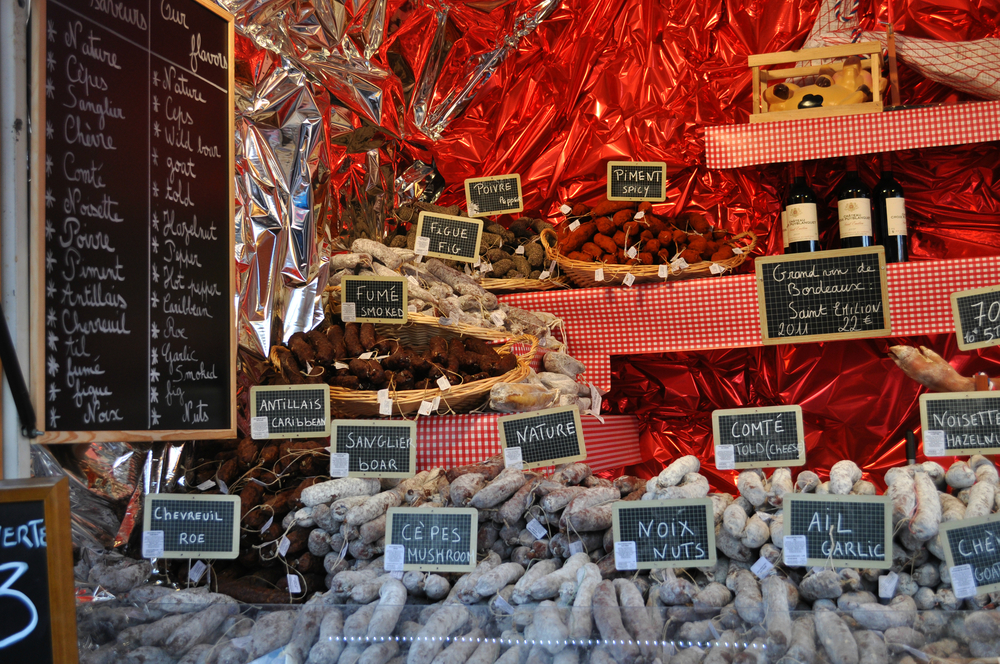 Lille: The Family One
Lille Christmas market is Northern France's largest and oldest Christmas market; a place bristling with magic, where every dainty pathway triggers new discoveries and every new discover kindles new stories to carry home.
Lille's stunning Flemish square, Place Rihour, is the throbbing heart of the city's snowy wonderland: an 80-strong huddle of huts furnished with reasonably-priced trinkets, toys and stocking treats for you or loved ones, including handcrafted jewellery, decorations, sheepskin 'this' and leather 'that'.
Naturally, Father Christmas makes his appearance to the delight of mesmerised children, with a dramatic climax before the big day. But Lille also serves up child-friendly marvels by the sleigh-full to keep little eyes alight with magic, including pony rides, elves, ice sculptures, and make-up workshops.
When: 18th November until 30th December
Best for: Kids will love the 164-foot monster ferris wheel, majestically turning at the heart of Place du Général-de-Gaulle.
Also: It's quick and easy getting to Lille Christmas market – it's only an hour from London if you hop on the Eurostar.
Get there: A return trip on the Eurostar for a December weekend starts from £179.00.
What is the best Christmas market to go to?
Have you been to any of the above?
Let me know in the comments below – I always reply!