🌳  4 single-storey treehouses |  🐶 Dog-friendly treehouse lodges |📍 Ellesmere, Shropshire  |  🛌  Sleeping up to 6  | 👙 6-seater hot tubs | 🥂 Ideal for a friends' getaways and romantic weekends | W/Es from £520 (2 night minimum stay)
Why we love Woodland Park Lodges for a weekend
"Sometimes you just need to runaway with your crew and belly laugh until there are joy-tears rolling down your cheeks. Which is why Woodland Park dog-friendly lodges in the trees are the business. Here, you're tucked into 52 acres of beautiful woodland, fully-insulated from grown-up pressures, in a bespoke treehouse lodge designed to leave you as care-free as Miriam Margolis. Goals."
Woodland Park Lodges sits in a wildlife sweet spot, close to the English-Welsh border in North Shropshire (a county famed for its rural natural beauty and man-made delights). Mother Nature is 'Queen B' here and each one of the Park's four dog-friendly lodge treehouses – Bluebell Treehouse, Orchard Treehouse, Primrose Treehouse and Snowdrop Treehouse – melts seamlessly into the woodland environment.
There'll be a bottle of bubbly waiting for you in the wine fridge when you check into your dog-friendly lodge at Woodland Park Lodges. There will also be a six-seater hot tub, long views deep into the glorious green forest, a rapture of birdsong, and three plush bedrooms to fight over. Not that you will fight: trust us, you'll all be loved-up on the tranquility of this special place amongst the trees as soon as you offload your bags.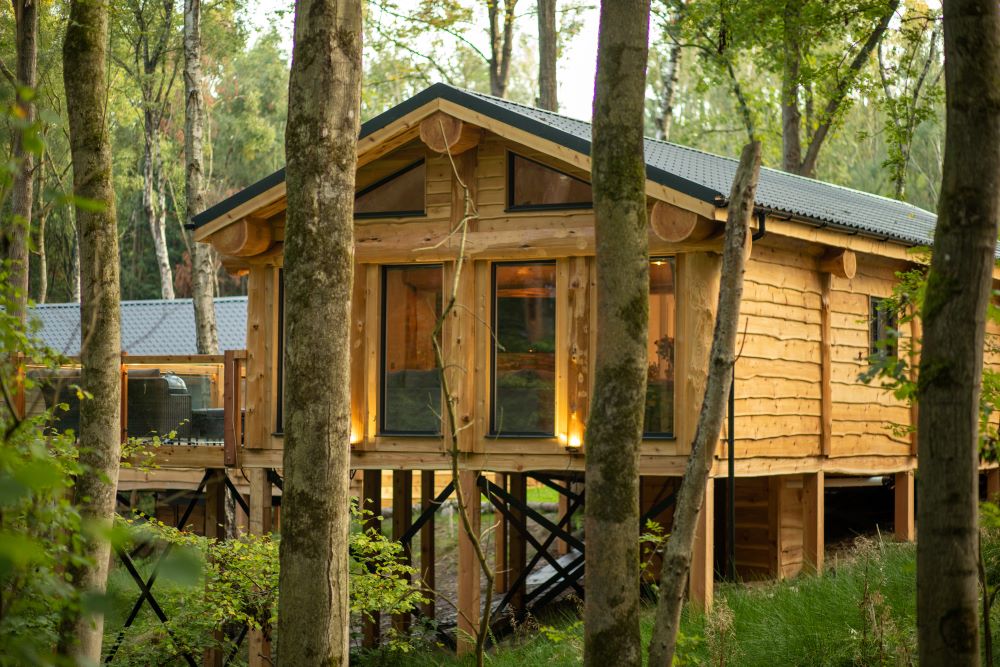 The Stay
All four timber treehouses have been carefully handcrafted to be gorgeous, inside and out. Built from mighty timbers – which frame the inside space beautifully – these dog-friendly treehouse lodges are set 12ft above the forest floor to bring you eye-level with the oak and birch trees just outside. All come with private raised sun decks, which illuminate at night so you can stay out late. On every deck there's also a six-seater hot tub, a BBQ and a large outdoor sofa, ideal for long chats under the stars.
Inside, you're not short of space for the six of you. The light, bright and contemporary open-plan living space gives you all plenty of room for relaxing, eating and cooking together. We love the modern techno-touches such as the wine fridge, Nespresso coffee machine, Hive thermostat and 55″ Smart TV. Most of all, we love the floor-to-ceiling windows that make up one end of your lounge, giving you a front-row seat on the woodland day and night.
The bedrooms, as you might expect, are equally warm and welcoming. The three double bedrooms (two of which can be twins) are stylish, comfy and neat; perfect 'nests' for when you want a decent night's sleep. And the master bedroom comes with a lovely, large en-suite shower room for a refreshing wash after a day out hiking through the woods.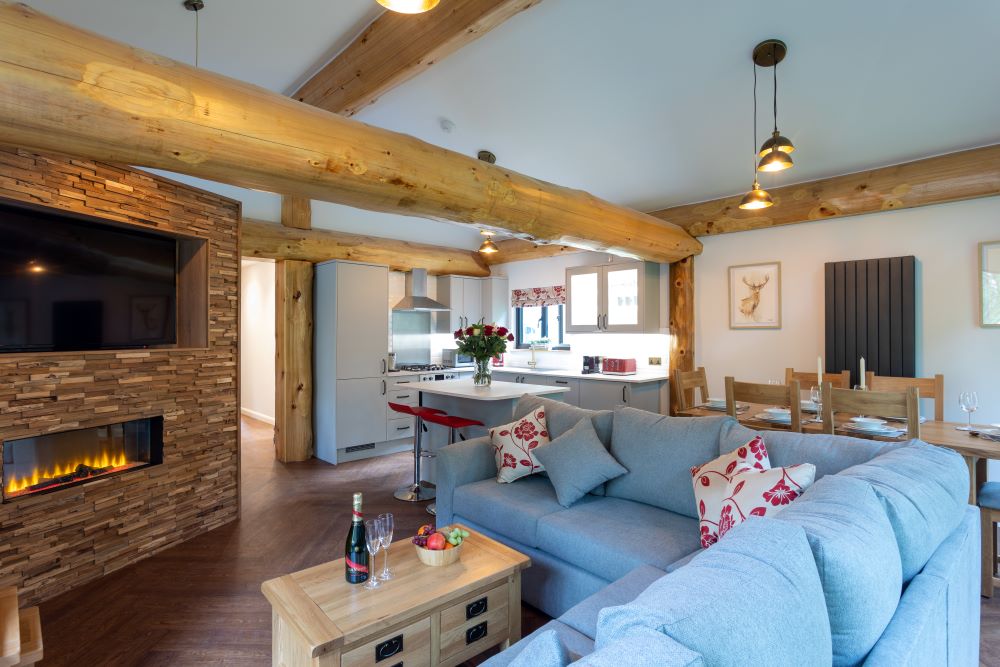 The Experience
For nature-loving friends and couples this family-run park is a dream come true. Woodland Park Lodges is a quiet and peaceful place and not the sort of 'holiday park' where arcade machines whizz and pop 24/7. Instead, you can take long walks in the woods, catching up on one another's news and filling your lungs with fresh country air surrounded by stillness.
Two woodland walks sit right on your doorstep (ideal if you've come with the dog) and a wildflower meadow, full of rare flora and fauna, is a quick stroll away. There are also tranquil forest ponds waiting in the woods, buzzing with wildlife, and a lovely picnic area for a relaxing cuppa listening to the birds.
Off-site there are historic towns to visit, such as Shrewsbury, Ellesmere and Oswestry. Along with a glacial landscape of shimmering meres: The Mere at Ellesmere is one of the largest natural meres in England outside the Lake District – and it's only 6 minutes' drive from your treehouse.
It all adds up to a short break where you can forget the endless 'must-dos' and 'must-bes' of adulting and simply hang out, guilt-free, with marvellous Mother Nature. She won't judge you if you sit for hours drinking endless cups of tea, talking nonsense. And she certainly won't moan if you roll from your bed to the hot tub without putting a wash on. She's cool like that.
The Essentials
Four single-storey dog-friendly lodges with hot tubs near Ellesmere
Dogs are welcome at £25 per dog, max of 2
Sleeps up to six in three double bedrooms (can all be doubles or two twins)
All bed linen and towels provided
Double glazed and heated so perfect all-year-round
Fully-equipped kitchens with dishwasher, washing machine, gas hob, and microwave
Free Wifi, family dining table and chairs, private parking space
Elevated balcony with hot tub, BBQ and outdoor sofa
Rural and secluded location on the English-Welsh border in beautiful North Shropshire
Set within 52 blissful acres of woodland, which is yours to explore
Complimentary bottle of bubbles when you book quoting WPCandy
Eye Candy