🌳 Rural & Peaceful  | 🛌  Sleeps up to 2  |  🍰 Complimentary Cream Tea | ⚡️Open April – October | 📍Glamping Swindon, Wiltshire |  💚 Low-Impact Stay | 💋 Great for Romantic Weekends | 🥂 From £80pn (2 night minimum stay)
Why we love The Swallow for a weekend
"If you spend your life on the wing, then darlin' it's time to let The Swallow be your roost for a while. Come to this Swindon glamping gem to instantly forget the 'giddy-up' pace of the outside world. Here, the air is meadow-fresh, the wild flowers are sweet and the neighbours welcome you with a moo or two." 
In a private, sun-dappled field, within easy reach of the beautiful Cotswolds and Swindon, sits The Swallow glamping – a superbly cool converted 1960s' horsebox. It's almost impossible not smile as you pass through the arch in the thick hedge and see her for the first time.
Even though you've only stepped from one open field into another, you have transversed worlds. With every step closer to The Swallow, the madness of modernity melts away and in its place there's a more simple, stripped-back joy waiting for you: no Wifi, no screens, no outside expectations – just you and the steady, reassuring heartbeat of rural Wiltshire.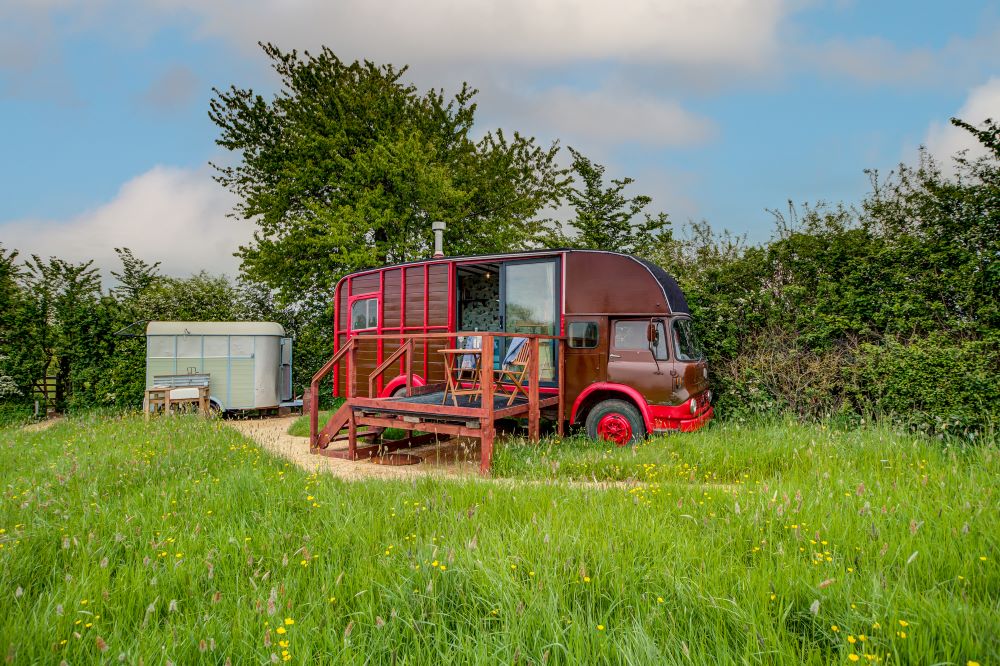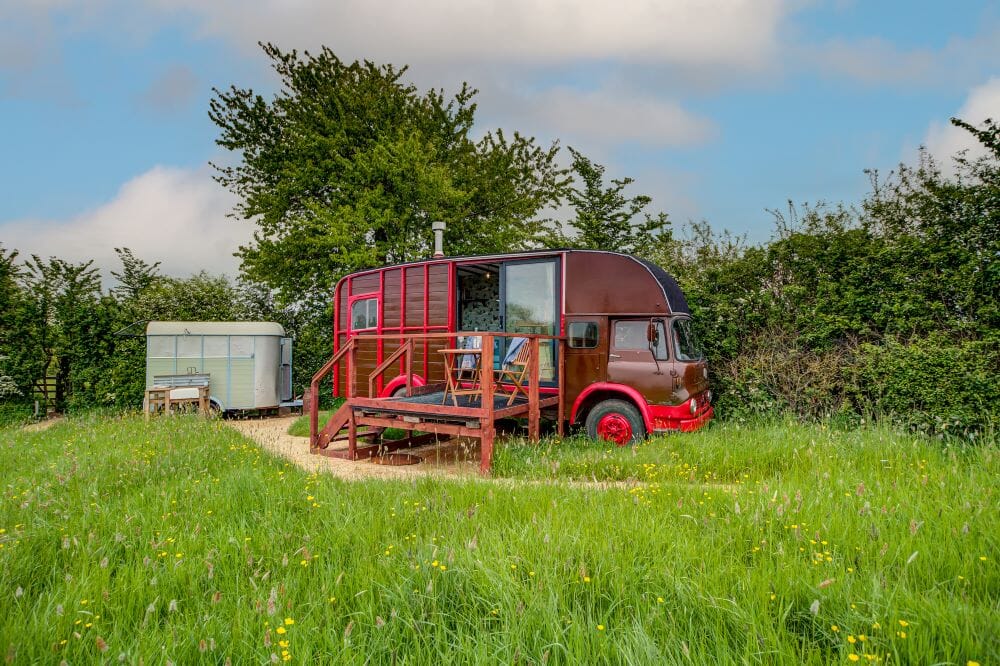 The Stay
The Swallow is the definition of a cool conversion. Andy, her owner, hasn't spared his talent making this Swindon glamping stay exceptional. Light pours into the former horse box through the sliding floor-to-ceiling windows, illuminating the inside, which Andy has flushed with delightful swallow-themed furnishings and quirky objet d'art .
The giant window where the doors used to be is a masterstroke. You can sink into the sofa, with the mini log burner crackling, and lap up views over the farmland day or night – whatever the weather. Andy has also added a covered wooden decking for your coffee as the day wakes and a fire pit and chairs for evening sweet nothings as the world turns in.
Your bed for the night is a doughy double (with under bed storage for bags and a stunning handmade quilt and thick duvet to keep you snug). And your kitchen is a neat single gas hob and Belfast sink. All the usual condiments are waiting for you when you arrive – along with a fabulous homemade cream tea. Your shower block is a quirky converted horse trailer a few steps away. In it, there's a compost loo and hot rainfall shower. Best of all, you can open the hatch window above the shower to feel the spring air on your skin as you wash.
The Experience
The Swallow is a deeply restful glamping experience in Wiltshire for those who love the peace and solitude of the countryside. Yes, you may spot the odd person going about their business – the horsebox is set on a 150-acre regenerative cattle farm called Waterhay Farm. And you will definitely hear a moo from the cows in the adjacent field. But that's it.
The rest of the soundtrack comes from the birds and your neighbours are the roe deer, the badger and even the otters who share this slice of North Wiltshire with you. Our advice? Forget your AirPods, pick up the binoculars and plug fully into the vibe here. If you return home afterwards, it'll be a flammin' miracle.
The Essentials
Off-grid rural escape in Wiltshire, sleeps 2 in a double bed
Self-catering kitchen with gas hob for simple meals, condiments and crockery provided
Separate bathroom with compost loo, hot gas-powered shower – towels provided
Perfect for romantic breaks, birthday celebrations, anniversaries and honeymoons
This glamping Swindon retreat is named after the swallows that make Waterhay Farm their summer home
Set on Waterhay Farm with 150 acres of grassland, including an ancient ridge, furrow fields and species-rich hay meadows bordering the Thames

Superb grass-fed beef

available to buy from the farm for the bbq, as well as the family's honey

Owner Andy is a keen proponent of regenerative farming and hosts

walks and talks for people who want to learn more

There are plenty of walks to enjoy around the farm, including the five minute walk to Leigh Old Chancel, a 700-year old church relic
Cirencester is only 15 minutes' drive and Ashton Keynes village in the Cotswold Water Park is right on your doorstep
Eye Candy