🛌  Sleeps 4 | 👉  2 bedrooms | 🐶  Pet-friendly | 💦  Indoor Heated Swimming Pool | 🥂 From £85 – £195 per night | 📍 East Sussex
Why we love it for a weekend
 The Old Dairy in East Sussex is a quiet and charming 2 bedroom cottage that will make a big splash in your heart, for more than just one reason
As you slip through the leafy green country lanes on the edge of Ashdown Forest, heading towards The Old Dairy – a self-catering cottage in Sussex – you'll notice how still everything is. That's because the frenetic pace of the modern world doesn't reach these parts. In fact, city life becomes a distant memory the closer you get to this charming holiday cottage. And once within The Old Dairy's thick farmhouse walls, the peace is greater still.
The Inside
Inside, there's an open-plan living, dining and kitchen space. Every inch has been immaculately decorated by the owners using a restful colour palette: soft greys, calming blues and tender pinks ensure you feel at ease from the moment you unlock the front door.
Of course, it's the same in every room. From the creamy warmth of the two bedrooms (one a king-sized, the other a twin) to the crisp white tiles of the large bathroom – The Old Dairy in Sussex is as sparkling fresh as a new spring day. And when you stay here in spring, there's nothing nicer than sitting in the light-filled conservatory at the back of cottage or on the private terrace, listening to the birds.
That's not to say that this Sussex self-catering cottage isn't cosy come winter – on the contrary. Look up and there are thick oak beams criss-crossing the ceiling. Underfoot, natural wooden floors and deep pile rugs and carpet keep you warm. Whilst at the windows velvet curtains hang, ready to be drawn once the log burner is lit and you're about to settle for the evening in front of the smart TV.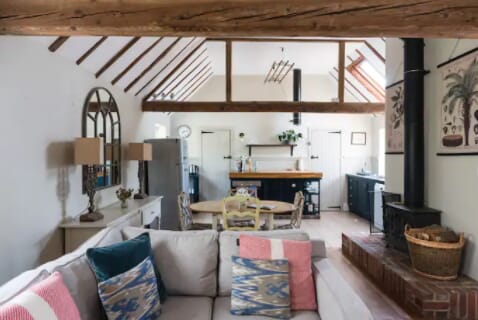 The Indoor Pool
Even without the indoor pool, The Old Dairy would be a stunning rural retreat for the 4 of you. But with the pool, this self-catering cottage in Sussex rises to the very top of the local (country) piles.
You'll find the pool just across from the cottage and housed in a large barn-like pool house in the family's garden. Glass doors make up one of the walls, streaming the greens of the outside in.
The pool is the family's own, generously shared with guests and filled with pool toys and floats. As a family space, it is made for fun and frolics – and doesn't suit those who may be expecting a spa-like experience. But it is open and heated all year round courtesy of the owners.
All you have to do is remember to bring your own a swimming towel.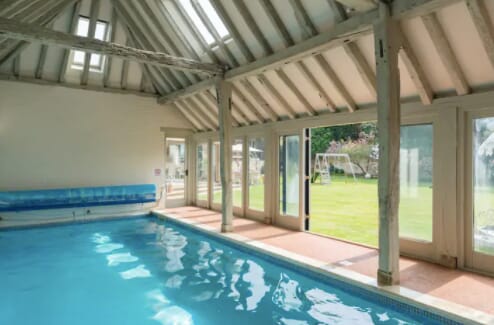 The Essentials
Self-contained 2 bed cottage set within the grounds of the owners' farmhouse
Two rooms: twin and king-sized
Guests access the cottage themselves and the key and a comprehensive manual will be on the kitchen table
Welcome hamper with fresh bread, eggs from the chickens, butter, milk, fresh and instant coffee, black and herbal teas.
Owners' cats, dog and free-range chickens wander around the gardens, yard and fields
Private, secluded, sunny garden with a BBQ and garden furniture
Child and pet-friendly, will provide up to two travel cots (with mattresses) and high chairs
Wood, kindling and paper for the fire complimentary for the first night of stay
Towels provided, please bring your own swimming towels
Parking space in the courtyard
Close to a range of sights and activities including the Bluebell Railway, Sheffield Park Gardens, Ashdown Forest, Glyndebourne, and the South Downs
What Guests Say
"Lucy's place is absolutely fantastic, particularly if you have little ones. We visited with our 9 month old who had just learnt to crawl and the set up was brill for us. So many great places to visit and go for walks, much helped by Lucy's handbook. I have already recommended to friends and we would love to revisit again." Kirsty
"The barn is better than the photos. Everything is super comfortable, loads of space with everything practical you could need. The beds were particularly comfy! The swimming pool was such a great addition. It's a lovely pool and equipped with loads of swimming toys. This made the holiday for us." Sophie
"We had a fantastic stay, great location with lots to do in the surrounding area. Having access to the pool was a really nice feature. Lucy was a very welcoming host and promptly answered any queries we had. Would definitely stay again!" Johnathan
Eye Candy