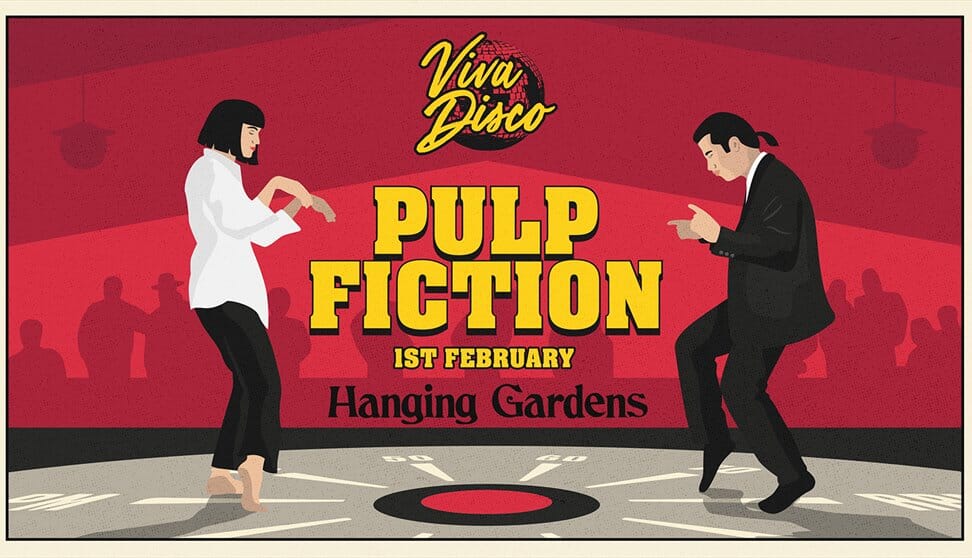 February, is that you? Please can you bring us sunshine, snowdrops, daffodils and lighter mornings very soon? We are SO done with Jan! Whilst we're waiting, we'll take a look at the good things in store for us this weekend – and, as always, there's a lot going on.
For more weekend inspiration, remember to check our the Weekend Directory.  And if you do go to any of the events below, swing by the comments below and let us know or tag us on social using the hashtag: #weekendcandy 
---
Event | Pulp Fiction Disco, Hanging Gardens, Plymouth
Sat 1st Feb | Tickets: £3
The start of February is also the end of dry January! Whoop, time to enjoy a tipple or two and get your dancing shoes on for this: a Pulp Fiction themed disco at The Hanging Gardens. Get your best Vince Vega or Mia Wallace fancy dress and take to the dance floor as Viva Disco gives you an evening to remember.
Kicks off at 10pm and until the early hours of the morning. Strictly over 18s only.
---
Event | Abba Party Night, Flavel Arts Centre, Dartmouth
Fri 31st Jan | Tickets: £10 including welcome cocktail
Ready for some serious sequinned fun? Then come along to a very relaxed screening of the original Mama Mia film.
Fancy dress is optional but, seriously, who wouldn't want to don platform boots and satin flares for this brilliant Friday night gig?
Ps: There's also a welcome cocktail for those who have packed in Dry January!
---
Exhibition | The Music of the Stars – Durham University Observatory, Durham
Sat 1st Feb | Tickets: Free
Join the Ustinov Cafè scientifique team, along with the Music and Performance Team from Durham University, for a spectacular night of stargazing led by experts from the Astronomical Society of Durham.
Gather at Sheraton cafè at 7.45 pm to walk together to the observatory, where you'll observe the stars, starting from 8.00 pm, The stargazing will be followed by some beautiful piano music from volunteer pianists from Ustinov, along with warming hot chocolate!
---
Festival | Celtic Connections, Glasgow Royal Concert Hall, Glasgow
16th Jan – 2nd Feb | Tickets: Depend on event
It is here, Glasgow's annual folk, roots, indie, world and traditional music festival –  that's definitely something for everyone! From 16 January – 2 February 2020​, 2,100 musicians from around the world will descend on Glasgow and bring the city to life for 18 days of concerts. , ceilidhs, talks, art exhibitions, workshops, and free events.
The festival will feature ceilidhs, talks, art exhibitions, workshops, and free events. Last year, the festival hosted the likes of Judy Collins and KT Tunstall. This year promises to be just as good!
---
Show | The Magic of Motown – The Lighthouse Theatre, Kettering
1st Feb | Tickets: £30.25
Music fans it's your lucky weekend. You are invited to the biggest party of the year as the unstoppable Magic of Motown show steams into Kettering this Saturday!
It has already been seen by over a million people, so it's no surprise that the show is one of the biggest success stories in British theatre history. Prepare yourself for 40 back-to-back classic Motown hits, glittering costume changes, dazzling dance moves and outstanding musicianship in this explosive concert experience.
Celebrate the sound of a generation as the timeless music of Marvin Gaye, Diana Ross, Stevie Wonder, The Temptations, The Supremes, The Four Tops, Martha Reeves, The Jackson 5, Smokey Robinson and more are sensationally recreated for you by an exceptionally talented cast and band. It's a treat for the ears!
---
Want to see your event here?
Do you have an upcoming event that you'd like promoting to our readers? Email us and tell us about it!