Oceans of historical charm with all the boutique comforts
of an English country house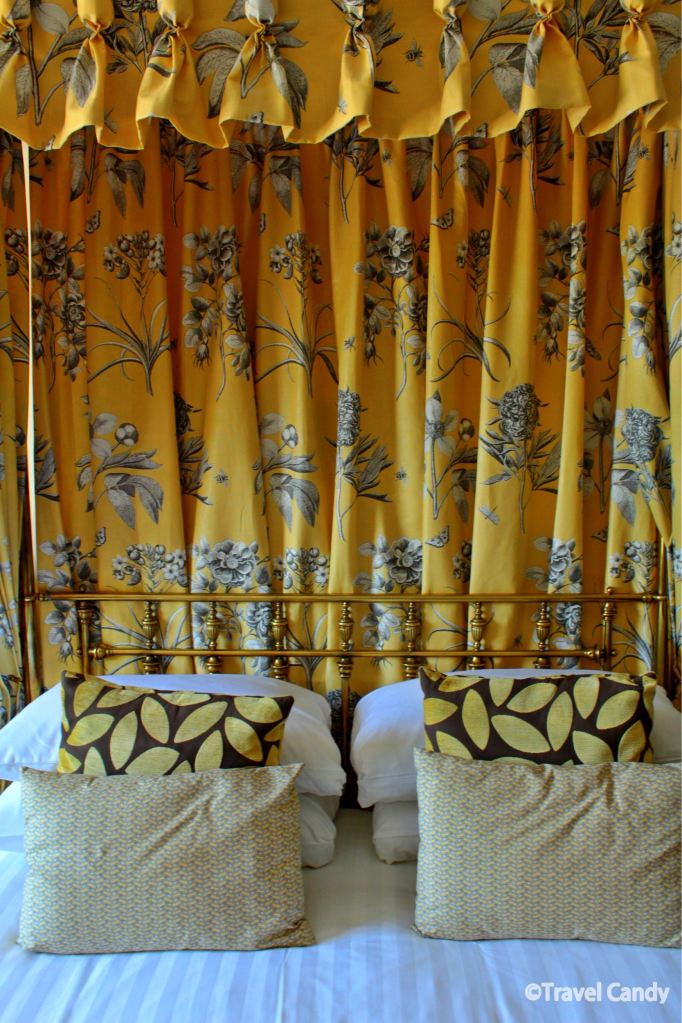 As I glance down at the polished flagstones that lead from the bright Dartmouth street into the warming heart of the Royal Castle's reception, it's hard not to think about the feet that have worn them smooth.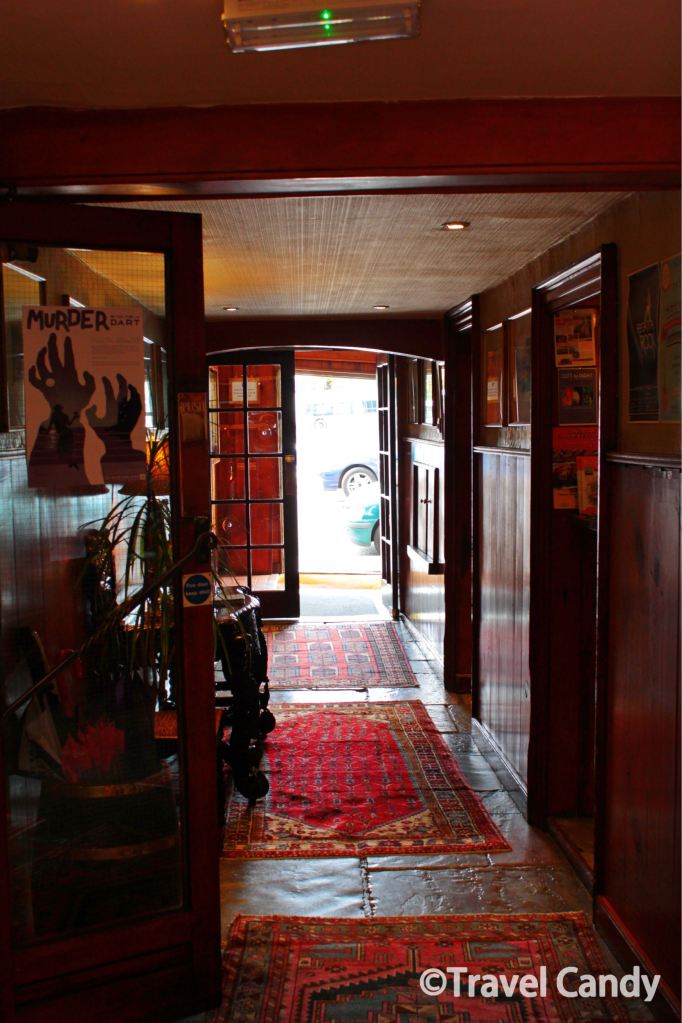 For this is a hotel that racks up an impressive cast-list of historical comings and goings since it started life in the 1600s:
Sir Frances Chichester and Sir Chay Blythe have climbed its soaring stairs; Their Royal Highnesses Prince Charles and Prince Andrew have chatted and laughed in its ancient bars; and Cary Grant, Gregory Peck and Faye Dunaway have relished the Royal Castle's exquisite hospitality.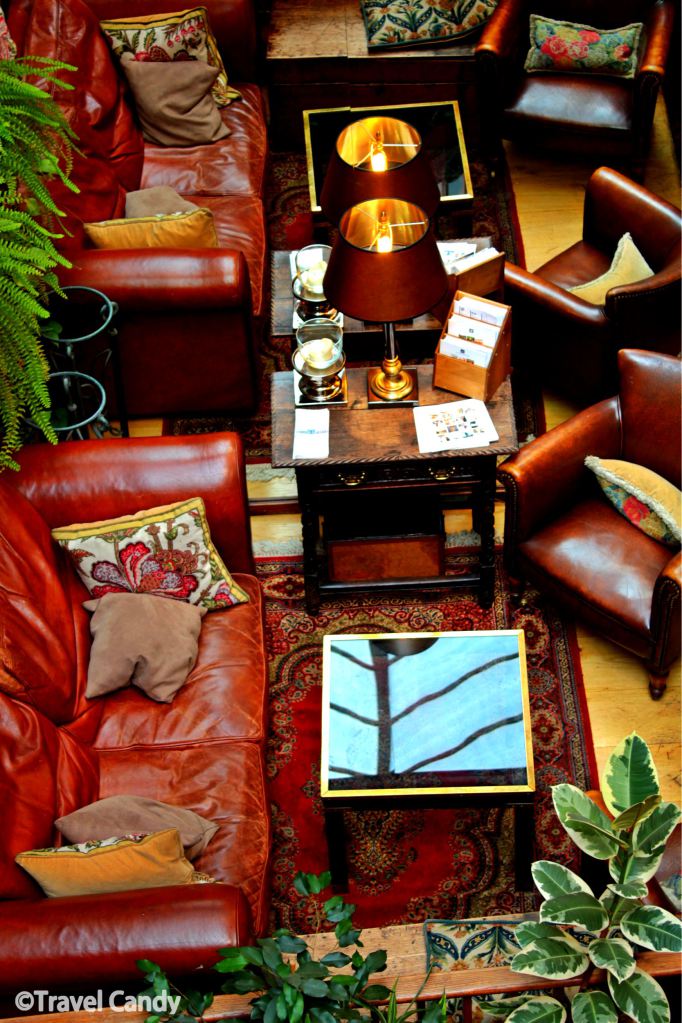 Yes, this is a hotel with antiquity deep-set in its DNA. It's seen it all; it's done it all; and it's earned itself the title of the 'Heart of Dartmouth' in the process.
And it's very easy to see why.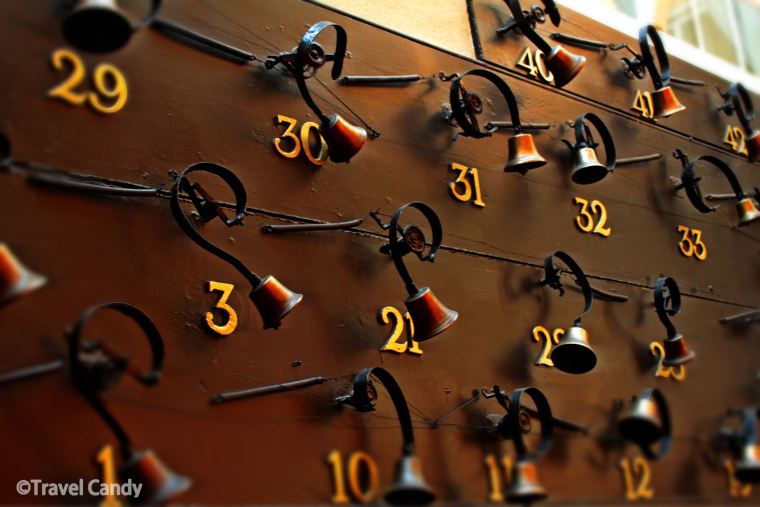 The History
The Royal Castle Hotel started life as two merchant houses back in the days when Scotland was at war with Charles I and Guy Fawkes was locked in the Tower of London.
A century later it became the New Inn, and by 1782 the two houses were woven together to become the Castle Inn.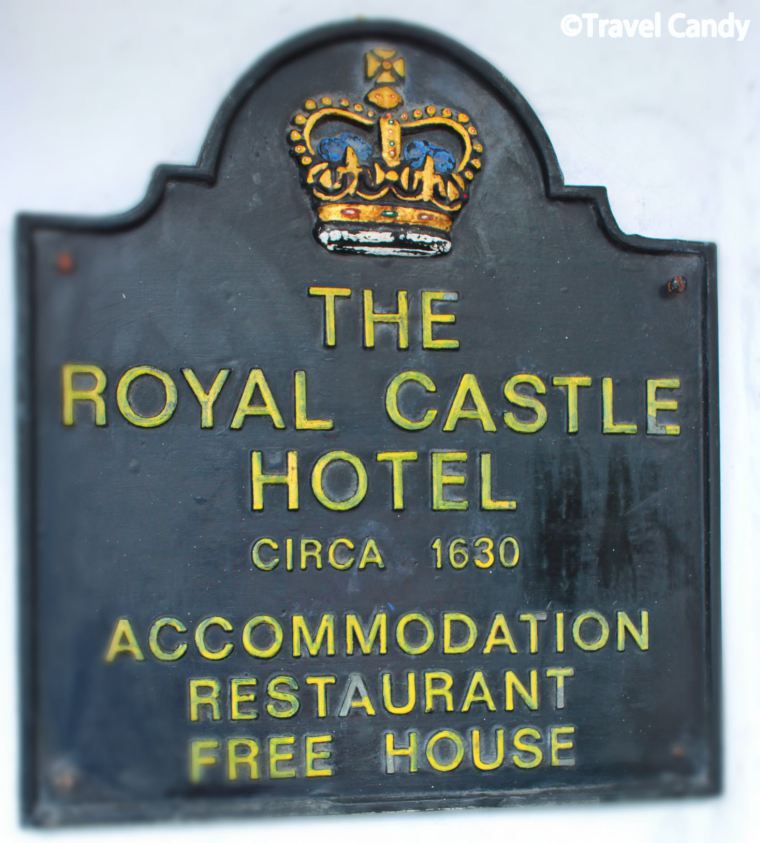 Since then, it's seen 'sales by candlelight', court hearings, the birth of Dartmouth's turnpike road, and been lovingly crowned with a third floor.
It finally became the Royal Castle Hotel in the 1800s when someone gazed at its Doric columns and castellated cornicing and realised it looked more like a castle, than an inn.
The rest, as they say, is history.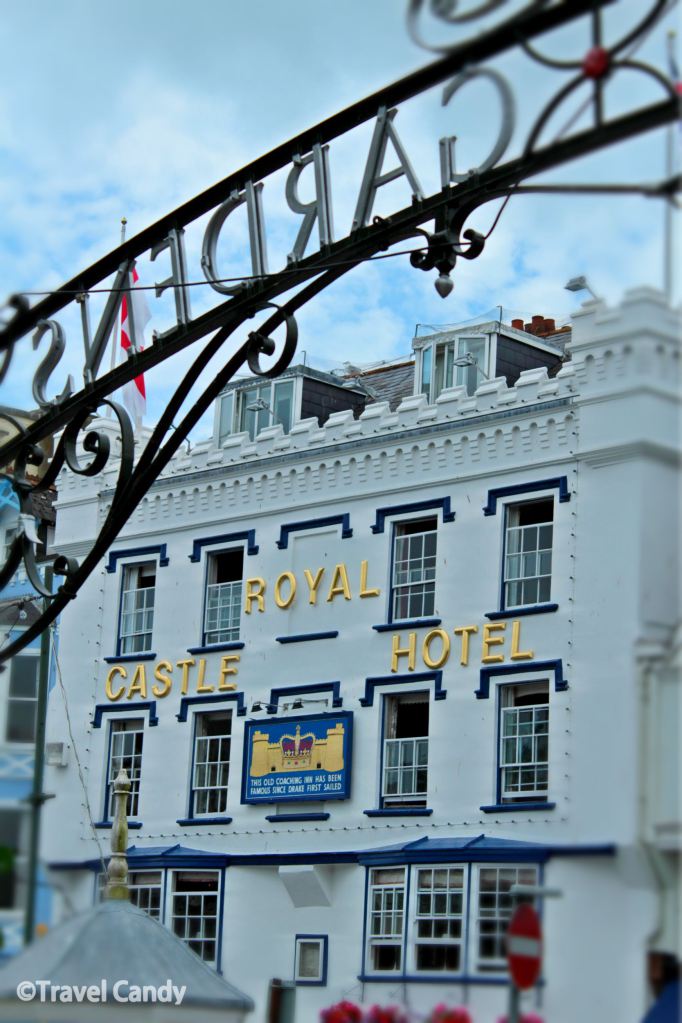 The Hotel
Today, the Royal Castle's white crenelated façade stands double-breasted and puffed out with pride; as it should, because it's got every reason to be proud.
Step inside, pad along the ancient flagstones to reception, and the dark instantly gives way to a column of thick Dartmouth sunlight, thrown down from the glazed glass roof towering three floors up.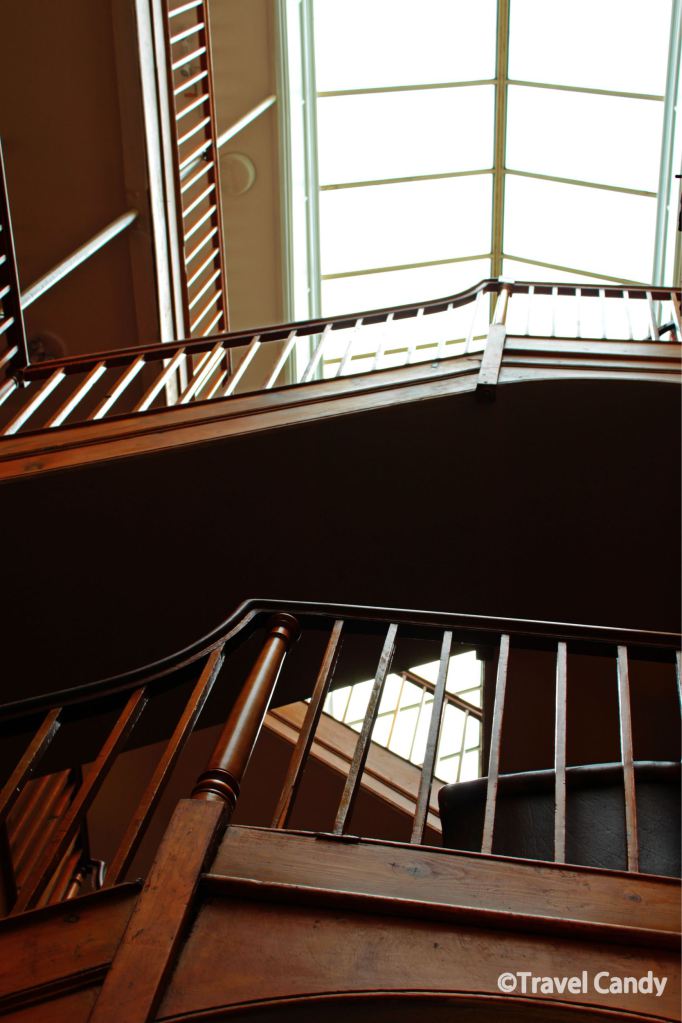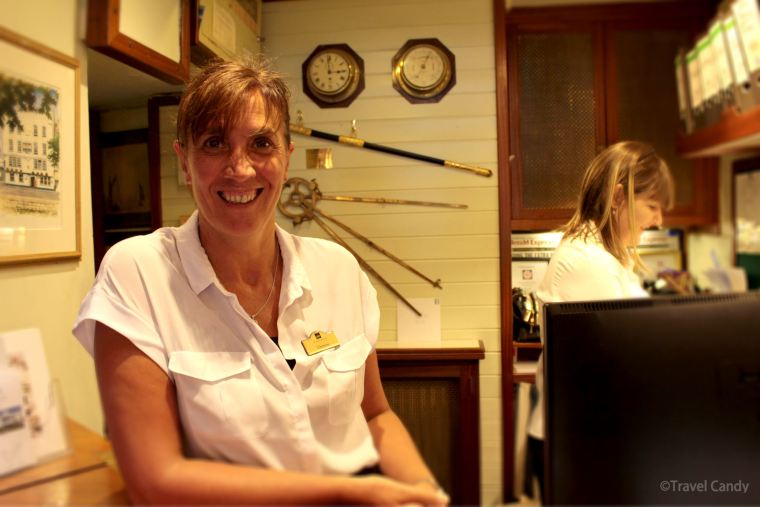 Adding to the brightness are the smiles of the girls on reception; complete strangers who couldn't have greeted me more warmly if I'd have been family – which is distinctly the feel at the Royal Castle Hotel.
In less than a minute, they'd sorted my room key, given me my WiFi code, whisked my bags off to my riverside room, and re-parked my car safely in an allocated spot for the 24 hours I was spending in this beautiful sea-salted town.
The Room
The Royal Castle Hotel has 15 standard rooms and 11 river view rooms, all uniquely decorated and dog-friendly. I was lucky enough to bag river view room No. 14.
And when I say lucky – I mean lucky.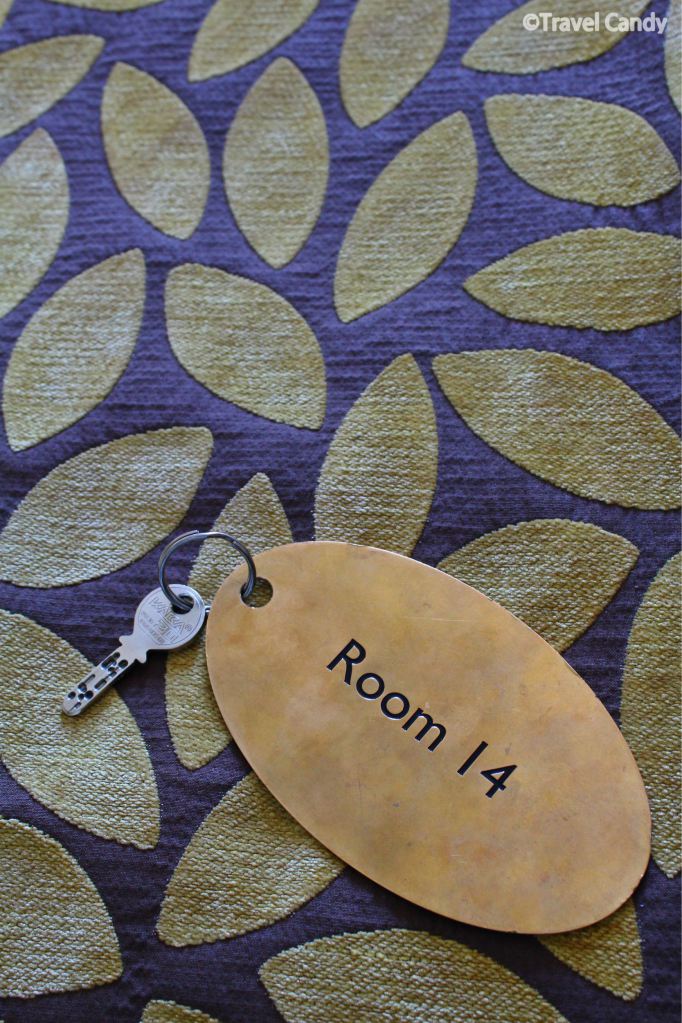 As soon as I opened the door, I had to dump my bag and grab my camera because the room was so pretty I needed to capture it right away, for fear it might pick up its skirt hem and run from sight.
Gone was the oak wood panelling, rich red carpet, sloping floors, and painted stares that had led me to my room; in their place a space as genteel and refined as Kiera Knightly in a costume drama.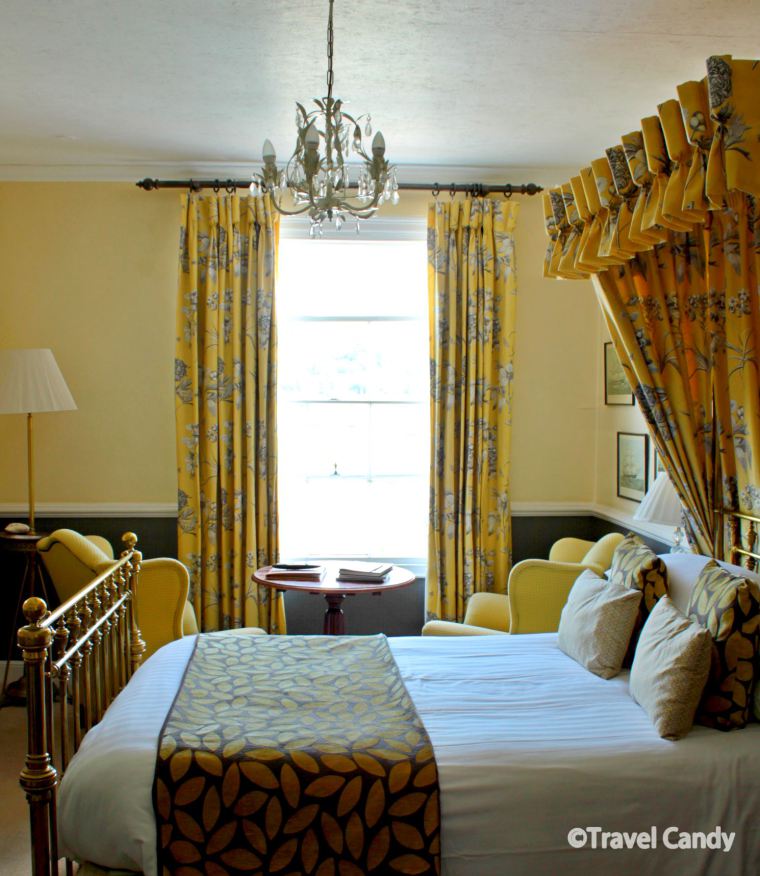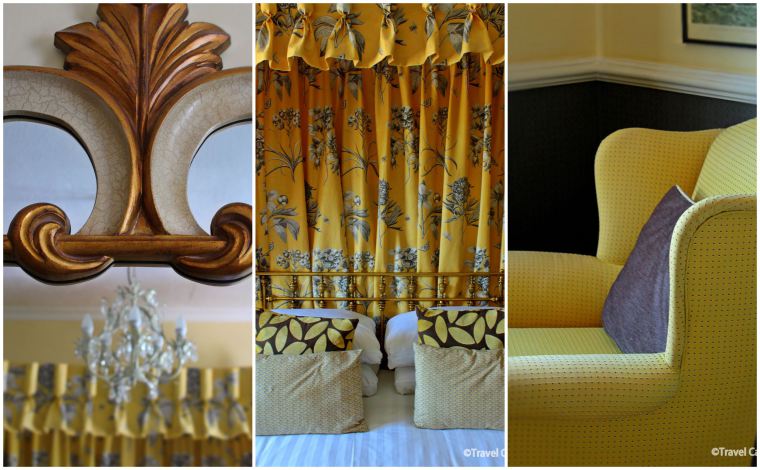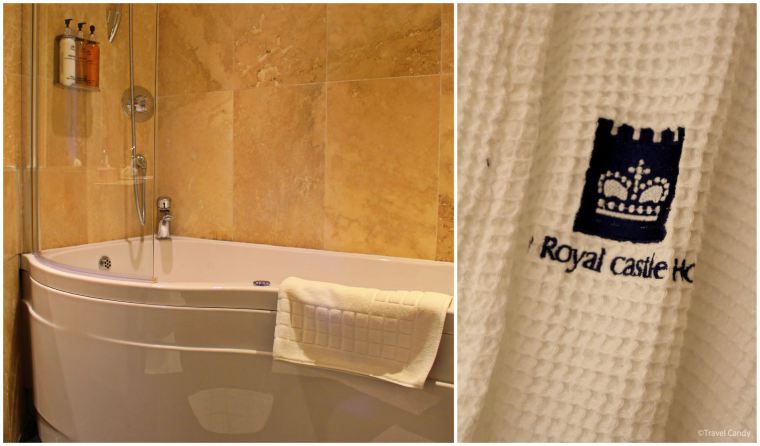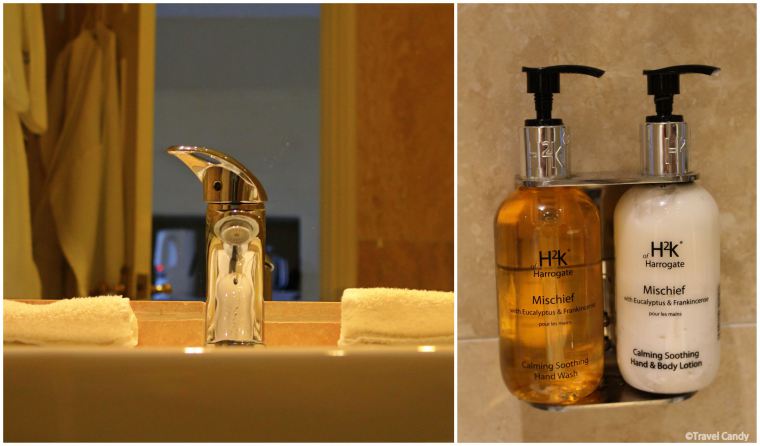 The butter-creamed drapes that hang over the bed – SNAP; the biscuit-blushed high-back chairs watching the world sail by – SNAP; the glinting gold brass of my double for the night – SNAP; the shining silver of the a la mode bathroom – SNAP. The huge ornate mirror, the down-inflated pillows, the towels… SNAP, SNAP, SNAP…
And, of course, the view. Man, WHAT a view.
The Location
Mind you, when you occupy the best location in Dartmouth, which in my humble opinion the Royal Castle Hotel does, you're going to have a view worth snapping.
To your left, with your back to the hotel, you're a hop, skip and a jump away from the timeless elegance of Foss Street – where chic boutiques nuzzle alongside light and airy galleries.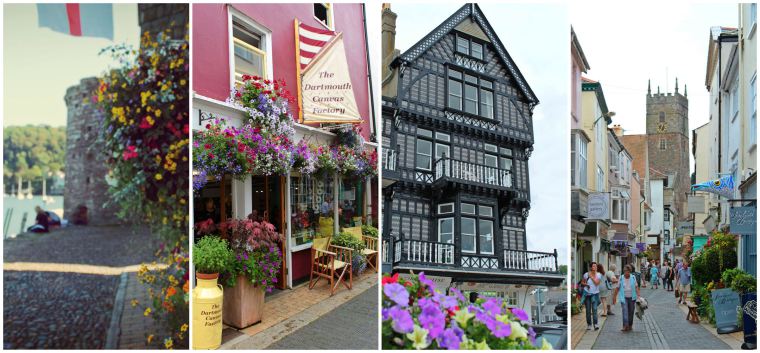 To your right, Fairfax Place tapers into Lower Street providing a walk neatly peppered with delicate shops and pretty cafes and stretching all the way to Bayards Cove.
Straight ahead, the Royal Avenue Gardens sweep cares away with suited and booted flowerbeds and ironed-pressed lawns, whilst to the right of the gardens a boat float breathes gently in and out as Dartmouth life unfolds around it.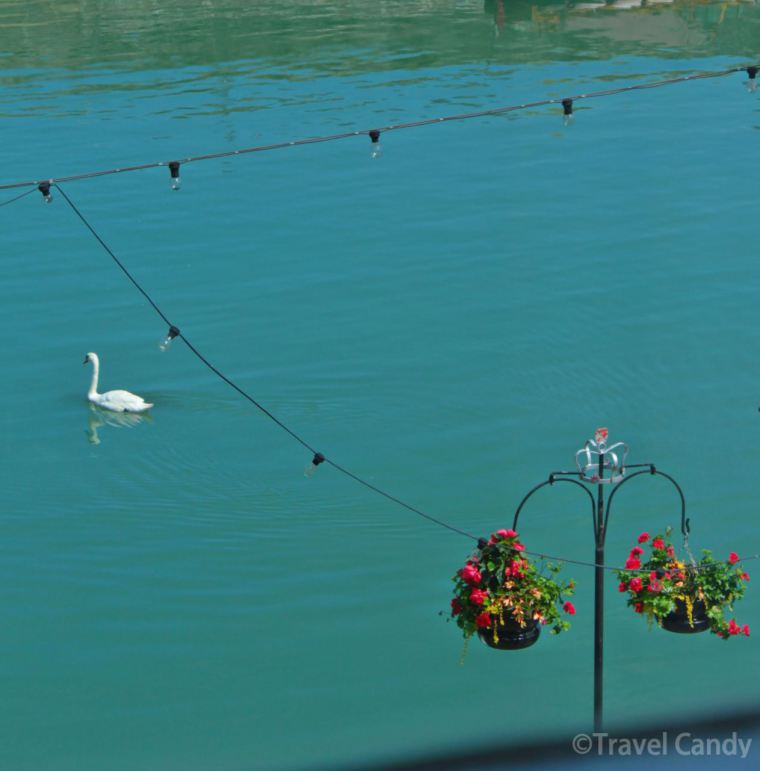 But best of all, the Royal Castle Hotel is a mere minute's walk from the hulking waters of the River Dart – hence the magical vista.
One moment you're gazing out of your hotel room, the next you're across the road, sucking salted air and watching the River Dart carry super-yachts, picnic boats, paddle steamers and rent-your-owns downstream on its mighty turquoise back.
The Food
Breakfast and dinner were served in the Royal Castle's blue-blooded Grill Room. I say blue-blooded because this large first floor was a favourite retreat of HRH the Prince of Wales when he brought his two sons to join H.M.S. Britannia in 1877.
HRH had good taste. The view, again, from this vantage point is eye-wateringly delicious – and that alone might've filled me up had I not then been served a three-course meal fit for… well… a king.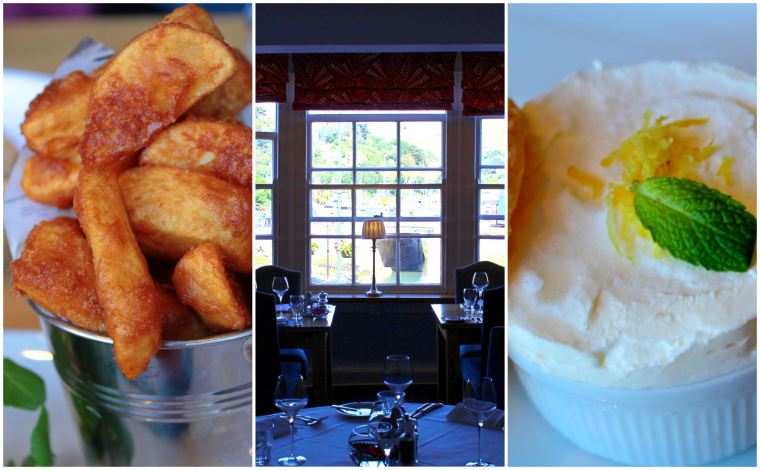 To start, I had the Brixham crab on toast dressed with blood orange segments. It look divine and tasted great – I'm never sure exactly what crab is meant to taste like, so I can only say I enjoyed it and save my superlatives for the main… so prepare yourself:
For my main, I plumped for the whole minted king prawns. First things first: there are king prawns and then there are KING prawns.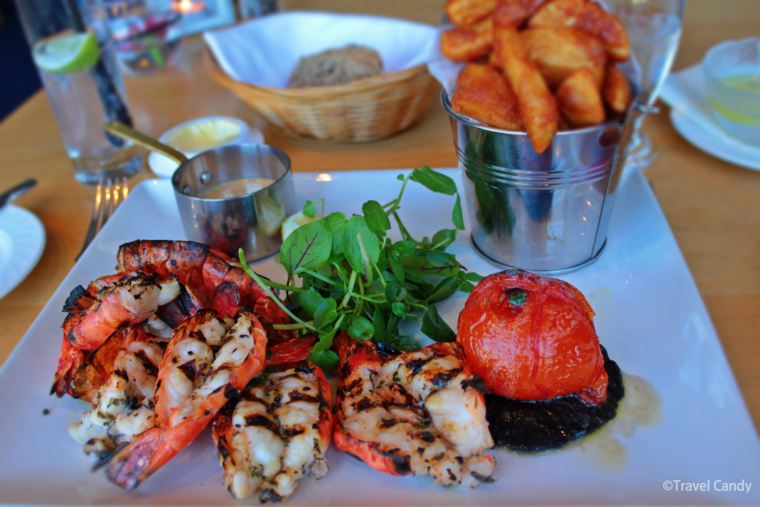 Seriously, my eyes nearly popped out of my head when I saw them: these prawns were the size of dolphins! And they were covered with torn mint leaves, and accessorised with a steaming batch of giant chips.
(As you'd expect from a sea-fringed town, all the fish was caught in local waters, bought fresh from the fish markets at Brixham and Plymouth.)
After dinner, came the creamiest iced-lemon soufflé. It is the closest you'll come to lemon heaven when you're not a lemon, believe me.
Breakfast the next morning was equally as striking on the eyes and tastebuds. And I left the Royal Castle knowing that had I stayed another night, I'd need to upsize my jeans.
The Conclusion
The Royal Castle Hotel has it all.
It's got the looks – all its bedrooms are handsomely stylish and many have an envious view. It's got the charisma – Nigel Way, who owns the hotel and regularly pops up, makes it his business to be as attentive and friendly as possible. It's got the hidden character – bedroom 6 even comes with its very own priest hole. (The priest has gone.)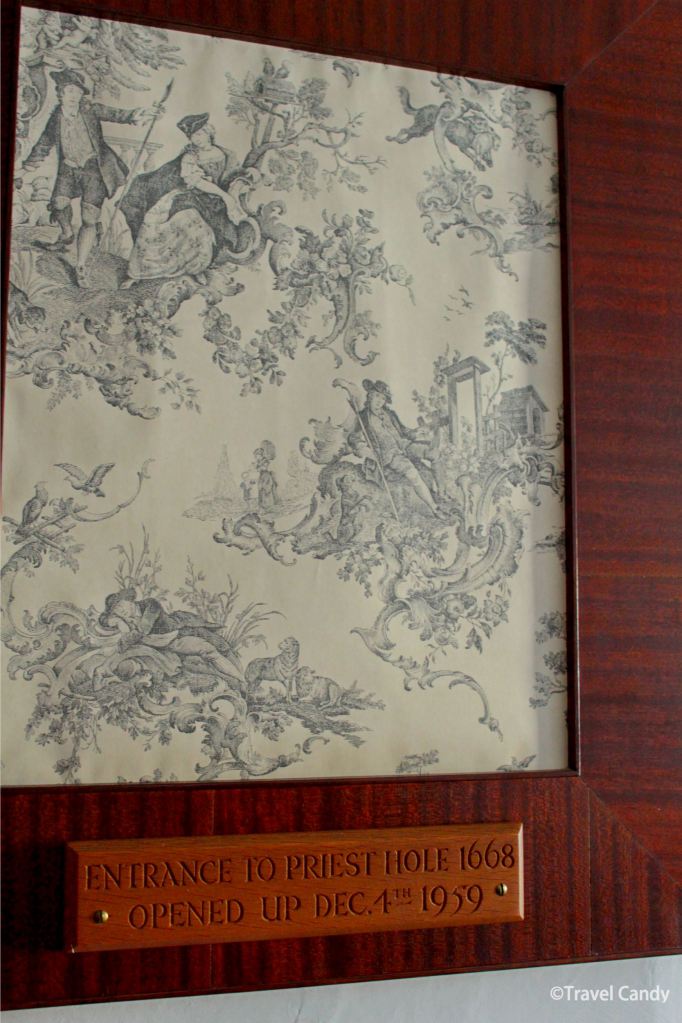 It's got the romance – weddings, christenings and anniversaries are often held here and have been for hundreds of years. It's got the intelligence – prices aren't extortionate, and when you consider what you're getting in return, they've every reason to be.
And it certainly 'got' me.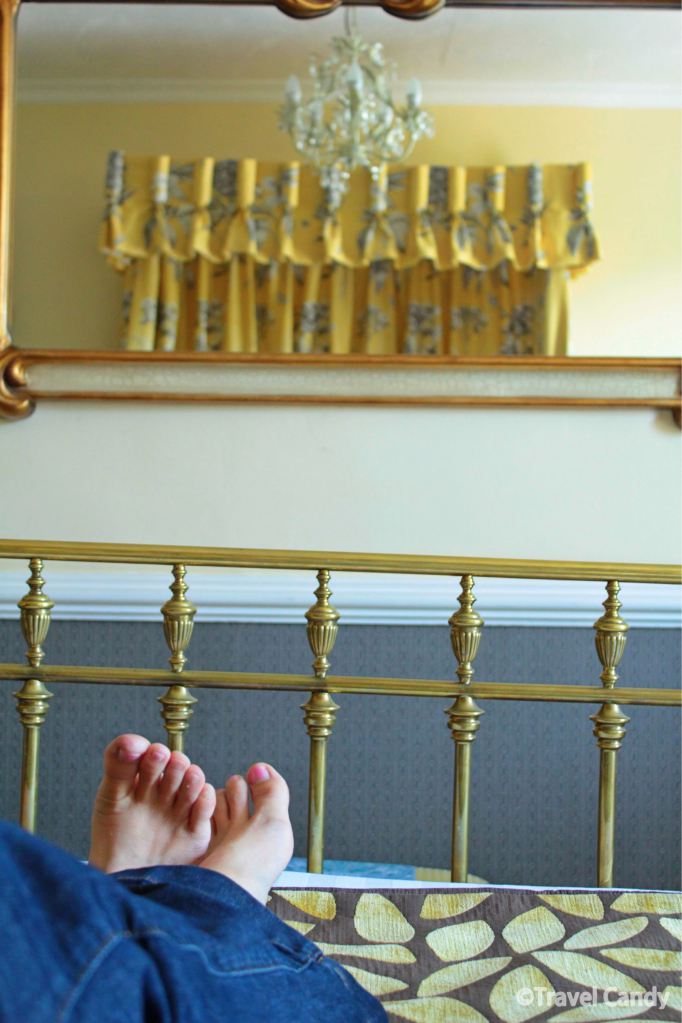 I stayed at the Royal Castle Hotel for one night, with the hotel's compliments, in order to produce this review. However, this review is an honest reflection of my stay and my opinion of it – I'd never post anything I didn't believe in.
What: The Royal Castle Hotel
Where: 11 The Quay, Dartmouth, Devon TQ6 9PS
Budget: Rooms start from £95 for a single (online rate)
Stars: 3
Never been to Dartmouth?
This is what you're missing.