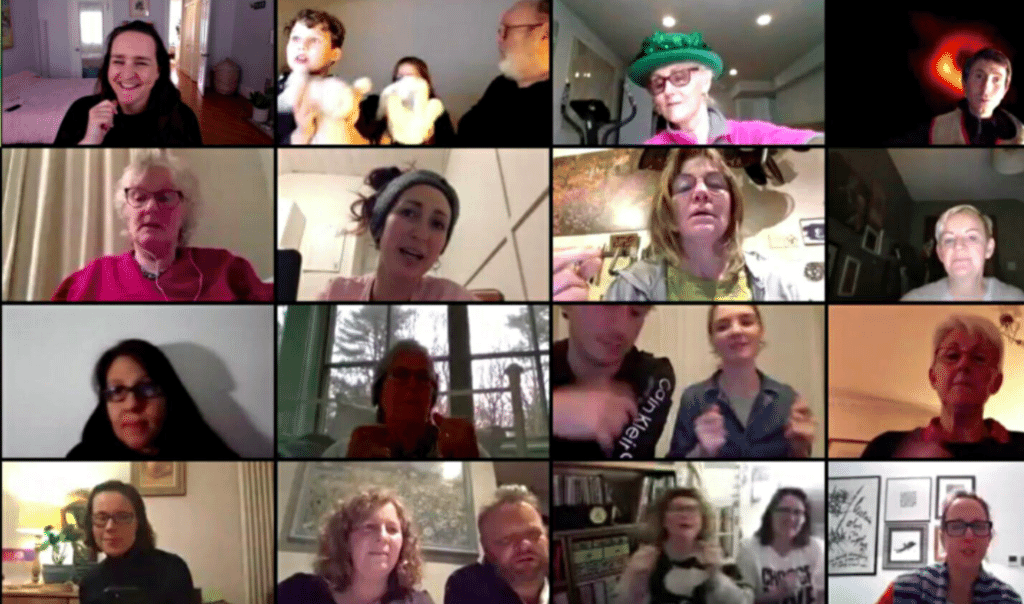 Being at home has never looked so good. Yes folks, step out on to your metaphorical balcony and share your inner joy (quiet literally) with the world, because we've 5 fabulous ways to make your lockdown rock.
From singing your heart out with a virtual choir, mixing quirky cocktails with your own virtual bartender to taking afternoon tea with a big dollop of Netflix – this is self-isolation that you'll find hard to give up once life returns to normal.
Of course, as you'd expect, things change so quickly at the moment it's worth double-checking all the suggestions below in case there are hold-ups, delays or new Government restrictions. 
---
Delivery | Take Devon Afternoon Tea in Your Garden
With Devon Heaven Hampers
Dust off your floral frock, dress for afternoon tea and a lay a table in your garden under the March sunshine, because Devon Heaven Hampers are delivering scrumptious tea for two hampers.
They have a large range of afternoon tea hampers to choose from, starting at £19.50, with free postage. They also offer cake and biscuit hampers or the chance to build your own bespoke Devon hamper. Why not ask the girls to join in or order an additional hamper for mum, then share the delights over Zoom?
Alternatively, treat yourself and video call your mates so they can see how much you're enjoying it! Naughty, but nice.
PS: One small word of caution though, please check with Devon Heaven Hampers before ordering in case staff shortages are causing delivery delays. We'd hate you to open the fizz before your hamper arrives.
---
Music | Sing-a-Long with the UK's First Virtual Choir
It's time to take British shower singing to a whole new level with the Sofa Singers, a virtual choir that you can join from your sofa. Founded after self-isolation set in, it now has thousands of other voices for you to sing along with from your home.
It's free to join; simply download Zoom and sign up. Then enjoy 45 minutes of Sofa Singers' singing every Friday. Unfortunately, (or fortunately!) you can't hear the other singers – only yourself. And the perks of a virtual self-isolation choir? Singing is proven to boost your mood, plus no-one is going to knock on your door as you hit the high note.
---
Event | Mingle with Foodies at a Virtual Supper Club 
Thanks to UK Supper Clubs
The brilliant Rumbie Shearer started UK Supper Clubs back in the old days when we were allowed to meet face-to-face with friends. Since lockdown, she's taken her concept online to keep the sense of community alive and well.
Rumbie's supper club runs every Wednesday evening at 7pm. On the Monday before, she reveals the theme for the night (as voted by the community), the ingredients you need and the recipe. All you do is join via the Zoom link and enjoy the vibe, swapping stories and sharing your food (virtually) with other like-minded foodies. Sure is tasty.
---
Experience | Shake up Your Own Signature Cocktails 
With the Cocktail Flow app
There's only one sensible way to pass the time while your self-isolation dinner is cooking: raiding your lockdown booze cupboard with the Cocktail Flow app in hand.
Add the booze you have into the app (under the 'My Bar' section) and it'll serve up all the relevant cocktails you can make. Hello instant party.  Each suggestion comes with an easy-to-follow recipe and step-by-step instructions, plus there's an added bonus: shaking up your drinks tones your arms and counts as one of your daily exercises (at least it does in our book)!
Then when life is back to normal, you'll be able to flaunt your new mixology skills ready to impress with cheeky little numbers come BBQ season.
---
Event | Bake the Perfect Gluten-Free Showstopper 
Ever cringed as you served a gluten-free cake, desperately patched together with icing? Did your Mary Berry expectations fly out the window as your masterpiece crumbled when you sliced? Then say 'hello' to Ali Walsh, baker extraordinaire, from The Local Bakehouse in Bristol.
On Saturday 4th April at 11.20am (we're giving you plenty of notice to book it in), she'll be live streaming her top gluten-free baking tips and secrets as part of the Free From Festival. Bake alongside her in your own kitchen and share your attempts on Facebook, or just sit back and enjoy her talk entitled 'Making Life Fun When You're Gluten Free'.
Ali's also setting up more live gluten-free baking events in due course, and we'll share them with you when she does. Icing, cake – yeah, we've got you covered.
---
Want to see your virtual event here?
Do you have an upcoming event to help people get through self-isolation that you'd like to promote? Email us and tell us about it! 
PIN FOR LATER: