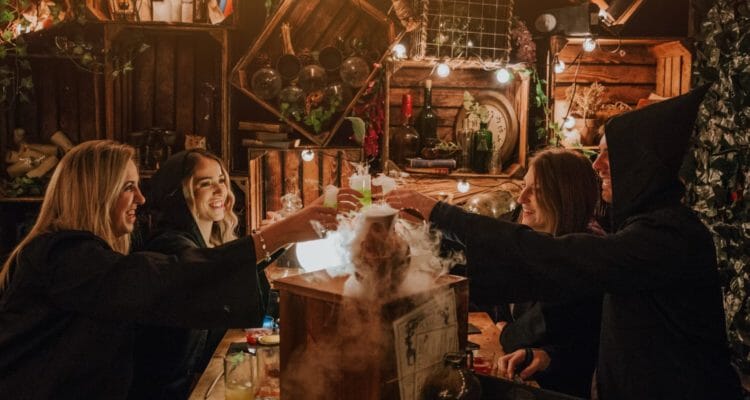 The frivolities of Christmas and New Year's Eve seem like a lifetime ago don't they?! How is 2020 zooming by so quickly already? Never fear, Weekend Candy is here to remedy those January blues with fun and fabulous things to do this weekend.
Remember also to visit the Weekend Directory if you need additional inspiration – it's the UK's only directory dedicated to weekend-friendly pursuits. As always, if you do go to any of the events below, swing by the comments below and let me know!
---
Experience | Jeff Wayne's War of the Worlds, London
All week and Frid – Sun | Tickets: From £54.50
Brace yourself ladies and gentlemen, this fully-immersive experience in Aldgate, London is set to head your head spinning. It's a incredible retelling of War of the World's by immersive theatre company, Dot Dot Dot, set to the glorious sound track of Jeff Wayne's musical score.
Live actors, virtual and augmented reality, haptic tech, holographic, sensory stimulation all come together for nearly two hours' of multi-layered fun as you follow George Herbert and his fiancee Carrie (the named protagonists who replaced Wells' anonymous narrator and his wife in Wayne's album) in their mission to win back the city following an invasion from Mars.
Crawl, slide, run, and walk your way through the misty streets and lavish parlours of Victorian England, ushered on by actors whose job it is to help you survive. The experience takes place in a 22,000 square ft warehouse fitted with 10 experience rooms, one of which is a bar – so you can take a never-settling drink half way!
---
Event | Dinosaur Day, Techniquest, Cardiff
Sat 18th | Tickets: Adult £8 Child £6.50 Student or senior £7.20 | 10am – 5pm
Your little explorers will go dippy for this: Dippy the Dinosaur's stay in the National Museum Wales. Walk into the prehistoric past and make friends with baby dinosaurs, come face-to-face with a T. Rex and discover all about fossils with Wales' most experienced dinosaur rangers.
The events run all throughout the day for families to enjoy. But remember to book, spaces are limited!
---
Event | Live Wrestling, The Mountbatten Centre, Portsmouth
Sat 18th | Tickets: £11 | Doors 6:30pm, Bell Time 7pm
This Saturday night witness the true athletic prowess of pro-wrestlers in Portsmouth with Revolution Pro Wrestling. They're rumbling into town bringing incredible, international wrestling talent from all over the world to this famous naval town.
Wrestlers from Australia, Canada, America, and Japan, as well as across the UK will face each other in intense, leotard-clad, sweat-splashed competition.
It's a family-friendly night of high-flying, high-octane, hard-hitting wrestling allowing you to get up-close and personal with what others can only see on TV.
---
Event | The Cauldron Magical Cocktail Experience, Edinburgh
Wed 15th – Sun 19th Jan | Tickets: £19.99 – £34.99 
This weekend grab your gal pals and plunge head first into some magical cocktails. The Cauldron Magical Experience is a 1 hour 45 minute immersive class where you'll wield a working magic wand and use molecular mixology to brew drinkable elixirs.
After donning a robe and getting your magic wand, you're led to an interactive work station to learn the spell-casting 101 whilst enjoying a welcome drink of either beer, cocktail, or mocktail. The night is then yours to create and cast spells making truly delectable drinks.
There are even magic sessions for little wizards and witches aged 10+ creating fabulous mocktails.
---
Event | Daddy & Daughter Hairstyling Tutorial, Le Keux Vintage Salon, Cheltenham
Sat 18th Jan | Tickets: £25
Well, this is by far the sweetest event we have come across! Do you know a dad who is amazing at so many things, but he's not so great at doing his daughter's hair? Here's the solution: send them both into Le Keux Vintage Salon this weekend for some quality time learning how to style his daughter's hair.
In this 90-minute class, dad will learn how to perfect 3 styles on his daughter. He'll get all the help he needs along the way from the expert team on-hand. By the end of the session, dad will be a super styler with a do for school, sporting activities and a vintage look up his sleeve.
It's a daddy and daughter bonding experience, plus it means one less job for you to do on a busy school run morning. You'll need 1 ticket per child to get you both in.
---
Want to see your event here?
Do you have an upcoming event that you'd like promoting to our readers? Email us and tell us about it!