❤️ All-in-one Cornish activity holiday |⚡️ Stay aboard a Scandi-style glamping bus | 🛌 Sleeps up to 10 | 🚌 Private local driver/guide | 🧘🏼‍♀️ Activities include surfing, yoga, hiking, run or wild swimming | 🍽️ Includes 3 meals a day | 🥂 Brilliant for bespoke Girls' Weekend
---
Why we love Scarangar for an adventure weekend
"So long generic activity getaways. For an adventure holiday in Cornwall that leave you breathless and inspired, let Scarangar take you by the hand. This wildly unique Cornish activity trip is your ticket into the rugged soul of Cornwall's most unspoilt spots. Your home? A beautifully refurbished British vintage double-decker. Your trip? Curated by local experts, built around your desires. And your days? They're filled with bespoke local activities that wake up your wild side. Face to the wind, let's go."
Cornwall is the home of adventure holidays. But nothing you've seen comes close to Scaranger. The brain child of a self-confessed explorer, Scarangar is a low-impact overland group tour that takes you beyond the ordinary.
There are two adventure options to choose from: join in one of Scarangar's all-inclusive 5 or 7-day tours, which include activities, meals and glamping (which run in the spring and summer). Or privately hire the bus (with your running, hiking or surfing buddies) all year-long and enjoy a set route exploration of North or South Cornwall or both, with meals and glamping, but without activities included.
The Scarangar adventure bus
On this trip, you sleep onboard an innovatively converted 1950s' double-decker bus – aka: the adventure bus. An old beauty, the Scarangar adventure bus is a warm and superbly comfy Scandi-inspired glamping space for a group of 10 explorers and wayfarers.
Inside your adventure bus, the vibes are distinctly low-fi and low impact; the team have made sure everything you sit, eat and sleep on is as sustainable as possible. Upstairs, you'll find a large chill-out area with comfy couches, books and games. There are fold-out tables for dinner and, of course, fabulous top-deck views.
Downstairs, there's a fully-equipped kitchen where you meals are cooked and an 8-bed dorm with personal sleeping pods (a curtain separates the two sections). Each sleeping pod comes with a single foam bed (duvets and pillows are provided), small storage box, double USB socket, LED bed light, blackout privacy curtains and a lockable storage unit.
At the helm of your Cornwall adventure bus is a professional local driver and guide – exclusively yours for the entire holiday. They chauffeur you from juicy destination to juicy destination, parking at pre-approved campsites and sleeping off site whilst you and your crew enjoy evenings on board.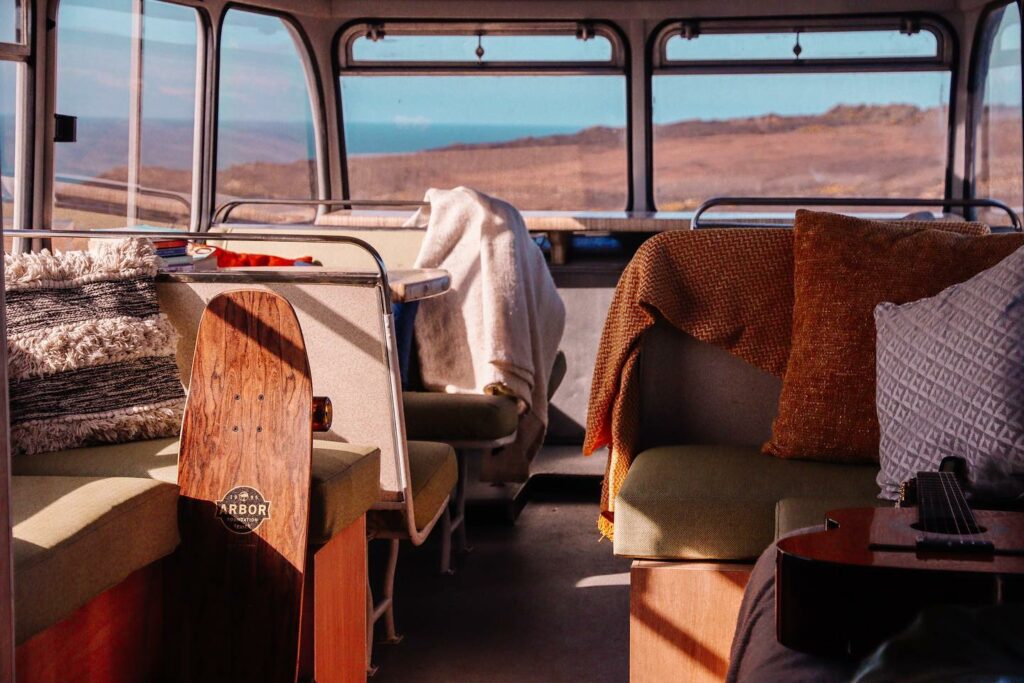 Each day holds new Cornish adventures. Wake up to breakfast, prepared for you and included in your activity trip, then buckle up as your day's activity unfolds – if you've chosen to join a set trip. You'll meet passionate local adventurers who'll lead your activities and help you create indelible memories that won't blow away on a breeze.
Go wild swimming in secret Cornish coves and lagoons. Still your soul with yoga amongst the peace and quiet. Chase the swell on Cornwall's best surf beaches. Run, hike, dance, or just bliss the feck out, filling up on the Cornish blues and greens. Then head back to your bus for dinner and bed before doing it all again tomorrow.
This is an activity holiday that deepens your connections to each other, reveals a new unseen side of Cornwall and, crucially, awakens a part of you that's been lying dormant for too long. This is life through a new lens. Ready? Of course, you are.
⭐️⭐️⭐️⭐️⭐️
"Wow, what an amazingly unique experience! The bus was stunningly designed, cosy little beds with a spacious upstairs communal area, there were always great views on the bus around the Cornish coast and the staff were so welcoming and friendly. This really is a once-in-a-lifetime trip!" Emily
One-of-a-kind adventure holiday in Cornwall
Overland activity trip and tour for up to 10 explorers
5 or 7-day activity holidays
Join one of Scarangar's set activity trips: Wellness Cornwall, Hike Cornwall, Surf Cornwall, Run Cornwall – from £850pn
Privately hire the adventure bus to enjoy a tour of Cornwall, with meals, driver and guide, but no activities included (you are free to add your own) – from £500pn
Sleep onboard a fully-insulated and lovingly converted vintage bus
Tour Cornwall's best sections and hidden gems with a local experienced guide and driver
Stay in different beautiful spots along your route
Includes delicious and nutritious breakfast, lunch and dinner, plus refreshments
Outdoor shower; no toilets – but they will be available at your campsites
Camp at carefully handpicked Cornish campsites
All activities provided by tried-and-tested professional providers
Trips run from March – September
Meet the Scarangar bus at Perranporth or Truro depending on the trip you've chosen
Free secure parking for your cars during your adventure weekend
Eye Candy