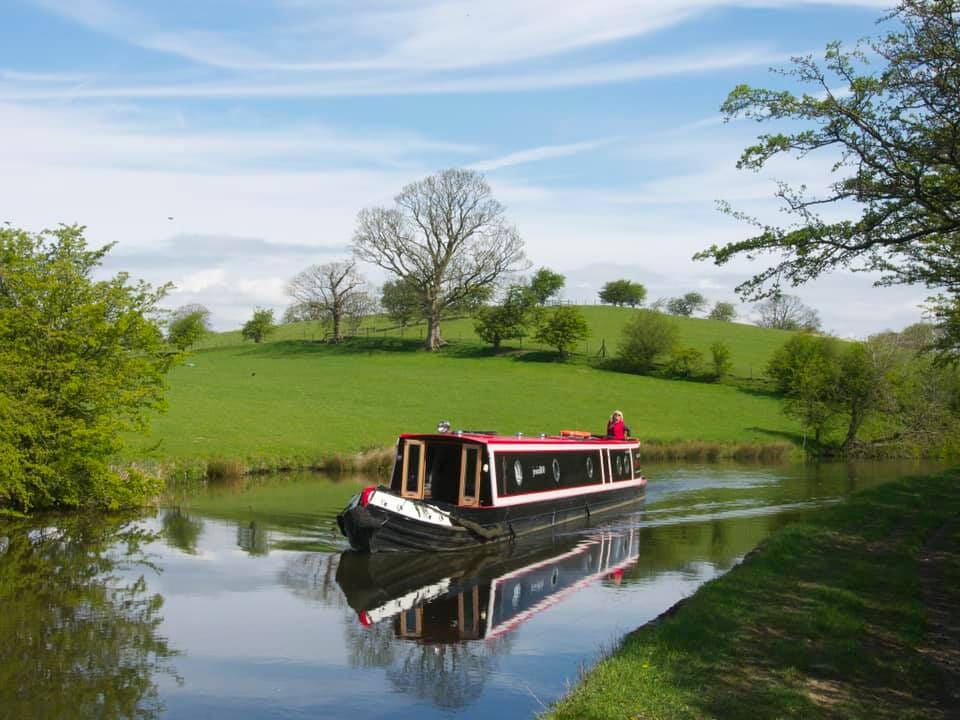 A canal boat holiday is a very different kind of weekend break, especially if it's your first time hiring out a boat. It is an epic experience, that promises much adventure. But, like most water-based enterprises, it requires skill and training to get it right and stay safe.
For first-timers like us, we did not know just how exhilarating and challenging canal boating would be before we ventured out with Bearboating along the Leeds and Liverpool Canal. – but we'd return in a blink.
With only three of us to manage – two on the lock gates, one on the boat – and the full might of the English weather adding to the load, it was exhausting and thrilling. Wind in the Willows idyll this was not. This was a canal boat adventure caked in mud and rain and grass and mettle. In a phrase, it was bloody epic
"The world changed in that one step from terra firma onto our Yorkshire canal boat. We were no longer bound to the earth or its modern rules. Instead, the gentle rock of the water took us. And in a flicker, we learned how little a person needs to be happy."
---
We were on a three-day break with Bearboating – a luxury canal boat hire company based in Yorkshire. Run by Jeanette and Andy, a husband and wife team with salt water sailing in their blood, they offer week-long breaks and short getaways on any one of their three vessels: MollyMoo, JessicaBoo and NemoNoo.
Although they only have a small armada for hire (meaning availability is limited), Bearboating's canal boats are definitely worth fighting over. Forget your average bumped 'n' bashed barges. These three are about as high-end as you can get. MollyMoo and JessicaBoo are the company's semi-trad beauties; NemoNoo is the newest member of the family, adding her wide-beam elegance to the rest of the gang.
Best of all, on hiring any of Bearboating's vessels, you're also given two full days' training before helming alone. And trust me, it is essential. Holidaying without it and you could be up the proverbial creek without a paddle.
"Canal boating, like everything else, has its own language, rules, skills and customs. Go ignorant and the potential to break a rudder, lose a limb, or even sink the ship is very real. Know the ropes and you're in for a fine old time."
---
Canal Boat Hire: The Training
Canal boating has a reputation as a sleepy pastime: weeping willows brushing the water, the pop of ginger ale. The reality is a little grittier. Because, even with a 4mph speed limit, narrow boating comes with its fair share of perils.
Position your boat wrongly in the lock and you'll upend and flood it. Let go of the windlass when you're unwinding lock gates and you could take an eye out. Not to mention running aground on mud banks, crashing into your moored neighbours, punching a hole in your hull and breaking your rudder. Added to that there's the crazy steering: move the tiller to the left if you want to go right, to the right if you want to go left, and vice versa if you want to reverse. Got it?
Yes, running a 57-foot barge takes practice, a steady hand and head full of knowledge. Which is why Bearboating canal boat hire include compulsory training as part of your holiday – it is the fastest route to real narrowboat relaxation, believe me.
Andy, the owner of Bearboating, ran our training with gentlemanly patience, schooling our mostly amateur crew round hairpin bends, under bridges and leafy tunnels, and past other boaters with a smile on his face and a mug of hot tea in his hand.
He taught us winding (turning around), springing off, locking up and locking down, and by the end of our intensive session we had a newfound canal boat confidence that we never knew we needed.
"Steering a narrowboat is like driving an articulated lorry with no brakes. Why some hire companies hand over the keys and let you go on your way with zero experience is beyond me."
---
Canal Boat Hire: Our Boat, MollyMoo
It's surprising just how roomy a confined space filled with 4 middle-aged females can be. Even with suitcases, shopping, crates of make-up and bucket loads of gin our canal boat, MollyMoo, never once felt cramped. There were no expletives or sharp elbows or stomping on toes. Somehow, Andy and Jeanette have made 57-feet of MollyMoo's narrow layout feel like that of a much bigger, private boat.
MollyMoo has what's known as in boating circles as a 'reverse layout' design. In short, she's got her main bedroom at the front and her galley (kitchen) at the back, rather than the other way around. Whether that was the secret to the Tardis-like effect on-board, I don't know. What I do know is the design of the interior was impressive enough to inspire one of our crew to buy her own narrowboat and firmly plant the seed in my head.
The kitchen: Step into MollyMoo from the aft deck and you're met with an attractive kitchen. Charcoal granite work surfaces, matt grey ceramic tiles, hand-built solid oak units with push-to-open drawers and cupboards, a three-burner hob, full-size fridge, oven, and microwave. All topped off by a breakfast bar with two trendy stools.
The lounge: Next, walk through from the kitchen to MollyMoo's bright and cosy lounge. Fitted out with a TV, DVD player, Sonos sound system, and two long fixed settees hiding a fold-out dining table, it's the ideal R&R space. The settees also double as beds when night falls, making MollyMoo perfect for a family of four or two couples. Should you crave the connectivity of the modern world, there's also a wireless router for on-board Wi-Fi.
The bathroom: From the lounge, a slender side corridor takes you to a spacious bathroom and the main bedroom. The former has a large enclosed shower, an electric flush loo, a bijou sink, plus a mirror and storage for towels and toiletries. In truth, I've stayed in hotels with smaller, less well-appointed bathrooms.
The main bedroom: Known as the forward bedroom, it acts as a second lounge space during the day. Come night, the wall opposite the settee opens up and drops down to form a bed, with the double mattress cleverly tucked inside. It only takes a couple of minutes to set up and put away, but we left the bed down for our entire trip out of sheer laziness. Either side of the bedhead there are generous-sized cupboards and opposite it you'll find two wardrobes with ample hanging space for clothes and shelves for bags.
In short, every inch of MollyMoo has been optimised for space, her furnishings and fittings carefully chosen to make guests extra-comfortable. She certainly does not feel like a hire boat – and I'm sure her Bearboating siblings are equally as handsome inside.
---
Canal Boat Hire: Our Route Along the Leeds and Liverpool Canal
Bearboating operates from two bases on the Leeds and Liverpool Canal: Apperley Bridge Marina and Barnoldswick Lower Park Marina. This cruising ground takes in the best the Leeds and Liverpool Canal has to offer: from the urban landscape of Leeds (if you head out from Apperley Bridge), to the Bingley 3 & 5 Rise Locks – one of the lock wonders of the British Waterways.
You can choose to leave from either marina and return to the same base at the end of your holiday, or you can opt for a one-way cruise between the two marinas, so that you don't have to turn heel halfway through your holiday.
We boarded MollyMoo at Barnoldswick, a small gravelly marina packed tiller-to-toe with canal boats and men who look like they've spent a lifetime on the canals.From here we headed out east towards Skipton, passing East Marton's double-arched bridge and Bank Newton.
Soon the three-bedroom semis flattened to fields and the canal paths became stilled as we skirted the edge of the Yorkshire Dales, just north of Gargrave. The sense of isolation we felt was delicious. Better yet, all we had to do to claim it for ourselves was moor up.
Each day the landscape changed – and although some vistas were prettier than others, there was always a new sight to see. On day three, it was time to turn around and head back to Barnoldswick. We did so gladly, but not because we'd had enough; because we were already planning our next trip.
"On our way, we slipped quietly behind residential estates with their neat gardens and floral patio sets, eyeballing suburban life as if we played no part of it."
---
Canal Boat Hire: Our Verdict
Canal boating is not easy; forget what you think you know. But thanks to our Bearboating training, we had the confidence to completely relax whilst avoiding the scrapes and tangles that we saw other novices embroiled in.
As a result, the sense of escape that came from handling MollyMoo was priceless. In fact, it was enough to make me wonder what a holiday actually is and how far you have to go to feel truly 'away from it all'.
Traditional holidays require little in the way of brains or brawn. A canal boat holiday, however, demands both. Muscle for the locks. Steeliness for the English weather. Skill for the operation and brains for the navigation. Perhaps it is the total immersion in the activity of boating and that sets you free?
All I know is that by the end of our canal boat Yorkshire holiday, we'd travelled the grand old distance of just 16 miles and had never really been that far away from civilisation.
Yet despite this, we really did get away from it all.
---