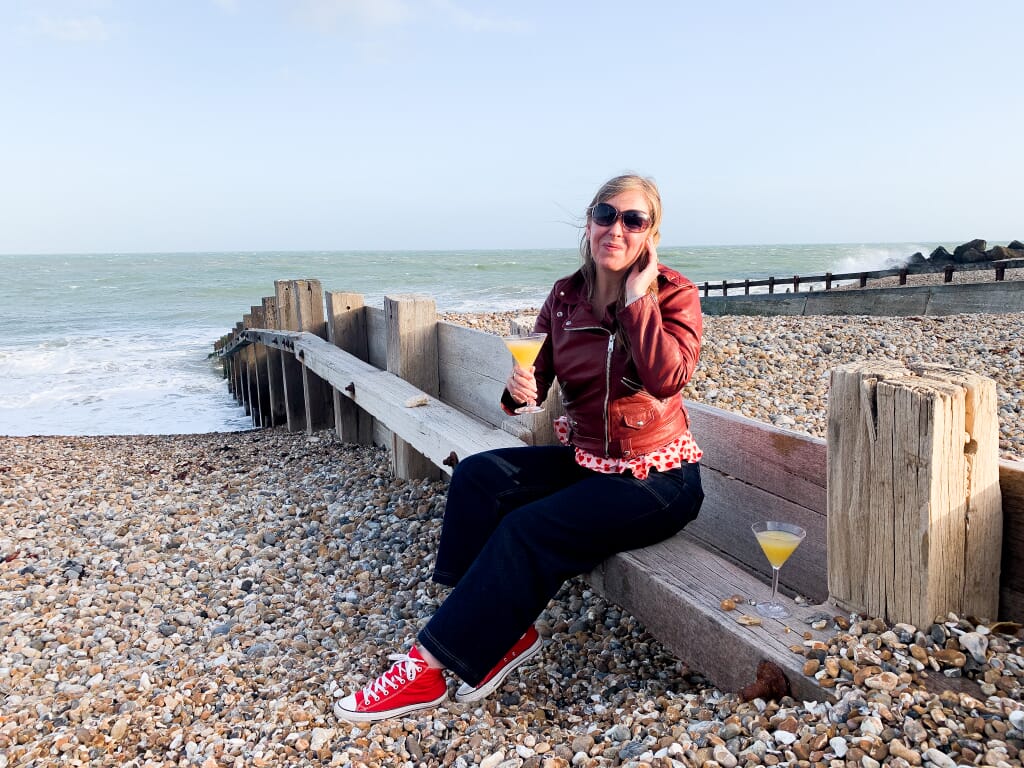 Tried & tested (and given the thumbs up) by our Ed-in-Chief
Not all beaches are created equal. Take Felpham beach on the West Sussex coast, for instance. With its Great British shingle and wooden groynes, it may not pass as Sussex's answer to the Caribbean but that doesn't mean it should be dismissed as a beach break destination. Especially if you stay in one of the four beautiful Beachcroft Hotel Beach Hut Suites that line its shore.
Stay here and you won't notice – or miss – the lack of palm trees or bone-white sand. Because with their Key West styling, best of British seaside vibes and the fact that you can almost touch the ocean from your private wooden patio, these beach huts pack a costal punch that's hard not to fall for. In truth, they boost you with enough vitamin sea to sustain you for a weekend or much, much longer.
This article has been produced in partnership with Beachcroft Hotel & Beach Hut Suites
---
About Beachcroft Hotel & Beach Hut Suites
Beachcroft Hotel's Beach Hut Suites are a fairly new addition to the seafront at Felpham beach. Brainchild of hotelier, Peter de Savary, they opened to guests in 2019 as an exciting bolt-on to the more traditional Beachcroft Hotel that sits just across the road.
Although Covid stopped the beach huts enjoying their first full summer season, they made it to 2021 with a nautical smile on their face and are finally back open with a ship-shape team of slick, friendly hotel staff ready to make you feel like a VIP.
And feel like a VIP you will, trust us. Because part of the joy of staying in these beach huts is the added hospitality you can call on from the Beachcroft Hotel.
Fancy a dip in the indoor pool rather than the sea? Not a problem. Want to jump on a hotel bike and peddle the 7-mile coastal route? Go for it – complimentary bike hire comes with your hut. Partial to an aperitif as the sun melts into the sea? Take a seat at the Hotel's new Blakes Terrace and Bar – oh, and forget the taxi home. You're yards away from your bed.
---
The Location of Beachcroft Beach Huts
Beachcroft Hotel Beach Huts sit smack bang on the south east coast in West Sussex on the main promenade linking Felpham village to its Great British seaside counterpart, Bognor Regis. So if a 24/7 ocean horizon floats your boat, you're in the right place.
Officially, the huts reside in Felpham – an upmarket coastal village famous for its pretty listed buildings, historic village centre and one-time resident, William Blake. But they're so close to Bognor, it's not easy to see where one parish stops and the other starts.
For you this means all the genteel delights of Felpham, such as the yacht club and independent eateries, can be enjoyed alongside the bucket and spade gems of Bognor. Indeed, the town's famous Butlins resort and pier are a short stroll from your beach hut.
If you want to explore Sussex further, Brighton is just along the coast (easy to reach from Bognor by train), Arundel's beautiful castle is a short drive away and the fabulous Cathedral city of Chichester is just 20 mins' drive inland. You could even bolt-on a walk to the Halnaker Tree Tunnel and Windmill if you tire of the glorious sea views.
---
Accommodation at Beachcroft Hotel Beach Huts
Like a seaside line-up of the All Saints, the four Beachcroft Hotel's beach huts strike a quite a pose on the Felpham seafront. Shell, Sand, Beach and Pebble – as they are called – are ultra-modern in looks with art-deco style asymmetrical roofs, stainless steel fixtures and coastal blue wooden cladding.
Each has its own parking space in the private car park, ocean-facing deck (with Adirondack recliner), large porthole windows and triple-fold glass doors that slide all the way back spilling fresh sea air inside.
Step on in and you're not in Felpham anymore, Dorothy. These Great British boltholes come with spades of design fun.
Bright vintage artwork dots the huge downstairs living space with its whitewashed walls and gorgeous tropical-style wooden ceiling fan. Deckchair-striped curtains sing out a jolly tune against the triple-glass doors and fabulous sea view. And a huge jade L-shape sofa bends towards the sun, giving you the perfect soft spot for catching some rays or people watching, sheltered from the wind.
There's also a mini Smeg fridge with fresh milk and a chilled bottle of rose wine, a kettle and Nespresso machine complete with condiments, a complimentary decanter of sloe gin and a smart Netflix-loaded TV that's playing the radio when you arrive.
Head upstairs in Beachcroft Beach Huts via a small carpeted staircase and there's a mezzanine level double bedroom that gazes out to sea, so you can watch sun set from your bed and listen to the waves as drift off every evening (which is utter bliss let me tell you). The bed is as soft as a sea sponge and sleeps two adults very comfortably.
Downstairs, beyond the living space, is the separate kids' bunk bed room which sleeps two children under sea-themed duvets. Next door to it is the luxury bathroom, easily big enough for a family of four to share and with a power shower that is total knockout. And just the thing to put the colour back in wind-swept cheeks.
---
Food at Beachcroft Hotel Beach Huts
Fortunately, you don't need to pack your culinary talents. Beachcroft's beach huts are owned by the hotel, so guests are free to dine in the fabulous Tamarisk restaurant for dinner, which is a stone's throw away from the huts. The restaurant has a more classic seaside look to it than the huts, but the food is modern and vibrant.
Our three-course meal delivered on every level (the pan-fried sea bass with lobster bisque was the talk of our table) and, judging by the smiles of the diners around us, we weren't the only ones impressed.
Breakfast is included as part of your beach hut stay and is also super tasty (the vegetarian full English was impeccable) and dinner, bed and breakfast packages are available, too.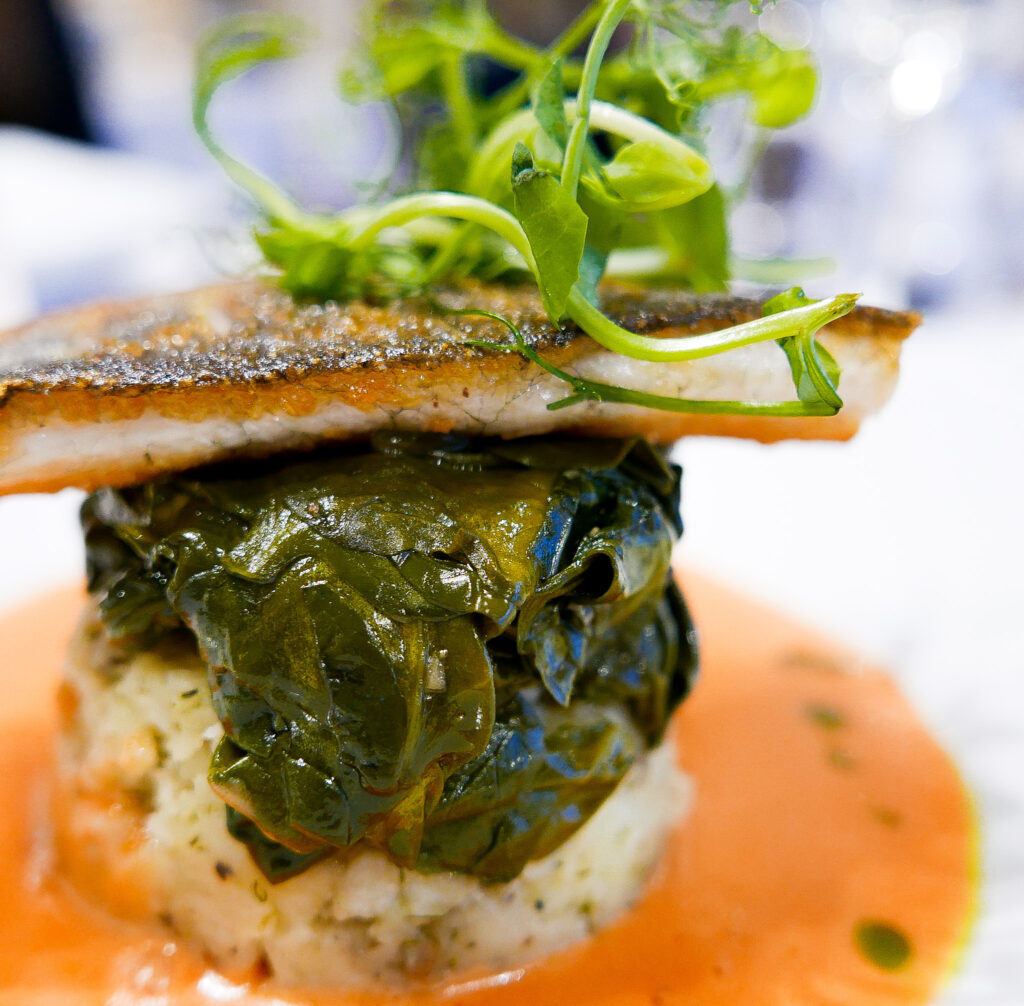 For lunch, Blakes Terrace and Beach Bar is a super spot to eat, offering excellent freshly made sandwiches (try the prawn and crayfish sandwich and you won't go home hungry), classic dishes and traditional English afternoon tea.
There's even a cool dining 'pod' to sit in which zips up on rainy days to save being buffeted by the English summer. Alternatively, head inside the hotel to Monty's Bar and Bistro which is a cosy, private space for a coffee, chat and light bite.
Of course, nothing is too much trouble for the Beachcroft Hotel Beach Hut staff – which is why they also offer a hamper service for guests.
You can have a continental breakfast delivered to your hut in a beautiful wicker basket (loaded with tasty goodies: fruits, pastries, OJ and yogurt), for breakfast overlooking the sea. Or you can order a luxury picnic lunch (complete with mini bottles of prosecco) or fish and chips supper to take onto the shingle beach.
Should you want fish and chips fresh in paper, loaded with salt and vinegar, we recommend the local Felpham chippy – a three-minute saunter from your beach hut.
---
Beachfront bliss – with a capital 'ahhhhhh'. Yes, a stay at Beachcroft Hotel Beach Huts sends stresses way out to sea. You simply roll out of your car, into your hut and then let the ocean views do the rest. All the while, you've a team of friendly front of house staff ready to keep you fed and watered (a special mention for Andre for his attentiveness and warmth) and the comfiest modern bolthole ready to keep you safe and snug, whether it's lashing with rain or beaming with sunshine.
Beachcroft Hotel Beach Huts were easily one of the best weekend stays we've had – and we can't wait to go again. Paradise found, and then some.
---
---
Dog-friendly throughout the hotel, in the beach huts and in the restaurants
Special doggie dinner for four-legged guests
Direct access to the beach and seven-mile coastal path
Master double bedroom, bunk bed children's room and family bathroom
Overlooking Felpham's geological Site of Special Scientific Interest
Free use of two adult bikes during your stay
Free use of deck chairs for the beach in the summer
Bucket, spade and fishing net included in the kids' room
Free WiFI
Fully flexible refund rates, 24-hour cancellation and no pre-payment for all stays (except Christmas/festive offers) – please contact the hotel for more information