🥂 3-bedroomed cottage | 🛌  Sleeping up to 6  | 🌳  Beachfront Location  | ⏰  Open All Year | 🐶 Dog-Friendly | 👙 Sea-view terrace |📍Porthleven, Cornwall
Why we love Anchor Cottage for a weekend
Spectacular and stylish in equal measure – with more than a little cosy comfort thrown in – Anchor Cottage gives you an alfresco window on the drama of the Atlantic Ocean, along with all the Cornish charm you could ever wish for.
From the spacious sea-facing terrace, sitting proudly on the Lizard peninsular and directly opposite the beach, you'll lose countless hours mesmerised by the rolling waves and unhindered oceanic view of this Porthleven cottage. And whether it's an open-air breakfast, lazy, luxuriant lunch or sun-down supper or BBQ round the fire-pit, you'll enjoy one of the finest dining backdrops Cornwall has to offer.
It isn't just what's on the outside Anchor Cottage that will leave you longing for more. The interior of the cottage is decorated to a loving, luxurious standard, celebrating the unique character of Porthleven, the Cornwall village in which it's situated. You'll find echoes of the sea, sand and sunset throughout, with a continuation of those captivating seascapes from all front-facing windows.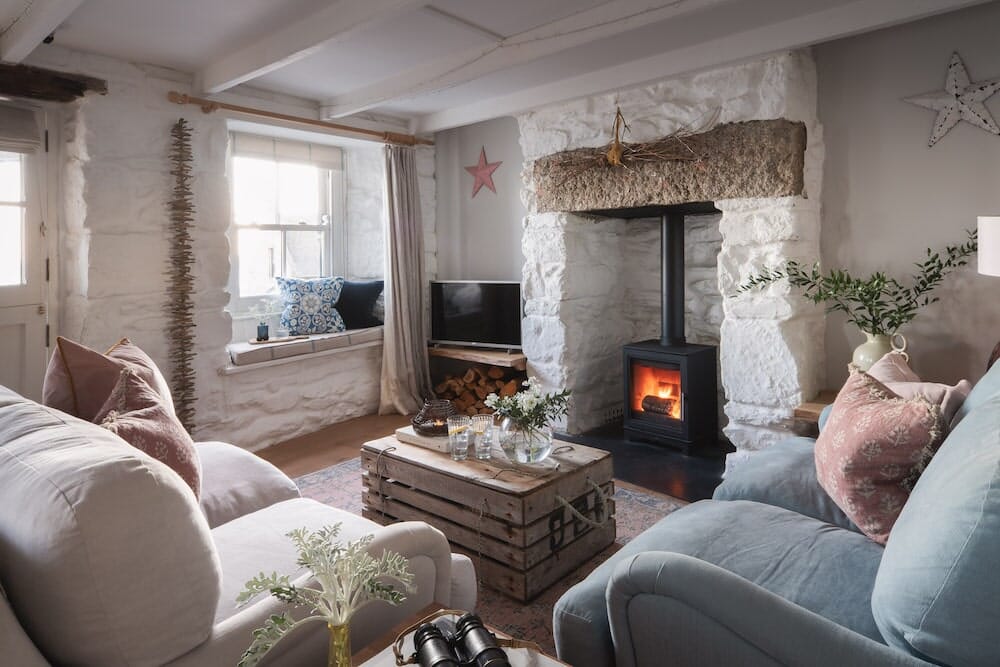 The Cottage
Lounge – after such a dramatic exterior, the welcome you receive when stepping into Anchor Cottage in Porthleven has a lot to live up to. And it certainly doesn't disappoint. You're greeted by a granite-lined, white-washed lounge, complete with window seats offering yet more captivating views of the sea and a light, airy ambience that promises calm from the first moment.
Along with calm, you can add cosiness, thanks to a wood burner, snuggle-down sofas, fairy lights and the soft sheen of a rose-glass lamp. With lobster crate furnishings providing Cornish character, and a smart TV bringing things bang up-to-the-minute, there's really nothing more you could need for the perfect weekend break.
Bedrooms – if you manage to avert your gaze from the ocean, you'll also discover three immaculate bedrooms waiting to be savoured. Two offer stunning sea views, while the third is a quiet retreat complete with painted wood panelling. All three echo their coastal context – pale blue, dusty pinks and sandy yellows are the scene setters – and each bed is resplendent in crisp white cotton, and a feather duvet and pillows.
Bathrooms – style and substance are the order of the day when it comes to the main bathroom. Teak units and underfloor heating set the luxury tone, and a walk-in power shower – with ample space for two – makes for an invigorating (or relaxing) beginning (or end) to your day.
Kitchen – if the seafront setting inspires your culinary passion, the beautifully fitted kitchen gives you all you need to cook up feasts of every shape and size. A cooker, electric hob, fridge, freezer, dishwasher, microwave and a whole host of utensils (including a smoothie maker) mean stylish dining is on the menu whatever the time of year.
Dining – indoor eating at Anchor Cottages doesn't mean compromising on the luxury. With room enough for six, a rustic dining table, complete with old elm bench and sheepskin-draped wishbone chairs, makes for a solid and sumptuous mealtime stage, whether by candle light, fairy light or bathing in the daylight.
Terrace – in a long list of holiday highlights, the sea-facing terrace really is a stand-out star – making this one of the best cottages in Porthleven to book. Centred around a teak-table, there're seating (and dining space) for six, with the benches doubling as a private lounging area, sheltered from prying eyes and sea breezes, while still capturing every last ray of sun. At the end of the day, there's nothing more memorable than a sun downer or two under a blanket by the fire pit, which also doubles as a charcoal BBQ.
The Village
Porthleven is everything you'd expect from the most southerly port in England – and more. A bustling world of weekly markets, restaurants and cafes, snuggled shoulder-to-shoulder with art shops, delicatessens and street food, it has soulful character to match the coastal majesty of its setting.
The Essentials
Weekend breaks from £540 – £1,260 (Friday – Monday)
Part of the Secret Bolthole collection, Anchor Cottage has been created lovingly by its owners to celebrate the uniqueness and authenticity of the location
Anchor cottage sits on the Lizard peninsula, in the Cornwall village of Porthleven, the most southerly port in England, famed for its stunning coastline, bustling harbour and impressive waves
The magical Cornish coastline is all around you, with St Ives nearby, along with a fabulous beach at Praa Sands and the history of St Michael's Mount a stone's throw away.
Small rear courtyard – perfect for hanging wetsuits and washing pets
Well-behaved dogs are welcome
Welcome hamper includes two pints of milk, fruit juice, sourdough bread, local crisps, eggs, cream, tea, ground coffee, sugar, bottle of wine or bubbly, plus cooking essentials such as olive oil, herbs, salt pepper
Breakfast and food hampers can be ordered
Firepit doubles as a BBQ, with a small gas boat BBQ available for quick outdoor grills
There are shops and pubs within easy reach
Linen, towels, toiletries, wood and kindling provided
Private parking next to the cottage (fits one 4 x 4)
Eye Candy