Whether you're celebrating at home with friends or taking a short break with the girls, Home Cocktails is a fabulous cocktail box delivery service that's set to make your plans fizz. Shake it up, because this weekend the party is wherever you are!
Girls' Night In? Sex and the City? 80s Retro? Mocktails Galore? Hell, if you've a cocktail favourite or you want to pimp an occasion with bespoke flavour, Home Cocktails have the cocktail box for you. Put together by professional mixologists, each box from Home Cocktails has the top ingredients you need to make and serve your own delicious bar-quality cocktails.
Pre-Made Cocktail Boxes
Inside every pre-made box there are 6 cocktails, with each cocktail serving 2 people. You also get clear instructions on how to create your cocktails from start to finish, as well as top-shelf spirits and mixers from leading suppliers, and fresh garnishes to give you the fullest flavours.
Your cocktail box also contains any additional accessories you need for the most professional pour and finish, including muddlers, cups, biodegradable straws, and cocktail shakers. Should you want upgrade your fun further, you can with a range of cocktail accessories that are also available to buy, including syrups and glasses.
Gin Lover's Box
Tropical Box
80s' Retro Box
Sex and the City Box
Coffee Lovers Box
And many more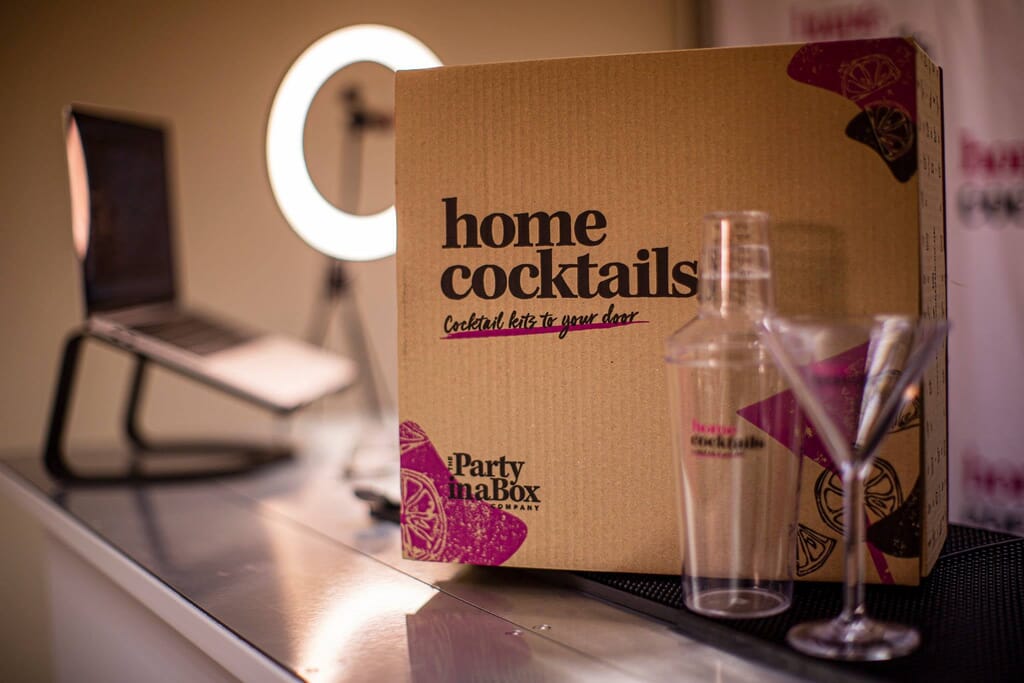 Build Your Own Cocktail Boxes
Can't find a pre-made box you want? Then build your own cocktail box for delivery for as little as £15 per cocktail. Ideal for a themed staycation (like a short break by the beach) or a surprise gift for friends and loved ones. Simply choose which tasty tipple tickles your tastebuds (try saying that after a Woo Woo) and add them to your selection on the Home Cocktails website. Each cocktail serves 2 and you can add as many as you like to get the party started.
If you fancy going large, Home Cocktails also deliver full size party boxes serving 14 – 17 cocktails per kit. Alternatively, you could choose one of their epic Cocktail Kegs.
5 litres of Strawberry Daiquiri anyone?
Over 60 cocktails to choose from
Gin-based cocktails, rum-based cocktails, tequila-based cocktails, and mocktails
Cocktail shaker and measurer included as standard
Pimp your cocktail box with a virtual cocktail masterclass
Couriered direct to your door for contactless delivery
Next day delivery available when you order by 1pm
Free delivery on orders over £100
You can also 'click and collect' if you're local to Bristol
Cocktail box subscriptions also available
Eye Candy