⚡️12 Unique Rooms | 👙 Bijou Spa & Pool | 🌳 Near the The Eden Project | 🛌 Sleeps 2 | 👌Exclusive use available for 23 guests | 🍸 Bar and Lounge | 🍰 Afternoon Tea | 👠 Ideal for Hen Weekends and Romantic Weekends
Why we love Boscundle Manor Country House Hotel
"Fancy your own country pile near the sea to call home for the weekend? Hell Yes. Well, that's exactly what's waiting for you at Boscundle Manor, near The Eden Project. It's a country house hotel in Cornwall with all the trimmings wannabe lords and ladies could wish for. Including a pool, a spa and one of the best afternoon teas you can tuck into this side of Kernow. We KNOW!"
Not that you need to worry about Boscundle Manor being a bit too la-di-da for you. This country house hotel is owned by two of the nicest and friendliest hosts you could wish for: Jason and Louise. Together with their exceptional team, they've created an adults-only boutique hotel that has manor house vibes but comes with a throughly down-to-earth heartbeat.
Which means, if you ask for the moon – they'll go out of their way to try and lasso it for you. It's the sort of VIP service that sees guests return year after year. After year. And regularly brings lots of gold stars on TripAdvisor.
The hotel itself is none too shabby either This beautiful Cornish 18th-century country house has 255 years of love soaked into the bricks and mortar, which you can feel the moment you drive into the immaculate grounds. It's easily the most unique small luxury hotel in its class in the area.
A true under-the-radar gem beautiful decorated with comfy sofas and modern artwork and host to a range of impeccable facilities: an elegant bar (stocked with local tipples and craft ales), a lovely library and lounge, a leafy terrace for sundowners, a quirky pool room and, of course, the indoor pool. Go as a group of ladies, go with your BFF or go as a couple and everything you need for a fabulous weekend stay is right on site.
The Rooms
12 gorgeously creative rooms are yours to pick from. Each one based on famous heroines – and each unique in character and style. Will you stay in grand dame Daphne – a stunning super-king suite with an elegant lounge, bedroom and dressing room (named after author Daphne Du Maurier who lived in nearby Fowey). Or maybe in Joanne with her own private terrace and sensational decor and finishing touches.
All rooms break down into different categories, so there's a stay perfect for your needs and budget. Four suites: Scarlett, Daphne, Demelza and Rebecca.  Two Cosy suites: Elizabeth and Joanna. Two Manor House rooms: Louisa and Emily. A Cosy Manor House room: Anne. Cosy Dorothy and Super Cosy Enid.
There's also a wonderful stone terrace cottage called Audrey, tucked away in the tree-lined garden, next door to the hotel's indoor pool. She comes with an open plan fully-fitted kitchen and living room with TV, a separate king-sized bed and an ensuite bathroom.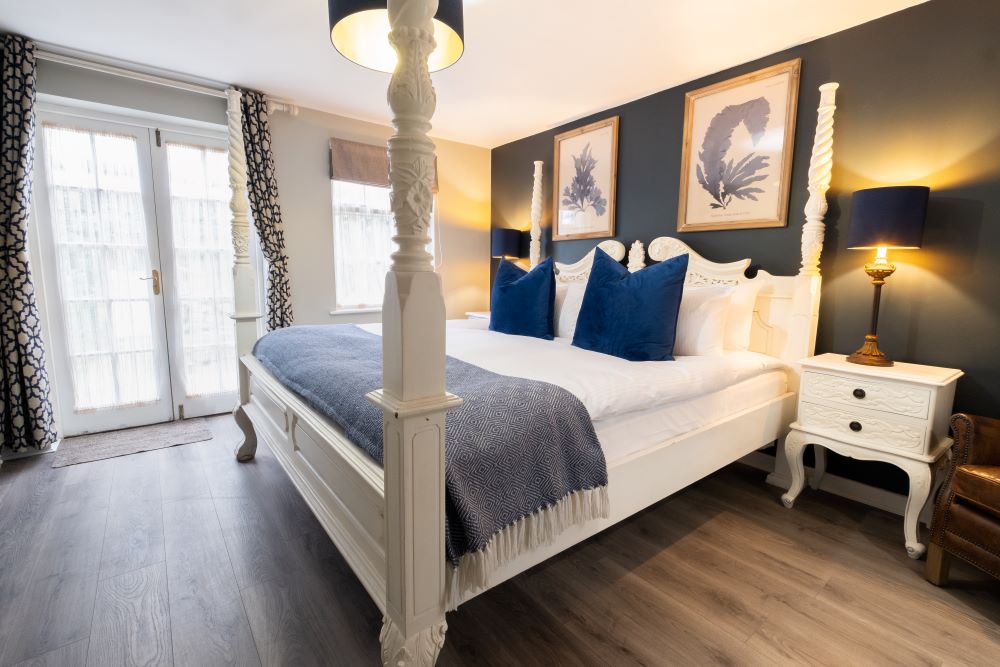 The Experiences
This small luxury hotel pulls multiple experience punches for you to delight in – so hold onto your skirts m'lady.
Breakfasts – Every morning you'll find fresh muffins delivered to your door for you to enjoy before breakfast. Breakfast is served daily in the light-filled conservatory and comes piled high, hot and on vintage china. It changes to reflect the season, too – winner. Veggie and vegan breakfasts are also on offer.
The Spa – craving a spa day in Cornwall? Look no further friends. The mini spa at Boscundel Manor is a cosy bubble where you can breathe easy for a few hours. There's a lovely bijou heated indoor pool as well as a cocooning treatment room offering everything from a luxury facial to a full body polish. Day spa guests are welcome; for hotel guests use of the spa pool is complimentary.
Afternoon Tea – afternoon tea at Boscundle Manor is a thoroughly frilly affair with a colourful spread that's bursting with personality. Jam-first homemade scones are just one of the delights; Circus Rolls another. Bolt it onto your spa day experience or just add it to your stay. Whatever you choose, make sure you wear stretchy pants. If you don't ask for seconds, we can't possibly be friends.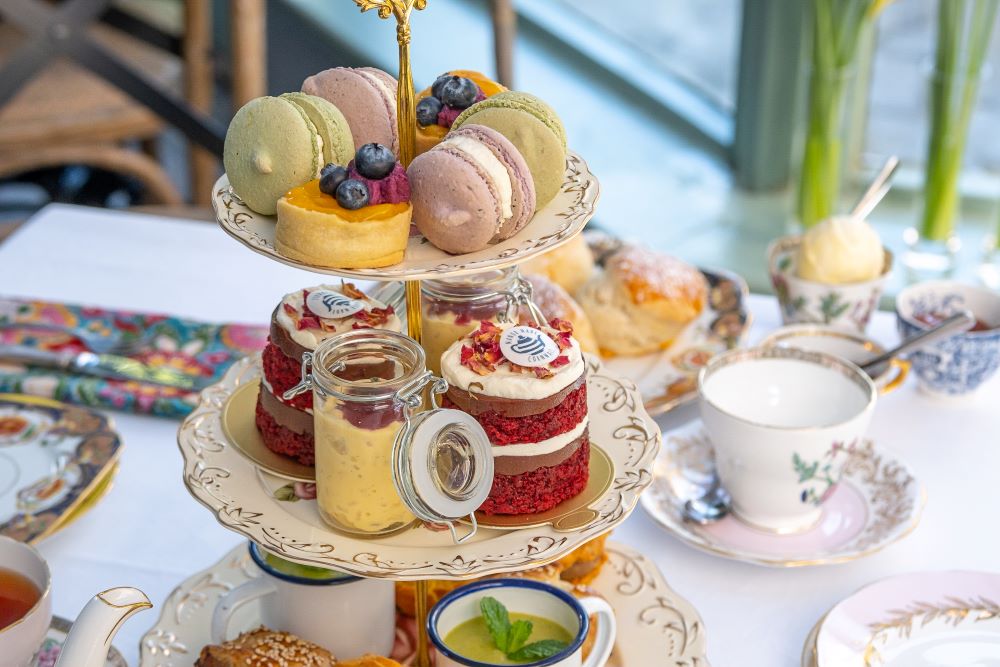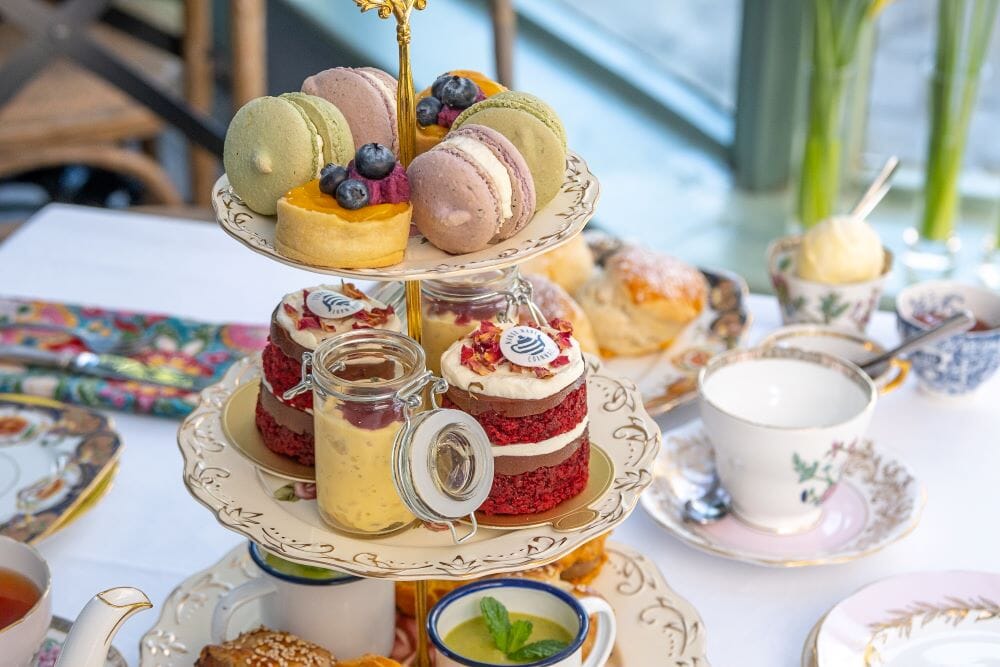 ⭐︎⭐︎⭐︎⭐︎⭐︎
"What a fantastic find for our 5th wedding anniversary! Small luxury hotel with attentive staff, wonderful service and beautiful accommodation. The food was truly memorable, starting with an outstanding breakfast (which is not including the cakes and muffins they hang on your door for when you wake up – what a great touch!) and finishing the day with a sublime afternoon tea. Used the spa facility during our weekend stay – very nice and relaxing! There really was nothing that was too much trouble for any of the staff that we met. Our first visit but certainly not our last!"
The Essentials
Heavenly country house hotel in Cornwall, near the Eden Project
Reserved exclusively for adults
Set in 2-acres of private grounds with a sun terrace and croquet law
From £175pn, with complimentary breakfast
12 plush rooms sleeping 2 and 1 stone self-catering cottage sleeping 2
On-site mini spa, heated indoor pool, treatment room
Fabulous afternoon tea from £28pp
30 mins from the Roseland Peninsula, only a mile to the Eden Project, near
the Lost Gardens of Heligan, nearest beach – Porthpean – is only 10 minutes away and it's 8 minutes by car to St. Austell
Eye Candy