Traditional B&Bs are a great option if you want a carb-loaded start to the day. But if you'd rather not swap your bed for black pudding and you'd prefer not to pay for breakfast, then Just B is a Dartmouth accommodation option that gives you the gorgeous, homely 'bed' you want – without the 'b' for breakfast.
Which, when you think about it, is a neat idea. It leaves you free from the chains of a breakfast buffet and liberated to lie-in without feeling guilty. It also means you pay less than you would if you opted for a Dartmouth B&B or swanky hotel.
Just B Dartmouth accommodation was started in 2007 and its first dip into the bed-without-breakfast business took the form of two rooms in a Foss Street townhouse; now they offer 6 rooms across two properties in Dartmouth.
Choose from St Elmo's Cottage in Lake Street (a sweet self-contained cottage with 3 ensuite double rooms for guests), or Just B's two swish self-catering apartments: Zion Place, sleeps 2 – 4, or Apartment 4, sleeps 2 – 6. With prices starting at only £78 for an en-suite double in St Elmo's Cottage.
All offer a simple and smart self-service check in (any issues, the Just B office was just a hop and a skip away in Foss Street).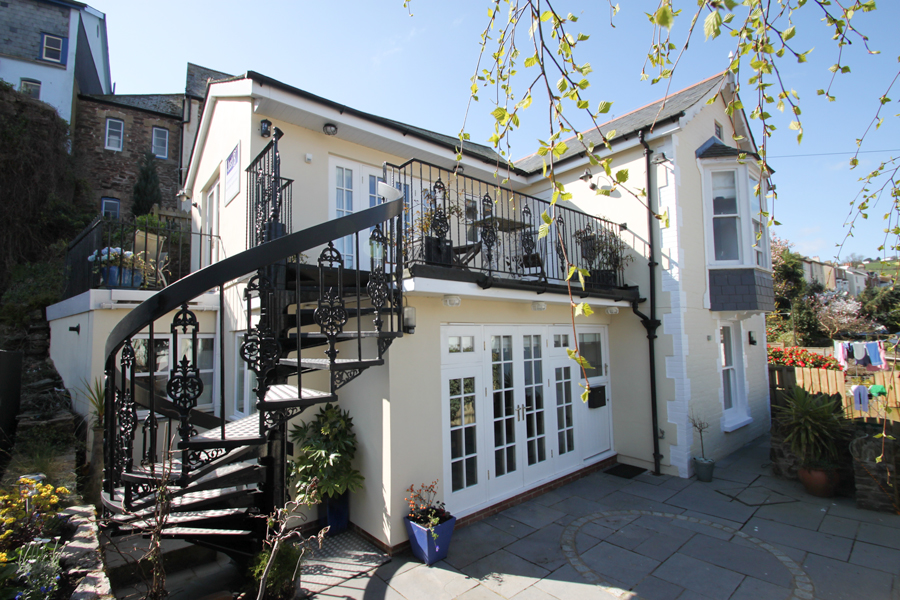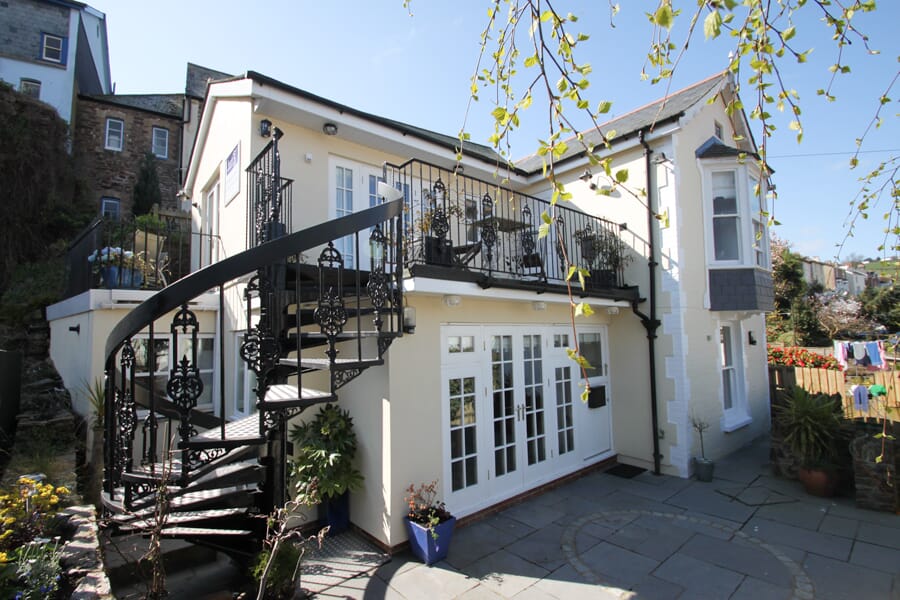 The Accommodation
St Elmo's Cottage – is a 100-year old detached beauty set back from Victoria Road on one of Dartmouth's many inclines. In fact, the only clue the cottage is there is the little iron gate that quietly watches you arrive and the cream Victorian gables that peek out at you over the rooftops.
Beyond the gate are 12 steps that lead you up onto the cottage's cutesy patio and a swirl of a Victorian staircase to whirl you up to rooms 1 (the largest room with a private balcony), room 2 (with a shared balcony), and room 3 (with a bay window and window seat).
Apartment Four – Downstairs in St Elmo Cottage you'll find a large self-catering studio apartment fit for 5 people – with a main double bedroom leading to a shower room and a separate open plan spacious living, dining, full kitchen area.
Zion Place – Apartments 8 & 9 are perfect 'open plan' apartments right in the centre of town. Beautifully decorated and well thought out, they include a master double bed with additional second double, and are ideal for 2 or good for 4 people.
The Location
St Elmo Cottage is on Lake Street in Dartmouth, a narrow sleepy residential road one minute's walk from Dartmouth's Old Market on Victoria Road. Dartmouth is no metropolis, so you can get to most of its hotspots easily from each of the Just B properties – although some might be more of a walk than others.
But, in essence, the boutiques, cafes and galleries of Foss Street and Dartmouth's Buttterwalk is not far whichever type of Dartmouth accommodation choice you make.
The only downside is the parking: you can only park outside the cottage to unload; so you'll need to find a spot in one of Dartmouth's car parks – and Just B provide a great guide to Dartmouth parking on their website.
Minimum 2 nights' stay
Book direct for the lowest rates
Self-service check-in and check-out
There's always someone on hand to call if you need assistance
Apartment 8 at Zion Place is dog-friendly
Free cancellation 7 days before
Eye Candy