🐶 Dog-friendly | 🛌 Sleeps 2 Adults | 🚙 4 Land Rover Defenders to Hire | ❤️ Min stay 3 nights | Tried & Tested | From £155pn
10% off using code skycamping10

Ready for a wild camping thrill ride unlike any other? Defender Camping is the fabulous wild camping experience from Yorkshire Vehicle Hire in Little Ayton, North Yorkshire. And boy, it's a real bobby dazzler.
Take the beautiful North Yorkshire Moors as your playground, add a meaty Land Rover Defender 110 XS and place a RoofBunk tent on top – the result? Total freedom to explore new lands by day, with the stars in your eyes and the ground at your feet come night.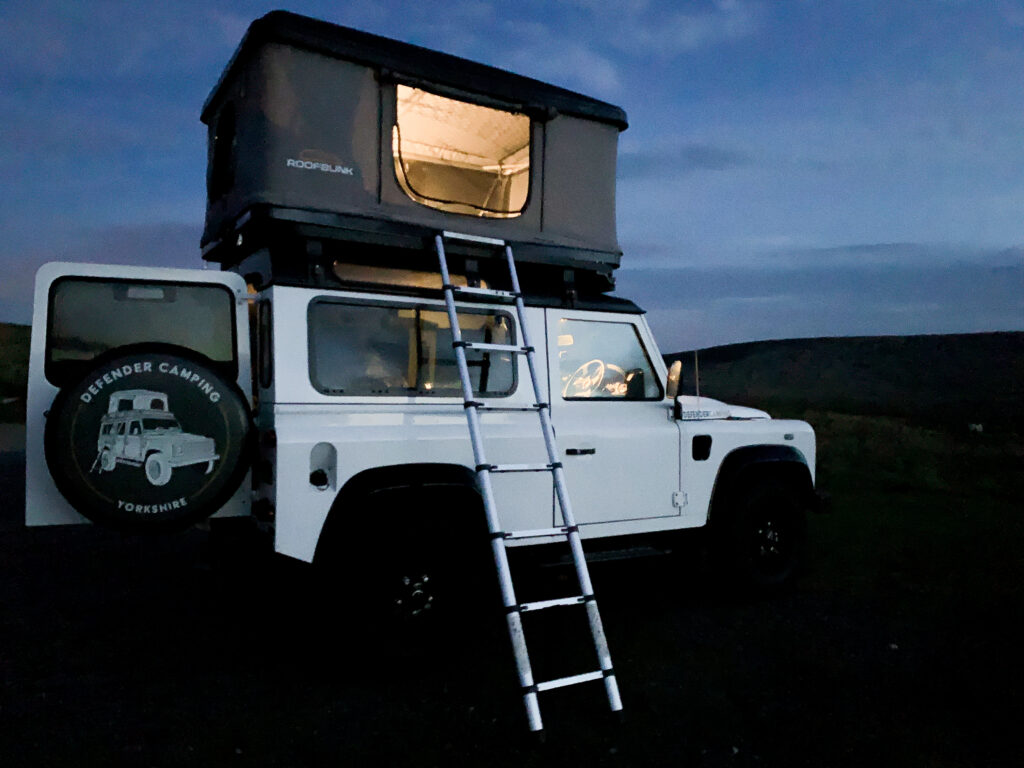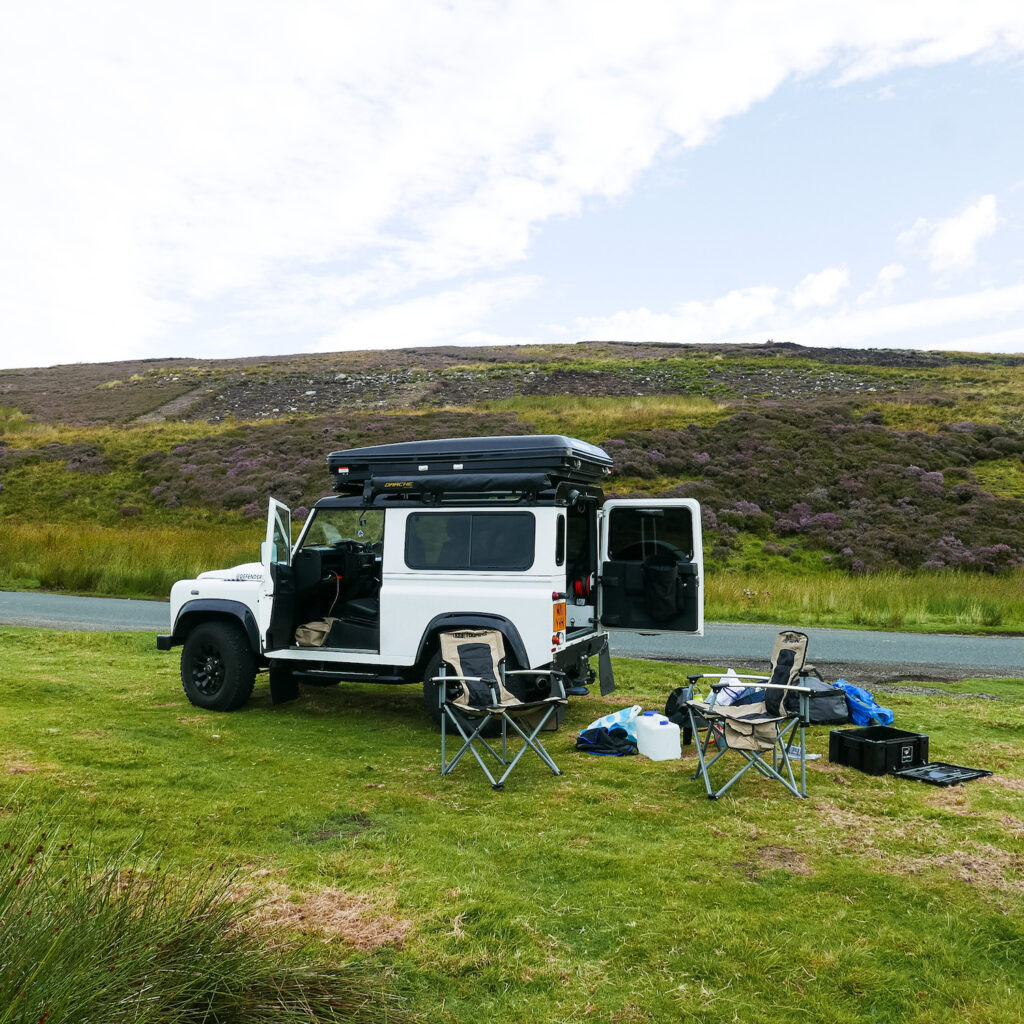 Without doubt, this is one of the best UK adventure weekends you can have – we absolutely loved our trip. For this unique defender camping experience, Yorkshire Vehicle Hire provides every single thing you need:
The sleek wheels to take you wherever you want to go (with its 5 seats, large boot, and head-turning iconic design). The fabulous 2-person rooftop tent (with its weather-proof outer, memory-foam mattress, and ample pockets, hooks, and compartments for a cosy hangout). And the cooking and camping equipment to keep your wild camping Yorkshire adventure hassle-free, including a gas stove, bbq grill, cutlery, tea & coffee, kitchen table – and even the collapsible kitchen sink!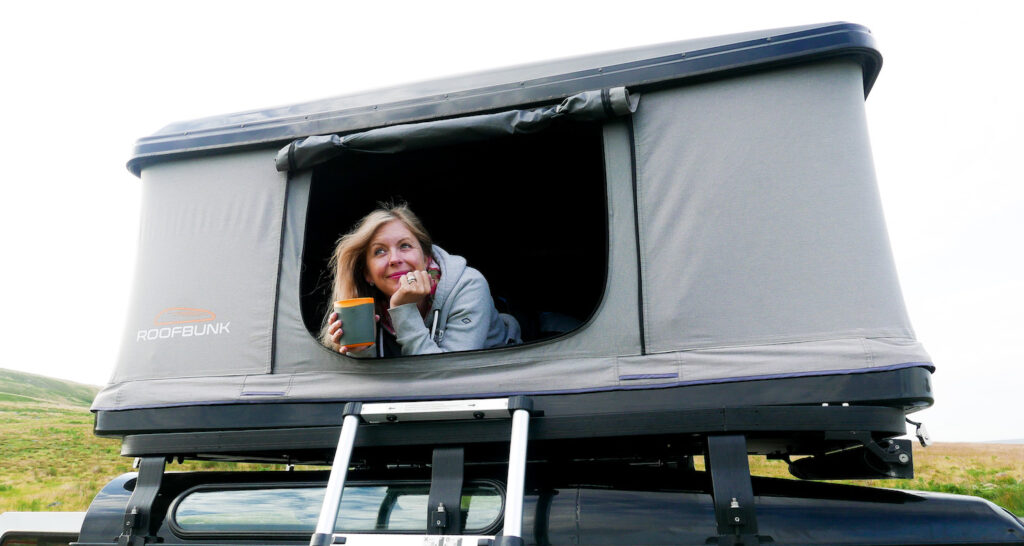 Tried & Tested by Claire (our Ed-in-Chief)
The set-up of your RoofBunk tent is super simple: it opens and closes in seconds thanks to a gas strut system and it comes with a telescopic ladder so you can climb up and down easily.
Should you want to bring more of the family on your roadtrip, Yorkshire Vehicle Hire also offers ground tents. All you need to do is decide who sleeps where and what campsite to head for.
Even then, Tom, the owner of Yorkshire Vehicle Hire, has you covered with a list of camping suggestions and spots that'll put you in the heart of North Yorkshire's beauty.
In truth, we can't recommend this defender camping experience enough – even if you've never wild camped before or driven a Defender before, it is simply brilliant. The only problem is, once you've tasted the adventure and held the keys in your hand, you will not want to give them back.
God's own country is waiting – isn't it time you went to meet it?
The Essentials
Price £155 per night
March – Oct Minimum 3 nights/Nov – Feb Minimum 2 nights
3 Nights minimum (March – October)
Dog-friendly: bring them along, too, for £25
2.5M awning included, awning room and tent Xtender available
Comes with all the camping and cooking equipment you need, including a rooftop tent,
Choose from 4 iconic Land Rover Defenders: SidneyDefender 110 XS (5 seats); Milly Defender 90 (2 seats); Sheila Defender 110 XS Utility (Dog Friendly/5 Seats); Bruce Defender 110 XS (Dog Friendly/5 Seats)
Optional add-ons include a bike rack/mountain bike hire, a pizza oven, and a craft beer box
Wind and rain proof tent
Sleeps 2, but additional ground tents can be added for a full family adventure
Eye Candy