LATE AVAILABILITY: Various dates available (for couples up to groups of 16) contact the owner direct to book
Off Grid | Adults Only | 3 Self-Catering Units | Whole Site Hire Available
Outdoor sofas, twinkling fairy lights, a willow-fringed lake, plus 3 unique self-catering glamping units with gypsy souls. Yes, The Meadow Glamping in rural Hampshire is a spot where you can slip flowers in your hair and let your spirits run free.  
Wild Billy's, Mary's Place and The Magic Rat are not your run-of-the-mill glamping retreats, as you may have guessed from their unusual names. Set around a 100-foot wide lake, these 3 colourful glamping units have been saved from their former existence and brilliantly revamped.
The meadow they sit in is two peaceful acres just on the edge of the pretty village of Broughton. It's a spot you have all to yourself, bar the occasional appearance of ducks, the friendly pheasant – Phil – and the resident kingfisher.
Each one is inspired by the owner's love of Bruce Springsteen and each one comes with its own compost toilet and a dedicated themed shower (just a short walk away along a little wooded path), perfect for Covid-safe glamping. They are truly rock star spaces where your festival heart will feel right at home. All you have to do is decide which one you stay in first.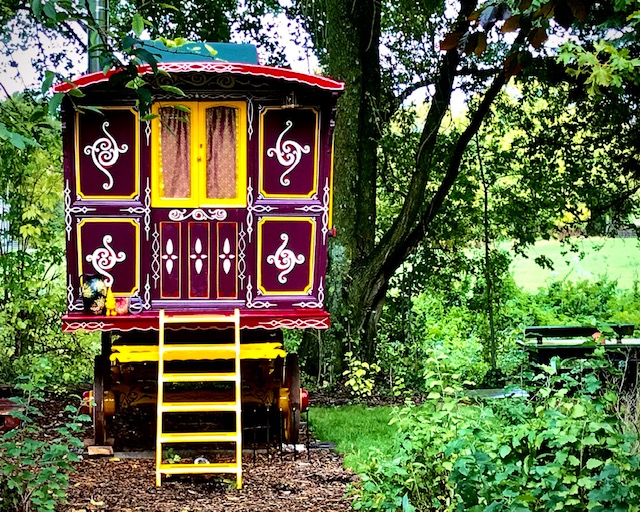 In the Early 19th-century, this original red-and-yellow gypsy caravan travelled dusty roads from place to place, before settling down as part of a traditional fairground. Curiously, he became the backdrop for a coconut shy; the evidence of which you can still see by the dents on his wooden sides.
Today, Wild Billy's nomadic years have been wiped from him after a loving restoration by his owners. But his traveller spirit remains and his inner Romany beauty has been exquisitely revived. Inside, he's a Hampshire glamping palace of deep purples and golds, with plush bedding (in the form of a memory foam mattress and double duck duvet), original wood cabinets and a newly fitted log burner.
Outside, he's just as handsome, standing proud as punch in his own secluded spot facing the lake. Adjacent to Wild Billy's wagon is Billy's Shelter, a bohemian covered den with a sink-soft sofa. From here you can sit with a glass of wine watching the wildlife go by. If you're hungry there's your own fire pit and Romany cooking tripod and if you fancy a treat, you can buy in one of the delicious hampers on offer.
Sleeps 2 adults
From £105 per night mid-week, 2 nights minimum
Luxury private, hot shower and compost toilet
Its own quirky little kitchen area, with drinking water
Use of grass tennis court and rowing boat 'Solution'
20 mins' drive to Stone Henge, Sailsbury and Winchester
30 mins' drive to Bombay Sapphire Distillery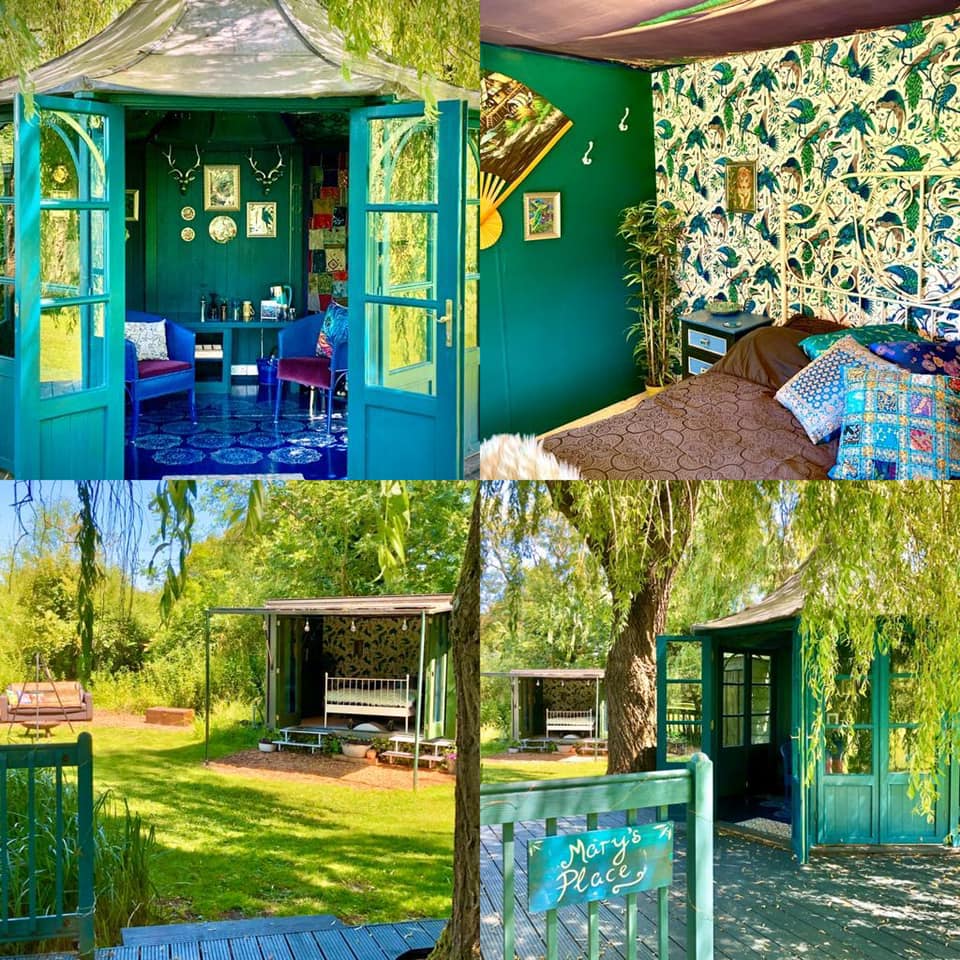 Hidden under a huge weeping willow, Mary's Place is almost invisible against the greens of her surroundings. She's made up of two quirky cabins.
The first is a striking emerald summer house set on a large deck overlooking the lake. During the day sit inside the summer house, amongst its rich blues and silvers, with a cup of hot tea or chilled glass of wine, and keep your eyes peeled for kingfisher who darts across the lake. You may also spot the roe deer who also call this leafy Hampshire glamping idyll home.
When it's time to turn in, your luxury bedroom is just next door in a fabulously decadent converted trailer. Step onto the thick carpet where a wrought-iron bed awaits dressed with a soft downy duvet, fur throws, and hot water bottles. Close the folding glass door behind you and sink into a peaceful slumber as moonlight spills in and falls softly on you as you sleep.
Sleeps 2 adults
From £115 per night mid-week, 2 nights minimum
Mary's Place also boasts your own large private outdoor area, with a firepit and cooking tripod, an outdoor leather sofa and coffee table
Gorgeous private hot shower and compost toilet
Its own quirky little kitchen area, with drinking water
Use of grass tennis court and rowing boat 'Solution'
20 mins' drive to Stone Henge, Sailsbury and Winchester
30 mins' drive to Bombay Sapphire Distillery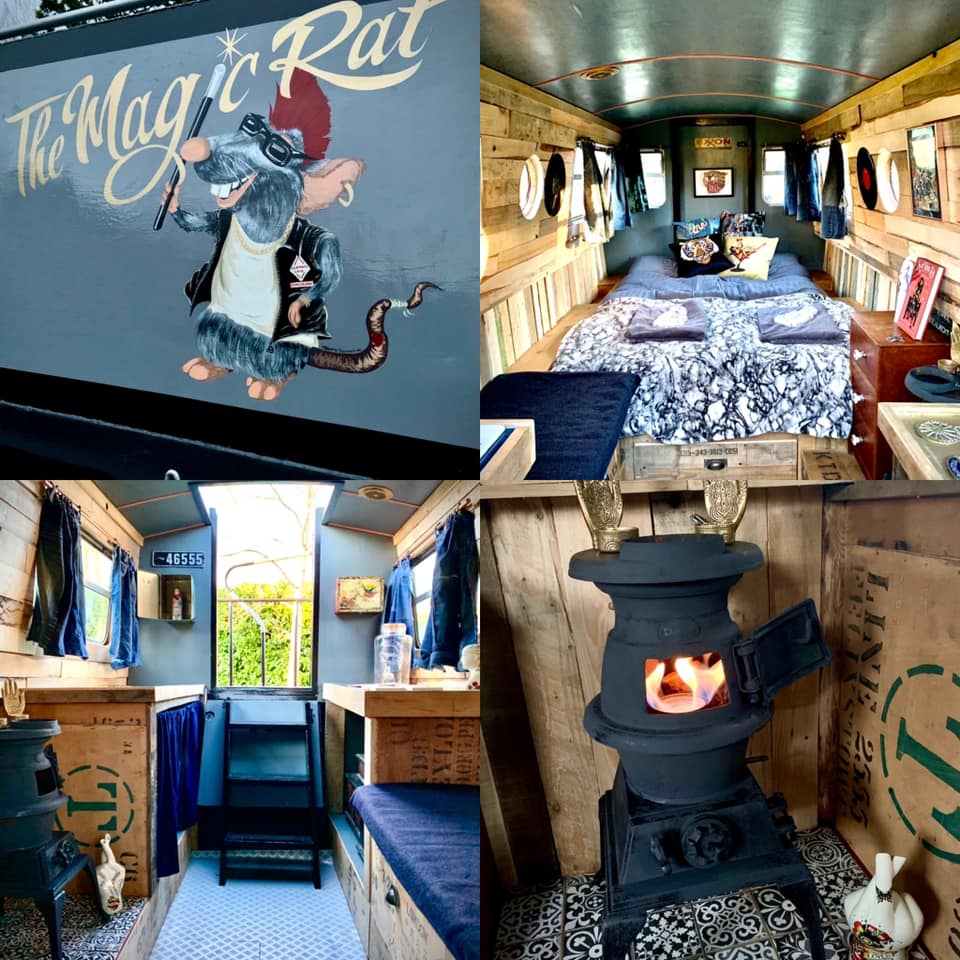 Found bobbing gently on The Meadow's large lake, moored to its own private island, is The Magic Rat. Once upon a time, this 23ft Springer Narrow Boat chugged the waters of the Kennet and Avon Canal; recently it was lifted from its life of service to its new life in Hampshire. And what an addition to The Meadow Glamping it is.
To reach The Magic Rat you cross a small wooden bridge. The island you step onto is yours alone for the duration of your stay, meaning you can enjoy all its outdoor facilities for yourselves, including the restored arbour, 'Mel's Shelter', where you can feast at the table whilst protected from the elements.
A quick walk along the jetty and you're on board The Magic Rat. Inside, the rock vibe is kicking: tattoo artwork, curtains made from old pairs of jeans, repurposed vinyl LPs as porthole covers.
Coathooks and curtain rails are bits of copper piping, and there are vintage biscuit tins nailed to the walls, which you use for storage.There's also a comfy double bed filling the space, a bench seat and cast-iron stove that's been converted to burn bioethanol.
Like the rest of this wonderful Hampshire glamping site, The Magic Rat is clearly a spot born for fun.
Sleeps 2 adults
From £125 per night mid-week, 2 nights minimum
Also boasts your own large private outdoor area, with a beautiful outdoor fireplace, large comfy sofa, tree stumps to sit on by the river, firepit and cooking tripod
Gorgeous private hot shower and compost toilet
Its own quirky little kitchen area, with drinking water
Use of grass tennis court and rowing boat 'Solution'
20 mins' drive to Stone Henge, Sailsbury and Winchester
30 mins' drive to Bombay Sapphire Distillery
Eye Candy