🏹 Four Luxury Tipis | 🛌 Sleeping 2 Adults | 🌳 Secluded Meadow Setting | 🚿 Outdoor Rainfall Showers |  ❤️ Perfect Romantic Weekend |  📺 As Seen on TV's Holiday Homes in the Sun | Min 2-night Stay | Tried & Tested | From £140pn
Why we love HARTA retreat glamping near Woolacombe for a weekend
Weekends under canvas have just been given one giant, halcyon upgrade. Stand aside bell tents. Step back geodomes. These four cathedral-like tipis simmer with boutique hotel sex-appeal, whilst placing you cheek to jowl with the elements. If it's fresh countryside connection you want, close to Woolacombe and with all the trimmings, you've just found your tribe.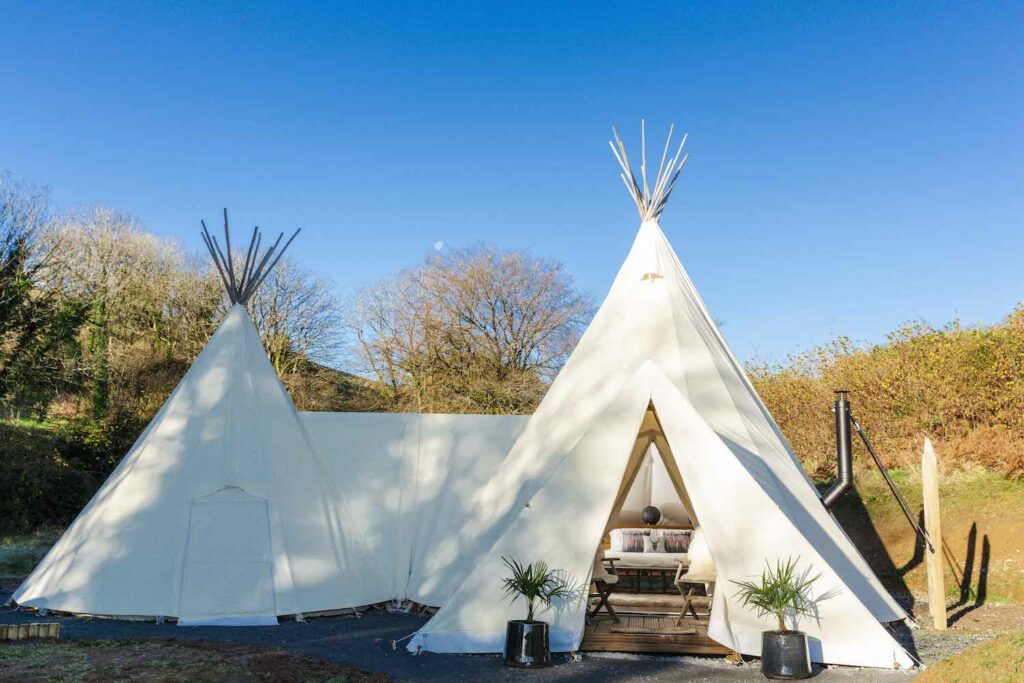 Sitting Bull, Dancing Deer, Crazy Bear and Moon Dance hold court amongst a sea of grasses and wildflowers, just a short drive from the North Devon coast and minutes from Exmoor. Their bone-white shapes slice through the green like teeth; far away from one another to be entirely private – yet in sight of the other so you don't feel too isolated under the dramatic North Devon skies.
Together, these two exceptional tipis make up HARTA retreat – a beautiful glamping site near Woolacombe created by Miranda and Aaron Cousins, non-native Devon dwellers with a shared passion for travel and culture.
About HARTA Retreat
The tipis were a bespoke design of Aaron's and decorated by Miranda (who has a knack for beautiful interiors and runs her own home decor store, HARTA living). They landed in 2020, then Covid hit. Now the pandemic is over, the tipis are primed and ready to grab the spotlight as next-gen glamping superstars.
At its core, HARTA retreat glamping near Woolacombe is a glorious invitation to flop, undisturbed, into the beautiful 46-acres of meadows, woodland and gardens that make up the site's vast plot. But it's also a place where you can meet fellow glampers around a bonfire, swap stories and listen to music.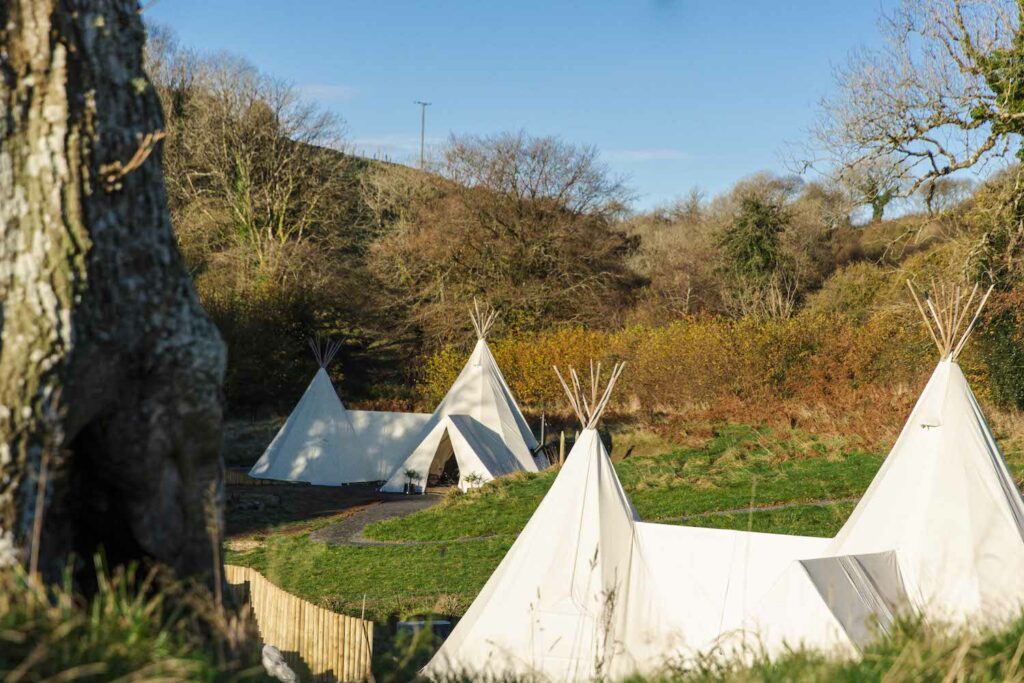 Miranda and Aaron are social, generous hosts who love bringing people together, with a local musician and over a nip of local scrumpy cider (we had a wonderful night hanging out with them, but had quite the hangover the next day!). In fact, they plan to open an on-site cafe and introduce guest BBQs in the future – giving the site a communal vibe for those who want to partake.
Until then, you'll just have to socialise with the wildlife and lose daylight hours to a good book. Shame really.
The Glamping Tipis 
There are four tipis at HARTA retreat. The Distinguished Collection – Sitting Bull and Dancing Deer – are like no tents you've ever stayed in. To be honest, with their soaring proportions, interlinking ensuites, roll top baths, proper toilets, and air-source heated underfloor heating, they're not really tents at all. They are canvas cathedrals; colossal coiffed dwellings with a bespoke design where you can bounce on the king-sized beds and still not touch the ceiling.
The Superior Collection – Crazy Bear and Moon Dance are serene single-room tipis housed under a single skinned tipi frame (with exposed long poles), complete with a thickly laid king-sized beds, draped organza and dotted with fairy lights.
Each tipi has its own signature look, reflective of its Native American sobriquet: Dancing Deer is all antlers, sacred soft pinks and sheepskins; Sitting Bull is cowhides, yee-haw scarlets and horns. Crazy Bear is vibrant oranges and teals to put a spring in your step, whilst Moon Dance hushes your stresses with its dreamy greys and muted blues.
The individual styles mean you can make a return journey to HARTA retreat, experience a new tipi and not feel guilty for coming back to the same glamping spot.
All tipis have a church-like hush that's strangely unexpected. Step into the living-space heart of the tent. And, as you do, the freshness of the North Devon countryside melts off you. It's like the tipi has thrown a buffalo skin around your shoulders, and is ushering you protectively away from the sabre-toothed tigers and mammoths that prowl the plains outside. It's a wonderful feeling.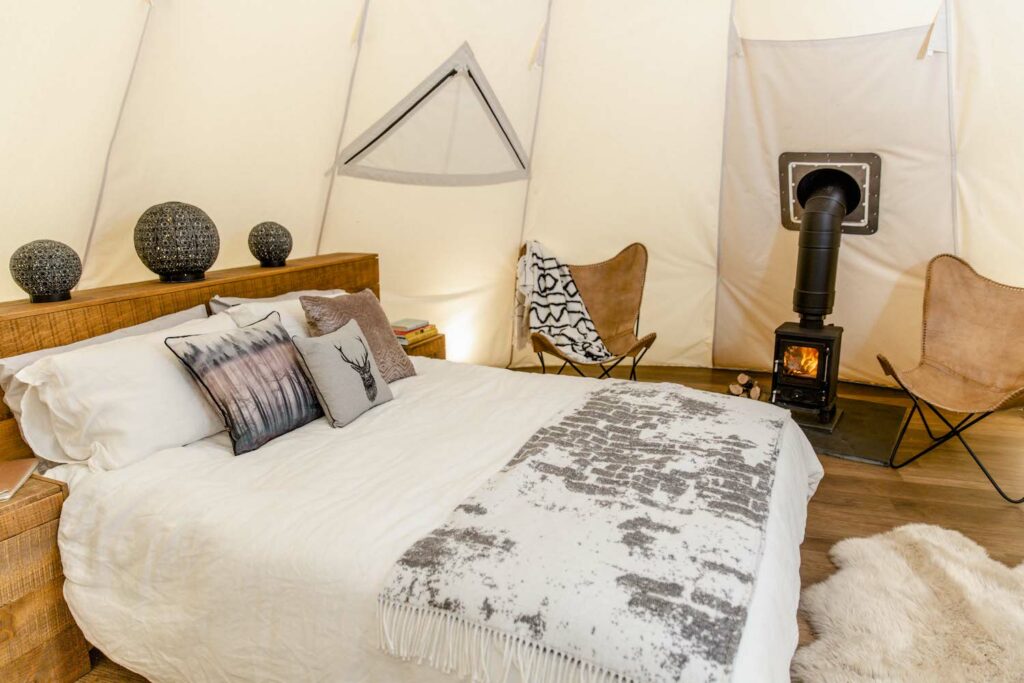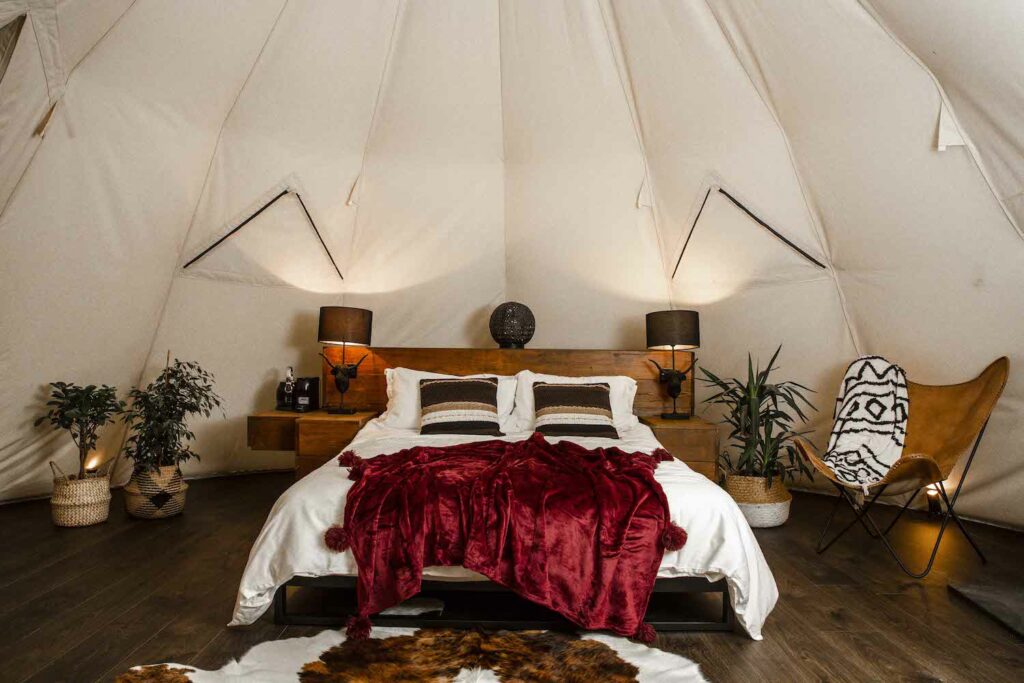 First of, as you enter your, tipi you come face-to-face with your king-sized bed, placed front and centre under the apex, like an altar to great sleep. The beds are dressed with organic bed linen, fat with pillows and slotted into a handmade wooden surround that boasts storage drawers, usb sockets, a Nespresso coffee machine and a kettle.
There are wholesome distractions, too: books and magazines to make up for no WIFI; as well as a log burner with matches, logs and kindling. Sitting Bull and Dancing Deer also have a small dining table for two; butterfly lounge chairs for slouching in, plus a side unit with plates, glasses and cutlery to use in the outdoor kitchen.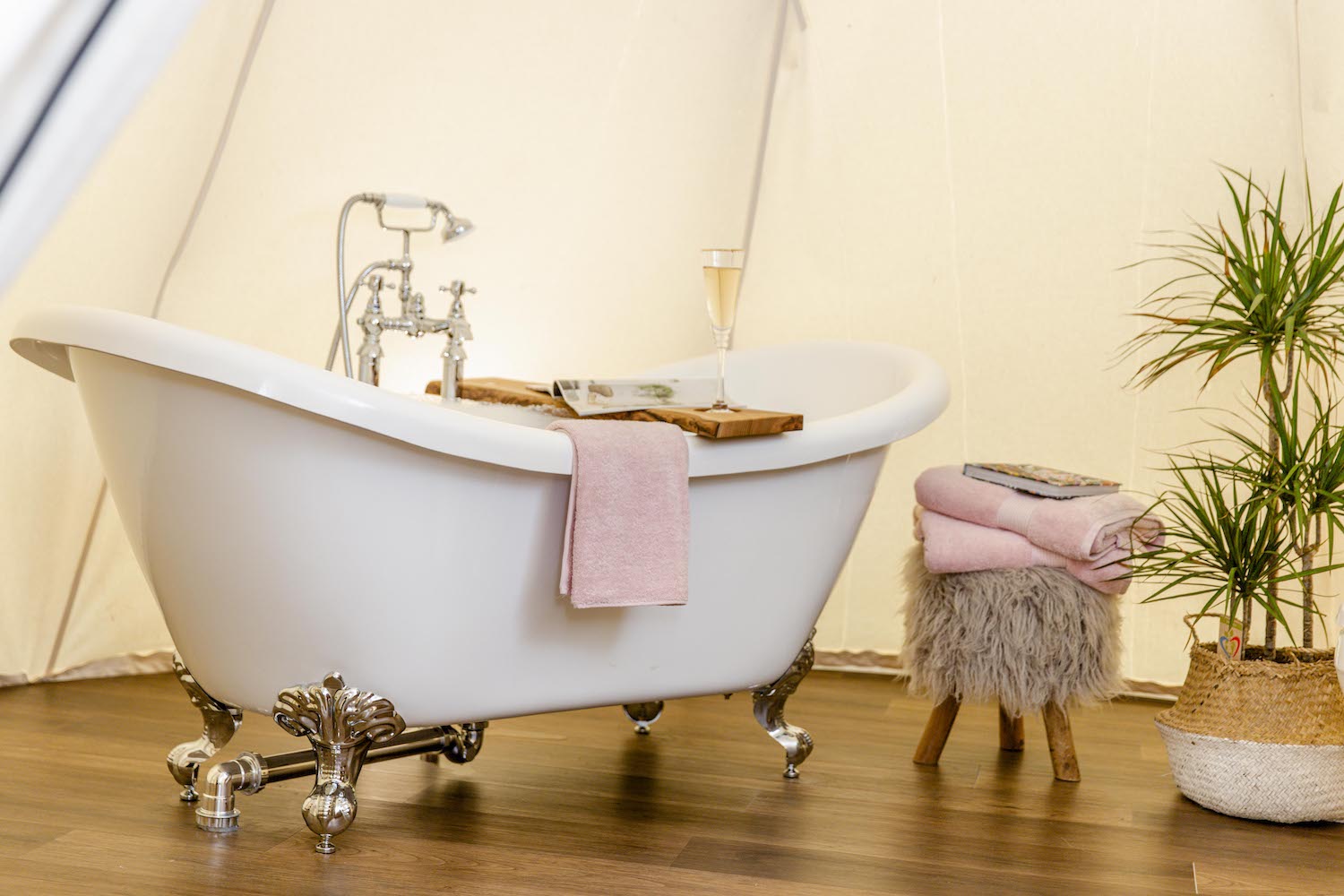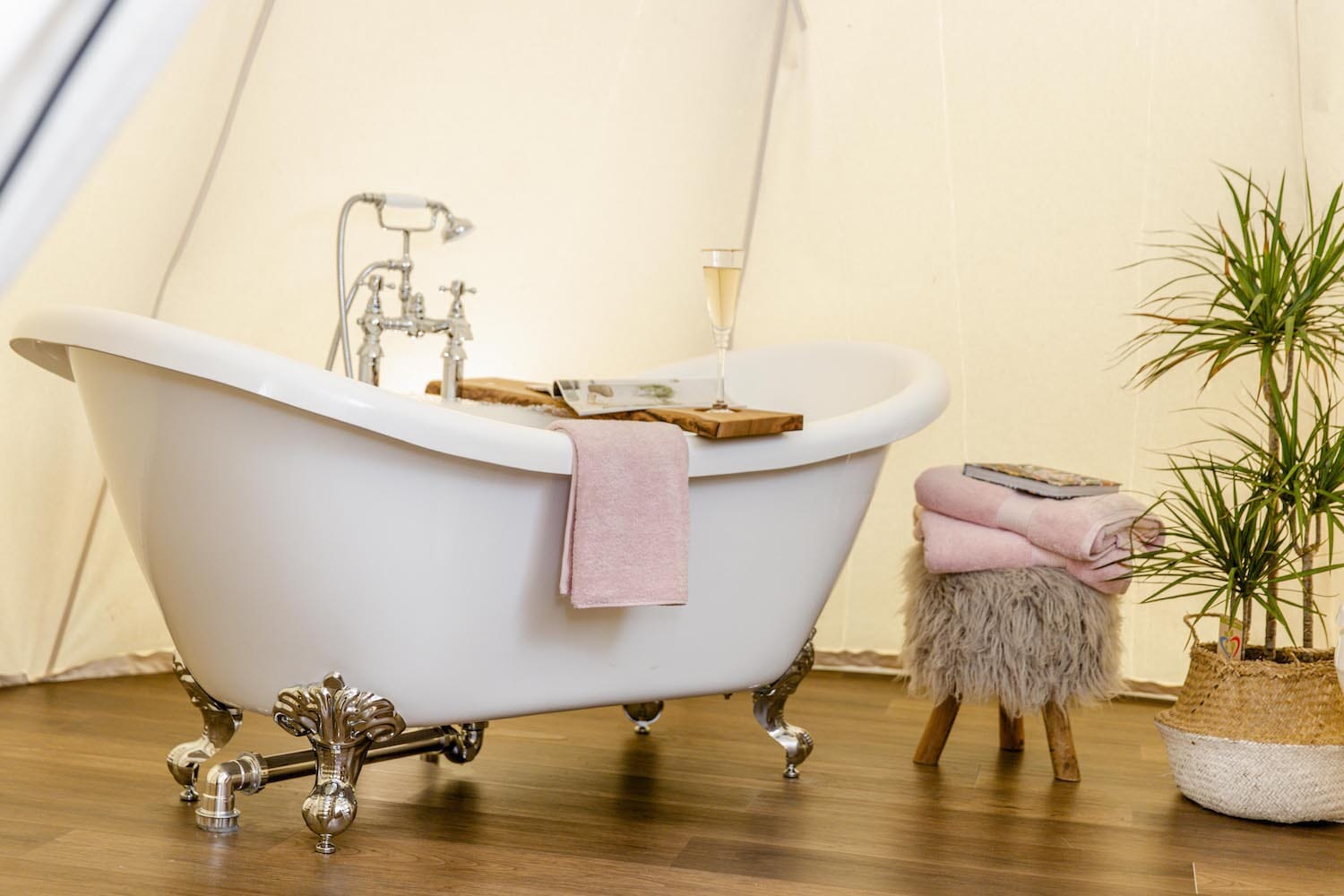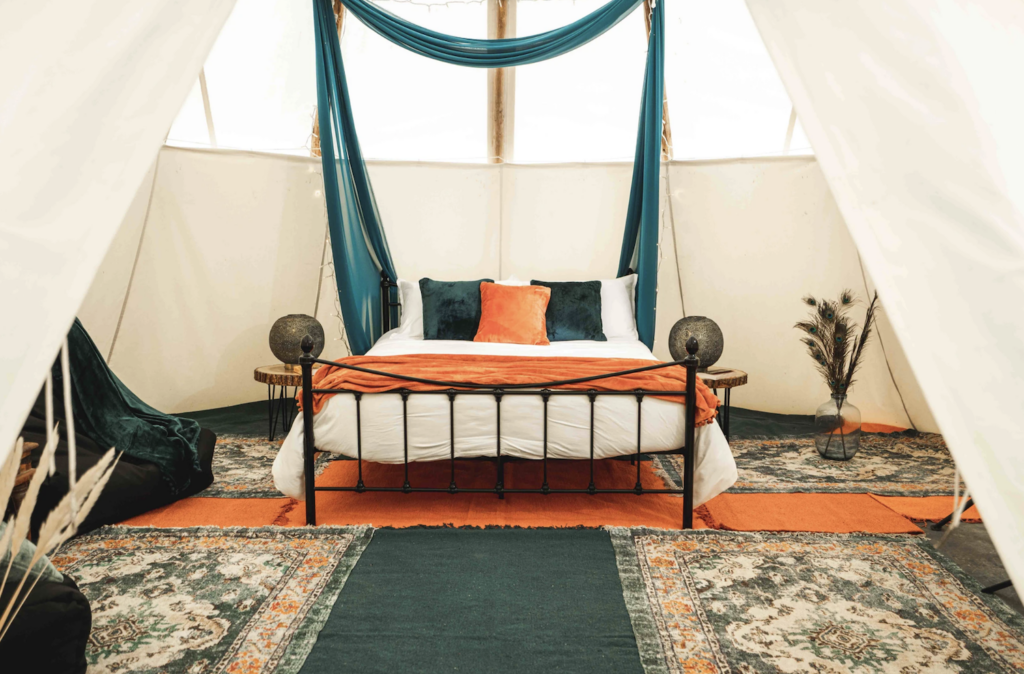 Both Dancing Deer and Sitting Bull come with ensuite bathrooms, linked to the bedroom by a canvas hallway. The bathrooms are dreamy spaces with a freestanding rolltop bath, flushing wc, basin with reliably hot water, super-soft Pima cotton towels, two guest robes and gorgeous eco-friendly toiletries to moisturise yourself with. There's also a vanity mirror to perfect you hair do, but you'll need to pack a hairdryer (this isn't a hotel, despite appearances).
Moon Dance and Crazy Bear each have an outdoor shower to wake up with each morning, found in the private bathroom just next door to the tipis. The outdoor showers are a stroke of genius. Steaming hot, monsoon in size, they're the best way to kick start your day – every day (even in the rain).
In case all the luxury makes you forget you're in the North Devon countryside, the open-air kitchen yanks you back down to the salt of the earth. Blissfully so. For meals, you can cook under the clouds in a semi-circle kitchen hewn from timber and kitted with necessary utensils: pots and pans and a simple camping stove. You can also flame up the firepit and use the host's Dutch Oven to cook dinner (we created a pizza in it, which was easy and delicious). You wash up using a rustic bucket-sink and the single tap. If it rains, there's a large canvas patio umbrella to pop up.
If you'd rather not cook, you can order curry for £15pp, homemade by Aaron who will also deliver it to your tipi with a smile, whatever the weather.
The open-air kitchen and outdoor shower are a clever move. It would be all too easy to live like a maharaja in the sublime solitude of your tipi, never stepping outside or getting dirt on your knees. This way, you and Mother Nature get to hang out. And she's great company.
The Location
HARTA retreat glamping couldn't be better placed for exploring the beauty of North Devon. The coastal village of Combe Martin is close by and Ilfracombe is just over 20 mins' drive. You're also within an arrow's strike of the stunning North Devon coast home to award-winning surfing beaches, such as Woolacombe and Croyde. It's a perfect Woolacombe glamping adventure waiting to happen.
Exmoor is a prancing pony leap away with its rocky headlands, soft green valleys, wooded hills and fresh cold rivers to plop into. There's also a string of pretty Devon villages and towns to explore, including the ancient twinned towns of Lynton and Lynmouth (often referred to as 'little Switzerland' due to their Alpine appearance).
This is, of course, if you want to leave the natural playground that is HARTA retreat behind. Stay on site, however, and you've woodlands, orchards and meadows to picnic in, two large ponds to chill by (complete with a hammock) and tennis courts to play on.
Looking at it logically, there really is no reason to venture off with so much on site to hold your attention. Plus, and we say this with a heavy heart:
Two nights at HARTA retreat pass all too quickly here – so savour them. With your feet up.
---
The Essentials
Sitting Bull, Dancing Deer, Moon Dance and Crazy Bear luxury tipis sleep two adults
Crazy Bear and Moon Dance cost from £140pn
Sitting Bull and Dancing Deer cost from £165pn
Sun – Thu (min 2 night stay) | Frid – Sat (min 3 night stay)
Double skinned interlinked tipis, open all year
Ensuite bathrooms with roll-top bath, proper toilets, robes and towels in Sitting Bull and Dancing Deer
Kingsize beds with soft organic bed linen and luxury throws
Nespresso coffee machine and kettle
Outdoor cooking area and fire pit
Open-air rainfall shower
Continental breakfast (£12pp) and homemade curry (£15pp) served in your tipi
Set on 46 acres of woodlands, meadows, and gardens
Outdoor tennis court for guests to use
Car parking on site, with a short walk to the tipis
Local farmshop and large supermarket only 10 mins away
Excellent glamping near Woolacombe and Exmoor National Park
No dogs allowed
Eye Candy