5% discount for 3 nights, 12.5% discount for 4-6 nights and 20% for 7 nights or more. Contact the owner direct to book
---
🥂 Luxury glamping cabins and boat | 👙 Hot tubs  | 🛌  Sleeping 6 girls | 📍 Nottinghamshire
💆‍♀️  On-site sauna, massage, and bbq cabin | Great for girly weekend or hen weekend
Why we love Hawthorn Hideaway for a weekend
Four little words: sauna, massage, bubbles, and back-to-nature bliss (ok, seven little words). Yes ladies, hens and mini-mooners, when you want boutique accommodation, on-site luxury experiences, and a natural wonderland of woods and water to explore, Hawthorn Hideaway in Nottinghamshire fits the bill.
You'll find Hawthorn Hideaway living up to its name hidden away in two acres of Nottinghamshire woodland, bordering Yorkshire and Lincolnshire. Created by husband and wife team, Josephine and Ronnie, this secluded site features 3 unique retreats generously spaced apart from each other, with only trees, birds and wildlife sharing the space.
There are 2 lodges and 1 narrowboat which are perfect for you and your BFFS to takeover for a short break or weekend. All you have to do is fight it out over which one you stay in. May the odds ever be in your favour.
The Accommodation
Swan Lodge Is as attractive as it sounds with a super-king gilt scrollwork 'bling' bed to fall into on an evening, a cream leather Chesterfield sofa to snuggle up on, and a wood-burning stove to warm your cockles by (if they need warming). There's also a large walk-in shower, quality eco toiletries, complimentary fluffy bathrobes and towels, and a fully-equipped kitchen with a dishwasher. Outside Swan Lodge there's a private garden space with a large rotating day bed to swan about on (oh, hello) and a fire bowl and BBQ set for al fresco feasting. And – best of all – a raised deck with a hot tub to kick back in with the girls and a whole lot of sweet nothing to worry about. Sleeps 2.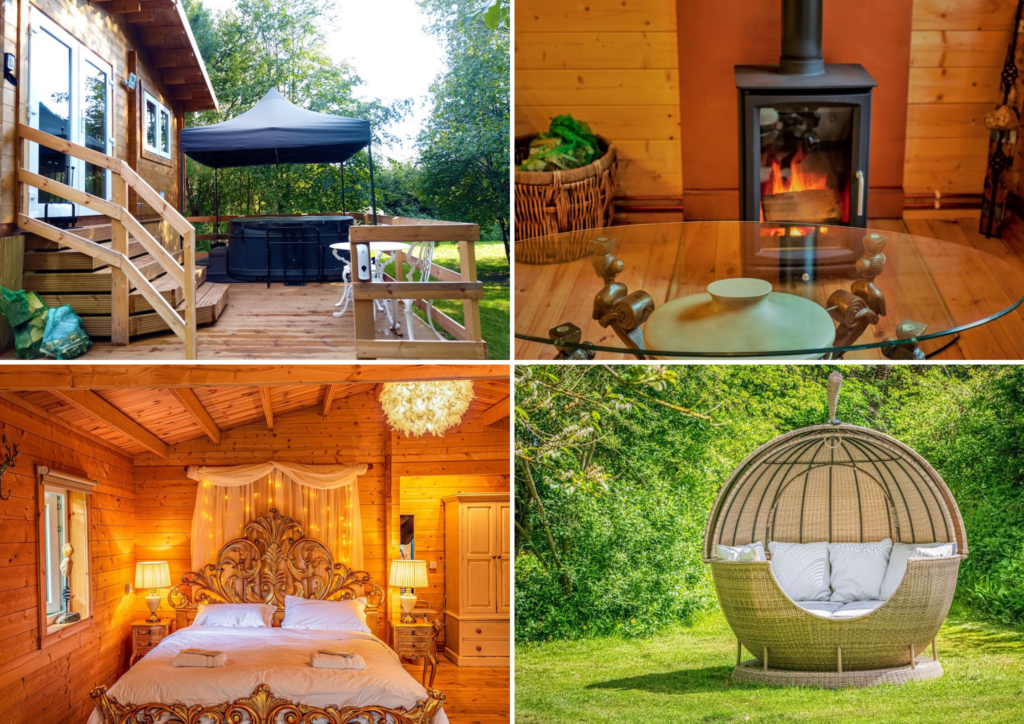 ---
Owl Lodge. Just like its sister lodge, this glamping beauty comes with all the trimmings you need to stay smiling for a long weekend, including a hot tub on the deck outside, a king-size carved mahogany bed inside (with an extra deep mattress and luxury bedding), a large red leather Chesterfield sofa and a wood burning stove. The kitchen is fully pimped with a dishwasher, the large walk-in shower comes complete with soft bathrobes and towels, and the outdoor garden boasts a wooden day bed to take your chill-out time to the max. Sleeps 2.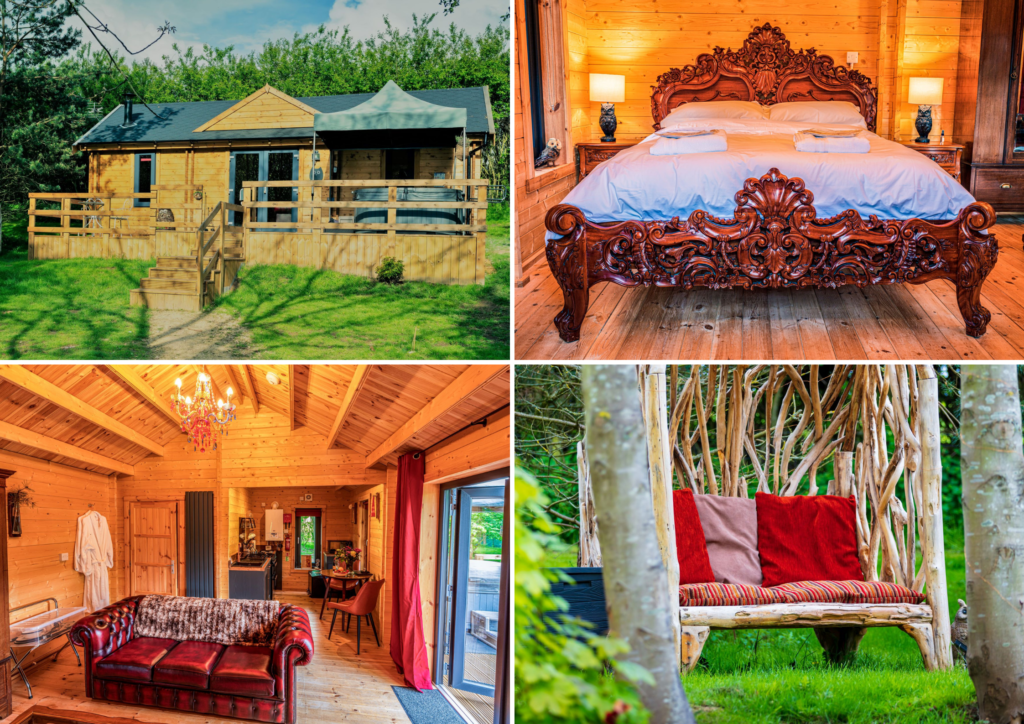 ---
Kingfisher. Bobbing happily on the Chesterfield Canal, at the edge of Hawthorn Hideaway is Kingfisher – a 57ft narrowboat. It sleeps 2 and is supremely handsome inside: hey, if you don't smuggle the electric blue velvet sofa home, we will. There are real wood floors throughout, a king-sized bed, and, similarly to Owl and Swan Lodge, there's a fully-quipped kitchen with dishwasher, gorgeous shower ensuite, as well as a smart TV and log burner.
Kingfisher also has a large deck at the back of the boat to catch a sunset or sunrise and its own private fenced-off garden with hot tub and day bed. Best of all, if you want to pootle off along the waterway during your Nottinghamshire short break – by captaining the boat yourself or opting to have a skipper to do it for you – you can. Simply opt for the 'cruising option' when you book. Sleeps 2.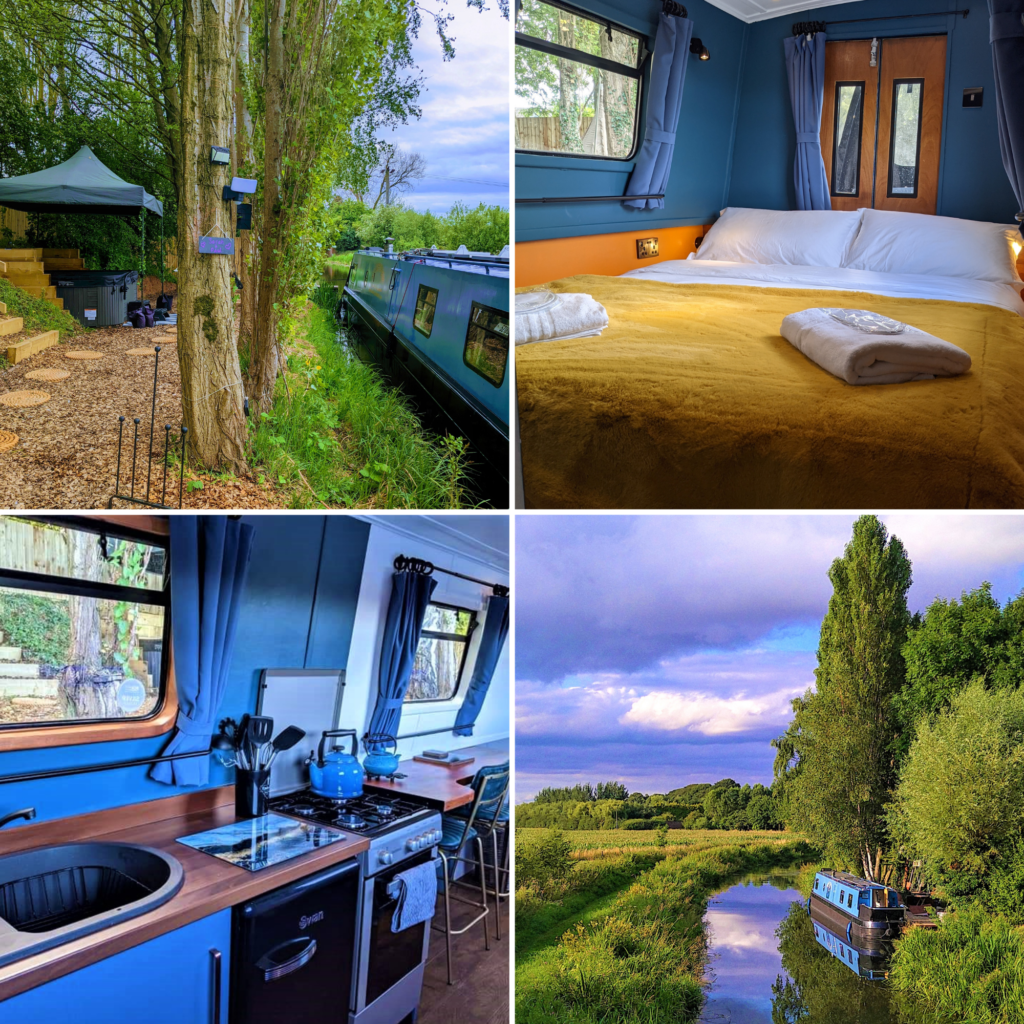 ---
The Extras
Your hosts Josephine and Ronnie know how to make a romantic stay or a girls' weekend away at Hawthorn Hideaway extra special. As well as a complimentary breakfast hamper (stuffed with locally-sourced bacon, eggs and sausages), there are a range of other foodie treats, hampers and experiences on-site, that can be pre-arranged for you. Including:
BBQ Cabin. Want some flame-grilled fun with the girls? The indoor BBQ hut at Hawthorn Hideaway is available to book in two-hourly slots and BBQ hampers can also be purchased.
Sauna Cabin. Fancy steaming away the years alongside the birds and the bees? Hell yeah. Then book a sauna cabin session in the Hawthorn Hideaway woodland sauna.
Spa Yurt. Love a full body massage before a sauna session? Don't we all. Then head into the stunning Spa Yurt at Hawthorn Hideaway where you can enjoy a massage of your choice. Glow girl.
Afternoon Tea. Ready to chow down with your bezzie mates on some fine nosh? They'll delivered Afternoon Tea fresh to your cabin or narrowboat in a wicker basket. Easily pimped with flowers, balloons handmade chocolates and a splash of something fizzy. Hic.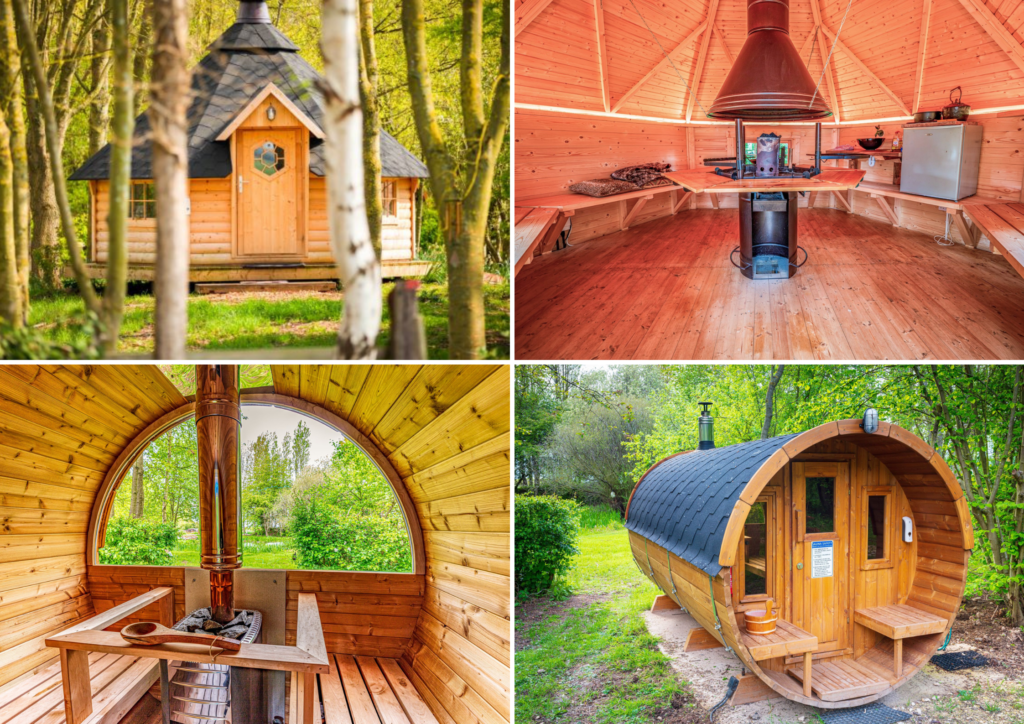 "We booked a stay in owl lodge as part of our honeymoon and we were not disappointed! What an incredible place to stay! The hosts were amazing and had thought of everything, the accommodation was beautiful, and the location was perfect." Helen Williamson
"We had the most amazing stay at Hawthorn Hideaway – highly recommend to anyone wanting to disconnect and be still. Everything was super easy and stress-free. You do really feel like your hidden away and have the place to your self!" Sam Aldridge
The Essentials
Nottinghamshire short breaks destination that sits in a 2-acre woodland adjacent to the owner's home and the scenic Chesterfield Canal
Sleeping 2 – if the site is booked exclusively for a group the accommodation can sleep 4
2 nights minimum stay low season, 3 nights minimum high season (Bank holiday weekends, June weekends, July and August, Valentines and New Year)
Check in days are Monday, Wednesdays and Friday (low season) and Mondays and Friday (high season)
Kingfisher Boat – 3 night minimum stay, check in days Mondays and Fridays
No pets allowed, adults only
Car park and bike storage available
All three glamping spaces are fully insulated, uniquely styled, and well spaced apart
You can fish in the canal if you have a license (apart from 15th March to 15th June)
Peaceful and private location where you can watch boats on the canal and you may see kingfishers swooping over the large pond
Plenty to see and do in the local area, with shops and restaurants just a 15-minute drive away
Only an hour away from Leeds, Hull and Sheffield
Eye Candy