😘 Beautiful 600 year-old hen party house |⚡️17 individually themed bedrooms | 🛌 Sleeps 40 hens | 🌳 Borders the Cotswolds  | 👉 Only 2hrs from London | ❤️ From £120pp | 🥂 All inclusive hen weekends: activities, catering, themes  | 🐶 2 dog-friendly | 👠 Perfect for Hen Weekends and Girls' Weekends | 👙 Hot tub
---
Complimentary fridge full of Prosecco, PLUS welcome table of local artisan food and drink (quote HENMILLEND)
---
Why we love Mill End Mitcheldean for a Hen Weekend
Want a vividly unique, boundary-pushing, all-inclusive, dopamine thrill ride of a hen weekend? Then Mill End Mitcheldean is the place. This incredible hen party house near the Cotswolds is a) stunning and b) takes care of everything (and we mean everything) so you get a technicolour hen experience that hits differently. You simply add people.
Mill End Mitcheldean is a unique, quirky hen party country house that brings together all the ingredients you need for an up-market party unlike any other. Food – tick. Drinks – tick. Entertainment – tick. Activities – tick. Sublime accommodation for up to 40 hens – tick and double tick. A one-stop hen party shop if you like, so your to-do list doesn't grow anymore than it has to in the run up to the big day.
This extraordinary party house is run by ex-fashion designer, TV presenter/stylist and Bristol mover and shaker, Liz Lewitt – who sold her lingerie designs to Agent Provocateur and has quite the party-throwing CV. Not only was she responsible for Bristol's longest running independent club night Spank, Liz also ran a famous music and media bar in Bristol, frequented by the likes of Banksy, Portishead, Massive Attack and Roni Size in its heyday.
Now, Liz has poured this unique creative experience into her Mill End Mitcheldean party pad (on the doorstep to the Cotswolds in the Forest of Dean), which she runs alongside its sister company Bordello Banquets. This perfect pairing means you get an highly original place to stay, plus bespoke catering, hospitality, classes and entertainment.
The Stay
In essence, this hen party house is two cottages and an adjacent malthouse – which date back to medieval times – fused together into one huge country house and party venue. It's perfect for hen parties, milestone birthdays, corporate retreats or group holidays.
Liz has inject an explosion of colour and style in the house, cleverly combining old with new: graffiti art pops from the walls, quirky fashion/TV paraphernalia brightens rooms, bespoke textiles and furniture dresses the spaces. And my, what fabulous spaces they are. The house is split into The Stores (Upper & Lower), The Malt House (Upper & Lower), Jovial Colliers, and The Cottage Next Door. There are 17 bedrooms in total: and no two are the same.
Chinese Room (Upper Stores) – Sleeps 3
Japanese Room (Upper Stores) – Sleeps 4
Butterfly Room (Upper Stores) – Sleeps 3
Four Poster Room (Upper Stores) – Sleeps 2
White Room (Uppers Stores) – Sleeps 3
Nell Nile Bunk Room (Uppers Stores)
Rinky Dink Pink (Upper Malt House) – Sleeps 2 (+1)
Sunshine Yellow (Upper Malt House) – Sleeps 2 (+1)
Arts and Crafts (Lower Malt House) – Sleeps 2
Doves and Swans (Lower Malt House) – Sleeps 2 (+1)
Woodland Room (Lower Stores) – Sleeps 4
Blue Room (Lower Stores) – Sleeps 2
Rose Double (Jovial Colliers) – Sleeps 2
Garden Bunk (Jovial Colliers) – Sleeps 2
Birds of paradise (The Cottage Next Door) – Sleeps 4
Vintage Rose (The Cottage Next Door) – Sleeps 3
Blue Denim (The Cottage Next Door) – Sleeps 3
The rest of the house is a riot of personality. There are three fabulous social spaces: The Oak Room (with a log burner, floor-to-ceiling windows and views to the garden where there's a hot tub). The Lower Malt House Lounge (with comfy leather sofas, cow skin rugs and Bluetooth TV). The Upper Malt House Dining Area (which happily seats 40 for dinner or can be used for hen party activities, classes and entertainment).
Then there's The Therapy Room with a massage couch and wellness treats; along with a sauna for hens to use. Add to that two kitchens (featured on TV's Britain's Best Bakery): The Upper Malthouse Kitchen is equipped to cater up to 60, ideal for 'Come Dine with Me' style bake offs. And The Lower Malthouse Kitchen Area has enough room for gorgeous breakfasts, brunches and baking classes, and comes with a cocktail bar with books and optics. Hello.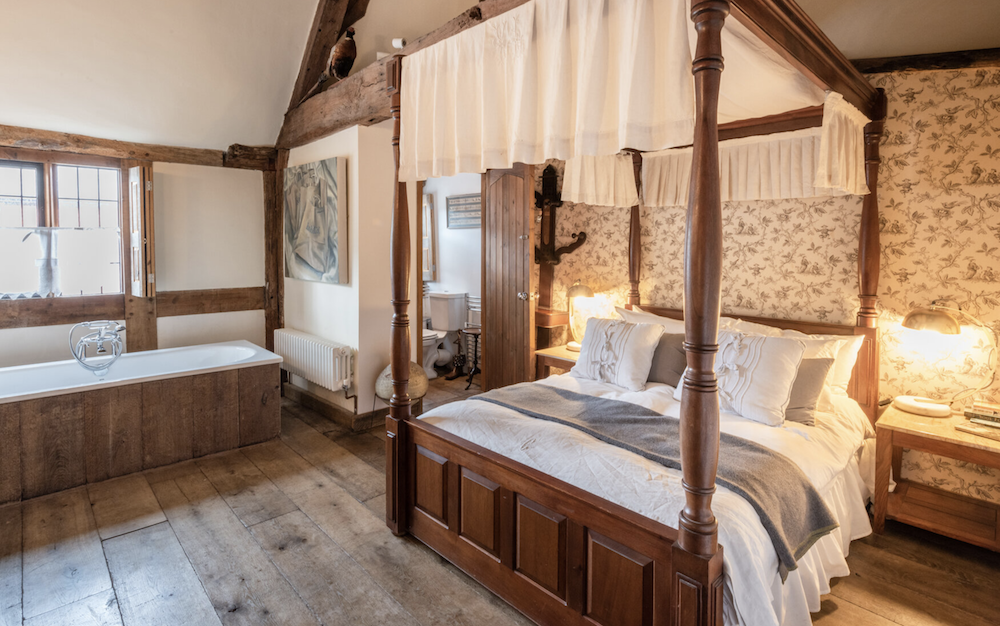 The Experiences
Whatever theme or activities your bride-to-be wants for her celebration, Mill End Mitcheldean makes it happen. Strictly Come Dancing, Carnival Burlesque, Rustic Woodland, Roaring 20s, Mad Hatter, Murder Mystery – are just some of the immersive experiences Liz and her team can organise for you.
And they can handle as much or as little of the details as you want them to. From a fully-catered banquet for 40 around a central theme (with the entertainment, house styling, classes and activities to match) to a few personalised activities for you all to enjoy.
You can also select from Mill End's 'Hen for 10' weekend Itinerary or build your own bespoke weekend from the cornucopia of choices on offer, including gin mixology, raw food workshops, line dancing, Egyptian dance, French knicker trimming, butt naked art class, acoustic live music and outdoor woodland or river based activities.
In summary, Mill End Mitcheldean is your easy road to a legendary hen party, minus all the usual running around. Because, seriously, life's too short.
"My best friend and I had 30 of of us stay here for our 30th birthday and we had an absolutely cracking time! The house is quirky and unique, which we loved, and it has so many bedrooms which worked as we were a group of mainly couples so everyone was able to have their own space. The large dining room is excellent for dinner parties (we did a quiz on the final night and were able to plug unto the TV to display our questions which was handy), and the hot tub was an added luxury. The area is lovely – the local pub has a really down to earth landlady who let us set up our own karaoke space for free! We brought our own equipment and had a brilliant time – only a 2 minute walk down the road. Lovely walks through the forest, plenty of parking for all our cars and so many different 'zones' within the house; there really is something for everyone! Would recommend staying at Mill End Mitcheldean to anyone"
The Essentials
Large and quirky hen party house near the Cotswolds, in the fabulous Forest of Dean
30 mins from Cheltenham; 15 mins from Gloucester
Easy base for exploring pretty Cotswold towns and villages
Sleeps up to 40 people in 17 individually-styled bedrooms
Private and shared bathrooms, including 3 ensuite
Sun-trap BBQ area, garden with patio, play area and hot tub
Rare and unique 600-year-old house, buzzes with history and original features
All inclusive, immersive hen party option with catering and banqueting, classes and activities, table styling and entertainment handled by the brilliant

Bordello Banquet 

Off-street parking for up to 13 cars
Hot tub hire available for £50
Dogs welcome for £25 per dog
Eye Candy