🌳 On Cirencester's Bathurst Estate | ⚡️Open all-day Mon – Sunday | 🥐 Family-friendly hub for coffee, breakfast, brunch, and lunch | 🍸 Dinner & fabulous cocktails Thurs – Sat | 🍽  25-mile menu | 🌱 Kitchen garden produce
Why we love Roots + Seeds Kitchen Garden for a weekend
This brand new dining hub (in Cirencester's beautiful Bathurst Park), is a fresh confluence of fabulous farm-to-fork food, sensational cocktails, energetic staff and enviable location. In short, it's where all good things meet. Expect to leave hungry for more. 
The boys behind The Scenic Supper (friends Toby Baggott and Sam Lawson-King) are back with a brilliant new dining destination that's whetting appetites around Cirencester. Roots + Seeds Kitchen Garden is a beautifully designed modern cafe-restaurant – open 7 days a week – serving coffee, breakfast, brunch and lunch. Plus, dinner in the evenings from Thursday to Sunday.
With the same energy, creativity and enthusiasm that saw their last venture take off, the boys have created an eatery where sustainably-sourced food and a zesty, friendly atmosphere is always on the menu. Inside, the restaurant is a huge, light-filled space with vaulted ceilings, large windows, funky art prints and an open pass so you can see the chefs work their magic.
Adjacent to the restaurant is a separate children's room, ideal to keep young children entertained, whilst outside there's an outdoor children's play area and two courtyards for lunch or coffee in the sun. Just beyond the Roots + Seeds restaurant is the Kitchen Garden where, on a Saturday, you'll find passionate gardener Toby, talking to visitors about all aspects of growing food.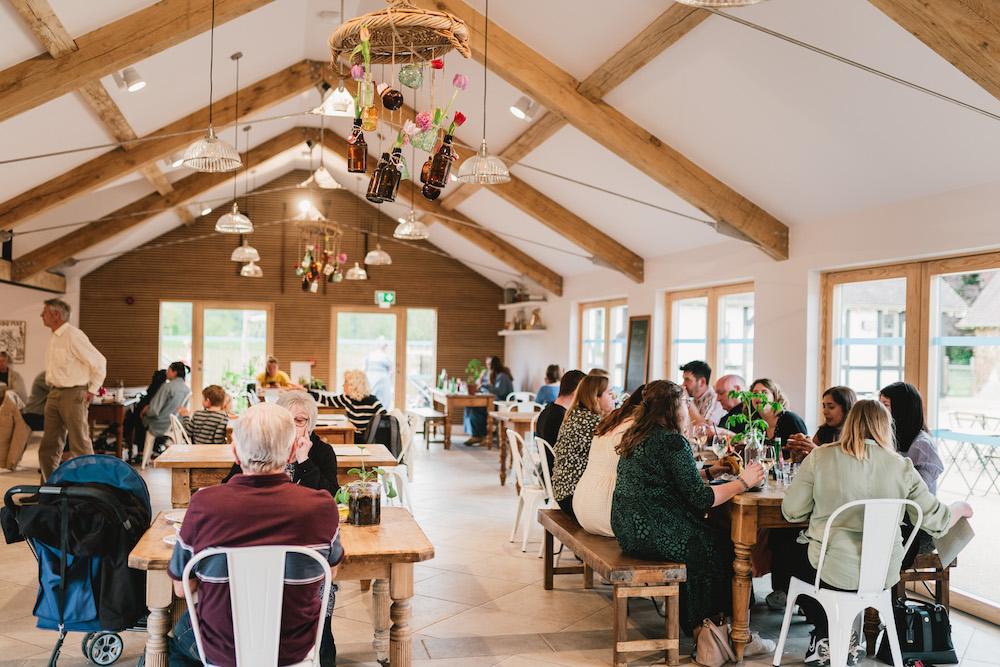 The Food and Drink
With sustainability at its heart, the Roots + Seeds menus showcase some of the finest Cotswolds' artisan produce from within a 25-mile radius, alongside fruit and vegetables grown in the on-site Kitchen Garden.
Pop in to the restaurant for a quick coffee to stay or takeaway, a sit-down breakfast or brunch or a delicious lunch with friends or family (kids are catered for, as are dogs). If you're after an evening treat, Roots + Seeds serves a generous evening menu with a sophisticated edge from Thurs – Saturday. Our three-course dinner was utterly heavenly.
Better yet, Roots + Seeds also has a full bar with award-winning, artisan King Stone gin made by Roots + Seeds founder, Sam Lawson-King, taking centre stage. Delicious seasonally-changing gin cocktails (and mocktails) abound here, muddled with Sam's own homemade shrubs, cordials and mixers. We can vouch for their quality (the Chocolate Orange Espresso Martini is dreamy).
There's also a topnotch selection of English sparkling wines, a short, but well-curated wine list of Old and New World varieties, as well as beers produced literally next door by the brilliant Corinium Ales and Cotswolds' favourite, Hook Norton Brewery.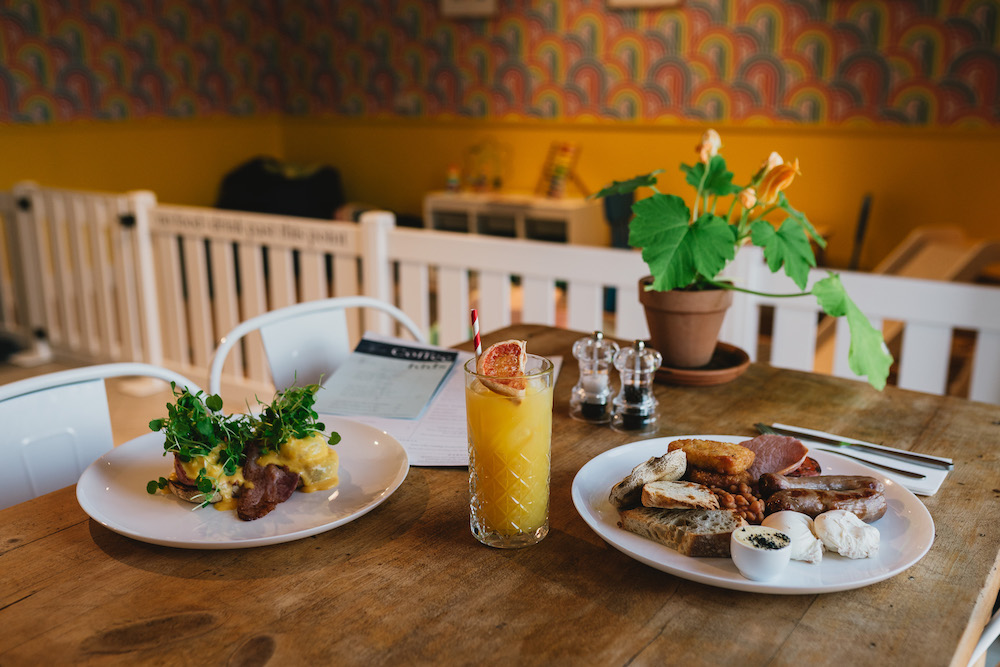 The Location
You'll find Roots + Seeds in the stunning Cirencester Park (on the Bathurst Estate) at The Old Kennels. Here, it sits next to charming listed buildings, once the Bathurst family's foxhound kennels and stables. In the spring and summer, the courtyard floods with sunshine and is a great spot to come for a lazy meet-up.
The restaurant enjoys direct access to Grade I Listed landscape of Cirencester Park; with its network of tree-lined avenues and incredible views, so is a fabulous start or end point after a walk to or from Cirencester town. The Park is daily open 8am – 5pm. And if you're travelling by car there's a car park a short walk away; handily, you can redeem your ticket when you dine at Roots + Seeds and spend over £30.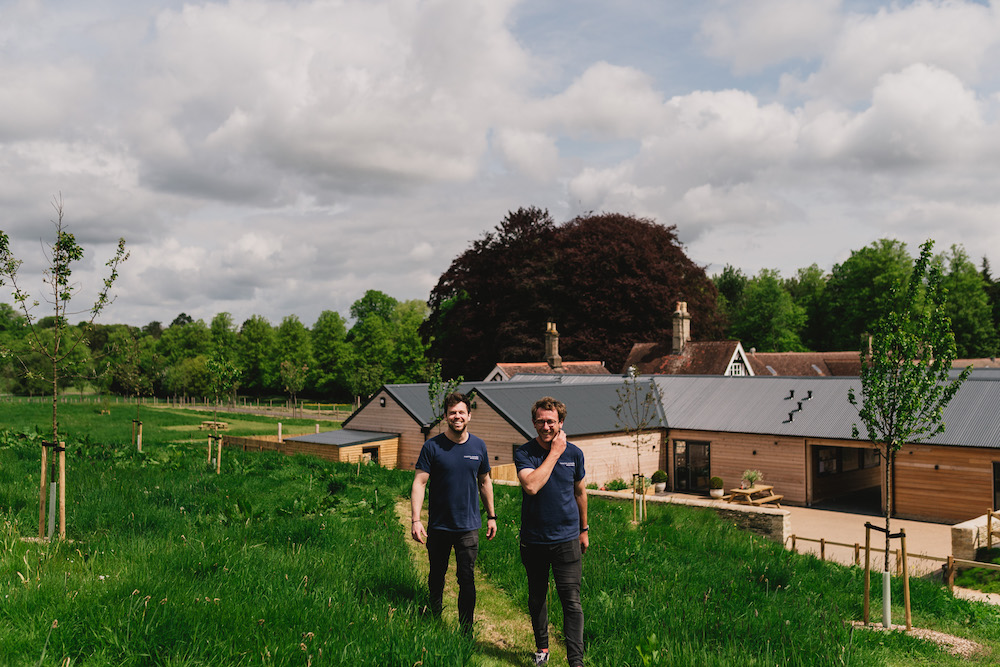 Opening Times
Monday – Sunday year-round
Monday – Saturday 8am – 5pm hot and cold snacks and takeaways. Kitchen open Monday – Saturday 9.00 – 15.30
Lunch served 12.00 – 15.30
Dinner Thursday – Saturday 18.00 – 21.00
Bar open Friday  18.00 – 23.00
Sunday 9.00 – 15.00. From 12.00 – 15.00 Sunday roasts menu
Between 15:30 and 18:00 the kitchen is closed but the site is open for hot and cold drinks, cakes and snacks
Essentials
Showcases some of the finest Cotswolds artisan produce from within a 25-mile radius a
Fruit and vegetables also grown the on-site kitchen garden
All dietary requirements can be accommodated
Children and well-behaved dogs welcome
A seasonally-changing vegetarian menu and vegan menu is available
Parking and toilets available on-site
The Park can easily be reached on foot from Cirencester town centre through the gates at Cecily Hill
Eye Candy