Sleeps 4 | Two Bedroom Suite | Historic UK Lightship | Tried & Tested 
SULA Lightship sits serenely in retirement in Gloucester Docks, soaking up the wide smiles and stares of passersby. Her sea-faring years may well be behind her, but she still has tales to tell and adventures to give. All you have to do is step aboard.
Once upon a time, it was the waters of the Humber Estuary that were lucky enough to call SULA Lightship theirs. For over 20 years she was stationed there, shining her light to protect mariner's lives until she was decommissioned in 1985 – replaced by a navigational buoy.
But the Humber's loss is our gain. Thanks to her present owners, Colin and Viv Brooks, SULA Lightship has been beautifully restored and transformed; she's now a luxury floating self-catering home for the weekend, moored in a quiet spot in Gloucester's historic docklands.
She's also the only lightship in the UK that you can stay aboard – making her the perfect place to come if you want an extra-special mini break.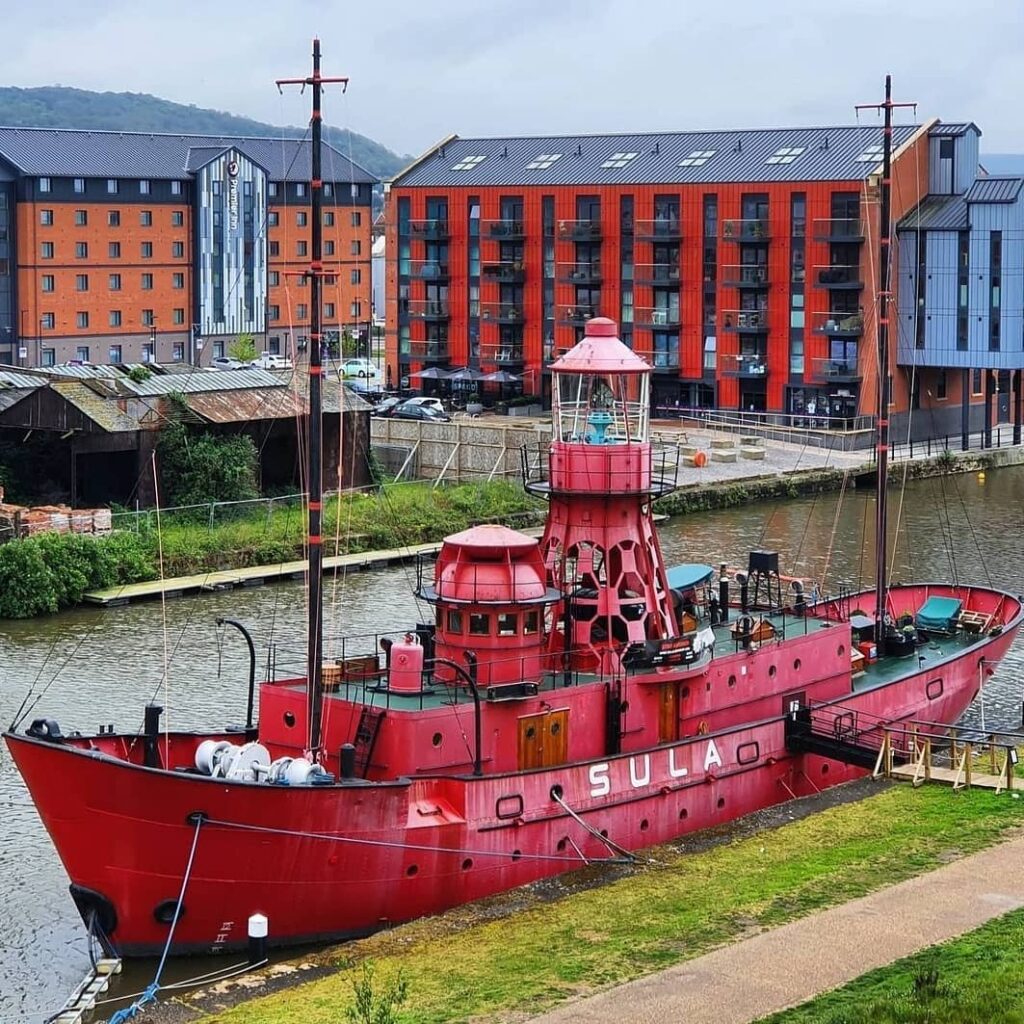 (Pic copyright Jane Leckebusch)
The Living Space
At one end of SULA Lightship (the stern), Colin and Viv live with their three friendly dogs, Wilfey, Whistler and Boz, separate from you but close enough to call on if you have any difficulties.
The other end of the ship (the bow), is yours in the form of the palatial Humber Suite. This high-end self-catering cabin is where 4 adults, a couple or a solo adventurist can escape to, leaving stresses and strains firmly onshore.
Step through SULA's original teak double-doors to The Humber Suite and this extraordinary vessel will bob straight into your heart. The open-plan living room, dining room and kitchen is testament to the owners' love for the ship and desire to share her historic charms with you.
Hardwood floors and wall panels accentuate the light that streams in through SULA's original porthole windows; the carpentry and finishing is exemplary and, combined with the contemporary furniture, the vibe is more slick city apartment than former working ship.
There's a wonderfully neat and compact kitchen too, in fabulous pillar-box red, with a hob and microwave oven if you want to self-cater, and a fridge for storing those cold essentials (the complimentary fizz left for guests is definitely a bonus find).
If you want to eat out, you are a few hundred yards from the food epicentre that is Gloucester Docks, with a huge range of bars, cafes and restaurants to pick from (many of which deliver to SULA Lightship).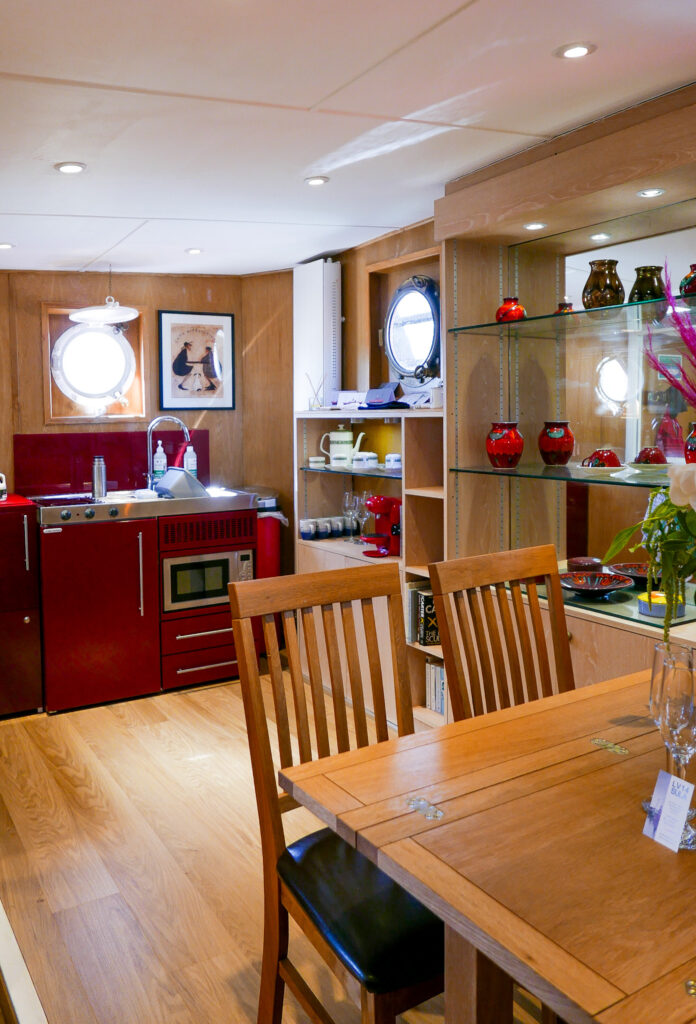 The Bedrooms and Bathroom
Sink below deck when it's time to sleep (minding your head as you go) and you won't be disappointed: two beautifully appointed and insanely cosy cabins await weary guests, along with a huge modern shower room, port side, with a fabulous double walk in shower.
The '59 Room, named after the year LV14 went into service, is the largest cabin with a pillowy king size bed waiting, piled with SULA Lightship branded towels and complimentary toiletries. There's also a thoughtful 'welcome station' with a kettle, cups, teas, coffees and milk in the mini fridge – so you don't have to traipse upstairs for that essential morning cuppa.
The '85 Room, named after the year LV14 was retired from service, is a smaller cabin but just as cosy nonetheless with sink-soft double bed, buttery warm ambience, ample storage space and a welcome station (like the '59 Room).
Sitting in the iron hull of SULA, both bedrooms are pin-drop quiet; the only evidence of life beyond the thick ship walls comes from the port holes, starboard side, which throw in sunlit reflections of the water and seagulls resting on the Gloucester Sharpness Canal.
Also, because the ship has been deliberately wedged into the mud of Gloucester Dock, you won't feel the boat sway as you sleep – a blessing after a few gins on the Sun Deck, trust us.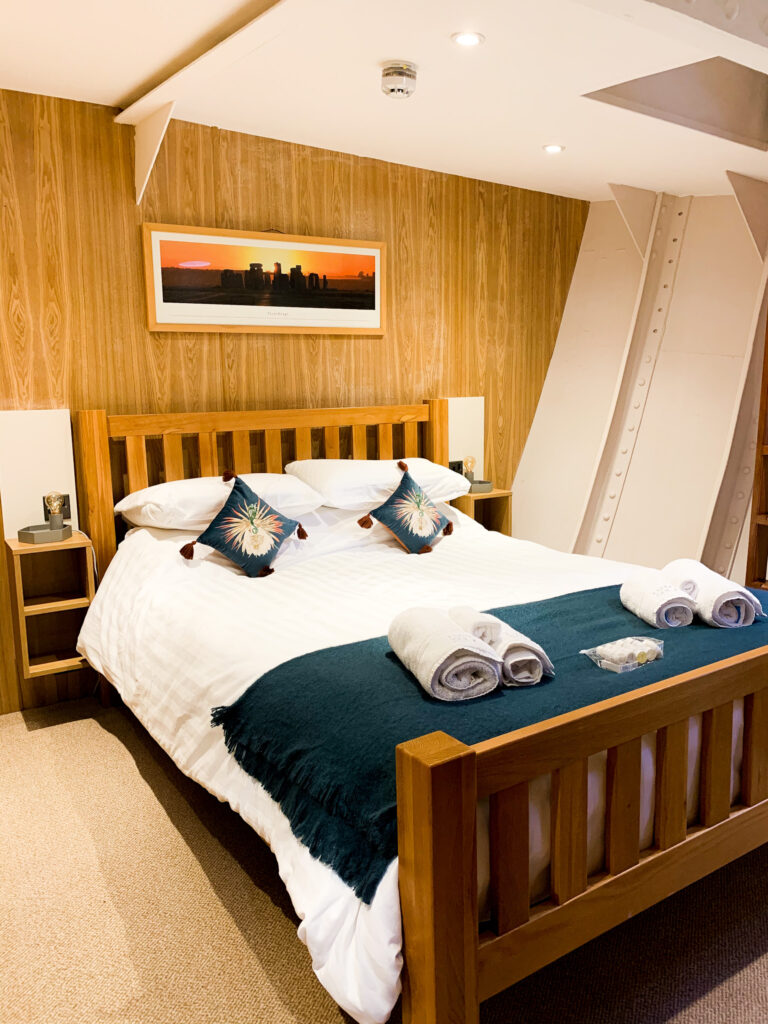 Outside Space
Venture out on deck to discover SULA Lightship's true nature, with much of the paraphernalia from her working past proudly remaining visible.
There are two decks for you to use: The Bow Deck is a good sheltered spot to watch the world go by, and gives you easy access to the water should you fancy paddle-boarding or canoeing. The Sun Deck is the best spot, however, accessed by carefully scaling the steel ladder (tightly gripping the prosecco as you do). From here there are lofty views right across the dock towards Gloucester Cathedral and over to Llanthony Priory on your right, both of which are worth a visit for the rich history.
If you can stay fixed on the Sun Deck's recliners until sunset, wrapped in one of the blankets provided, then do. When the sun sinks, SULA Lightship comes into her own. As shadows fall over her red hulk, porthole windows blink yellow and blue LEDs light up the ship's famous light tower where a rare Fresnel lens sits.
In the dark, as SULA shines out, she brings warmth and brightness to all who pass her by – and to all who are fortunate enough to call her home.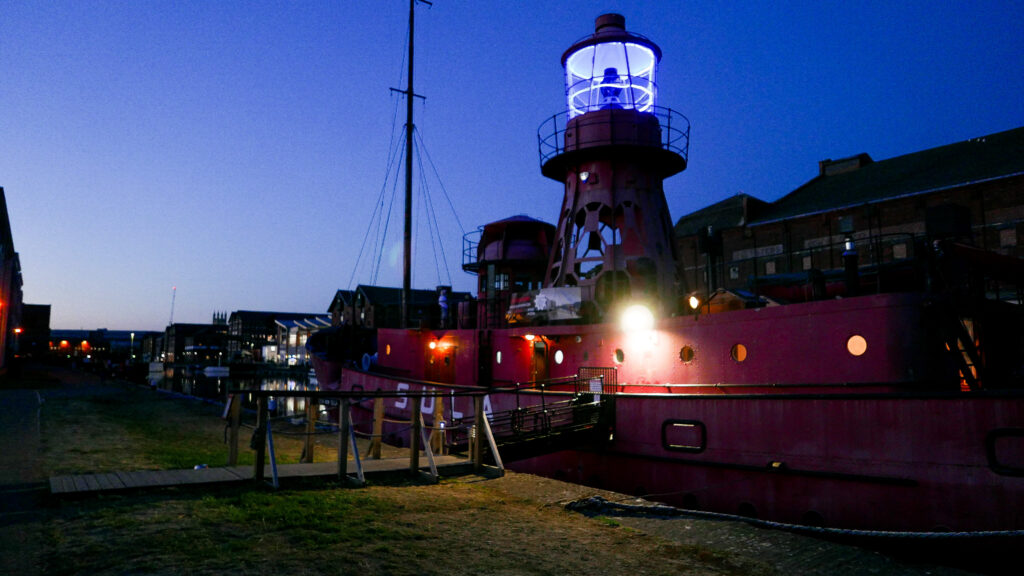 Luxury suite sleeps 4 guests
2 Nights Minimum Stay
Towels and toiletries are provided
Free parking for one vehicle nearby
The only Lightship in the UK to offer overnight stay
TV and Wi-Fi
Well-equipped kitchen space with extendable dining table for 4 guests
Not suitable for pets, children, or those with additional mobility requirements
Within walking distance of the restaurants, bars and cafes of Gloucester Docks
10 minute stroll to Gloucester city centre
Eye Candy