🍽  Gastropub | 💘  Tried & Tested | 🛌  3 King-sized Rooms | 👫 Sleep 2
Wonky walls, exposed timbers, beautiful rooms, a head-turning black and white timber facade, and some of the best food in Herefordshire. Yup, The New Inn at St Owen's Cross is more than just a spruced up gastropub.
The New Inn at St Owens Cross has stood on the cross roads of the tiny hamlet of St Owens Cross, Herefordshire, since the 16th-century. Not that you'd know it. Rescued from oblivion by three local businessmen, The New Inn has been so beautifully restored that it looks spanking new, inside and out. This impressive Tudor building now gleams brightly out at passing traffic and curious visitors, cutting a handsome dash against the greens of the county.
For those weeknders looking to explore Herefordshire treasures, it's a must. It's only four miles from historic Ross-on-Wye, 11 miles from Hereford (the county's cathedral city) and 5 miles from Symonds Yat Rock, with its staggering views of the Wye Valley.
Inside, none of the original charm and warmth has been lost in the refurb. The welcome is warm and shines out as brightly as the pub's exterior. Velvety chairs, woolly fabrics blend seamlessly in with the chunky timber beams, cosy booths, stone inglenook fires and hulking stone walls. It's smart, yet relaxed, the kind of place you grab a pint in the bar after work or come for al fresco cocktails in the large lawned beer garden on a girls' weekend.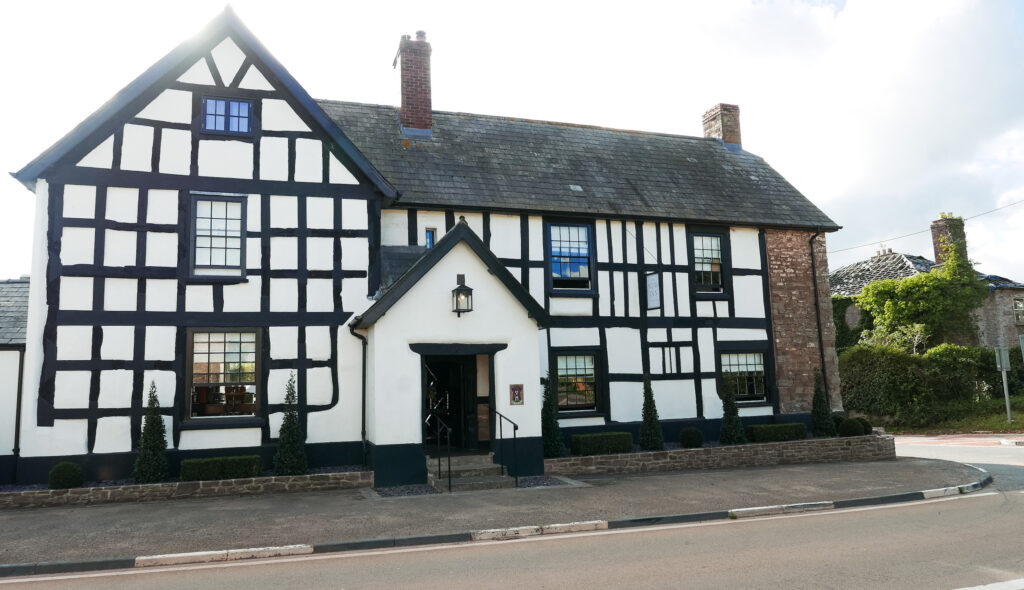 The Restaurant 
Under the management of award-winning chef Michael Fowler, the New Inn's restaurant is a destination in its own right. Michael and his team have nailed down-to-earth fine dining with aplomb.
Whether you opt for the incredible 7-course tasting menu with wine flight (£97.50) or a Sunday lunch (2 courses, £27.95) by the fire, you'll get culinary excellence inspired by the rich farming heritage of rural Herefordshire. All delivered by smiling staff who know the dishes inside out.
For more relaxed options, there's a bar menu offering chargrilled steaks, burgers and moules mariniere with chips. Whilst you're there, try a local ale or cider, a glass of English wine, one of many local gins, or one of the chef-designed cocktails.
The dining room is open from Wednesday to Sunday for lunch and dinner. Food can also be ordered from the bar menu between 12pm and 9pm, Wednesdays to Saturdays.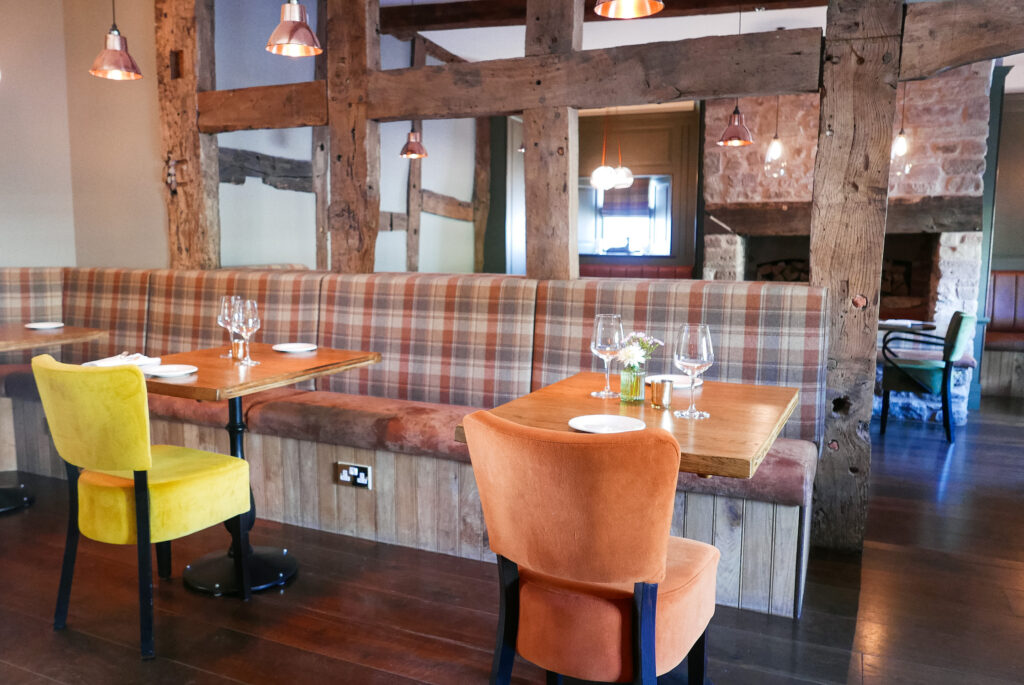 Rooms at The New Inn
Whichever room you choose out of the New Inn's 3 unique options – Fox, Hound or Hare – you're sure to like what you see. All masterfully combine the pub's wonderful historical features with a thick slice of love and luxe, so much so that it feels like you're staying in a beautifully appointed home – not a gastropub.
The comfiest mattresses, fine linen sheets, ice-white bathrooms, wool blinds, plush carpets, plus a smart TV, hot drinks, complimentary WIFI and two thick towelling robes for the final lah-di-dah touch. The only slight downside is the noise from the busy A road, brought through the sash window due to The New Inn's crossroads location. Thankfully, there are complimentary earplugs in your room that do the job nicely.
Stay without breakfast from £160pn, but we recommend adding the breakfast (£190pn). Breakfast comes cooked to order, local and, of course, utterly delicious. Options including Wye Valley Honey Porridge, smoked salmon with scrambled eggs or a full English with local sausages – served with home-made bread.
Breakfast: Wed-Sun: 8.00am – 10.00am.
Lunch: Wed-Sat: 12.00pm – 2.30pm. Sun: 12.00pm – 4.00pm.
Dinner: Wed-Sat 6.30pm – 9.30pm
Bar: Wed-Sat: 12.00pm – 10.00pm. Sun: 12.00pm – 6.00pm
Eye Candy