EXCLUSIVE: Free bubbles and nibbles with every booking (quote CANDYFUN when booking)

💜  3 luxury retreats to choose from | 🛌  Sleeping 2 adults | 👙 Perfect for hot tub breaks | 🌱 Sustainable | 🌳 Rural location | 🥂 Pimp your stay with bolt-on extras | 🐶  Dog-friendly |  🏙️ Less than an hour from London | 🥐 Complimentary breakfast basket | ⚡️ Min 2-nights | Weekends From £535 
Why we love Bethnal & Bec for Hertfordshire weekend breaks
"Pumped with personality, Bethnal & Bec Luxury Stays have taken the staycation rulebook – and torn it up. These three self-catering retreats in Hertfordshire are about as far away from bland as you can get. Loaded with boredom-quashing extras, full of unexpected treats, and blazing with individuality, they are an ideal weekend break when you're looking for a double shot of joy – all delivered in the peace and quiet of the leafy green Herts countryside." 
Bethnal & Bec are three adults-only studio cabins in Hertfordshire that could've sashayed out of a trendy Soho club together. Multi award-winning and featured regularly by the national press, they are amongst the best of the best of weekend stays in Herts. But don't just take it from us: one look at their reviews on Google or Tripadvisor proves we're not telling porkies.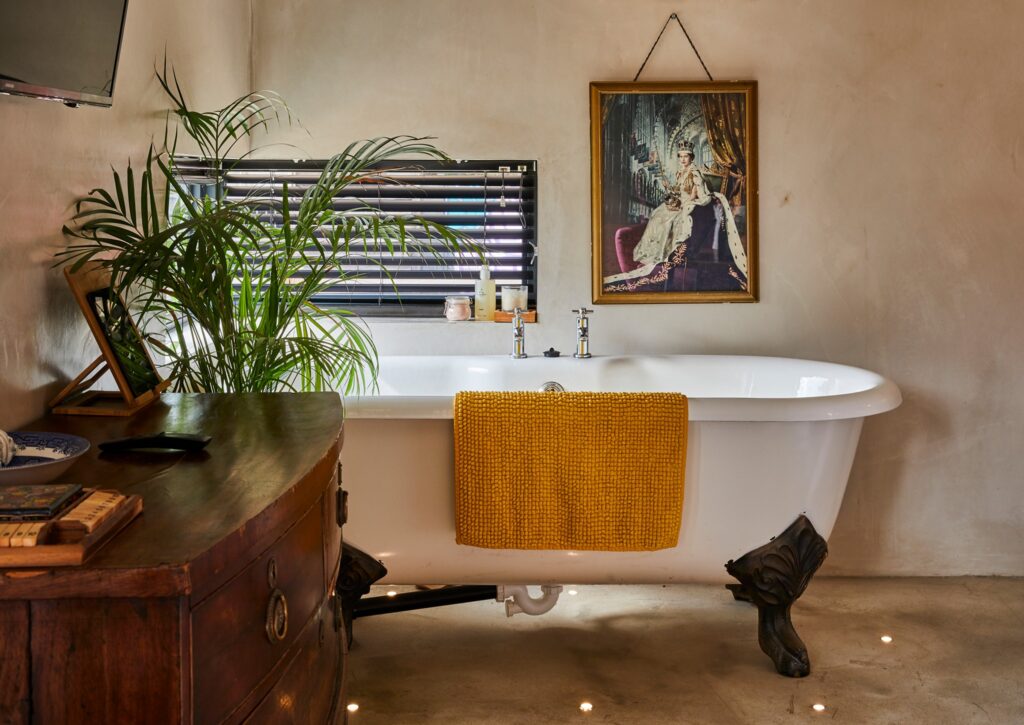 The Retreats
Bec Cabin is named after Tooting Bec in South London; and Bethnal is named after Bethnal Green in the East End. The third cabin, The Foaling Box, used to be an actual 'foaling box' – hence its name – and is the biggest of the three cabins. Although all three retreats are different in size and layout, all boast a carefully engineered city-slick vibe that is original and edgy; easily rivalling any 'hot list' hotel that features in glossy mags.
Think retro throwbacks, kitsch artwork, vintage finds, mixed in with high-end tech gadgets and luxe home comforts. Add to that a wealth of personal touches, in-room extras and bolt-on experiences and you have three creatively coiffed spaces where you'll feel spoilt rotten.
Bethnal: A dog-friendly retreat for two adults with a roll-top bath at the end of your kingsize bed and a pink whirlpool bath in your private garden
Bec: Perfect luxury weekend or mid-week break for two adults and a pooch with a whirlpool bath outside, a kingsize bed and cinema projector and screen
The Foaling Box: The biggest of the three stays with Velux windows, floor-to-ceiling doors, retro arcade games table, cinema projector, superking bed, and a glorious pink outdoor whirlpool bath. Impressively, The Foaling Box has been beautifully finished using 90% recycled pieces and furniture that were destined for landfill. So you can stay guilt-free.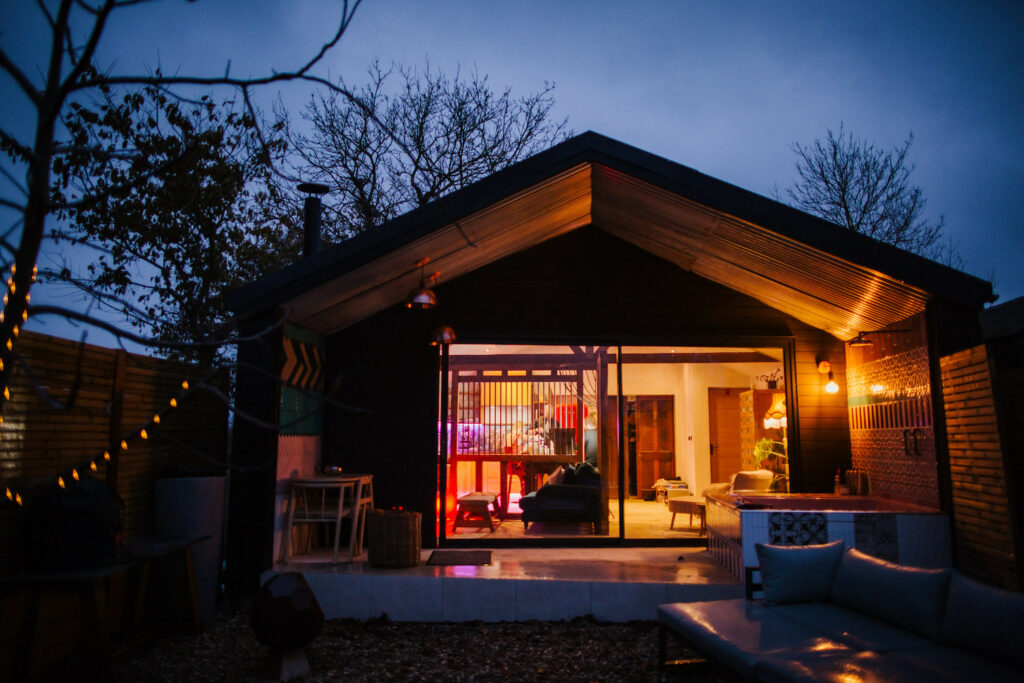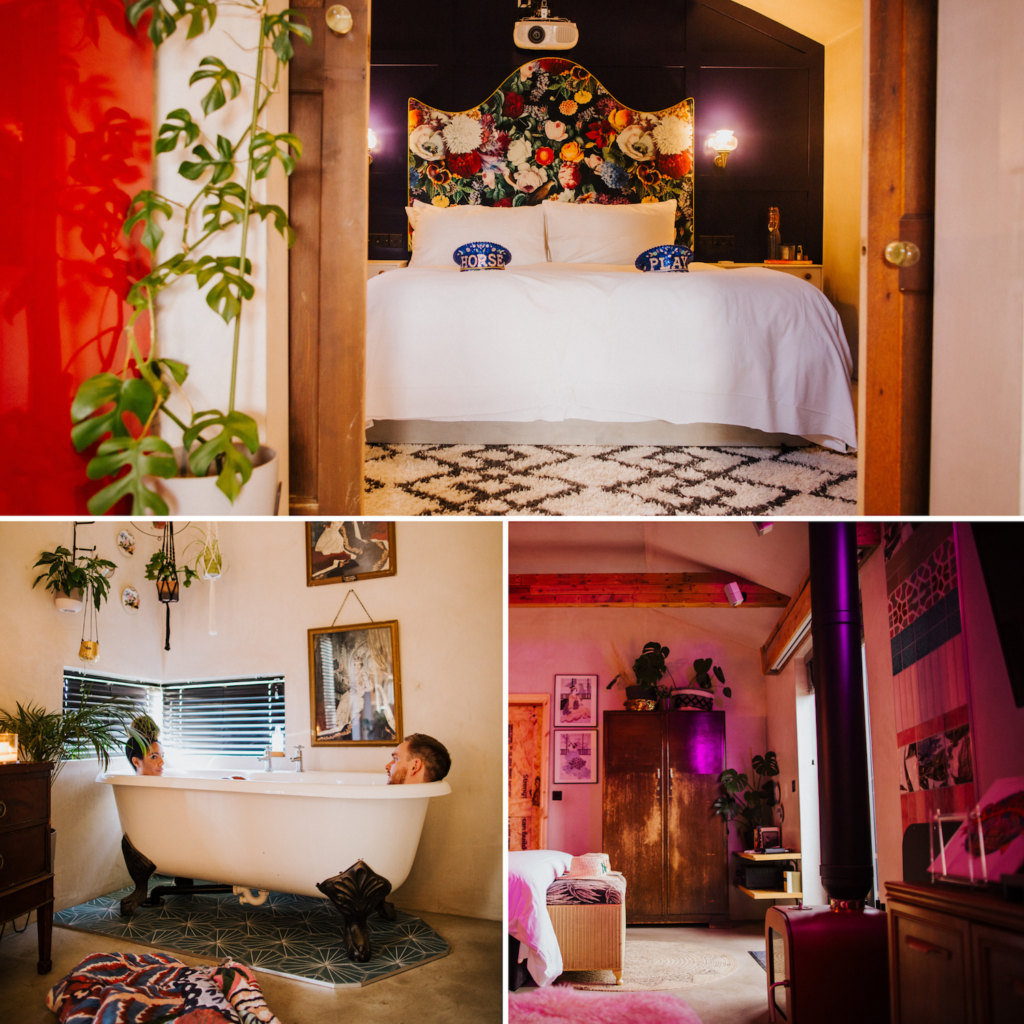 The Location
Despite the Capital vibe, Bethnal & Bec are not in London. These self-catering weekend stays are rooted in rural Hertfordshire on the edge of the village of Cottered. Here, the air swims with birdsong and you can reach the big smoke in a mere 25 minutes on the train.
The team behind Bethnal & Bec are husband and wife, Vicky and Chris – two ex-Londoners who relocated to this patch of Hertfordshire in 2015. On doing so, they renovated the two dilapidated stables behind their family home. But instead of following the country code for interiors, they mixed the vibrancy of London into the cement, timbers and new paintwork.
Then, for added 'wow', they pimped the experience with dine-in hampers, bolt-on local extras, and creative classes and workshops – meaning, when you come and stay, you can have whatever type of Hertfordshire weekend break you crave. Hot tub, stars and cocktail masterclass? No problem. Pasta-making, seafood supper and sun-soaking? Consider it done.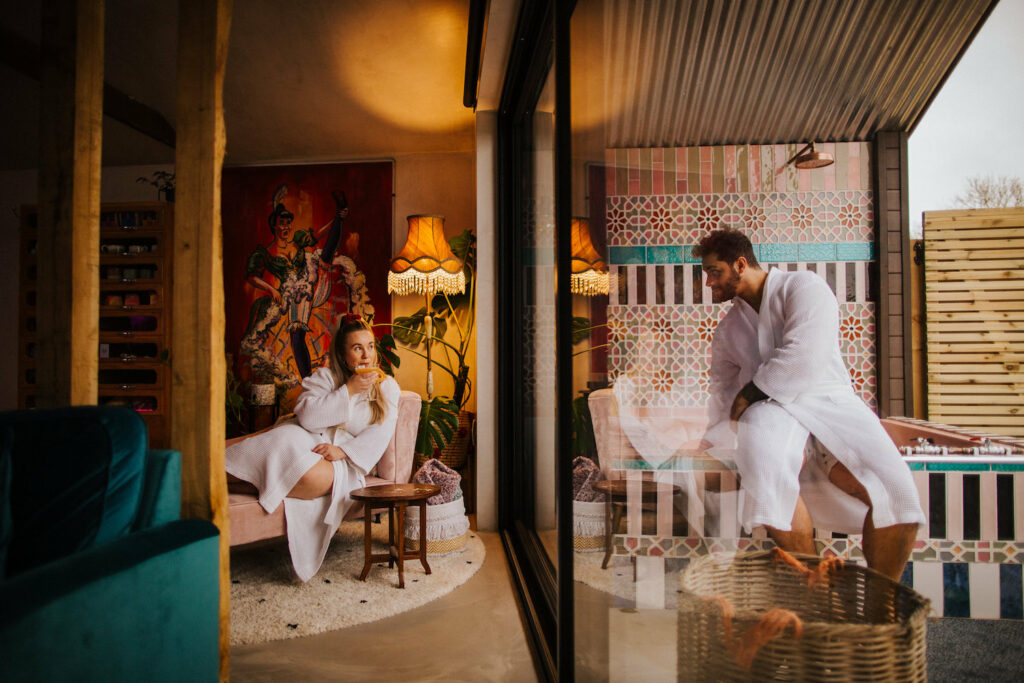 The Vibe Inside
All three luxury stays are laid out like studios. Bethnal Cabin and Bec Cabin have open-plan sleeping, living and kitchen areas. You reach Bethnal & Bec via a quirky chipboard hallway, that glows with a neon sign letting you know that you are 'home'.
Behind their respective front doors, Bethnal & Bec are a rhumba of colourful textiles, statement prints and unique artwork. They both boast modern-style log burners, NEST heating, sun-trap private patios, traditional fire pits, and large hot tubs (carefully placed so you can look out over the Hertfordshire paddocks and fields without interruption).
Both Bethnal & Bec come with a deep sink-and-stay kingsized bed (freshly-dressed in crisp white linen) and a sleek stainless-steel kitchen, which lights up like a spaceship.
The Foaling Box – set adjacent to Bethnal & Bec, but secluded from them so you can shower naked outside if you want to – has an open-plan kitchen, lounge and diner and comes with a separate bedroom and ensuite. Here, you'll find a superking bedroom with, quite possibly, the most stunning headboard you've ever seen, a drop-down projector screen (perfect for a movie night in bed) and a Chaise lounge corner with a vintage-style record player which can be paired with the provided bluetooth speaker.
The bathrooms in all three stays are equally impressive: Bec boasts its own large bath (complete with a post-box window) and walk-in shower. Whilst Bethnal goes one step further with a double walk-in rainforest shower (one for you and one for him) and – wait for it – a roll top bath at the end of your bed. Splashdown.
The Foaling Box has an antique rolltop bath lazing amongst tropical plants, a beautiful walk-in shower tiled with exotic reclaimed tiles and comes complete with complimentary Aromatherapy Associates products. Towels, waffle robes and slippers are also provided in each of the retreats. Heaven.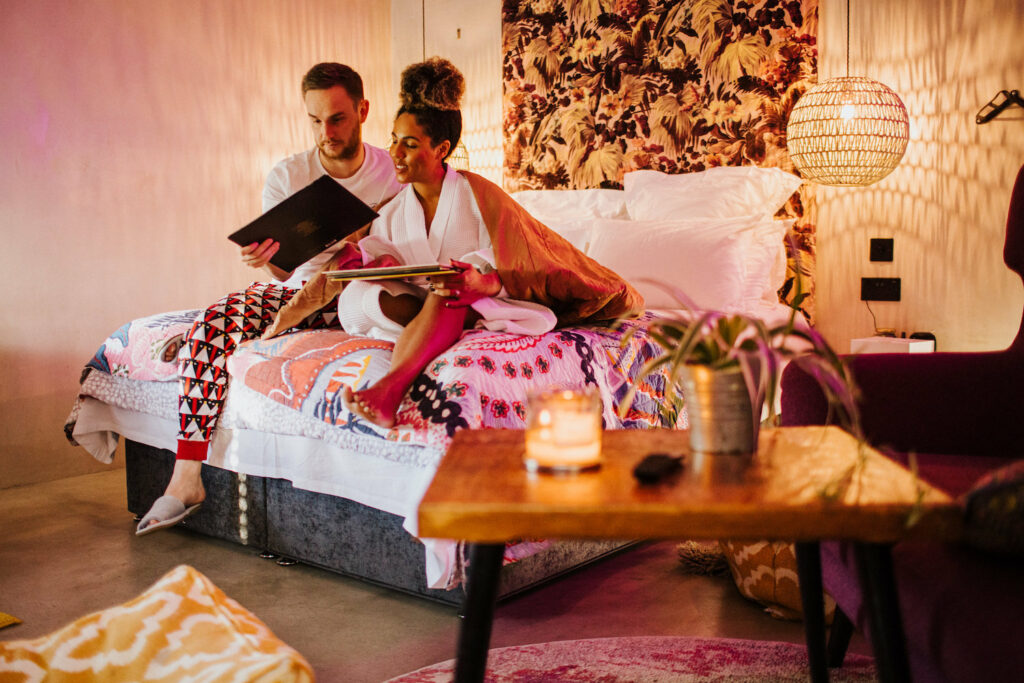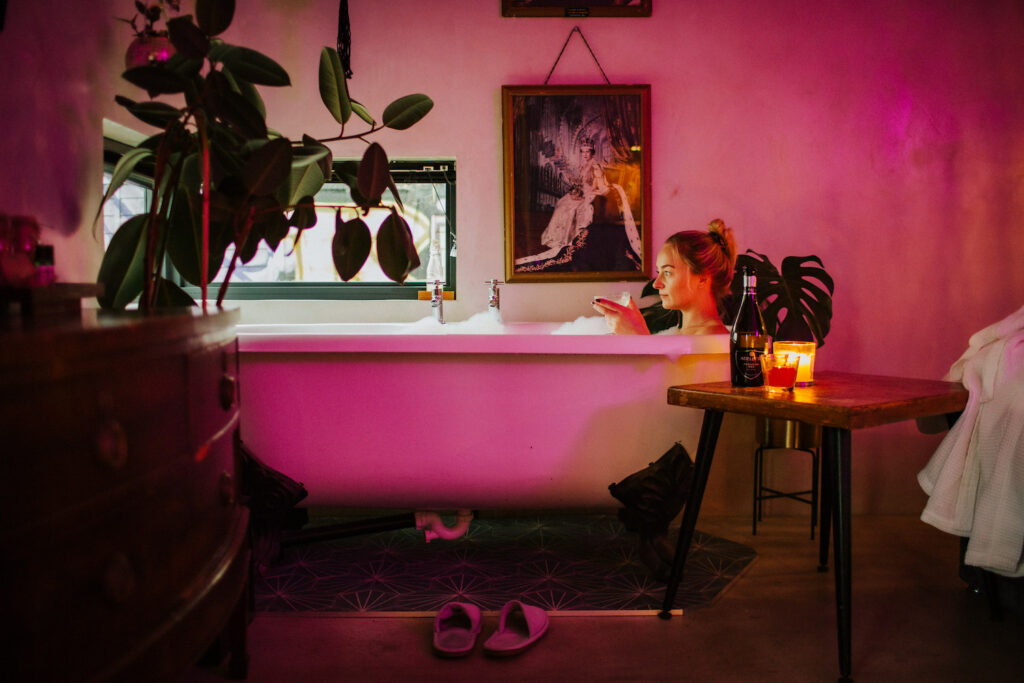 The Experiences
Beyond the living spaces, Bethnal, Bec and The Foaling Box are filled with unique extras that prove the owners think 'outside the box' and want your Hertfordshire weekend break to be properly bespoke. There's an Honesty Larder offering artisan treats, such as locally-made gin, self-care goodies and doggy treats. Open the fridge and you've a mini-bar to buy from (or choose your tipple from the drinks' cabinet). Open the freezer and there's a stack of frozen meals for you. Just record your choices on the iPad in your accommodation and pay before you leave.
Vicky and Chris have also created a fully-stocked pantry, Staples, in each cabin with flour, pasta, tea, coffee, and cereals. So, there's no panic if you forget to shop on the way.
If you want to give cooking a miss, just order one of the Dine In Boxes. We love the 'Popcorn Partaaaaaay' box that you can enjoy whilst watching movies on the projector screen (at the end of the bed in Bec and The Foaling Box) and the Pimp my Pizza box, so you can make your own in the pizza oven outside.
Breakfast is provided too: all three cabins come with a lovely breakfast hamper – with fresh bread, eggs, tomatoes, mushrooms, baked beans and local bacon (vegetarian and vegan options are also available).
Then there are the curated experiences on offer at Bethnal & Bec to pre-book, such as floristry, cooking classes, wellbeing experiences, foraging and even belly dancing. Along with the pre-order treats, such as cakes, cheeseboards, beer and grazing platters.
It all adds up to an utterly joyful place to stay in Hertfordshire – and one that, quiet simply, blows the lid off most other self-catering options.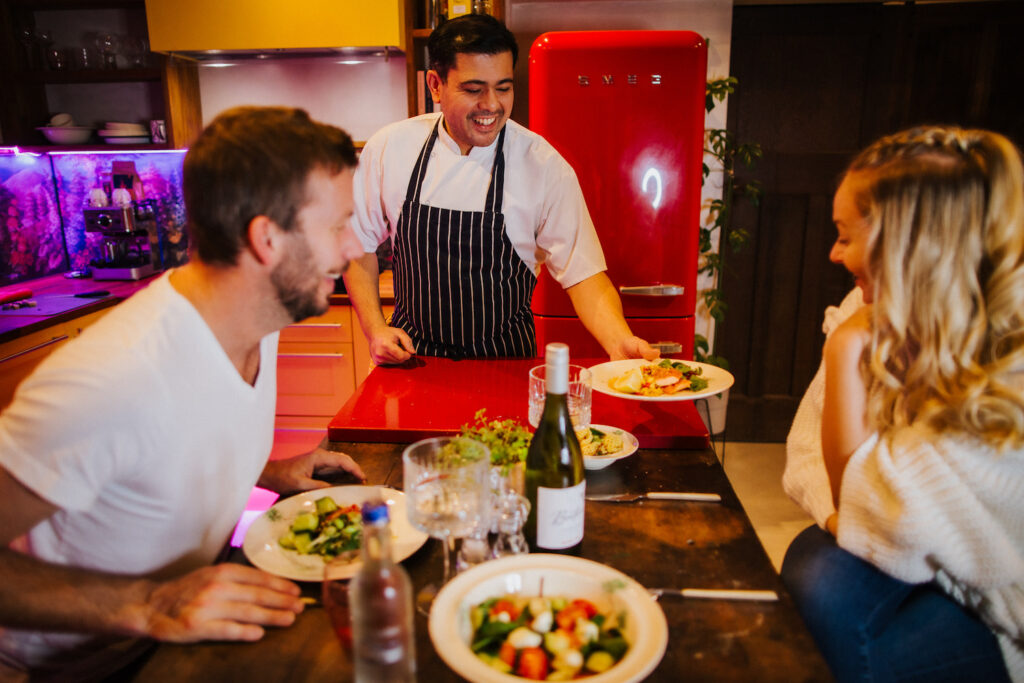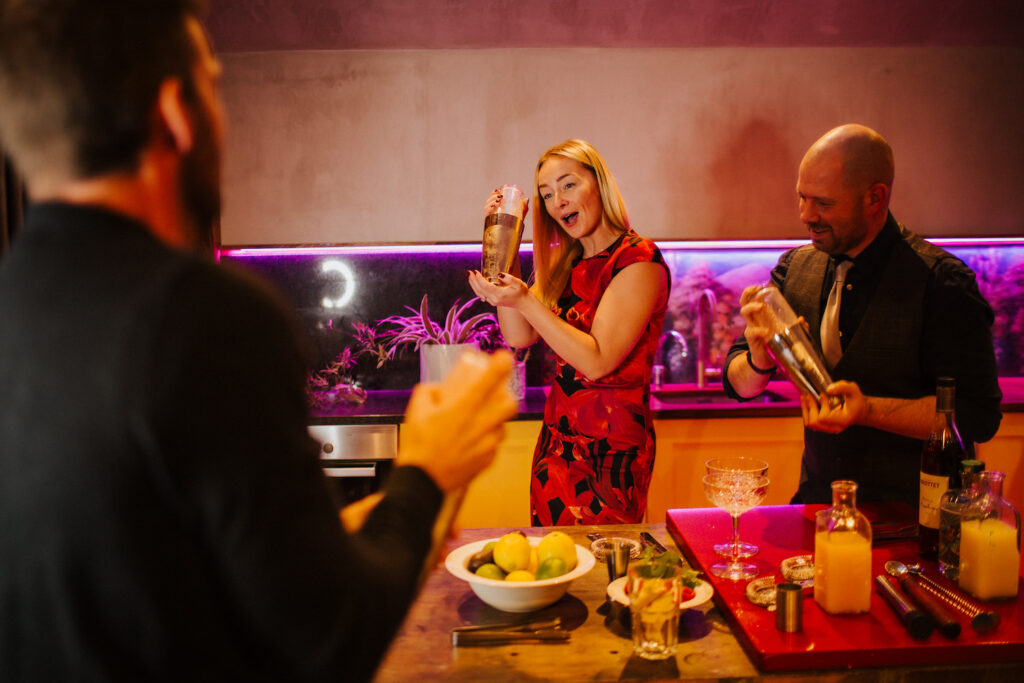 The Essentials
Weekends are from Frid until 11am on Mon and are priced at a flat £535
HUGE range of curated experiences to book for your stay, including beauty treatments, cooking, yoga, cocktail making, crafting and floristry
On-site Honesty Larder and Staples Pantry – so you don't need to shop beforehand!
Private gardens and rural location so you can enjoy a romantic break undisturbed
Vicky and Chris are on-hand, if you need them, to ensure your stay is perfect
Sustainability is at the heart of everything – and are passionate about being carbon neutral by end of 2022
15% discount for anyone working for the NHS (includes social workers), care homes and hospices, cancer charity volunteers, and anyone directly affected by cancer within the last 3 years, or with a stage 4 diagnosis (please use code: NHSLOVE)
Lazy Sunday checkout policy for weekend stays (ie: there is no Sunday checkout time)
Free SuperFast Broadband; 43″ Smart TVs, Netflix preloaded
Surrounded by walks and cycle tracks; near independent pubs and restaurants
Cambridge is a 30 minute drive away and London is just 25 minutes by train
Each retreat sleeps 2 adults only
Bethnal and Bec are dog-friendly, with up to 3 well-behaved dogs permitted to stay for an extra charge
Check in at 4pm, check out by 11am
Eye Candy