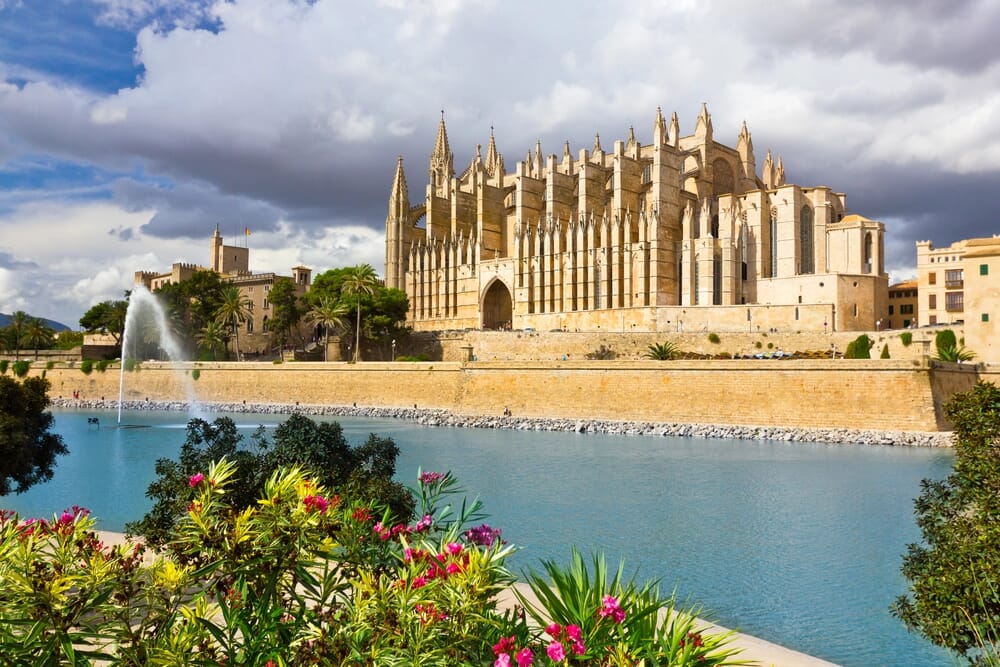 PALMA DE MALLORCA – Right from the moment I spotted Palma cathedral soaring into Majorca's blue sky, I was smitten.
Then afterwards, as I slipped through Palma's ancient streets, the city snuck up on me, swept me backwards and kissed itself right into my thruming heart.
Palacios and promenades. Courtyards and convents. Restaurants and rooftop terraces. And swirling amongst the intimate beauty, a laid-back, cosmopolitan population that makes a sceptical visitor feel welcome and safe.
Click-mallorca took me to Palma de Mallorca on a one-day excursion. The excursion was great, but one day just wasn't enough time to full explore Mallorca's capital city.
Still, if a day in Palma is all you've got – as I had – then here's how to let the Balearic's one real city enrapture you.
FRIDAY
1. Sweet spot | 10am
With the sun tickling your neck, and the shadows of leaves dappling your back, take a slow walk along Passeig Born. This sweeping tree-tassled promenade is at the heart of Palma life, yet feels as light and breezy as if no-one knows about it.
(I went mid-week in August and was pleasantly surprised how un-busy the Passeig Born was.)
If you want to fully breathe in the Palma vibe, find a sweet spot at one of Passeig Born's pavement cafes or cool bars. Bar Bosch, near the top of the Born in Placa Rei Joan Carles I, has been popular for decades and is still a mecca for well-heeled locals and flip-flopped outsiders today.
Alternatively, you could cool off in one of the designer boutiques, which line either side of Passeig Born: Zara, Boss, Loewe, Mulberry and Louis Vuitton – no Pri-marni though. Odd that.
2.  Lost and found | 11am
Put away your map, sweep up a side street, and get gloriously lost in Palma's old town. Set behind the city's towering Cathedral, this maze of tumbling alleys, spiralling steps, tiny tapas bars and beguiling gift shops is seriously addictive.
I wandered like a grinning loon, stopping to stare up at Palma's architectural delights and slowing to watch the painters and musicians dotting the corners and courtyards, (much to the annoyance of Small Child who was with me, and highly embarrssed of me).
You can get a guided tour of Palma's old town, if you want to. Personally, I loved the freedom of not knowing where we were – it turned Palma into a city lucky dip, where every new moment unwrapped another glorious surprise.
3. Sugar rush | 12pm
After prowling the backstreets under a butter-hot Mallorca sun, you'll undoubtedly want to chill your tingling synapses. And I know just the place: the award-winning Giavonni L Gelateria. Home to gourmet flavours so rich, so creamy they're also enjoyed by the Spanish Royal House.
This colour-soaked ice-cream palace, which hugs a busy shopping corner near the Cathedral, sparkles with life-loving staff and twinkling chandeliers.
Every time an ice-cream is served, staff ring a golden bell, hoopla with pride.
There's even a red carpet for you to queue on – and when the line gets long and hot (which it inevitably does), a mist cascades down from the sweeping ruby-red awning, cooling sweaty brows.
4.  An honest dish | 3pm
Fancy is an option for lunch – Palma has a smorgasbord of upmarket restaurants fringing the marina. Alternatively, the narrow streets of old town Palma are stuffed with Euro-stretching cafes and bars to grab tapas, pasta and paella.
We plucked for an al fresco hideaway near Plaça Major – Cafe Paris. It was far from fancy, but the food looked good, the people eating looked happy, and a group of nearby musicians were striking up a lazy lunch sort of vibe, which worked for us.
5. Spanish inquisition | 4pm
There's a saying in Palma that "all roads lead to Plaça Major". Ours did, purely by happy accident. This large plaza is the epi-centre of Mallorca's capital, where the old town gathers to watch the modern world go.
The first thing you'll notice are the beautiful 14th century Spanish buildings lassoing the square, which were (chillingly) once home to the Spanish Inquisition.
Today, Plaça Major bristles with the positive energy of artists and musicians, as well as the happy throb of the all-year-round craft market – just the thing for picking up inexpensive and unusual gifts for home.
6. Green with envy | 6pm
Head back towards Palma Cathedral and you'll find Palma's Almudaina Palace. And beneath its imposing Moorish walls, stretched like a cat in the sun, are the lush gardens known as s'Hort del Rey (King's Garden).
Once upon a time, they were actually the King's gardens – today they're a chill zone, where Palma comes to meet and relax. Expect burbling pools. Marble sculptures. Shady Cypress trees. Trickling drinking fountains.
And a green so vibrant it almost hurts the eyes.
7. Fairytale ending | 8pm
There are Cathedrals. And then there is Palma Cathedral – La Seu. Rising into the sky like a sandstone bird of prey, this vast, gothic masterpiece will render you speechless – or else I'm Antoni Gaudí (who had a hand in designing the interior).
The Cathedral overlooks Palma harbour on the site of what was the central mosque of Medina Mayurka, capital of Muslim Mallorca for three centuries – hence the Arabian architectural influences.
Although Small Child and I didn't venture in to see La Seu's famous Rose Window (one of the world's largest stain glass windows), I don't think we missed out. We were happy breathing in Palma Cathedral's beauty from the outside.
But if you want to go inside, it costs just €4. Children under 10 are free.
8. Adios amigo | 10pm
With the sun starting to melt away for the evening, we headed back to Cala Millor on our coach. It had been an eye-opening excursion; for Palma is not the rambunctious resort-soaked city I imagined.
Palma de Mallorca is a giant of cosmopolitan charm. And I can honestly say, I am desperate to fall into its arms again very soon.
What: Full day's coach excursion to Palma De Mallorca
Go for: The history, the architecture, the food, the beauty, the friendliness
Best of all: This excursion takes you to Bellver's Castle overlooking Palma first for a photo stop
I wish I'd know: How much there is to see and do. 1 day isn't enough.
Cost: €24 for adults, €12.00 for children
To book: Easy and effortlessly with click-mallorca.com
---
Want to spend longer in Mallorca?
---
PIN FOR LATER: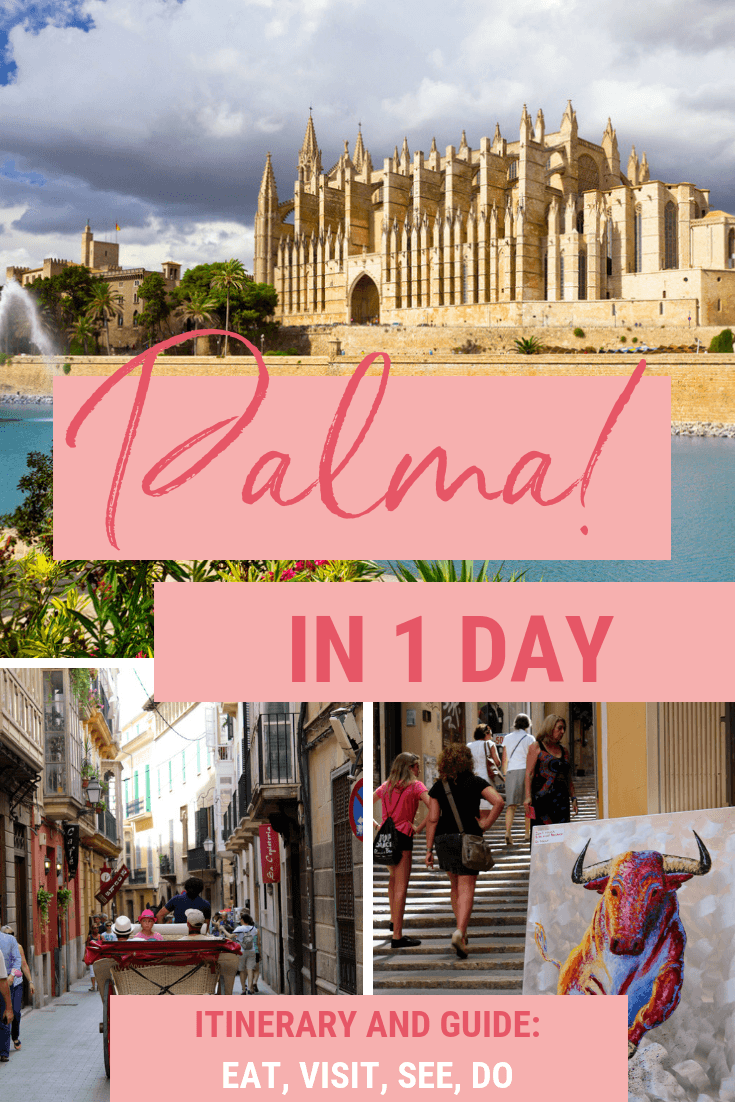 Getting to Palma from Majorca's east coast