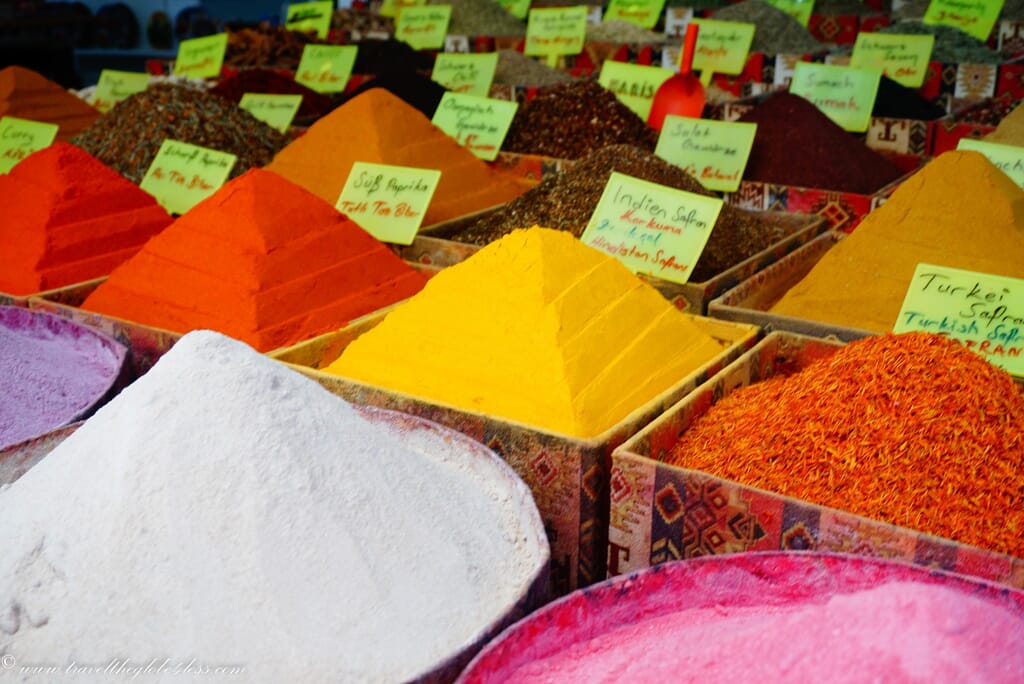 If you fancy a long weekend somewhere a little exotic, Antalya in Turkey has the goods. Start by booking yourself flights with EasyJet arriving in Antalya on a Friday afternoon, returning late Sunday or Monday night.
Yes, it'll be a whirlwind weekend, but you'll be guaranteed great weather, fabulous scenery, and a range of cultural and scenic Turkish delights. To help your weekend run smoothly, put this itinerary in your back pocket.
Top tip: Hire a car before you go for one of your days in Antalya so you can explore the ancient sites around the city.
PIN FOR LATER:

"Travel far enough that you meet yourself."
---
FRIDAY EVENING IN ANTALYA
1. Cocktails in the Old Town
Arrive late Friday evening in Antalya and head to bed so you can be well rested for the busy weekend ahead. Alternatively, if you are in a party mood, head off to explore the cocktail of bars in the Old Town.
The area around Hadrian's Gate is where you will find plenty of swanky restaurants and wine bars, whilst the marina and labyrinthian streets of the souk offer smaller, more authentic hangouts.
---
SATURDAY MORNING
2. Mountain road trip
Assuming you didn't party too late, rise early and drive into the mountains surrounding Antalya where there are some real gems to discover, including waterfalls, caves and ancient ruins.
Head north towards Termessos where you'll find impressive roman ruins. Termessos is around 30 minutes from the Old Town hidden deep in the middle of a national park.
After paying an entrance fee of 5TL (£1.30 approx) per person, pass through the park gates and drive up the mountain for 9km. It's an adrenalin rush with hairpin bends lacing the mountainside and sheer drops and, if you're lucky, the occasional red squirrel. Expect far-reaching views over the valley and brace yourself for the site of Gulluk Mountain looming above you.
Soon you'll reach a small plateau with parking spaces. There's a WC, security guard and nothing else. Take a tour of the the lower Necropolis. It may look like a heap of crumbling stones in the corner of the car park, but on closer inspection you'll discover enchanting, well-preserved reliefs of fish, angels, goddesses and fighting animals etched into the stone.
Afterwards, set off to visit the ruins. It's something of a scramble up the 1.5km trail but you get multiple opportunities to enjoy panoramic views glimpsed through the trees.
Continue from the ruins of the Roman baths along the path skirting the hillside to a large plateau housing the ruins of the aqueduct and cisterns. Next head for the amphitheatre, which sits in a stone clearing bathed in iridescent blue skies. It's largely intact, apart from a few huge stones that appear to have tumbled into a heap. Although a challenging hike, it's worth it for the views and the peace and solitude.
Top tips: Print off a map of Termessos ruins before you arrive – the one you get on site isn't that great – and bring plenty of water because you can't buy any once you are there. You'll also want to wear sturdy walking shoes for the hike. However, if you don't fancy a walk to the roman ruins (they are uphill), you may want to head to Perge or Aspendos ruins east of the city instead, near the airport.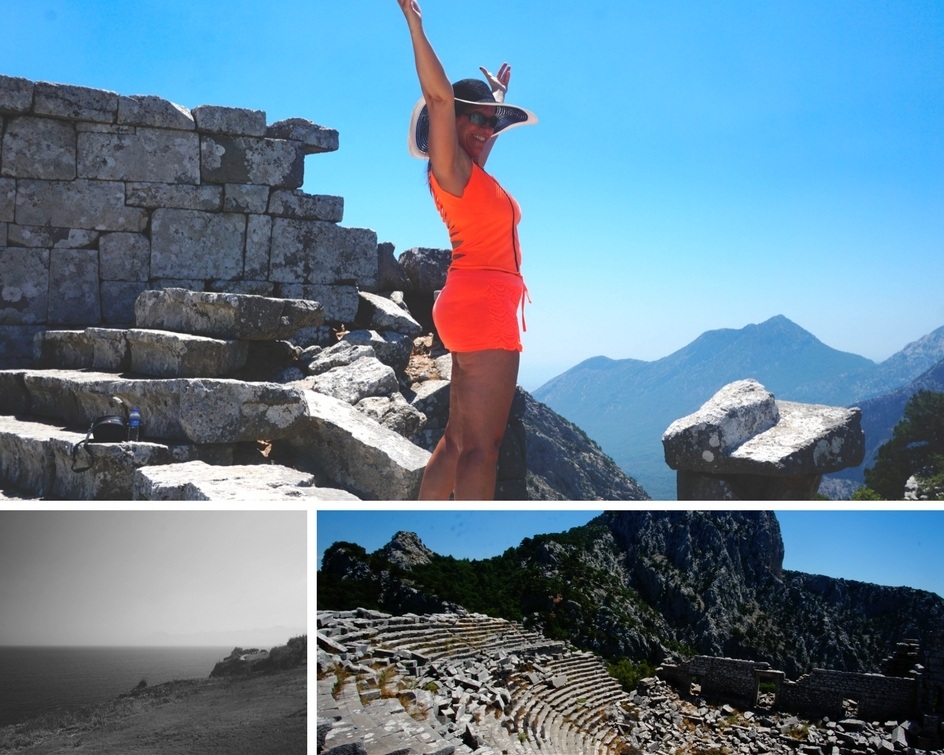 SATURDAY LUNCHTIME
3. Waterfall joy
Head to Duden Selalesi Waterfalls and grab a bite to eat in one of the snack bars lining the road to the car park. Here, you can enjoy Turkish kebabs for just 3TL (less than a pound) and other traditional specialities.
There are two sets of falls at Duden Selalesi: the upper falls, which you access by following the brown signs, and the lower falls on the coast. The waters of the upper falls are very forceful, so instead of a dip in the gorge, settle for a cool-down by standing under the falls and enjoying the clouds of mist.
Top tip: Duden Selalesi Waterfalls is a much less touristy destination than others, but is very busy with local Turkish families. Therefore, you may wish to dress a little more conservatively for your visit. Although we didn't receive any negative attention in our western outfits, we did feel more conspicuous!
SATURDAY EVENING
4. A Traditional Sunset
Head to one of the cliff-top restaurants overlooking Antalya Marina for traditional Turkish hors d'oeuvre of vegetables and potatoes cooked in a variety of styles.
Watch the sun set over the headland as the mountains shimmer in the evening haze and cool beer quenches your thirst.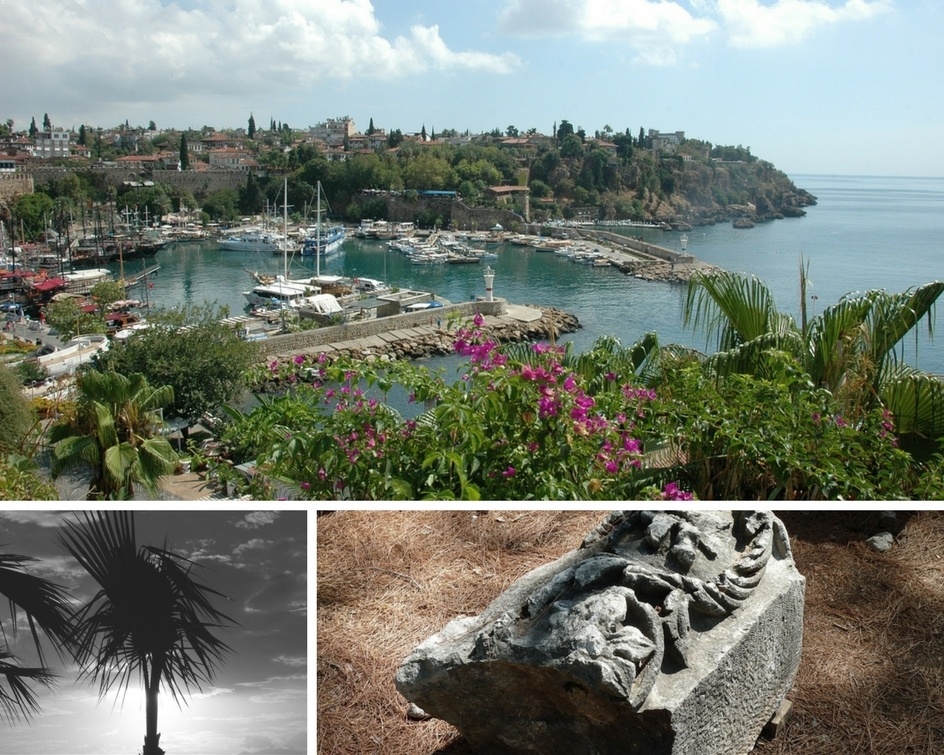 ---
SUNDAY MORNING
1. Wet 'n' Wild
Once again, rise early then travel south along the road to Kemer. Shortly after passing through Beldici, you'll come upon a small brown sign pointing towards Goykun Canyon. Follow these signs as the road skirts a dry riverbed, heading inland towards the foothills.
Upon reaching the car park, follow the signs to Eco Fun Adventure where you can book a canyoning session for just 35 TL a head (around £9). It is simply the best value canyoning trip you will likely ever find and if you arrive early enough, you may be the first into the canyon.
"Travel, sleep, repeat."
The adventure starts with a 4×4 driving you 2km uphill through exhilarating scenery, crashing through river beds with water spraying everywhere, past azure green pools and sunbathing terraces before reaching the mouth of the canyon.
You're then kitted out in wetsuits, life jackets, helmets and bootees and, after a short briefing, you're left to your own devices. What follows is a 90-minute adrenaline adventure amongst the canyon's towering limestone walls and green waters.
Prepare to swim, wade, clamber, slide, whoop and holler your way around 1km of water passageways until you reach the main attraction: a fabulous waterfall with a deep green pool beneath it. Here you can splash, jump, and play to your heart's content, in total solitude, before making a happy retreat to the start.
See my canyon adventure video here: Wet 'n' Wild Morning.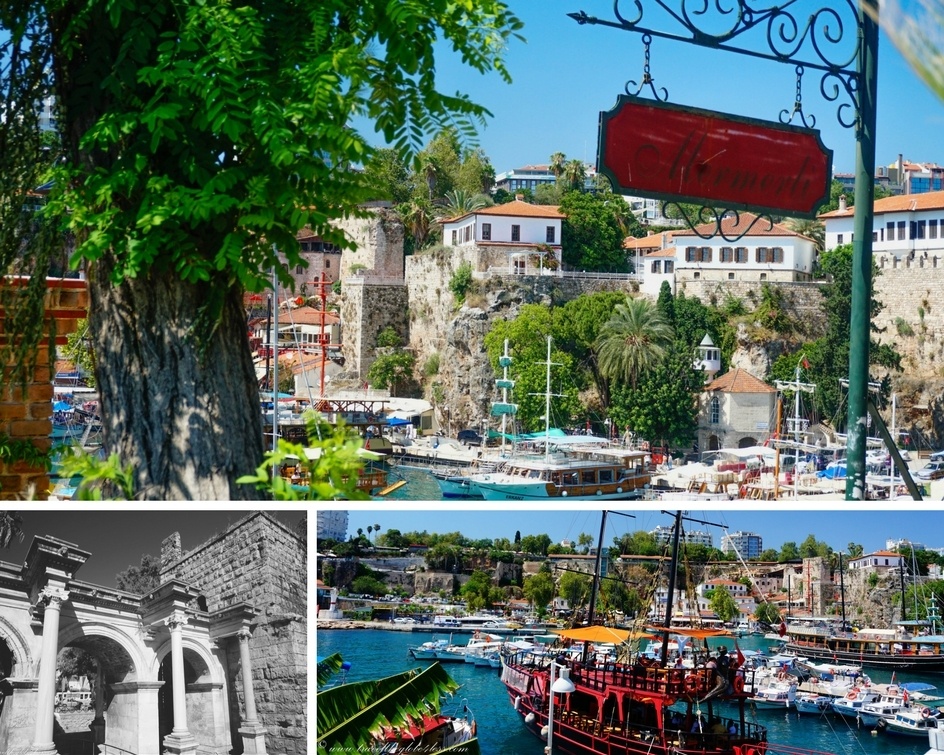 SUNDAY AFTERNOON
2. Marina Lunch
When lunch calls, you can either make tracks for the restaurants around Hadrian's Gate – they're classy but come with prices to match – or you can head towards the marina, where you'll find more reasonably-priced food to feast on.
You can also enjoy kebabs, burgers and cool beers in the restaurants perched on the cliffside above Antalya Marina. A large glass of beer cost just 9TL (a little over £2) and is served with fabulous views out to the bay and mountains beyond.
After lunch, browse the stores in Antalya's Old Town, marvelling at the beauty of the handcrafted lanterns and savouring the strong sensual aromas of spices and sweet teas. It's a shopper's paradise – ideal for a spot of souvenir hunting before your flight home.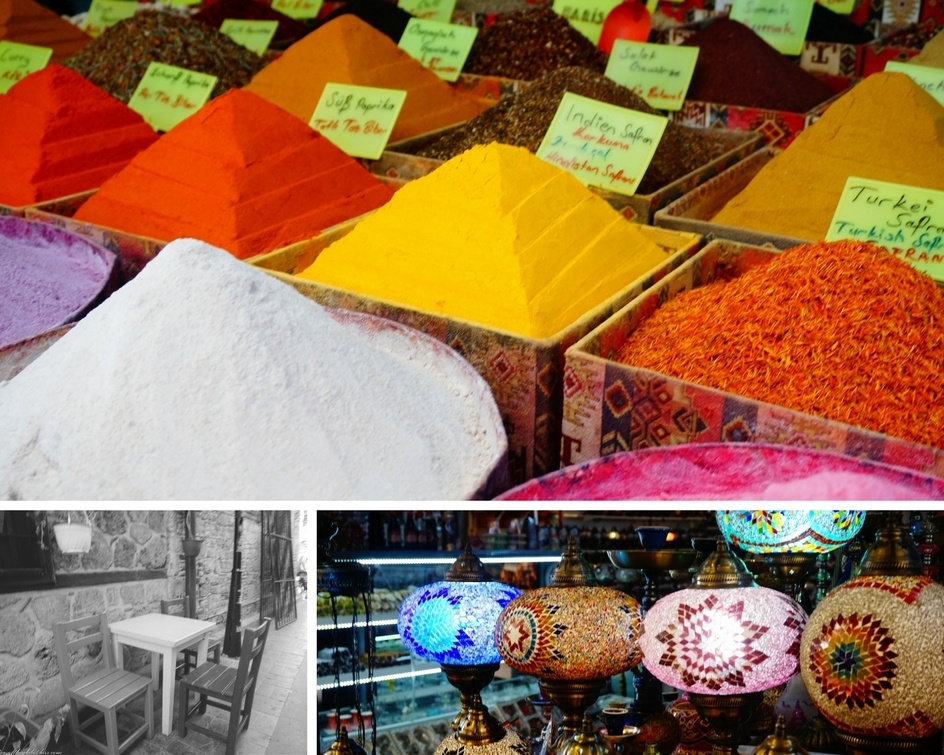 ---
Where is Antalya?
 A weekend in Antalya? Would you? Have you?
I'd love to know – and I always reply to comments!