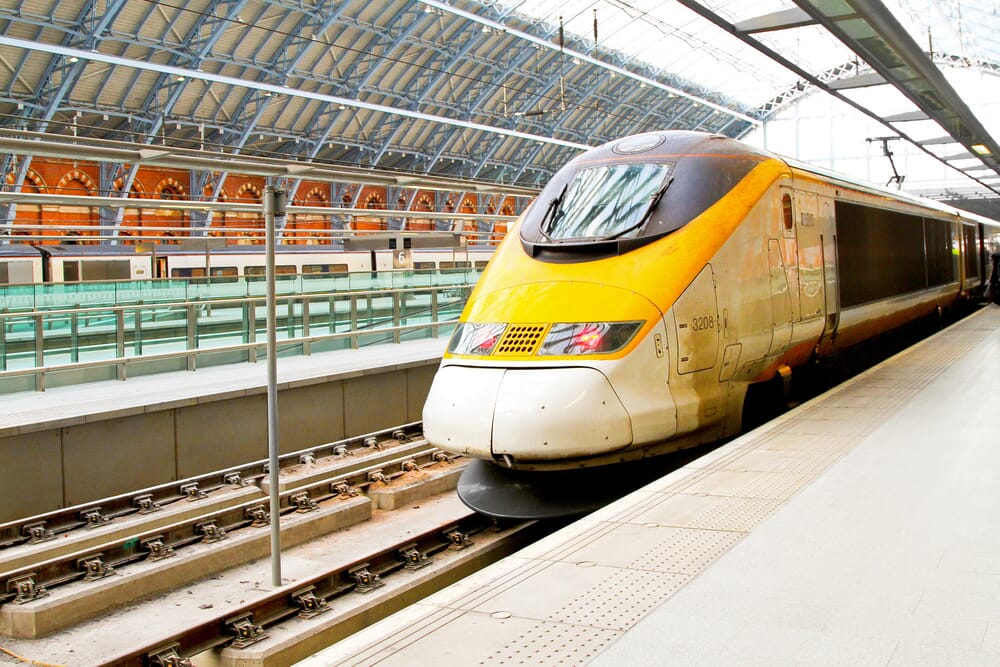 Ghandi once said, "There is more to life than increasing its speed." I agree, partially.
But when one of Europe's most handsome cities is ready to grasp you by the shoulders and air-kiss you, the sooner (and less dishevelled) you arrive, the better.
Which is why, in my opinion, going to Paris by le train – aka: Eurostar – makes complete sense.
---
You might also like
Is a London Day Trip to Paris by the Eurostar Really Worth It?
---
1. A capital start
I travelled from London St Pancras International to Gare du Nord, Paris, for the very first time on the 20-year anniversary of the Eurostar service.
Admittedly, getting to central London when you live outside of the capital can be a ball-ache, but if you can handle the initial commute, the rest is très simple.
I caught the coach to Victoria Coach Station and tubed it to King's Cross the night before I travelled, and stayed at The California hotel, opposite St. Pancras.
The next morning, once I was in St. Pancras, the whole Eurostar experience was (in my opinion) a million times more enjoyable than faffing about the airport.
To start with, the atmosphere of St. Pancras International is different. People are in a hurry, yes – but there's not the crackling tension you find in Heathrow or Gatwick.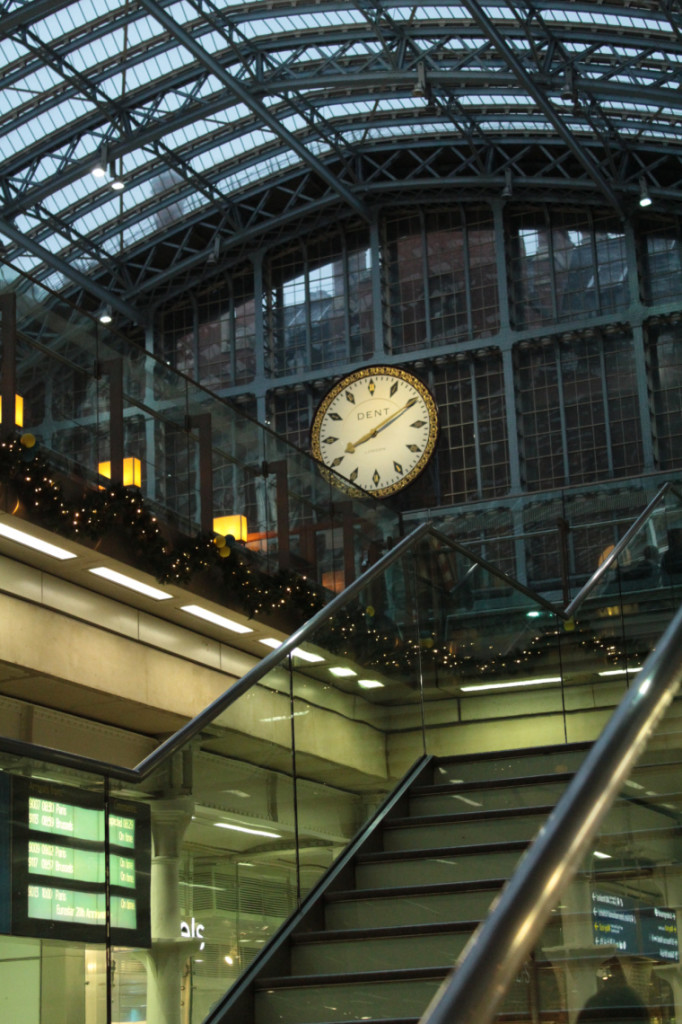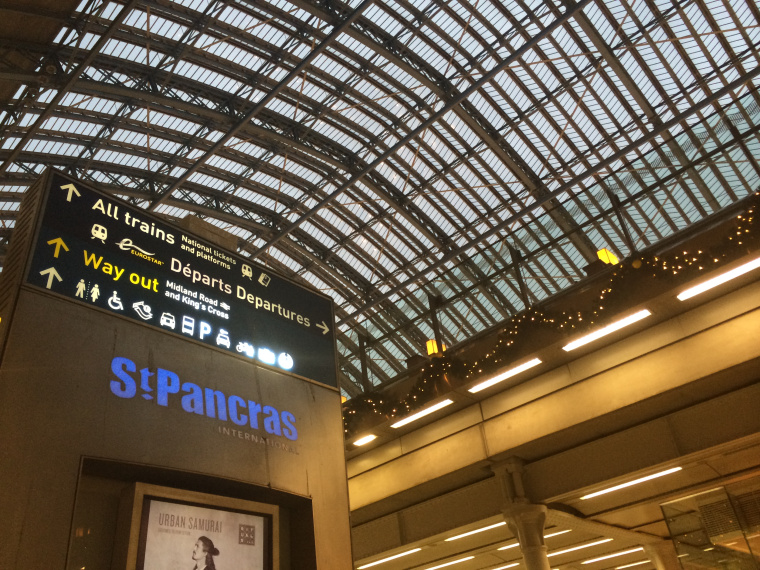 It's as if the continental 'joie de vivre' has crept over the channel whilst the lights were out and sprinkled its fairy dust over us all.
People were even stopping to play the piano!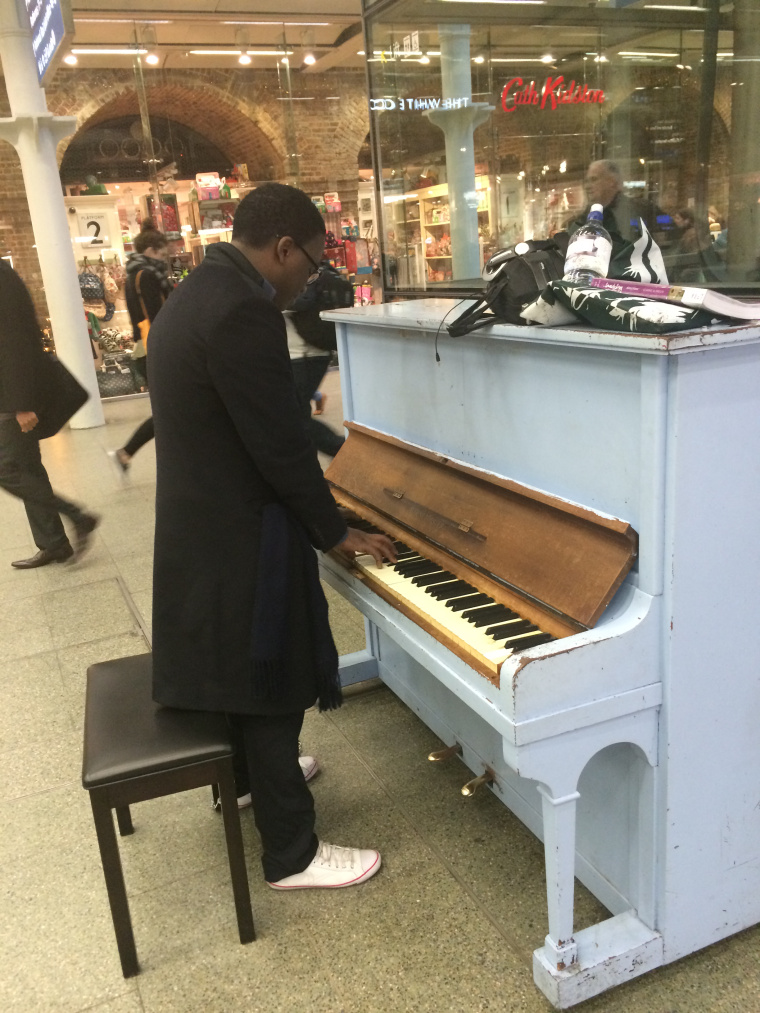 2. Au revoir queues
Anytime I've flown, I've had to queue for everything. At the check-in desk. At security. At passport control. To transfer to the plane. Boarding the plane. To store your bags…
And whilst I'm not saying there's no queuing when you take the Eurostar – there is – it comes in bite-size chunks, and so is a whole lot more manageable.
No 'check-in' desks mean you scan in the barcode on your ticket and whiz through departures, with your luggage.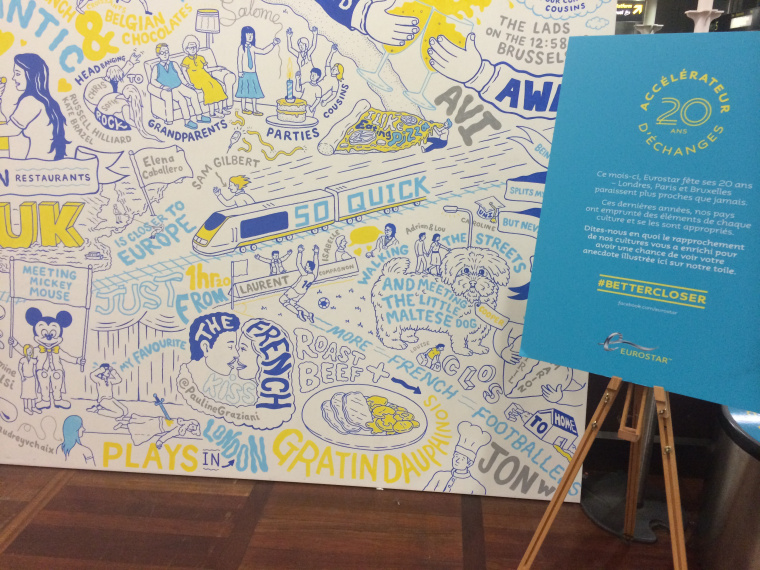 Security is tight, like it should be, but the staff are a lot friendlier, which makes the x-raying and body-scanning process much more pleasant. Passport control is also slick and friendly – I even got a smile (although you'd struggle to keep a straight face if you clocked my passport photo).
My whole Eurostar check-in took less than 15 minutes! Meaning I was soon in Departures celebrating Eurostar's 20th birthday with a mouthful of chocolate muffin.
Calories don't count when you travel by train. Fact *.           (*Not official fact)
3. Check-in tour de force
Adding to the ease of the Eurostar check-in is the easing of the 'arriving 2 hours before' rule.
To catch the Eurostar to Paris you only have to be at St. Pancras 30 minutes before it leaves. (And if you go Business Premier Class, you can check in just 10 minutes before.) Hallelujah.
That means catching an early train doesn't require an inhumane start to the morning. I was at St. Pancras by 7:45am and happily bobbing along the shops for a good 30 minutes before I even considered checking in.
4. No daft luggage restrictions
I don't know about you, but I break out in a panic when I put my bag on the check-in belt at the airport. I'm a dreadful packer and always anticipate paying extra to get my 20kg+ bag on the plane.
With Eurostar you get a decent allowance: 2 suitcases and 1 piece of hand luggage with no weight restriction, which is ideal for a weekend away in Paris.
Best of all, you only need to check your luggage in if you're bringing more than your allowance, so you can simply wheel your bags onto the train and store them easily above your seat.
5. Unexpected encounters
On my journey to Paris I went Standard class, and sat next to a far from standard gentlemen. I won't tell you his name, but he is one of England's literati and the most knowledgeable and charming man I've ever shared cabin space with.
We talked Plato, Homer and Shakespeare (when I say 'we', I mean he talked I nodded along like a simpleton), and he shared secrets on where I should go on my arrival in Paris.
This surprise tête-à-tête felt distinctly European; like an unexpected encounter in a Parisian café – and I'm not convinced it would've happened on Easyjet.
6. Paris in 2h 47mins
Speed is clearly the main reason people Eurostar it to the City of Light. Can you blame them? Go by plane and it can take upwards of 2 hours to get to the airport, check in, and board the flight.
Not to mention the fact that you need transfers from the airport and you have to collect your bags when you touch-down.
Not so on the Eurostar to Paris Gare du Nord.
You get on. You sit. You drink coffee. You arrive in Paris – not on the outskirts of the city – but actually in its bustling, vibrant heart. You grab your bag from overhead and 'voilà'; you're all set to start your weekend.
And then, for the return journey, you can enjoy the same ease. For a little more insight in the inbound trip from Paris to London, read this post by The Champagne Mile.
7. Cheap as frites? It can be
You can get a return to Paris on the Eurostar from £69. Not bad. My ticket was complimentary, WAIT – don't sneer: I've since been looking into the costs Eurostar vs flying and this is what I've found.
The prices of both vary depending on what time you travel, what day you go and how far in advance you book. But if I was to go to Paris Gare du Nord from London St. Pancras on Friday 28th Nov and return on Tues day 2nd the total cost would be: £189.
To go from London Luton to Paris Charles de Gaulle, on the same dates, with Easyjet costs £118.22. Cheaper, yes – but I have yet to add a bag at £25. Or select my seats. And then a taxi transfer from Charles de Gaulle airport – which is approx. 40 mins and could cost around €40 – €70. Sacré bleu!
When you tot it all up, the costs are similar – but I'd still opt for the Eurostar.
There are no turbulent take-offs or ear-popping landings. No flaccid life vests or whistles to attract attention. And there's no gumming your own knee-caps because the person in front of you reclined their seat.
8. Comfort that's not a stretch.
It never once felt cramped travelling to Paris on the Eurostar. There was enough room in front of me to fit my fat camera bag, along with my free Eurostar tote carrying shopping bits and bobs.
I've since learnt that you get an extra 13.5 cms in leg space on the Eurostar – and boy, do you notice it.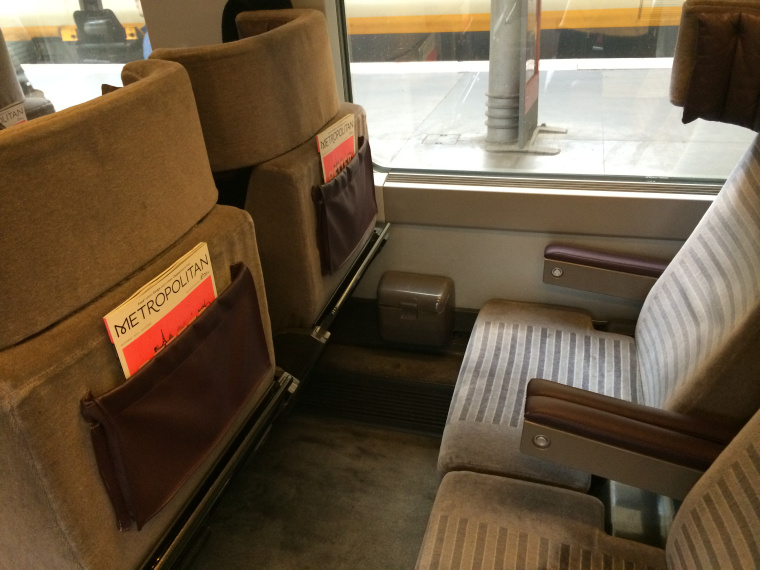 The seats are comfy too. On the way over to Paris, the seats in Standard were a little tatty but snug, and the pull-out table was ideal for a laptop and coffee.
On the way back to London, the tray table was the perfect size again and my seat (which this time was in Standard Premier) was very roomy – a lifesaver given the amount of macaroons I'd scoffed.
The other nice benefit of the Eurostar is it feels more communal; you're free to get up and roam, if you want to. On my return journey, it was lovely to see a Parisian dad helping his 11-month old daughter toddle up and down the extra-wide aisle, just as he would have done at home.
Her smile as she tottering along said it all: Eurostar rocks.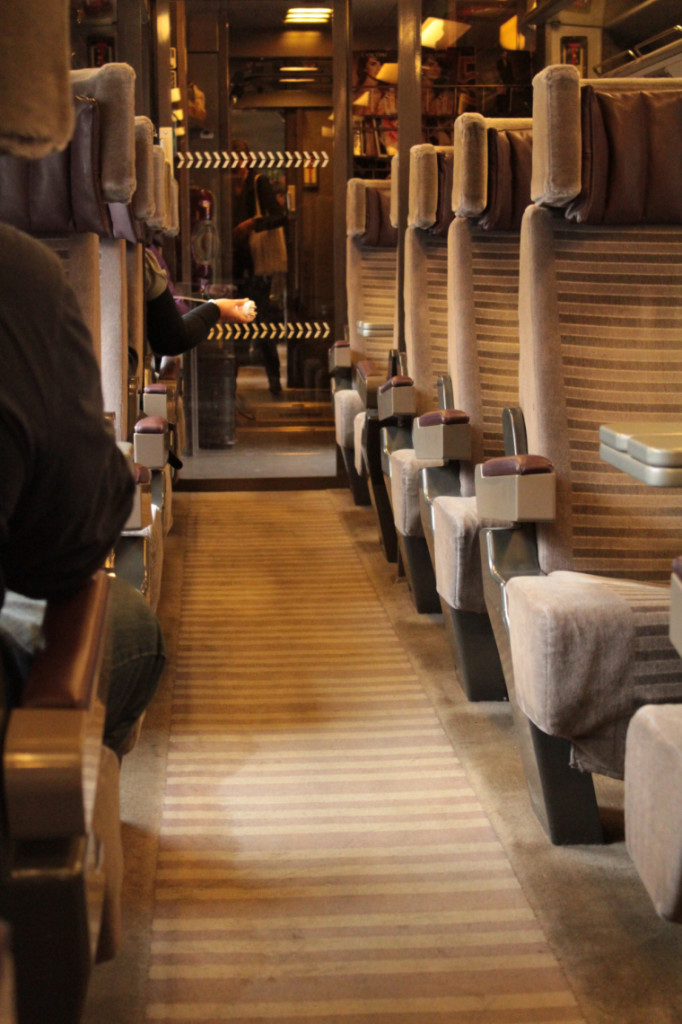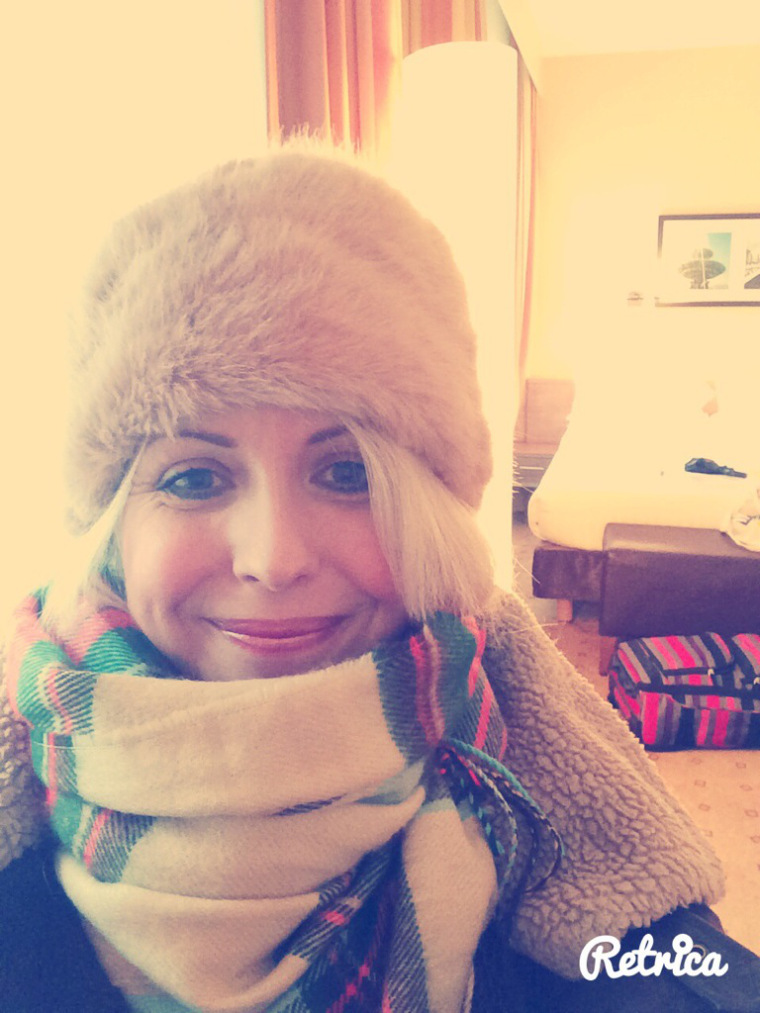 I travelled to Paris on the Eurostar with a complimentary return ticket. However, this review is a 100% honest reflection of my journey and my opinion of it – I'd never post anything I didn't believe in. All images are my own – please don't steal them. Except the illustration image at the start, which is courtesy of Eurostar.
 Train vs flying to Paris – what are your thoughts?
I'd love to hear them in the comments below
– I always reply!