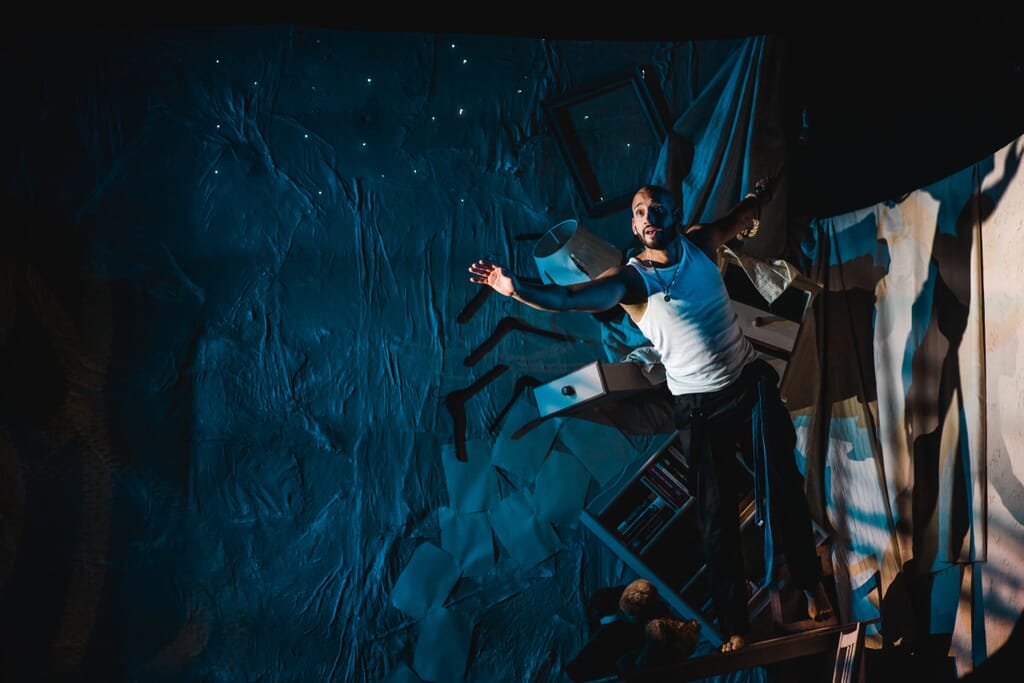 Alan Pollock's imaginative re-telling of J.M. Barrie's classic tale, Peter Pan, is not to miss this Christmas at Cirencester's Barn Theatre – for more reasons than one.
This immersive modern adaptation of the story of the boy who never grew old, is full to the brim with swashbuckling characters, despite the fact that the play stars just one actor: Waylon Jacobs (Hamilton, Memphis). From the moment the infamous words 'Once upon a time' are spoken, you are swept into the magic as if watching a full-cast production.
This new adaptation, conceived and directed by Director-in-Residence, Kirk Jameson, sees Waylon Jacobs seamlessly jump between characters (voices and all), showcasing not only his impressive artistic capability but the Director's power to immerse the audience within the magical world of Neverland using imagination, inference and stunning lighting, animation and sound design.
Jacobs handles the childish voices of Pan and the lost boys with ease; transforms deftly into Hook and masters the mannerisms of Mrs Darling with such authenticity it raises chuckles. We were asked to 'just believe' and Jacobs made it easy for us to do so.
A familiar tale with a modern twist
The simplistic set and intimate auditorium of the Barn Theatre brings the magic close-up and personal to the audience (and for those who can't be there in person, you can book to watch the live stream). The story itself is given a modern context making it easy to fall back in love with the Nation's favourite lost boy.
In this version of Peter Pan, a father re-enacts the bedtime story for his daughter over a video call from his hotel room. With talking teddy bears, coat hangers, umbrella hooks and a hotel bed as ship, he transports you to Neverland where all the familiar characters are waiting.
Whilst some are as expected (such as the fearsome Captain Hook and a fanciful Wendy), others are given a creative twist: pesky fairy Tink is a lightbulb and the dreaded crocodile comes to life through an eerie sequence of sketch-like projections.
The perfect theatrical escape from 2020
Go and you'll spend a truly joyful evening believing you're on the decks of the Jolly Roger – and I can't think of anything more appealing than sailing away from 2020; even if it's just for sixty blissful minutes.
Peter Pan runs until 3rd January 2021 at the Barn Theatre and tickets can be bought on their website starting at £11.50 per adult. For those who can't make it in person, book to watch the live stream and bring the magic into your home.
Pic Credit: Eve Dunlop/Barn Theatre