🍰 Deliciously different afternoon tea | 🥂 Add a glass of fizz if you wish | 🥐 Home made by craft bakery Manor Made | Served from 1pm to 4pm Friday to Saturday  | 🌳 Take tea in the lovely Manor grounds or sun-splashed lounge of Boscundle Manor | 🧁 From £28pp | 👠 Ideal for Hen Weekends and Girls' Weekends
Why we love Boscundle Manor's Afternoon Tea 
Afternoon tea in St. Austell doesn't get much better than that served at delightful Boscundle Manor. Forget bland finger food and basic cakes; afternoon tea at this lovely hotel is inventive and colourful with a spread that's bursting with personality. Ideal for a girls' get-together, hen weekend or group celebration when you want something truly memorable.
Served on vintage china, Boscundle Manor's Afternoon Tea gives this age-old British tradition a delightful twist. Instead of the usual sandwiches, here you'll find charming homemade delights such as the Manor's delicious Ringmaster Roll (a sausage roll that's easily one of the best we've noshed in Cornwall) and the Merry-go-Round Quiche – a roasted butternut squash quiche with Cornish cheese & quince.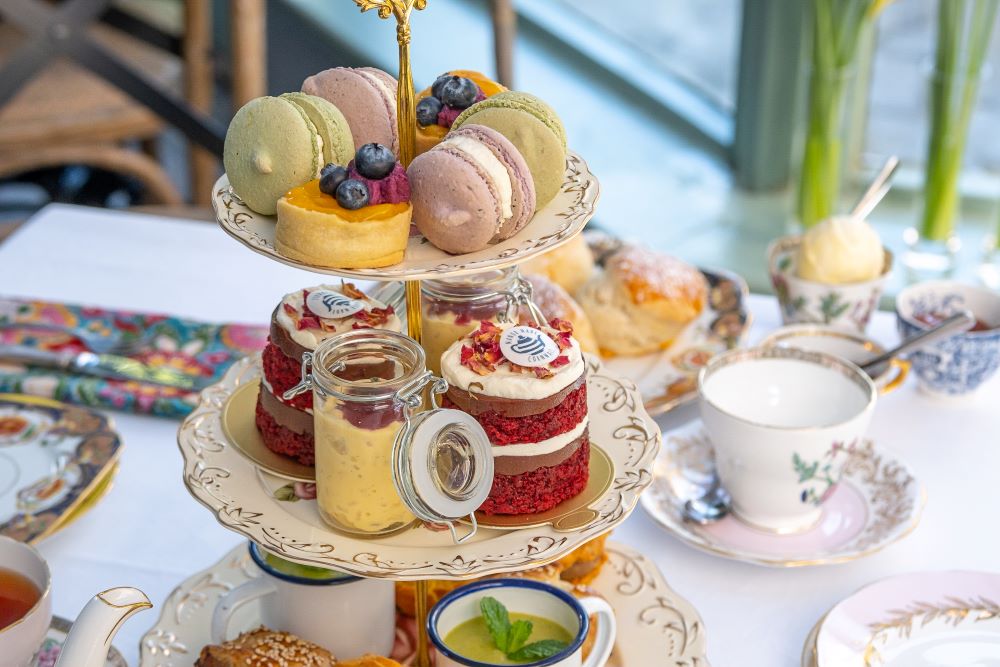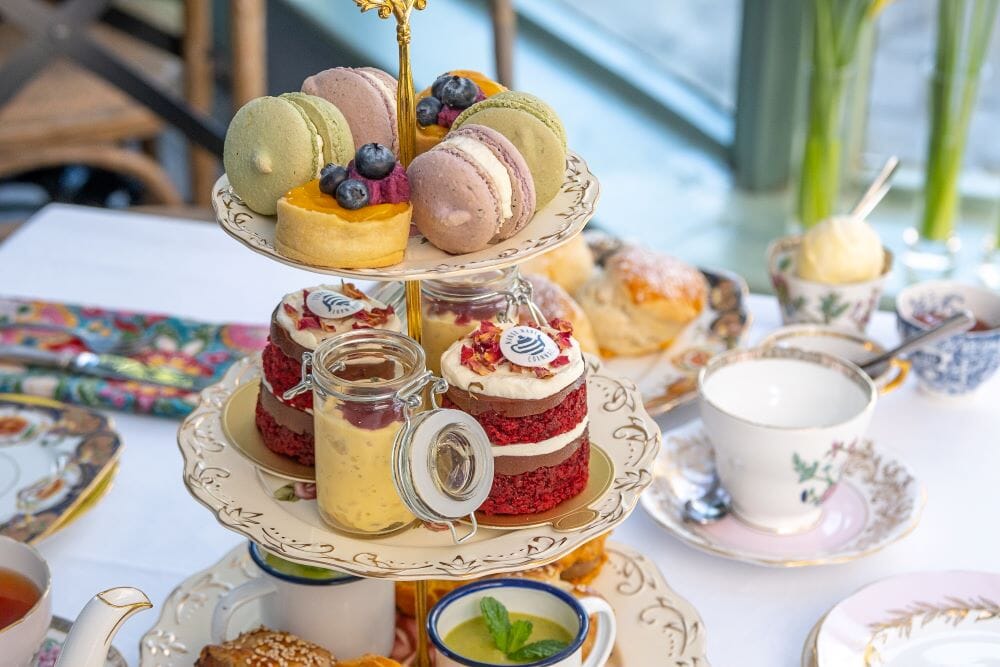 Alongside the savoury gems are the heavenly sweet treats – carefully and skilfully made by craft bakers Louise and Heidi. Circus roll – the pair's very own on Artic Roll – is one of the treasures to look forward to; Coconut Shy Panna Cotta is another. And of course, there are also jam-first Cornish scones that are exceptionally light and fluffy, accompanied by lashings of jam and clotted cream. And, naturally, it all comes with a pot of your choice tea that will happily be topped up for you.
Best of all, this Cornish afternoon tea is served in the wonderful surroundings of Boscundle Manor – a grade-II listed Cornish boutique hotel that is a true under-the-radar gem sitting on the outskirts of St Austell. Inside, the Manor is artful and modern, decorated to an impeccable standard with quirky furnishings, cheeky artwork and vintage finds. Outside, there's a charming terrace and garden where you can take your afternoon tea amongst the flowers and plants. Wherever you choose to indulge, make sure you wear your elasticated pants. You'll need them!
Delightfully original afternoon tea in St Austell
Homemade by craft bakers, Manor Made
Served on vintage china at grade II listed Boscundle Manor Hotel
Complimentary tasty gift when you leave
Group bookings of all sizes accepted
Over 12s welcome
Served Friday – Sunday, 1pm-4.00pm
Booking essential
Boscundle Manor
Add A Stay