Forget snobbish surroundings and overly stiff waiters, The Scenic Supper near Moreton-in-Marsh serves up modern la carte dining in fabulous outdoor glass houses. It's an intimate restaurant experience breaking all the culinary rules – that'll definitely leave you hungry for more.
Picture this: 7 sustainably-built glasshouses (seating up to four people), placed slap bang in the middle of a private field deep in the Cotswolds, giving views out over the lush Gloucestershire countryside. 
To the side of the glasshouses, there's an al fresco gin bar serving craft cocktails, King Stone Gin, English sparkling wine and local beer. Nearby, there's a talent culinary team beavering away in the kitchen creating the 5 incredible signature dishes that'll be your menu for the evening.
This is The Scenic Supper, one of the newest and, arguably, the best restaurant experiences in the Cotswolds. Brainchild of Toby Baggott, Scott Sullivan and Sam Lawson King, three friends of over 20 years who launched The Scenic Supper in 2020 after Covid affected their own small hospitality businesses.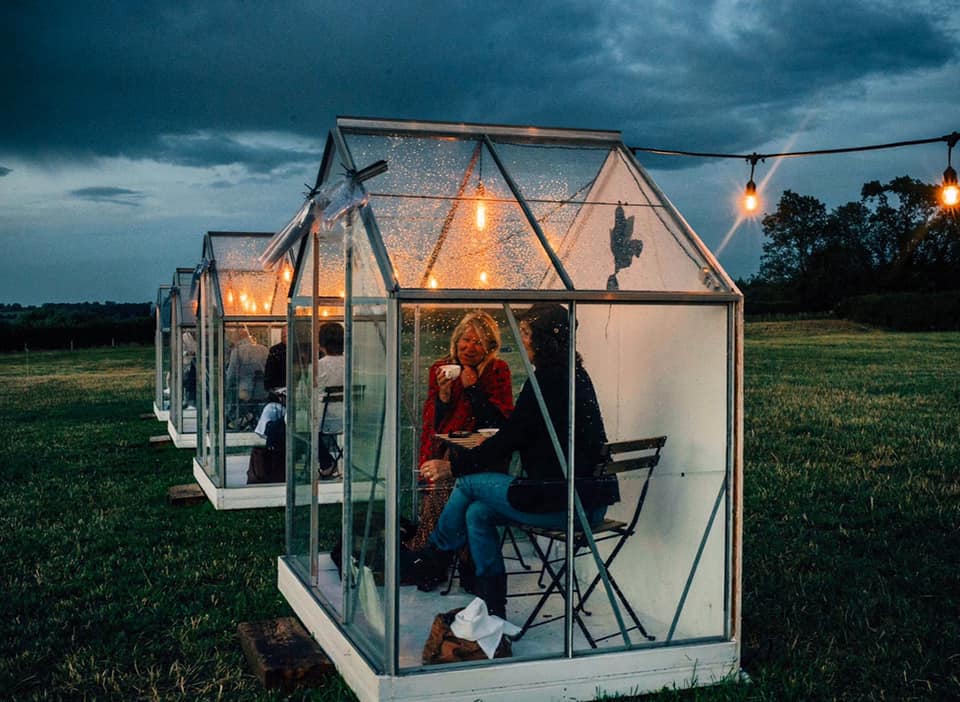 Their concept? Serve incredible food in unique 'pop-up' locations, unconstrained by the usual stuffy traditions of fine dining and delivered by a young, modern team who want this to be more than just a delicious meal. The reality? All of the above, nailed.
After last year's successful spring and winter dining events (the latter of which was held in a beautiful rustic barn in Snowshill, Gloucestershire), The Scenic Supper is back for 2021. This time it's taking up 6 months' residency in the green pastures of Todenham Manor Farm near Moreton-in-Marsh and will be ready to host parties of two and four people over the spring, summer and autumn.  
Go for an evening of first-class 5-course feasting in your own cosy glass nook with the sun setting as you eat. But beware: the cocktails shaken up by Scott and Sam are lethal (especially the Peppermint Espresso Martinis) – and you'll either need a taxi home or a tent ready and waiting to fall into nearby.
Pic credits: @isobelmurphyphotography/@weekendcandy
Gallery