🌳  Secluded freshwater lake setting | 📍 Holsworthy, North Devon  | ⚓️  Beautifully converted canal boat | 👍 Free parking on-site | 🛌  Sleeps 2 in a king-sized bed | ⚡️ From £100pn, min 3/4 nights  🥂 Ideal for a romantic weekend | Tried & Tested 
---
Steals & Deals: 3 nights for the price of 2 (from 1st October to 15th December 2023)
---
Why we love Blackbird Houseboat for a weekend
Blackbird Houseboat is proof that you don't need a superyacht to feel like a mega star. This supremely slick glamping boat comes with sensational hotel-styled interiors, all-out-luxe creature comforts, VIP peace and quiet, and the thrill of waking up alongside heron fishing for their breakfast. 
If you're looking to push the boat out one weekend, may we suggest the brilliant Blackbird Houseboat from Tregulland & Co? For lovebirds and mini-mooners, it's a North Devon romantic stay that'll send ripples through hearts. For solo weekenders, it's an oxygen mask for stressed-out souls.
Why? Because at this luxury glamping boat all needs are covered in one self-contained Devonshire package. Location – tick. Mother Nature – tick. Wow factor – tick, tick, tick.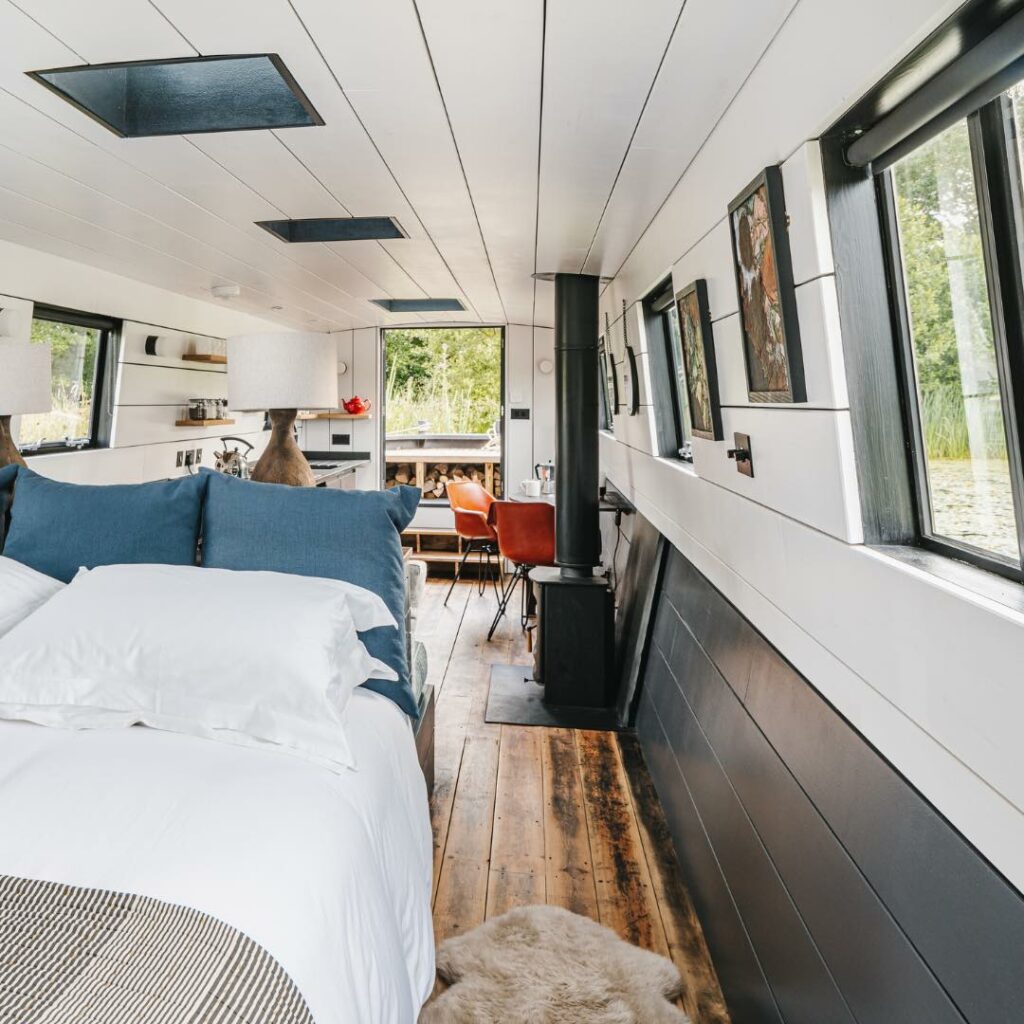 The Location
You'll find Blackbird Houseboat moored on the edge of a 3-acre freshwater lake just outside of the small market town of Holsworthy in the heart of North Devon. To get to the boat, follow a bumpy country track through 20 acres of newly-planted woodland until you reach the gravel parking space. Pull up, unload and don't expect to need your car again unless you have a hankering to explore the area.
If you do want to venture further than the lake, the countryside around you is beautiful, hemmed by Exmoor, Dartmoor, and Bodmin Moor. And close enough to North Devon's prettiest beaches to warrant an easy day-trip (Bude, Sandymouth, and Widemouth Bay can all be reached within a half-hour drive).
However, Blackbird Houseboat's lakeside setting is so peaceful and private that the urge to grab a book, put your feet up and forget civilisation is overwhelming. The furthest we went was to the local Waitrose (handily just 5 minutes away), with no desire to go anywhere else for our entire stay.
The Boat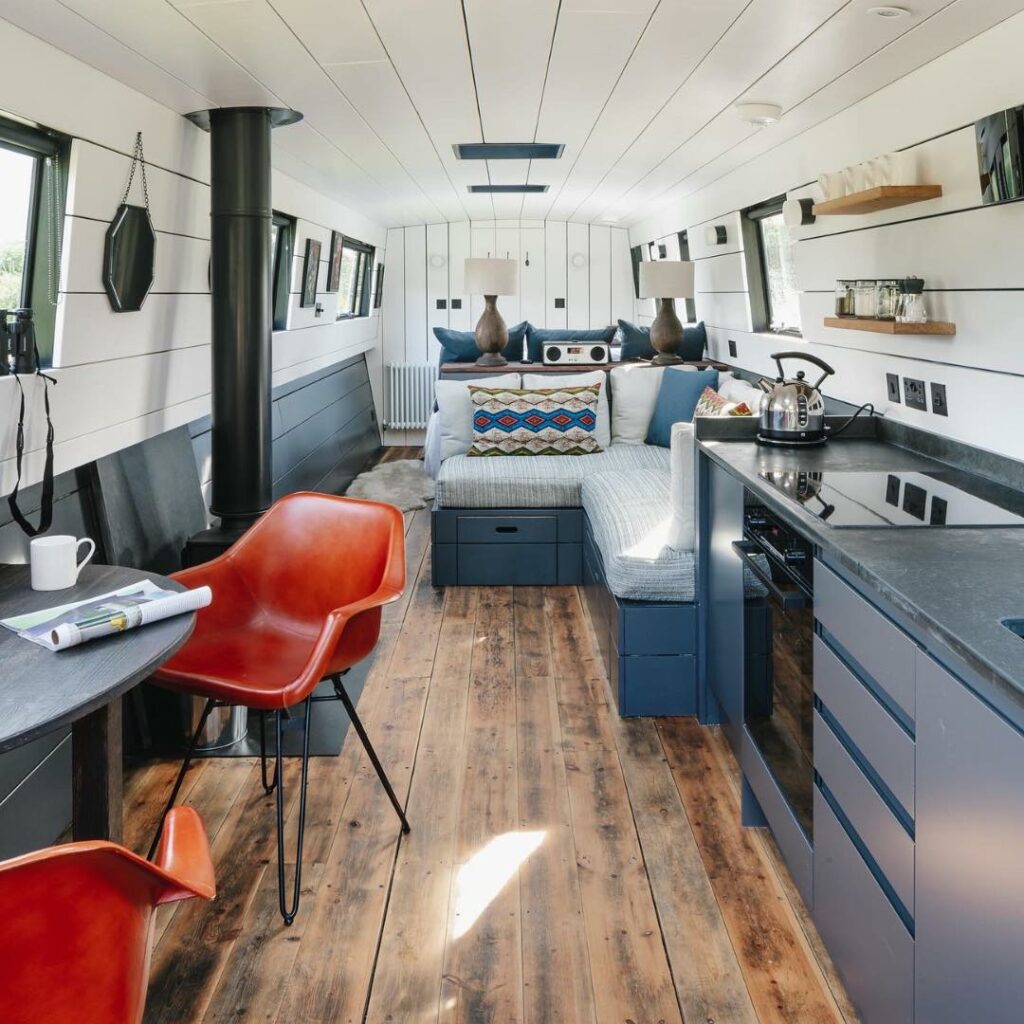 As luxury boat glamping stays go, Blackbird Houseboat raises the bar. This former canal barge has been renovated, refurbished and transformed into a beautiful space that looks so good it's hard to imagine it once chugged along waterways. Of course, the boat's chugging days are over – the engine has gone and in its place is a knockout open-plan living, dining and sleeping 'suite' where two of you can exchange the busy world for world of go-slow.
The Kitchen | Two double doors lead you from the deck of the glamping boat (the aft) to its cloud-white wooded interior. On your left, long windows sit above a sun-washed dining table and chairs, where you can eat, work or daydream to the sound of fish sploshing and geese honking. On your right, there's a sleek galley kitchen of stylish charcoal grey complete with all the cooking equipment and mod-cons you need: electric oven, induction hob, microwave, and fridge/freezer. Just bring food, drink and condiments; everything else is taken care of.
The Living Space | Beyond the kitchen is the living space with a wood-burner, complimentary basket of logs (there are plenty provided – with more in the log store on deck), and a thickly-slabbed L-shaped sofa loaded with cushions (outdoor cushions and blankets are in the drawers under the sofa). There's no TV – you really don't need one – but there is a Bluetooth speaker/radio, which you can listen to as you fold yourself into the sofa for the evening.
The Bedroom | Tucked away at the bow of this houseboat is your king-sized sleeping space with, easily, one of the comfiest beds we've had the pleasure of falling into. You're sure to sleep like a water baby (we did) thanks to the Egyptian cotton bedding, feather duvet, down surround pillows, and the stillness that falls on Blackbird when night sets in. Piled by your bed are chunky, fresh towels and hung on the door to your ensuite bathroom are two waffle robes; to spare your blushes in front of the ducks.
The Bathroom | Heading up the bow of Blackbird Houseboat, next door to your bedroom, is the ensuite bathroom. Bigger than some terra firma bathrooms we've seen, it rocks an industrial chic vibe and comes with a powerful wet room shower, super-lush REN toiletries, WC and quirky sink. The only thing lacking for us was a roller blind covering the window in the bow's double doors; but considering you're not overlooked by anyone or anything, you can do without.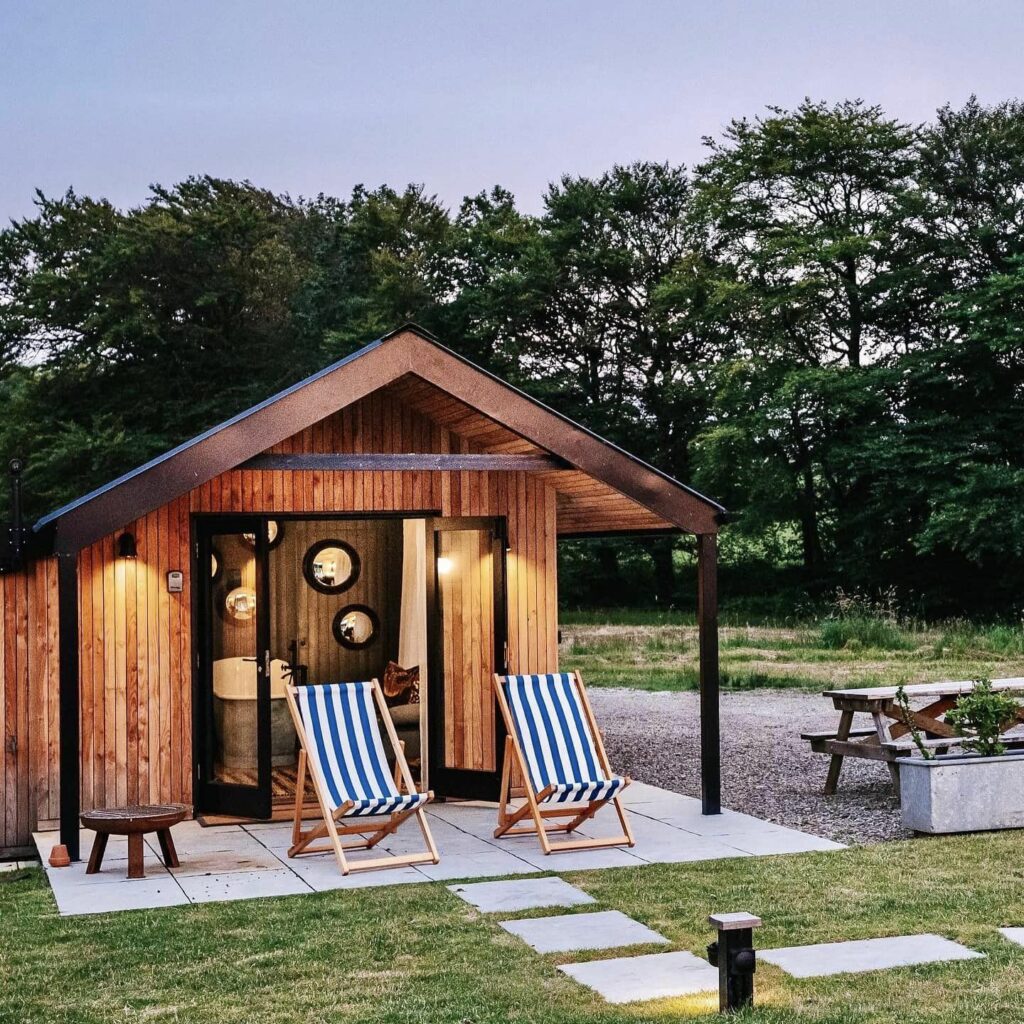 The Bath House
No self-respecting high-end glamping stay would be complete without an outdoor bath or hot tub. Blackbird Houseboat goes one further in the form of an entire luxury 'boudoir bathhouse' for your soaking pleasure, set adjacent to the boat a few feet away.
Again, no expense has been spared in its creation. Bursting with sex appeal, it houses a duck-egg blue Verdigris William Holland slipper bath that you can 'slip' into whenever you fancy it. There's a also a love seat sofa (for a post-bath cwtch), a dressing table, a Bluetooth radio, an additional WC, a stack of fresh towels and deliciously-decadent REN bath oil. Best of all, because the bathhouse faces the lake, which is entirely private, you can swing open the double doors and drench your skin in fresh air sunshine or moonlight.
Just outside the bath house is a covered patio furnished with two deckchairs, a firepit and a BBQ. Plus, there's a lakeside picnic bench for al fresco brunches, dinners and sun downers. You can even catch your own trout in the lake for grilling up as the sun sets. Whatever floats your boat, Blackbird Houseboat has it covered.
Trust us, this is boat glamping that is supremely worth the price tag.
Glamping boat set on a private 3-acre freshwater lake in North Devon
Sleeps 2 adults in a king-size bed
From £100 low season, minimum stay 3/4 nights
Adults only luxury escape, not suitable for children
Full kitchen facilities for self-catering and bathroom shower room facilities on board the houseboat
Stunning stand-alone bathhouse a few feet away from the boat glamping, complete with a slipper bath and waffle robes,
Picnic table and area for outdoor feasting
Complimentary firelighters, kindling and logs for the wood burner
Lake is well-stocked with fish, if you'd like to bring a rod with you
reach the boat via a sturdy gangplank
Check in/check out on Fridays or Mondays from 4pm
Because it sits on a nature reserve, sadly no dogs are allowed
There's no TV or Wi-Fi, and limited mobile coverage, but you won't miss it
Host can supply details of caterers for guests to cook onboard the boat
Just outside of Holsworthy, which is just a 5min drive and has a Waitrose
Set in the heart of North Devon, amongst beautiful countryside and bordered by Exmoor, Dartmoor, and Bodmin Moor
Eye Candy