Sleeps 2 | Dog-Friendly | Unique & Unusual | Near Bridport
The Coop is a rare bird indeed. Set in an under-the-radar spot on the outskirts of Bridport, Dorset, this New England-style cabin is more than just a beautiful place to stay. It is a unique soul-enriching experience, shaped through five-star extras and packages. For a dog-friendly rural break that is impossible to forget in a hurry.
As former chicken sheds go, The Coop certainly claims the prize for inventiveness. It's the latest addition to the Outbuildings' family – five luxury renovated dog-friendly studios set on a family farm near Bridport. And, without doubt, it's the most original yet.
Every square inch of The Coop has been hand-built, reclaimed or upcycled by the Whitehead family, who own the farm, with the help of local craftsman.
Not that it is tin-pot, back-of-a-fag packet Bridport accommodation, you understand. Far from it. The Coop is a masterpiece of artful design, made whole with skilled craftmanship, creative gusto and unique furnishings and fittings.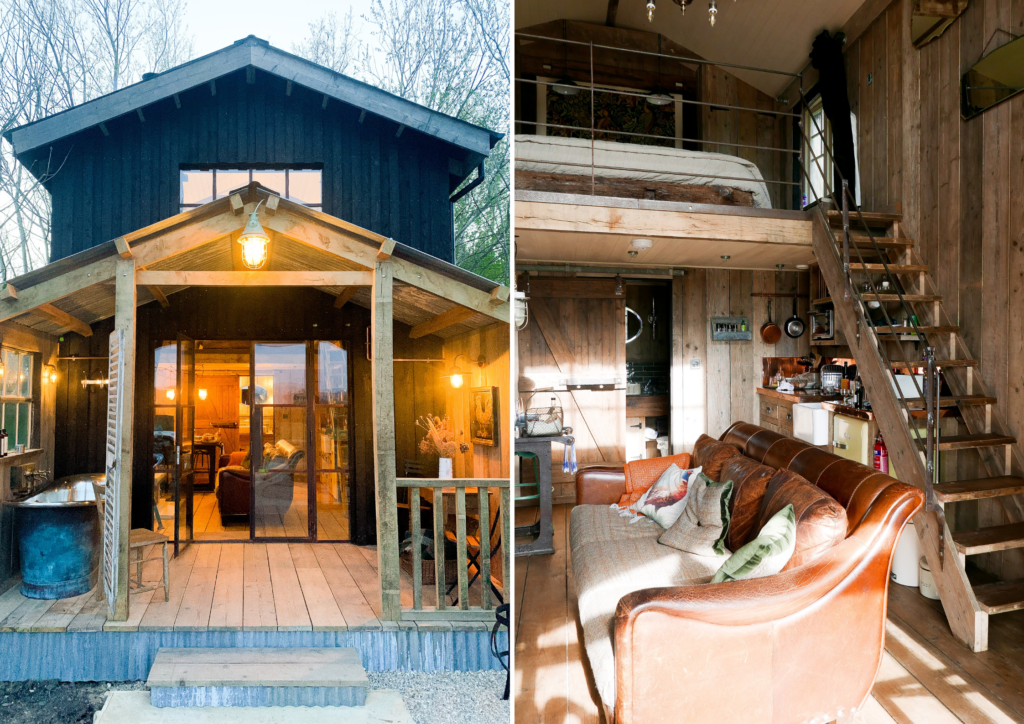 Outside
You'll find it in a private nook away from the main farm, set against a woodland backdrop. Eying you like a wise, old cowboy.
It stands two-storeys high and is made of dark timbers with a gabled front and high-pitched roof. In its gaze are unbroken views of the West Dorset countryside and on its broad, sheltered porch, behind two reclaimed shutters, sits a William Holland weathered-look copper bathtub.
Give the tub a splash of hot water, pour in the exclusive Outbuildings' bubble bath and light the 'under the sea' candle. You'll be sunk in a heartbeat, trust me.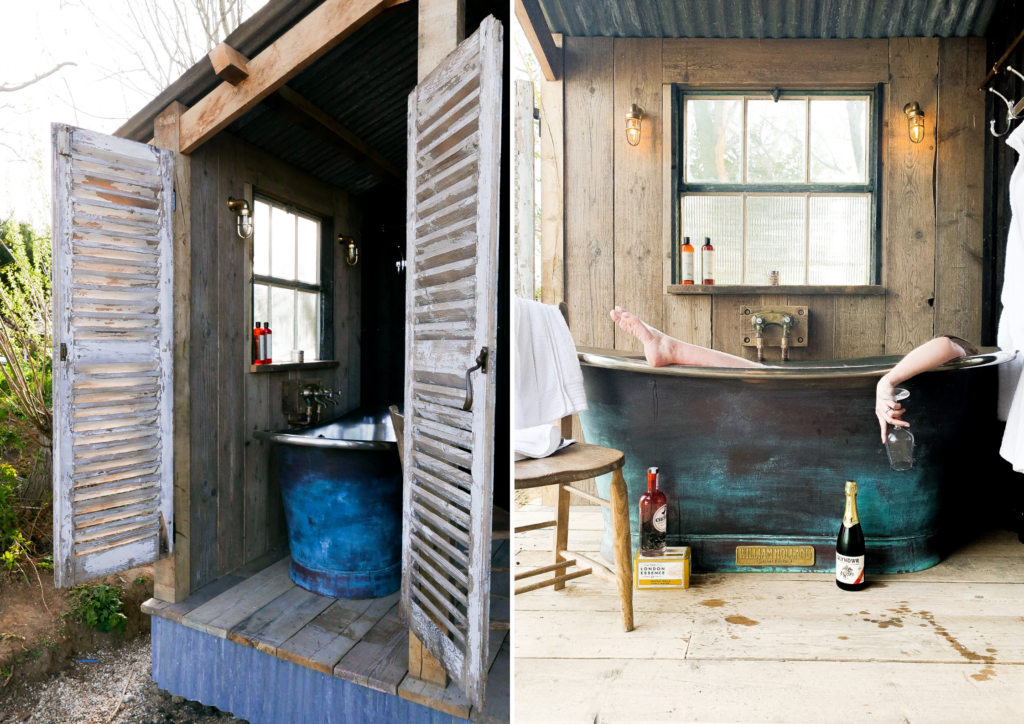 Inside
Through the black steel-frame Crittall doors, the rest of The Coop peeks out. Inside, ready to swallow you whole, is a towering space hewn from timber and replete with tin.
There is a dramatic mezzanine bedroom perching under the pitched roof; its William Morris velvet headboard sings out like a royal drape, against the scaffold wood.
The bedroom is, on its own, a magnificent sight; and so unexpectedly 'un-chicken shed' that it's impossible not to rush the stairs to take a closer look. When you do, you won't be disappointed. Up in the eaves, it is roomy, warm, and the huge slab of bed – a super kingsize – is handsomely dressed in handmade velvet cushions and throws.
There's also a large window opposite the bed, which spills buttery sunlight onto your duvet every morning and moonlight into your dreams every night.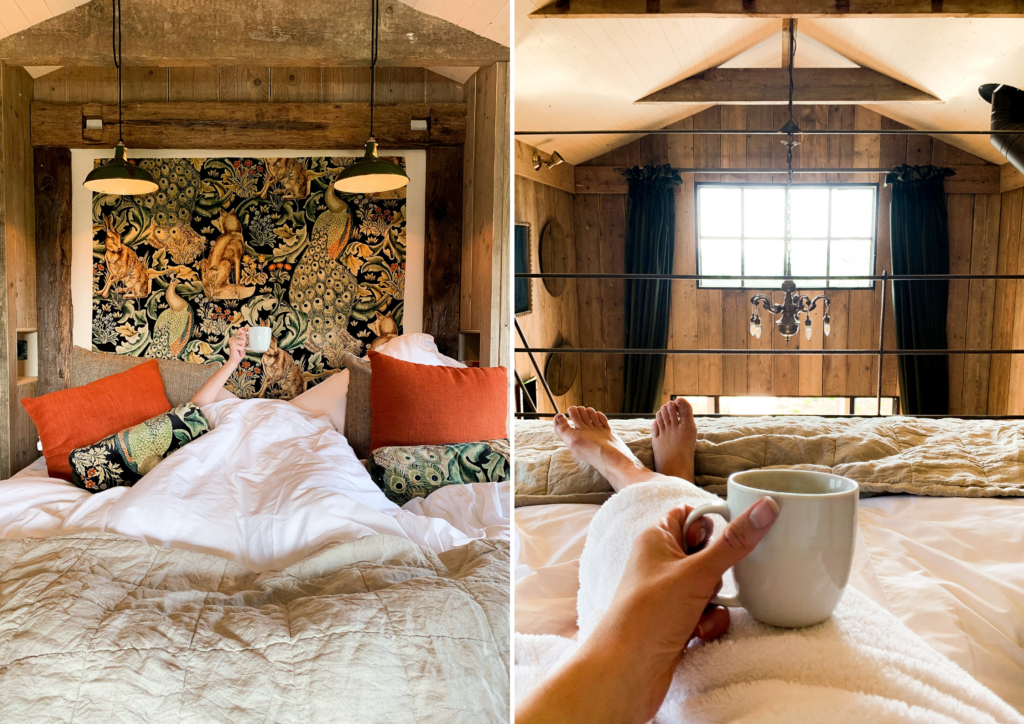 Back downstairs, the raised log burner will, no doubt, be crackling away when you arrive, (the owners are that thoughtful). Collapse next to it on the fat antique leather sofa and switch on Netflix.
If you've pre-ordered from the Outbuildings' virtual bar beforehand (yes, you can), there'll be cocktails waiting for you in the fridge. Made by brilliant local mixologists, Dark Bear.
The bathroom is a beautiful jewel of emerald green tiles and brass fittings, hidden away behind a timber sliding door. Whilst the kitchen is a neat copper-topped affair, with thick wooden units and plenty of equipment to cook up a feast.
Not keen on cooking? Order, instead, one of the hampers fresh from the farm kitchen and loaded with homemade wonders. You can eat inside at the bench table for two, or outside under cover on the side patio.
Light the firepit and let it glow by your feet. You'll hear the sheep bleat their 'hello' from the fields in the distance. And you'll know: this is West Dorset, done exactly as it should be. 
Unique add-ons to make your stay extraordinary, including Bubbles in The Woods, Hay Barn Cinema, The Orchard Picnic
Food hampers and virtual bar available to pre-order
Large smart TV, superfast WIFI and complimentary Netflix
Well-behaved dogs welcome, but not suitable for large dogs
Parking for one car at the front of the building
Cancel up to 7 days prior for full refund
Eye Candy