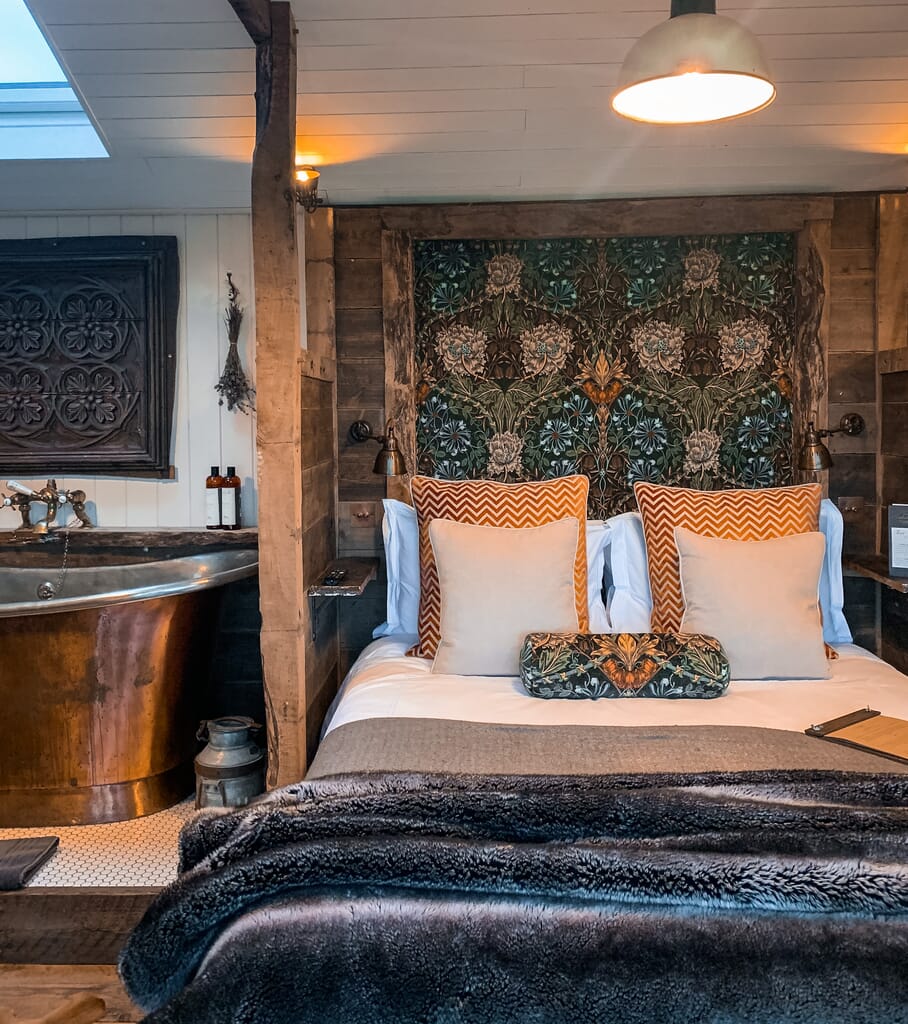 ---
This article has been produced in partnership with Outbuildings, Bridport
Most of Dorset's treasures are well known. Its beautiful Jurassic coast that sweeps by cliffs and scoops around bays. Its rolling green carpet of fields. Its colourful market towns and delicious local food and drink. But there are some Dorset treasures that aren't as well known – just yet.
They are the extraordinary places to stay in Dorset that are more than the sum of their parts; places that are becoming destinations in their own right because they have a singular purpose: to help you sink deeper into the sinew of this wonderful region – and not just skate on its surface. They are a new breed of modern UK experiential staycations that help you form emotional connections with the regions they're in.
We were lucky enough to stay in one of these recently – Outbuildings in Bridport, Dorset – to ry out its Winter Lie-in Package and we left in no doubt that this place knows the true definition of extraordinary.
---
"At this humble farm stay, Dorset wraps around you completely. All you have to do is nestle in its beauty, whilst the owner-family go out of their way to ensure your time here is remarkable."
---
---
About Outbuildings, Bridport
As the name suggests, Outbuildings is a collection of 6 smart, dog-friendly spaces housed in the converted buildings of a traditional family farm. The farm is set on 10 acres of beautiful West Dorset pea-greenery, just a short drive from the popular market town of Bridport and the coastal harbour of West Bay.
The brainchild of former Bridport hoteliers, Karen and Bill Whitehead, the Outbuildings in Bridport opened its doors in 2009, and was born out of the family's desire to preserve the dairy farm they call home and share the area they love with guests. Outbuildings is still run by Karen and Bill today, along with the rest of their family, Ed, Dom and George.
At the centre of Outbuildings is the family's farmhouse home; some of the outbuilding conversions are adjacent to the farmhouse, with their own private gardens and patios and, of course, views. And it's from the heart of this setting – the main house – that all the warmth of Dorset flows to you along with a smorgasbord of unforgettable experiences and concierge comforts, delivered by the family (sometimes accompanied by the wagging tails of the family's dogs).
---
---
The 6 gorgeous ensuite rooms and spaces at Outbuildings are extremely handsome and exceptionally comfortable; each one is decorated with a slick rustic style, created personally by the family who clearly have a superb talent for interior design.
Antique chests of drawers sit alongside upcycled leather sofas (Karen upcycles and recovers most of the furniture herself); fur throws sleep next to faux-skin rugs, which cover flagstone floors. The walls hang with local prints and striking handmade art; and the windows are draped with thick black-out curtains – hand stitched by Karen.
All the Outbuildings spaces feel grown-up and sophisticated, as if London was down for the weekend with its Chelsea boots firmly off.
The rooms to stay in include The Sty, The Farrows, The Pressing Room, The Cider Room, The Coop and The Pen – all of which come with large cloud-like double beds, sparkling en-suites, beautiful farmhouse kitchens and living areas where you can kick back in front of log burners, with Netflix streaming on the Apple TVs.
The Pressing Room (from £200pn) is the largest room to stay in, sleeping 2/3 adults and 2 children with a superior king bed, a double sofa bed and – brace yourself – a stunning William Holland brass bathtub at the end of the bed; the other spaces sleep two adults but are by no means small.
The Farrows (from £130pn) looks out over the inner farm and sleeps 2 adults in a double bed. It has ample space – enough, in fact, for a fireside yoga session which you can book as an extra (more on that shortly).
The Sty (from £150pn) sits at the heart of the farm, next door to The Farrows, and sleeps 2 adults in one king bed. It's a decadent space and also has a big smart TV and a wonderful private terrace.
The Coop (from £200pn) is a magnificent transformation of a former chicken shed and sits away from the main farm in a nook of its own. It sleeps 2 in a superior king bed that's set on a mezzanine. The views from the open-air copper William Holland bathtub are divine.
The Pen (from £180pn) is the only space that's not dog-friendly – but you can see why. It's a magnificent hand-built shepherd's hut for 2 with a king-sized bed, copper William Holland bathtub and a floor-to-ceiling glass front which gifts the occupants magnificent views.
Whatever room you choose for your short break holiday at Outbuildings, you can feel the care that's been taken by the owners to create spaces that are relaxed, cosy, welcoming and utterly unique. It's clear, the family want you to sink into a deep sense of ease when you arrive – and you do, effortlessly. And it's obvious from the moment you arrive that this is more than just a place to stay.
---
With its clutch of chickens, veg patches, fish-filled ponds, sheep-speckled fields, and free-roaming family dogs who are always happy to nose around your suitcases, this beautiful place to stay in Dorset certainly delivers on the rural front.
The farm is a small working affair; not a huge commercial enterprise it once was, so you won't be woken by herds of cows or the roar of tractors in the morning – and you don't need to fret about forgetting your wellies or losing a shoe to the mud. The going here is firm underfoot.
You won't see the sea from your room, but you can still expect a pretty vista: The Pressing Room, The Cider Room and The Pen face south with views that roll out over the village of Bradpole.
The Sty and The Farrows benefit from private gardens surrounded by a wonderful collection of botanical wonders (all beautifully planted and looked after by Bill, the owner). And The Coop has its own views that roll out towards the horizon.
Although rural, Outbuildings is on the A3066: a main route carrying visitors from the north down towards Bridport. So you've easy, quick access to the town by car as well as the coastal hotspots beyond, such as Charmouth and Lyme Regis.
---
Outbuildings, Bridport, pride themselves of being more than just a place to stay. Which is why, when you go there, you can enjoy a range of fabulous bolt-on experiences – delivered with the same heart, creativity and spirit of generosity that is the signature of the entire Outbuildings' brand.
There's the enchanting Hay Barn Cinema – yours for three magical hours, where you snuggle under heated blankets, tucked in-between hay bales, with hot chocolate and sweet treats on hand and huge 3 metre cinema screen ready to play a film of your choice. From £80 for 2 guests.
In the woods, you'll find the Outbuildings wood-fired hot tub – here, with the Bubbles in the Woods experience you can soak undisturbed for 4 hours winding the 'crank' for a champagne tipple when you fancy it (from £50). There's also the brilliant Cart Shed Fine Dining experience (for £65) – where you can enjoy a five-star three-course seasonal meal cooked onsite by Mark Kick, a former chef of London's West Street Ivy Restaurant. All served in an atmosphere of candlelight and cosiness in the farm's dining barn.
And that's not all. With the wonderful 'Text for a Tipple' service a simple SMS request gets you Dark Bear cocktails, wine, gin and beer delivered to your room and if you don't want to shop for groceries the Outbuildings offer a range of food hampers. It's the same level of concierge service you'd expect at a boutique hotel, effortlessly nailed by the Outbuildings' crew.
---
So, why is the Outbuildings extraordinary?
Because the family who run Outbuildings don't simply give you a gorgeous place to stay in Dorset. They work flat out using their individual skills and talents to ensure your experience of staying on the farm they love is beyond your expectations – and your own passion for this part of West Dorset is well stoked.
Karen makes the cherry gin for your welcome hamper from the fruit grown on the farm (then serves it up in a crystal decanter). She also makes the fruit cake that's waiting for you in your room, the beautiful velvet patchwork throw that styles your bed, and the incredible dinner that's delivered in a wicker basket when you order it from the 'extras' menu.
And order a dinner hamper you must: as well as printed cooking instructions (so there are no disasters), it comes with homemade crumble and a bottle of red or white wine from the local vineyard, Furleigh Estate. All you need to do is turn the oven on and let the wine breathe.
Ed, the eldest of Karen and Billy's sons, lights your log burner before your check-in so you arrive to a crackling warm room. He lays out the Sunday papers neatly for you, logs into Netflix so it's ready for you to watch, collects fresh hen's eggs for your breakfast, and makes sure you have enough kindling, tea and coffee and local information in your room to not be left wanting.
He also emails you a downloadable local winter walks guide before you leave home so all you have to do when you arrive is lace up your walking boots and set off.
The family's thoughtfulness doesn't end there.
Outbuildings have arranged discounts with some handpicked local businesses in the area so your stay is even better value for money (including a discount with the local taxi company so you can get back safely after enjoying Dorset hospitality at the local pub). 
---
---
At this time of year in the low season, West Dorset slows to a hush so it's possible to explore it at a more restful pace. And to help you ease gently into the tranquillity, Outbuildings has a Winter Lie-in package which we enjoyed during our stay (it's just one of the many great packages on offer)
The 2-night VIP stay comes with late check-out, the Sunday papers, free digital streaming, a breakfast hamper of local food complete with your choice of champagne or homemade gin (naughty but very nice), winter meal hampers delivered to your door, an evening at the onsite 'Hay Barn Cinema' with all-you-can-eat pic 'n' mix.
In short, Outbuildings has created a reason to come to Dorset, not just for the treasures you've heard about, but for experiencing and feeling the true generosity of the region.
---
---