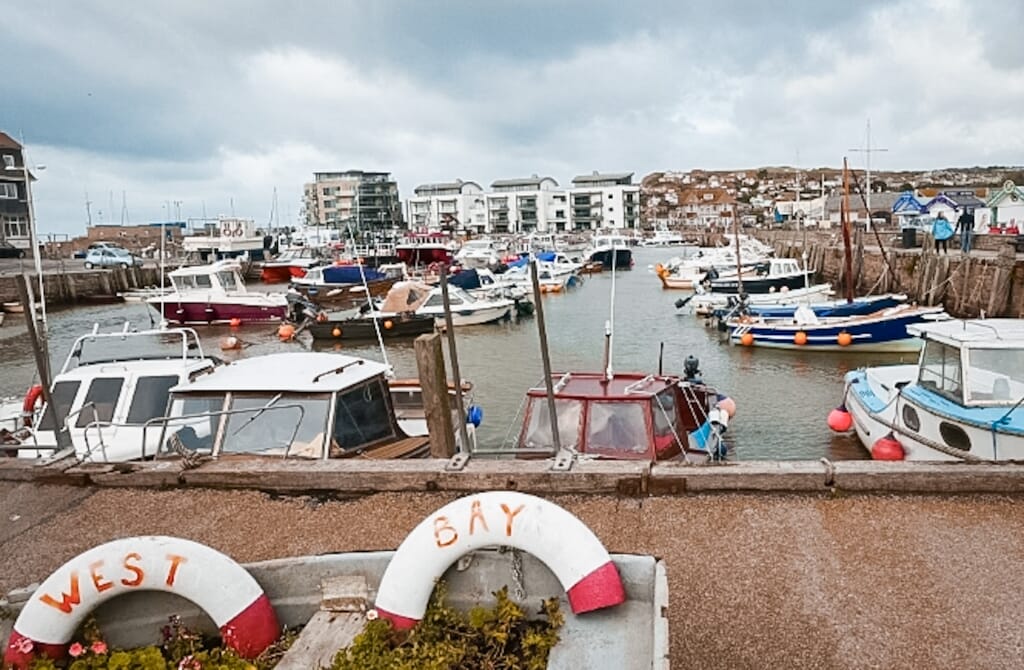 With its majestic golden sandstone cliffs, West Bay in Dorset is known as the Golden Gateway to the Jurassic Coast. You'll find West Bay south of Bridport, between Eype and Freshwater at the western end of beautiful Chesil Beach. It is, of course, one of the most popular destinations on the Dorset Jurassic Coast World Heritage Site, along with Lyme Regis. Even more so thanks to ITV's hit drama, Broadchurch. 
If you're curious enough to visit West Bay for a weekend, there's plenty of things to do and see. True, in summer there may be a tad more life (and you make have to queue for an ice-cream), but winter offers the weekender a lot of sights and sounds, especially for those who love long beach walks and dramatic scenery. Here's our guide to things to do in West Bay on a weekend visit.
---
THINGS TO DO IN WEST BAY, DORSET
1. Breakfast with a sea view 
Head here: The Watchhouse Cafe 
West Bay has many great restaurants and cafes where you can grab breakfast, lunch and dinner. To start the morning we love The Watchhouse Cafe. Back in the day it used to be a greasy spoon hot spot, but middle-class took over and now it is one of the most stylish places to grab your eggs in West Bay (the other is Rise cafe sat on its own little island by the River Brit)
The vibe at The Watchhouse Cafe is breezy, the food is delicious – fresh and local  – and the location, hot dang! Outside or inside, the views across this stretch of Dorset are mighty tasty.
---
THINGS TO DO IN WEST BAY, DORSET
2. Set off on the West Bay Blast 
Do this: Lyme Bay Rib Rides 
If you fancy an afternoon adrenaline rush, book your place on the West Bay Blast – a 15-minute rib ride that'll hurtle you along the famous coast, turning your knuckles white. If you want something a little more sedate, you can cruise your way over to Lyme Regis on the rib water taxi for the afternoon, and then hop on the rib back after you've explored. Booking essential.
---
THINGS TO DO IN WEST BAY, DORSET
3. Stroll Along West Cliff
Follow this: West Bay to Eype Coastal Path
West Bay is walkers' heaven with both East Cliff and West Cliff to explore. We like the West Cliff walk that takes you off and up towards Eype. It's on this cliff that Olivia Coleman and David Tennant played out some dramatic scenes in the ITV hit series, Broadchurch. It's also home to the house where Broadchurch's defence barrister, played by Charlotte Rampling, lived in series two – and, in real life, the singer PJ Harvey.
Carry on up the cliff – carefully – for about 25 minutes and you reach Eype. Keep on going over Eype and downhill into Seatown. Whilst you're there, make sure you try a crab baguette at The Anchor Inn.
Pic Credit: The Anchor Inn
---
THINGS TO DO IN WEST BAY, DORSET
4. Discover West Bay's Curious History
Visit this: the West Bay Discovery Centre
You'll find this multi award-winning museum in the old Methodist Church on the edge of East Beach. It may not look huge, but let that fool you. The Discovery Centre packs a giant punch with its ever-changing exhibitions, curious stories, and local history, both past and present – in fact, we were staggered by how much fascinating displays and experiences they pack into the small space. There's always a programme of talks, guided walks, and events on offer, too. Admission is free, donations are welcome.
Pic credit: West Bay Discovery Centre
---
THINGS TO DO IN WEST BAY, DORSET
5. Treasure Hunt at Bridport Market
Approx. 1.5 miles inland from West Bay is Bridport. Lovingly nicknamed 'Notting Hill by The Sea' by London folk, Bridport comprises of 3 main streets – East, West, and South Street.
This historic market town is well worth a visit, especially when the market pops up on Wednesdays and Saturdays (from 8am – 2pm). On these days, each street in Bridport springs to life with a variety of independent stalls selling fresh fruit and veg, clothes, pictures, flowers and plants, books, food – and much more besides.
The market started operating in 1253, when King Henry III granted a chatter to Bridport and it has been attracting treasure hunters ever since. A word of warning: it can get quite packed on the narrow pavements, as people stop to browse what's on offer, so be prepared for a slow wander around.
Pic credit: Bridport and West Bay
---
THINGS TO DO IN WEST BAY, DORSET
6. Soak Up Contemporary Art (and Cake)
Go here: Café Sladers at the Sladers Yard Gallery
West Bay, as you might expect, has many cafes where you can grab a great coffee and cake. But we like something a little off the beaten track with an added twist, which is why the café at Slader's Yard does it for us.
Tucked away from the main harbour in West Bay, Café Slader's is an inviting, elegant café serving wonderful, fresh food housed inside an 18th-century rope warehouse with pillared galleries and a flower-filled courtyard. The cafe has won seven Gold Awards from Taste of the West, and that's not even the main attraction.
Slader's Yard itself is a private art gallery dedicated to exhibiting and selling contemporary British art, handmade furniture and designer craft by leading artists, designers and makers. So you can grab a bite of something delicious and browse the sculptures, art and furniture afterwards. Sublime.