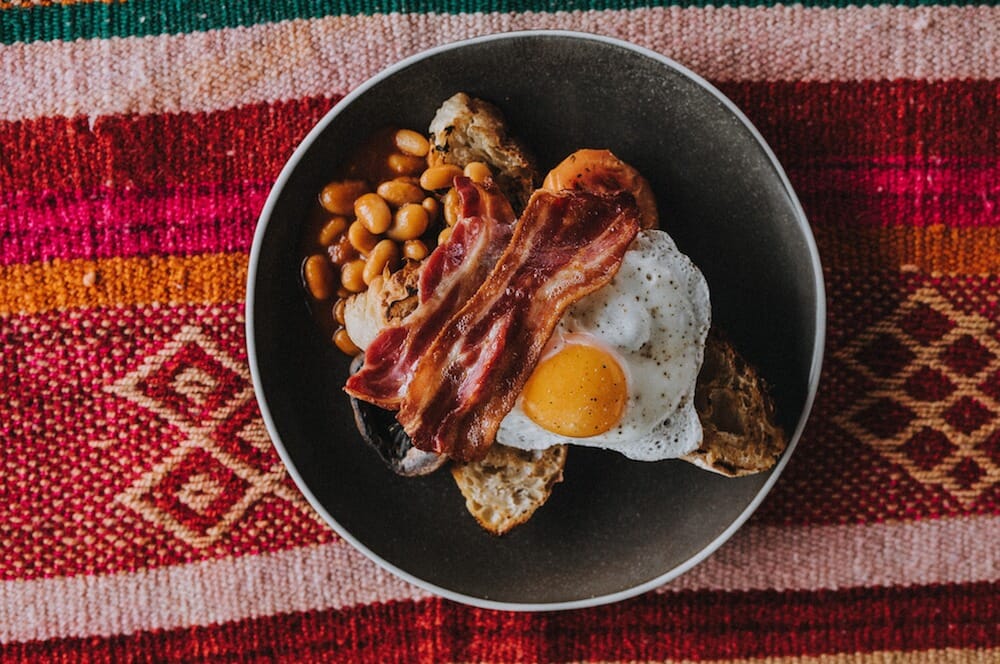 When you're looking for a decent bite to eat in West Bay, there are places a-plenty: head to the harbour and you'll find wooden food huts on both sides of the water serving hot chips, fresh coffee and many seafood treats. If it's a cream tea you're craving, West Bay has a lovely tea room (handily called the West Bay Tea Room).
As for West Bay restaurants, this small seaside gem may not have a huge selection, but what is there are excellent. We've listed our 5 favourite restaurants in West Bay for you to sink your teeth into – all tried and tested personally by our Chief Weekender. Dig in!
---
The Very Best West Bay Restaurants
Best For: Sexy Meals & Sublime Cocktails For Two
What used to be West Bay's old station platform and station house is now the Station Kitchen – a restaurant set in two heritage railway carriages – that's garnering a lot of fanfare despite being a relatively new kid on the block. This exceptional restaurant is oozing with style and sass, without ever taking itself too seriously.
The hard-working team behind the Station Kitchen have pulled off an imaginative, characterful vibe both gastronomically and experientially – making this West Bay restaurant the ideal spot for a date night as well as a cocktail and meal with your BFF.
The menu showcases local, seasonal and sustainable ingredients and offers modern twists on the classics – it is absolutely exceptional; and not too pricey either. But, the Station Kitchen does a lot more than offer great food; the eccentric setting and bohemian interiors work to their own effect.
Both carriages are adorned with fun trinkets – a pink flamingo here, a neon sign there – the restaurant is a box of delights. And with a clutch of awards already under its belt, The Station Kitchen ensures you'll have an utterly fabulous and an absolute treat of a dining experience.
Opening Hours:
Wednesday 5pm-11pm (last booking 8:30)
Thursday to Saturday 12pm – 2:30pm
5pm – LATE (last booking 8:30)
Closed: Sunday, Monday, Tuesday
​Vegan, vegetarian and gluten free options available
---
The Very Best West Bay Restaurants
2. Seagulls Restaurant, DT6 4EW
Best For: Fresh Fish Before a Sea-Air Stroll
Seagulls Restaurant is a humble, unassuming West Bay restaurant that's been in the same spot, serving visitors and locals alike for 25 years. Despite its understated appearance, the food here is a far cry from average – as the reviews on TripAdvisor will concur.
The menu isn't huge, with a few added extras available daily, but that doesn't matter – what you get is excellent quality. The food is local and seasonal and there's a modest seafood selection on offer (we're fans of the scampi, crab soup and bass fillet) all of which is sourced from the South West Coast.
If you want to go in the evening with les enfants, you can because kids are welcome. And thanks to the restaurant's prime location on East Beach in West Bay, you can also finish off your meal with a sea-air stroll and beautiful moon rise.
Opening Hours
Closed Mondays
Tues – Sat evenings from 6pm
Sunday Lunch from 12 noon
Vegetarian, vegan and gluten free options available
Pics credit: Seagulls Restaurant
---
The Very Best West Bay Restaurants
Best For: Brunch with a Riverside View | Dog-friendly
Relaxed and unshowy, Rise cafe bar in West Bay rests on its own little island where the River Brit runs into West Bay Harbour. It's an easy restaurant to find, nestled in the centre of West Bay, reached by a small bridge; although the parking is a little more tricky (we recommend parking in East Beach Car Park and taking a slow stroll over to Rise).
Inside, it's roomy and bright, with a rustic hipster vibe that wouldn't be out of place in Scandinavia (imagine a mix of woods, ethnic soft furnishings and plants and you're bang on). There's plenty of space for intimate meals, as well as larger family gatherings (they can seat up to 10 at once on the bigger tables) and the food is certainly a crowd-pleaser. Here, all your tastes are covered: breakfast, brunch, lunch, supper or simply a coffee by the water's edge.
The dishes come with an Asian vibe, and include a multitude of burgers, fresh seafood specials and vitality salads. We love to come here for a long, slow brunch without feeling rushed.
Opening Hours:
Mon – Sun 9.00am – 10.00pm
(Friday & Saturday until 11pm)
Vegan, Vegetarian and Gluten Free available
Pics credit: Rise Cafe Bar
---
The Very Best West Bay Restaurants
4. The Watch House Cafe, DT6 4EN
Best For: Beachside Pizzas | Dog-friendly
With the perfect beachfront spot on East Beach, the Watch House Cafe is always a hit with visitors to West Bay.  Fans of this West Bay restaurant come for the generous sea-to-plate food options, as well as the all-weather outdoor dining. If the sun's blazing, then there's a decked beach terrace to enjoy your fresh fish or wood-fried pizza on. If rain spoils play, you can get the al fresco seaside vibes on the covered pizza patio and watch the pizzas being made.
The vast brunch options, wood-fired pizzas and seafood specials are all popular choices at the Watch House Cafe, but you can just rock up for a coffee and cake after a day on the beach. Should you want to embrace the holiday spirit, the cafe serves beers, wines and cocktails. They also offer bottomless brunches to really get your weekend away buzzing.
Right next door to the cafe, open 10am – 6pm, there's a fossil shop where you can get your hands on 190 million-year-old ammonites (collected just along the Jurassic Coast in Charmouth) as well as a Dick Pearce belly board – or as they call it, Dinoboard.
Opening Hours
Monday & Tuesday Closed
Wednesday and Thursday 10-4pm
Friday and Saturday 10-7pm
Sunday 10-4pm
Breakfast 10-11:30am
Bottomless Brunch 11-3pm
Lunch 12-3pm
Dinner 4-7pm
Allergenic information available, vegetarian options available
Pics credit: Watch House Cafe
---
The Very Best West Bay Restaurants
5. Bridport Arms Hotel, DT6 4EN
Best For: Sunday Lunch | Dog-Friendly
A mighty thatched pub, hotel and restaurant, the Bridport Arms Hotel sits in prime position virtually on the beach in West Bay. Handily, there's a car park right outside so it's super easy to make it your destination for Sunday lunch, without having to faff around finding parking.
Inside, diners and drinkers are thrown together in an open-plan restaurant and bar with an easy-going atmosphere. The setting is pleasant and cosy; there are no affectations, just a good old-fashioned Dorset pub with low-slung beams, exposed brickwork, and traditional patterned carpet.
The Sunday lunches come piled high and aren't too expensive (from £13.50); the waiting staff are helpful and friendly; and children and dogs are welcome.
Details
Car park on doorstep
Vegetarian and vegan options available
Outdoor seating
Opening Hours:
Mon – Tue: Closed
Wed – Fri: 12-2:30pm | 6 – 8:30pm
Sat – Sun: 12 – 8:30pm
Pics credit: Bridport Arms Hotel
---