🍽  Fine Dining Restaurant | 🚂  Vintage Railway Carriages | 🏆 Multi Award-Winning | 🦀  Seaside Setting | Tried & Tested (many times)
Why we love the Station Kitchen West Bay 
Sexy interiors, vintage bling, class-act cocktails and food that's off the rails – all served in heritage train carriages with a sea breeze and a warm Dorset welcome. Yup, the Station Kitchen West Bay is one culinary journey you won't forget.
Of all West Bay's delicious restaurants, there's only one that boasts celebrity fans, multiple awards and fine dining that hits beyond the food: the Station Kitchen. This unique Dorset eatery started life as a working station built in the 1850s to bring holiday makers to West Bay harbour.
Made up of a simple railway line, small terminus and single station platform, the station closed to passengers in the 1930s after West Bay never fulfilled expectations as a holiday resort (the Broadchurch effect hadn't yet taken hold).
Fortunately, the station remained intact and came into the hands of skilled caterers Claire and Ross (of Sausage and Pear fame). They took a lease on the old station in 2019 and the Station Kitchen was born.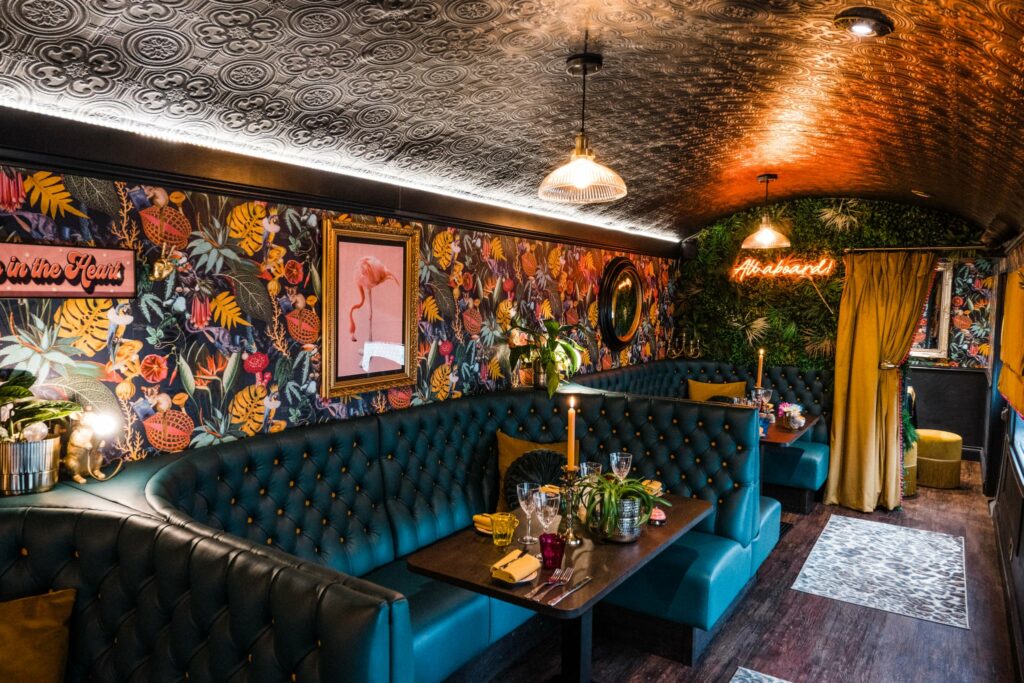 The Menu
The food here is exceptional. The service sublime. The waiting team are a loyal and passionate crew who are only too happy to help you. The kitchen team, headed up by chef Chris Chatfield, are a talented, friendly bunch who serve an excellent, highly-accoladed menu showcasing local, seasonal and sustainable ingredients from around the Jurassic Coast.
Mains start from around £25 and don't get much more pricey. There's also a tasting menu for £110pp and a 'Little Loco's' menu for under 10s. The food is so good, it's racked up 2 AA Rosettes for culinary excellence and a host of other local and national taste awards. It's also a favourite spot for local and visiting celebrities, including Martin Clunes (who lives in the area), Hugh Laurie, David Tennant and Olivia Coleman.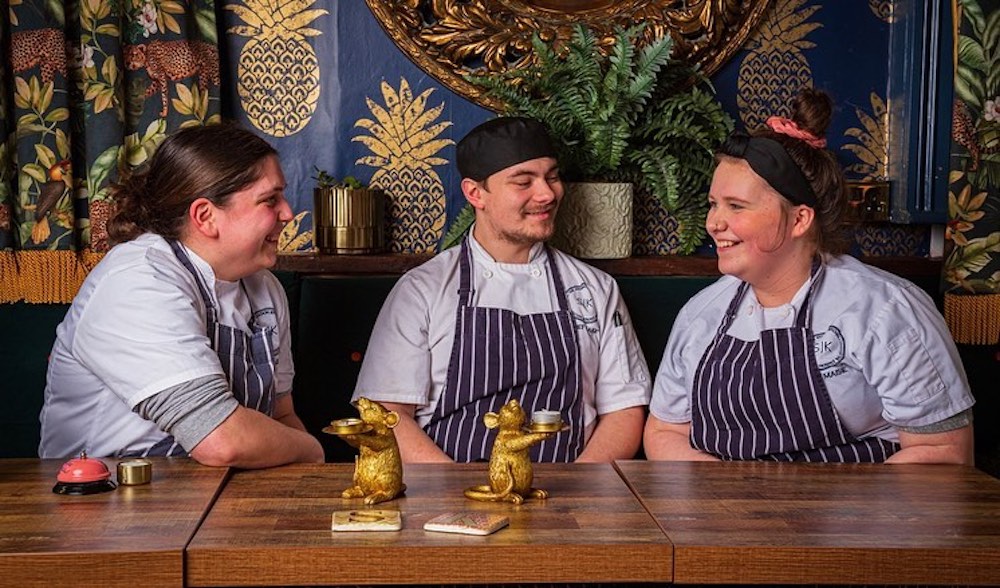 The Setting
But it's not only the food and drinks that'll knock your socks off at the Station Kitchen West Bay. The unique heritage setting is worth a peek in its own right. Dinner is served in two vintage train carriages – Brunel and Beeching (an ironic nod to Richard Beeching, the man responsible for closing thousands of miles of railway and stations in the 1960s).
Across the platform, the old limestone station house is now a fantastical cocktail bar shaking up delicious tipples for you to enjoy inside or outside in the private garden.
Despite all three spaces being separate from one another, they hang together seamlessly thanks to a riot of bohemian interior decoration, masterminded by Claire. Think exotic jungle wallpaper, teal leather booths, neon signs, large pink flamingos, candy-coloured napkins, curtains and glassware, antique mirrors and huge clocks.
The overall effect is fabulous. So much so that when our Ed-in-Chief needed a venue for her Dorset wedding, West Bay's Station Kitchen was just the ticket. Culinary sex on rails – we absolutely love it.
OPENING HOURS
WEDNESDAY: 4PM – 11PM (LAST BOOKING 8:30)
THURSDAY TO SATURDAY: 12PM – 11PM (LAST BOOKING 8:30)
​CLOSED: SUNDAY | MONDAY | TUESDAY
Eye Candy