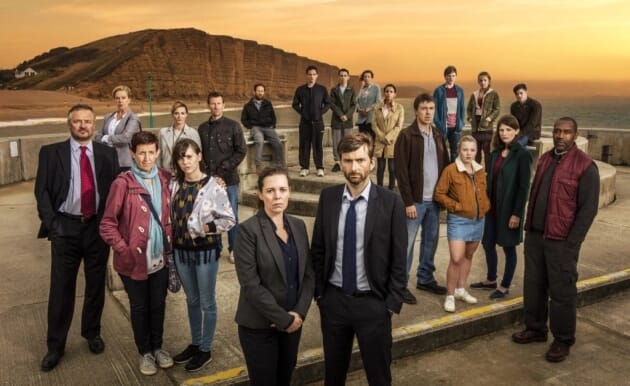 Broadchurch is a small harbour resort in Dorset called West Bay. You'll find it on that part of the Dorset coast that stretches up from Weymouth and Portland, and curves towards Lyme Regis and Exmouth.
Broadchurch the ITV hit drama was created by local writer Chris Chibnall who described Broadchurch "as a love letter to the scenery of the Jurassic Coast which uses key West Dorset landmarks as part of its story."
The name itself was created by combining Broadoak and Whitchurch Canonicorum, which are both villages of West Dorset.
Although its name is fictional, Broadchurch's beauty is not: rippled honeycombed cliffs fringing vast flats of cobalt blue sea, a vibrant harbour with bobbing fishing boats and friendly locals, and the nearby market town of Bridport, which buzzes with good humour throughout the year.
Yes, what you see on TV is as impressive in real-life, so much so that a visit to Broadchurch, whether it's to see the filming locations or not, is never a waste of time. Go any time of the year – even out of season the beaches and coastal views are worth it. Just remember to pack your autograph book in case David Tennant wanders by.
Main pic credit: Kudos/Imaginary Friends/Sister Pictures/ITV
---
Series 1, 2 & 3 | Broadchurch Filming Location: The Police Station
Broadchurch's Wessex Police Station, where detectives Hardy and Miller work, is actually one of two sets of sea-view flats and apartments in West Bay. The building is known as The Folly and you'll find it on Quay West. There's also a cafe, Windy Corner, on the ground floor of the second of set of flats – and the penthouse at the very top of this block was once owned by Pauline Quirke, who played Susan Wright in the show.
Find it: Quay West – DT6 4GZ
---
---
Series 1, 2 & 3 | Broadchurch Filming Location: Harbour Beach Cliff
With its honeycomb good looks, Broadchurch's sandstone cliff is one of the most memorable locations in the show. It's here that Danny Latimer's body was found in the very first episode. A stroll on the pebbled beach or a climb up the cliff is heaven in summer or in winter, although be warned: sitting underneath the cliff or straying near the edge is not allowed because it is very unstable.
Find it: Harbour Beach Cliff – DT6 4EN
---
---
Series 1 | Broadchurch Filming Location: Newsagent and Sea Brigade Hall
West Bay's Harbour News is still open for business today, serving ice-creams and newspapers. In Broadchurch, the newsagent was owned and run by murder suspect, Jack Marshall who was almost lynched outside the Sea Brigade Hall until Mark Latimer stepped in.
A few metres away you'll also find the Old Methodist Church, which doubled as the Sea Brigade Hall for the show. Today, the church still stands but is now the rather brilliant West Bay Discovery Centre, where you can go to learn about the fascinating history of the harbour town.
Find them both: Bridport Beach Front – DT6 4EN
---
---
Series 2 | Broadchurch Filming Location: Hardy's Riverside Home
The little blue cabin that was DCI's Hardy's home in Broadchurch sits on the banks of the River Brit estuary in West Bay, north of the beach.
This simple but striking wooden chalet was built in 1900 and has 2 bedrooms and a spot to moor a boat. You'll find it tucked away in a private spot near the harbour; on private land.
Find it: Riverside – DT6 4EZ
Pic credit: ITV/Screengrab
---
---
Series 2 | Broadchurch Filming Location: Jocelyn's House on the Cliff
Head up West Cliff in West Bay and you'll come face-to-face with the home of the Latimer's QC, Jocelyn Knight. Alongside the house itself, the cliff and its magnificent views right across to Lyme Regis were also a prime Broadchurch filming location – and once you visit it person, you'll understand why.
Find it: West Cliff – DT6 4HJ
---
---
Series 1 & 2 | Broadchurch Filming Location: Susan Wright's Caravan
Freshwater Beach Holiday Park was home to the slightly menacing Susan Wright in Broadchurch, played by Pauline Quirke. The park is an idyllic, secluded location just under 10 mins away from West Bay Harbour and has equally impressive seascapes. Fortunately, it's also quieter than West Bay which is probably why many of the cast and crew stayed here during filming.
Find it: Freshwater Caravan Park – DT6 4PT
Pic Credit: ITV/Freshwater Beach Holiday Park
---
Series 1, 2 & 3 | Broadchurch Filming Location: 
Danny Latimer Murder Hut
Briar Hut in Eype, just a few miles outside of West Bay, was the setting for the murder of Danny Latimer in the Broadchurch TV show.
You can get to it by foot via the South West Coastal Path from West Bay and over West Cliff. There's also a car pack nearby, Eype's Mouth Car Park, should you wish to leave the walking to someone else.
The hut is privately owned and although you cannot walk right up to it to peek inside, you can get close enough for a good photograph.
Find it: Eastern base of Thorncombe Beacon – DT6 6AL
---