The Package: A 2 night-stay at Larkbeare Grange, with complimentary afternoon tea, dinner at The Jack in the Green, and dinner at The Five Bells
The Cost: £300 per couple
It isn't perceptible at first, the green. It's waiting beneath a heavy black Friday night when I arrive at Larkbeare Grange B&B, in Talaton just outside of Exeter.
The only colours I see, as my tyres crunched down the last skinny lane of a 2-hour journey, are monochrome: bleached white trees hypnotized by the beam of my headlights, shadowy hedges towering like prison walls, inky black fields recoiling in the rear-view mirror.
But the next morning, the world looks different. Beyond the rose-bud curtains of my elegant Larkbeare Grange suite, is a green so juicy, so vivid, that it threatens to change the very colour of my eyes. A green so nourishing, so pure that I yearn to take one small, succulent bite of the landscape.
Even the lone sheep grazing in the field below my window is struggling to retain its whiteness.
The green grips my eyes, and does not let go. From the crisp trees lining the driveway like sentries, to the spring buds sprouting from the muddy earth in a fanfare of optimism – Devon is showing off her true colour to me. And I have a feeling it'll last the entire weekend.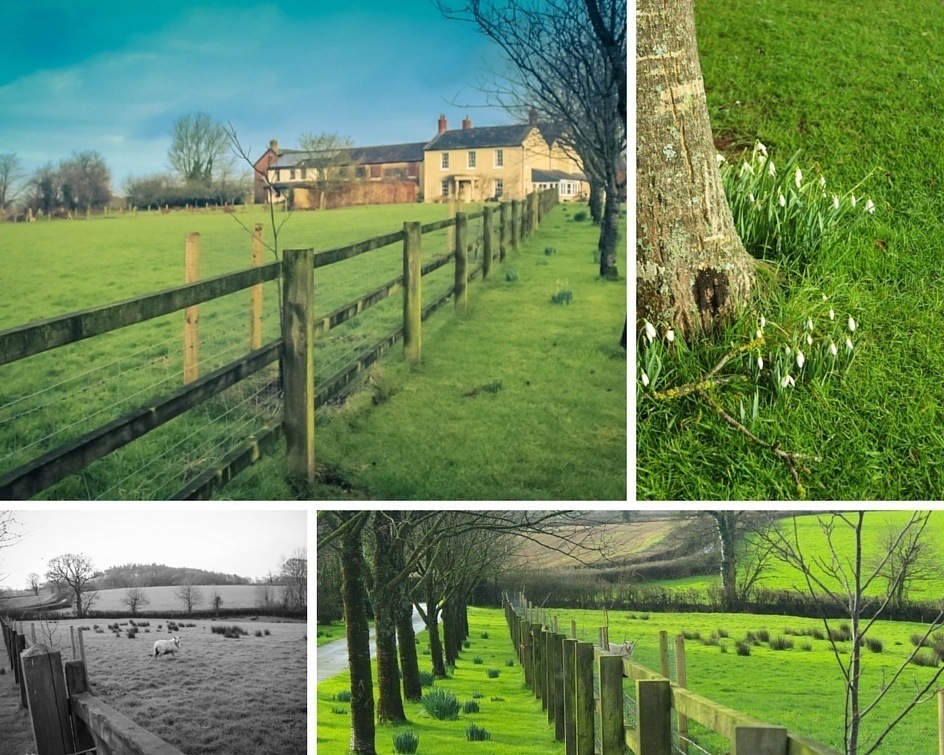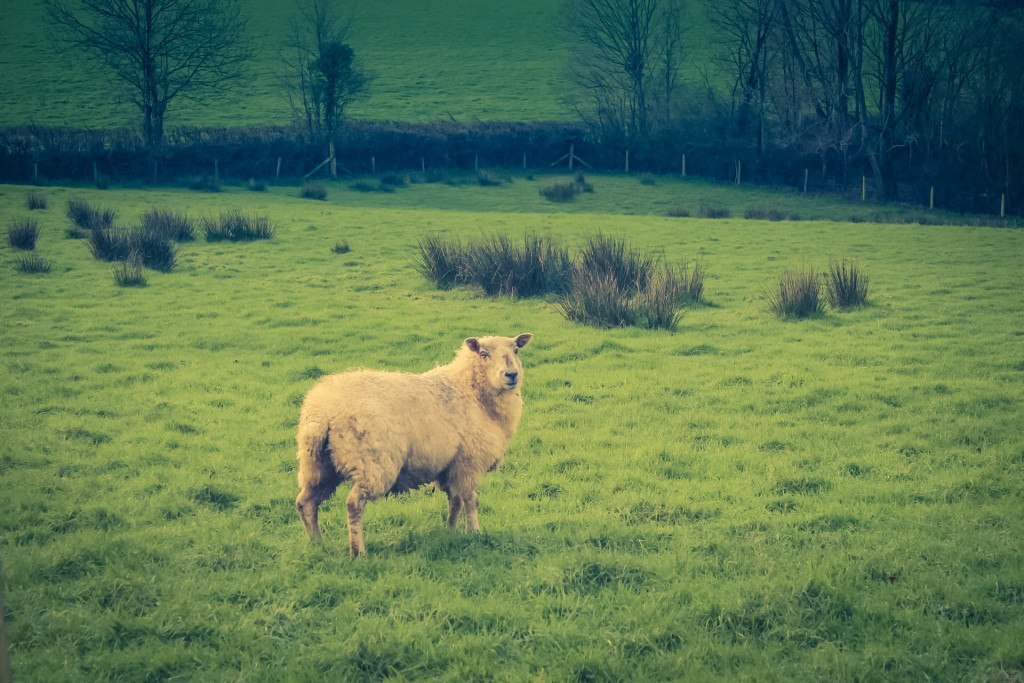 Staying at Larkbeare Grange B&B
The suite I'm staying in for 2 nights is a creamy cacophony of thick carpet, bouncy Egyptian cotton, heirloom oak, and Jane Austen-style English sophistication.
It's one of 4 rooms in Larkbeare Grange (1 is a suite) and is comprised of a pastel-lemon double bedroom, faultlessly elegant bathroom, and delightful dressing room, which doubles as a bedroom or children's den (there's even a second door to the landing so children can come and go without disturbing their parents).
All together, the suite is peaceful on the eye, soothing on the soul, and expertly provisioned (Birchall Fairtrade tea, Penhaligon's toiletries, a selection of second-hand books above the fireplace, free Wi-Fi).
Best of all, it's softly sound-tracked by the reassuring tick, tick, tick of the downstairs Grandfather clock.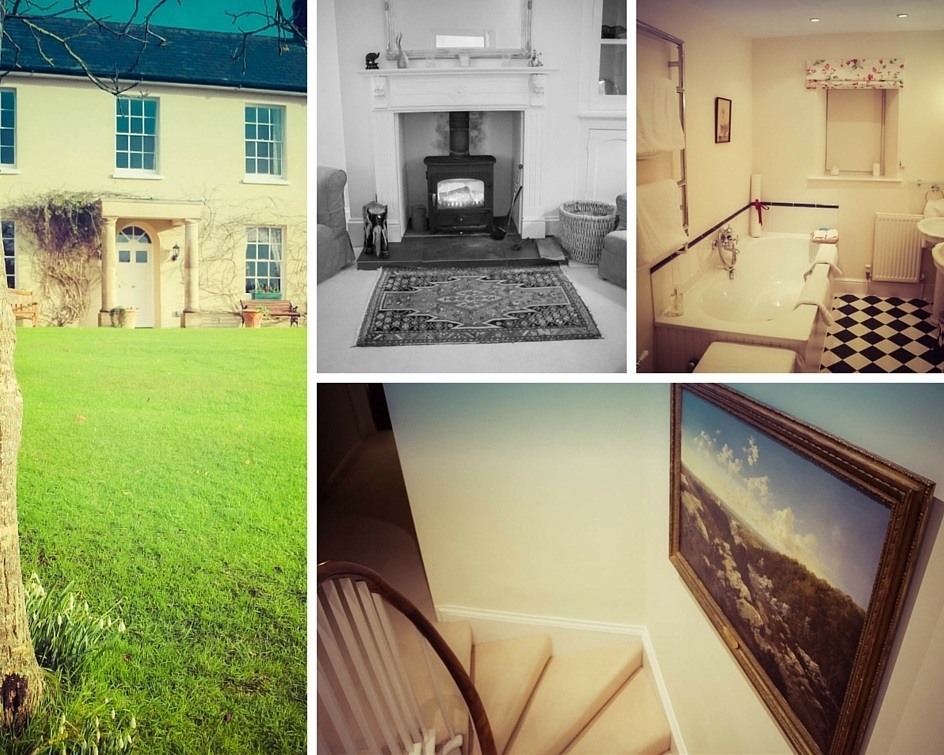 Although it may be creamy on the inside, with the exception of the mahogany and jade dining room where breakfast is served, Larkbeare Grange has a verdant heart.
A peek at Larkbeare's website uncovers enough eco-credentials to make the Eden Project flush green: a Gold Award from the Green Tourism Business Scheme, 4 stars from Visit Britain, Visit England Breakfast Award, and inclusion in Alastair Sawday's Ethical Collection.
Some further research reveals that Larkbeare Grange is almost 100% self-sufficient. It generates its own electricity thanks to solar panels, runs low-energy appliances, and treats sewage without chemicals, using its own Bio-system to clean waste water.
Instead of succumbing to the traditional British B&B stereotype, Larkbeare is happy to rank as one of a new generation of B&Bs. Those that are redefining the genre by creating highly individual places to stay.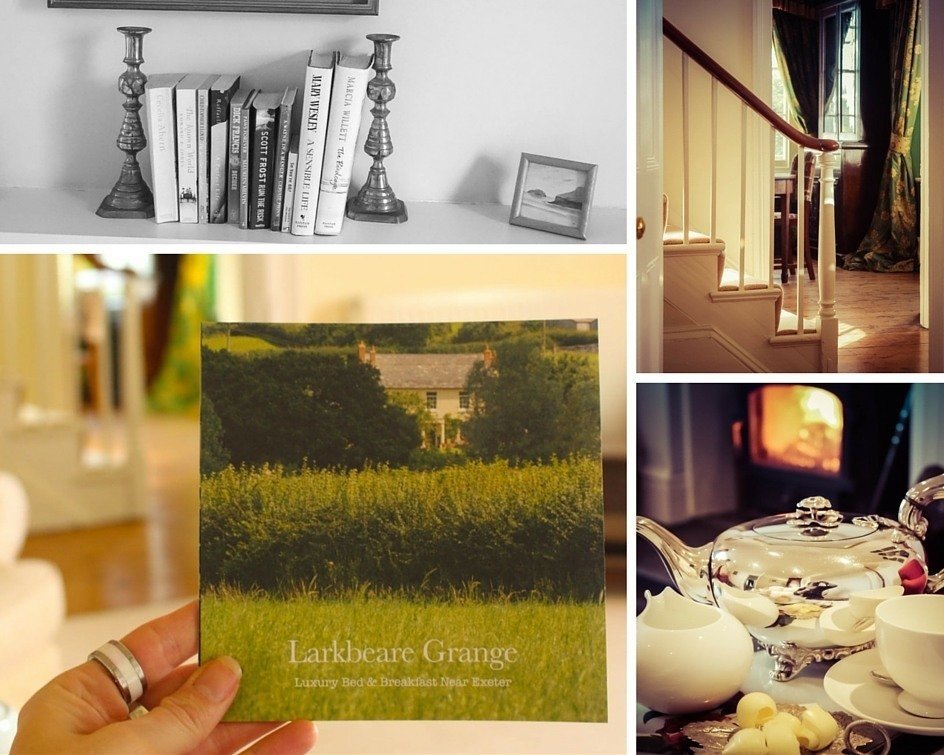 As such, green living isn't just a trend here, it's a way of life for Larkbeare's owners, Julia and Charlie Hutchings. They buy locally and grow their own fruit, which Julia then makes into juicy Larkbeare-labelled preserves for guests to smother onto homemade bread come breakfast or pile onto homemade scones when Afternoon Tea is served.
Along with their commitment to the environment, Julia and Charlie bring additional colour to Larkbeare; they brighten your stay with golden hearts.
If you want to wander about Larkbeare's grounds, it'll be their pleasure to show you the way. If you fancy exploring beyond the horizon, they'll prepare their bikes for you. If you want more milk in your room, more logs on the fire, more homemade flapjack, tea, coffee, or chat – consider it done.
And this is not just a product of their pre-Larkbeare lives: Charlie worked for the Savoy Group in London and Julia spent many years working in Hong Kong and America.
This attentiveness comes because they view you as friends, not simply paying guests. The couple I chatted to over breakfast on the Sunday morning stayed at Larkbeare more than once for that very reason – they felt completely at home here. As did I.
And the concerned email I received from Julia after my house was burgled a few weeks back, was further evidence that her warmth, along with her husband's, comes from a very green and very good place.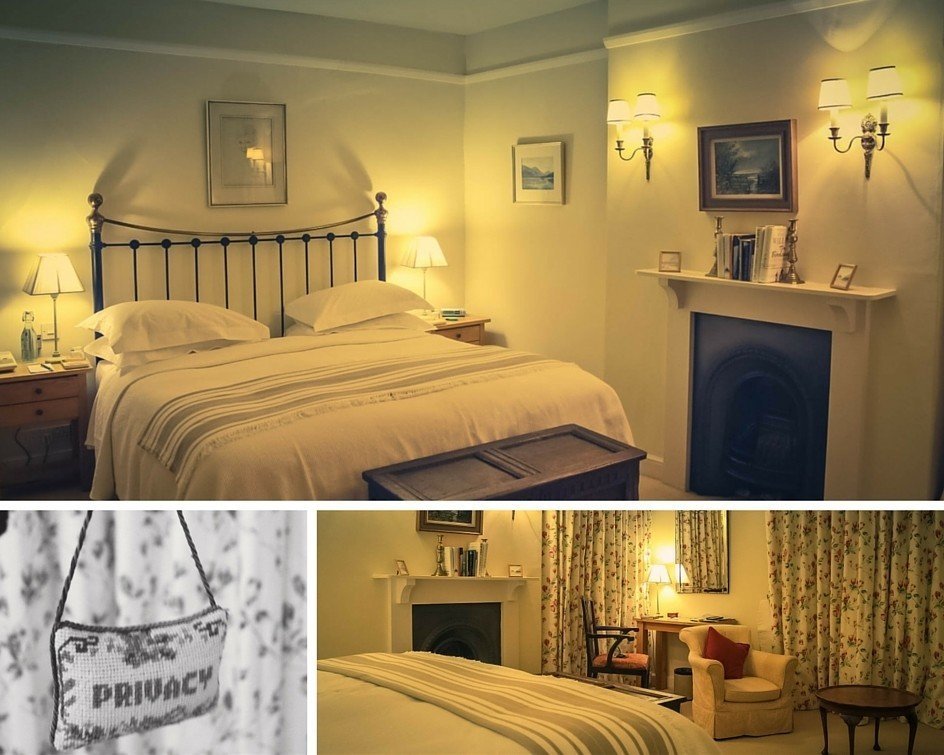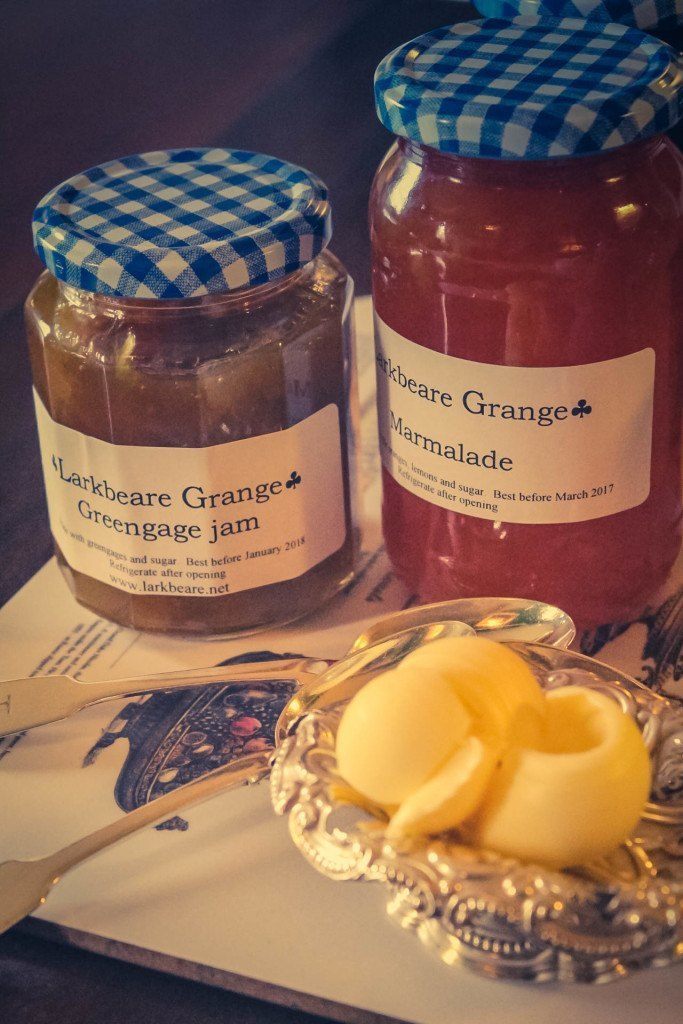 ---
Dinner at The Jack in the Green
As part of my Foodie Weekend in Devon, I am booked in to have dinner at the Jack in the Green on the Friday night. The Jack, as it's known locally, boasts a Michelin Bib Gourmand – an award by Michelin for restaurants offering 'exceptionally good food at moderate prices' – so my expectations are high.
As I pull off a busy, wet main road to The Jack, which sits road-side virtually mud-splashed by passing cars and lorries, doubt creeps in: despite its bucolic name, The Jack in the Green isn't the country idyll I was expecting; the tranquillity and finesse of Larkbeare seems a millions miles away (in reality, it's 5 minutes' down the road).
Turns out, you should never judge a Michelin Bib Gourmand pub by its cover.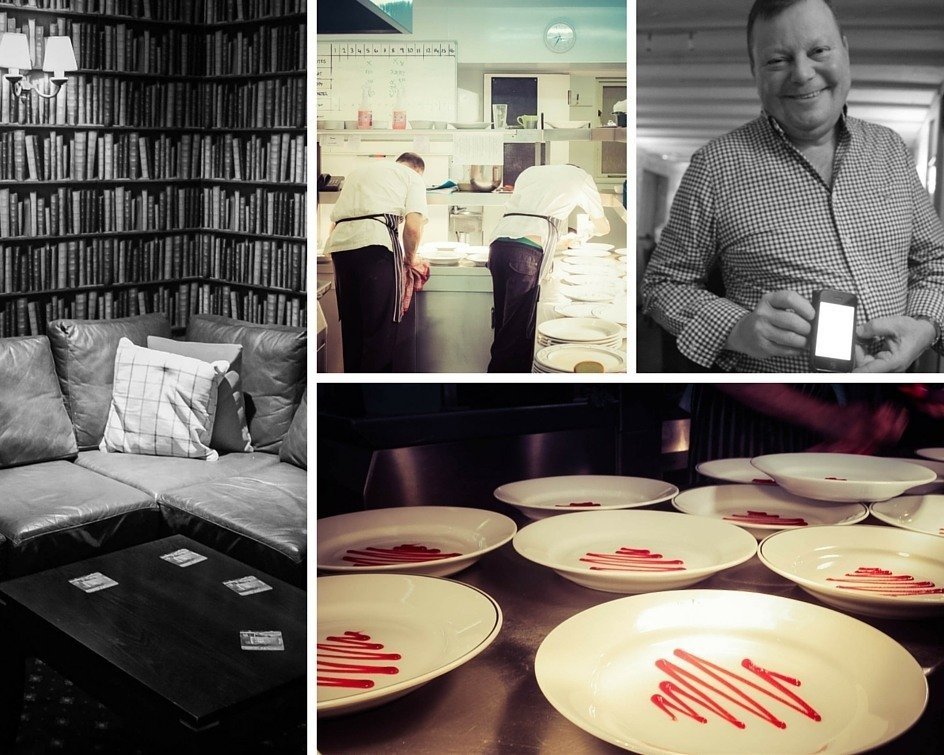 I've not taken my coat off when Paul, The Jack's energetic owner, has thrust a flute of Prosecco into my hand and is arranging for Julia to collect me later so I don't have to drive back.
Although, I politely decline (surely, that's too much to expect from Larkbeare? It's not, as it turns out), I am starting to see why people go for The Jack in the Green.
Paul's affability continues throughout the night. I'm given a tour of The Jack and discover a sprawling place with smiles and laughter packing each room, whilst waiting staff zip by as skilfully as dragonflies. I'm then shown to a bustling, smart restaurant and given a hard copy proof of the Jack's soon-to-launch cook book – to keep me company because, "I'm dining on my own".
There's something so real and honest about The Jack. This is especially true of the food.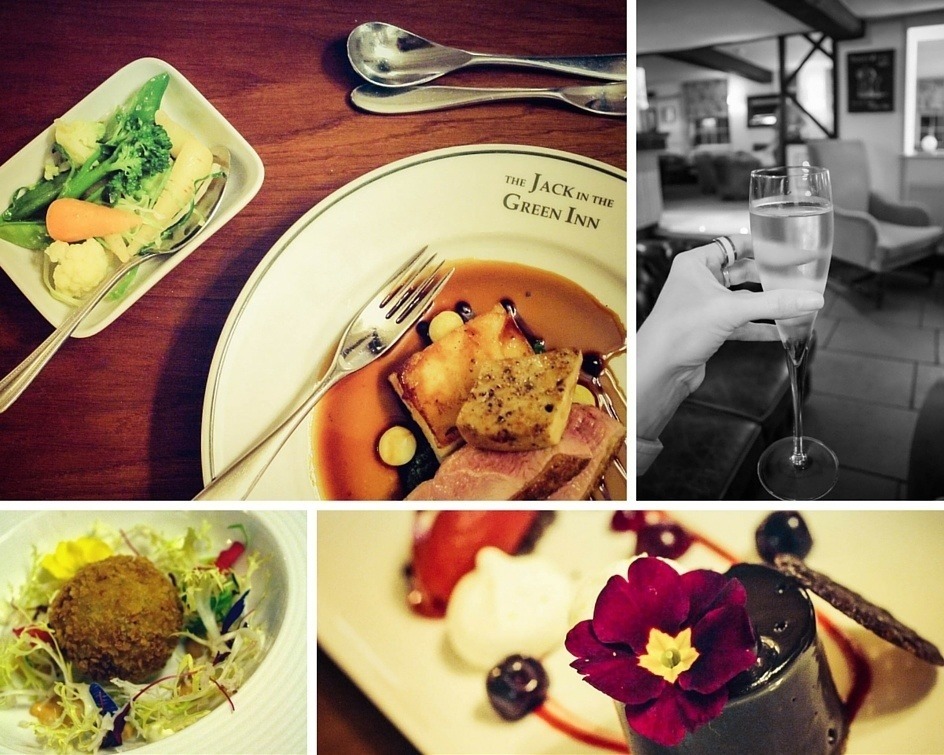 The menus created by Head Chef, Matthew Mason (who's been steering the Jack's talented kitchen team for 20 years), are inspired by the richness of the West Country itself; its people, its soil, its seasons, its spirit. Hence why The Jack's suppliers are local, and the friendship between the pub and providers is evergreen.
One of The Jack's menus is the 'Totally Devon' menu – a celebration of Devon suppliers (£25 for three courses). There's also a 'pub grub' offering, which you can mix and match with the 'a la carte' menu if you wish. Anything goes. Leave your gastro-pub pretensions at the door, please.
For my dinner, I start with Lyme Bay Crab Cake with Lemon Mayonnaise then, whilst trying to come down from the high – I kid you not, I have never tasted crab cakes so light and refreshing – I'm served a surprise amuse bouche of Seabass with Sweet Pepper and Fennel, with Orchard Pig Ginger and Chilli juice to wash it down.
The seabass takes me to a place I've never been to before and leaves me grinning idiot-like when I'm asked if I've enjoyed it.
The scenario is repeated after I've gobbled up my main: Maple Glazed Creedy Carver Duck Breast with Griottine Cherries and Potato Dauphinois – Seriously, How does a pub just behind Exeter airport produce food that tastes this good? – and again as I nose-dive into a pudding of Dark Chocolate Ganache, Griottine Cherries in Kirsch, Cherry Sorbet and Meringue.
Safe to say, that evening, The Jack proves himself to be exceptional at all trades, and I promise – with my hand on my heart: Jack, I'll be back.
Food: 10
Atmosphere: 10
Service: 9
Price: Mains between £12 – £28, desserts £6.50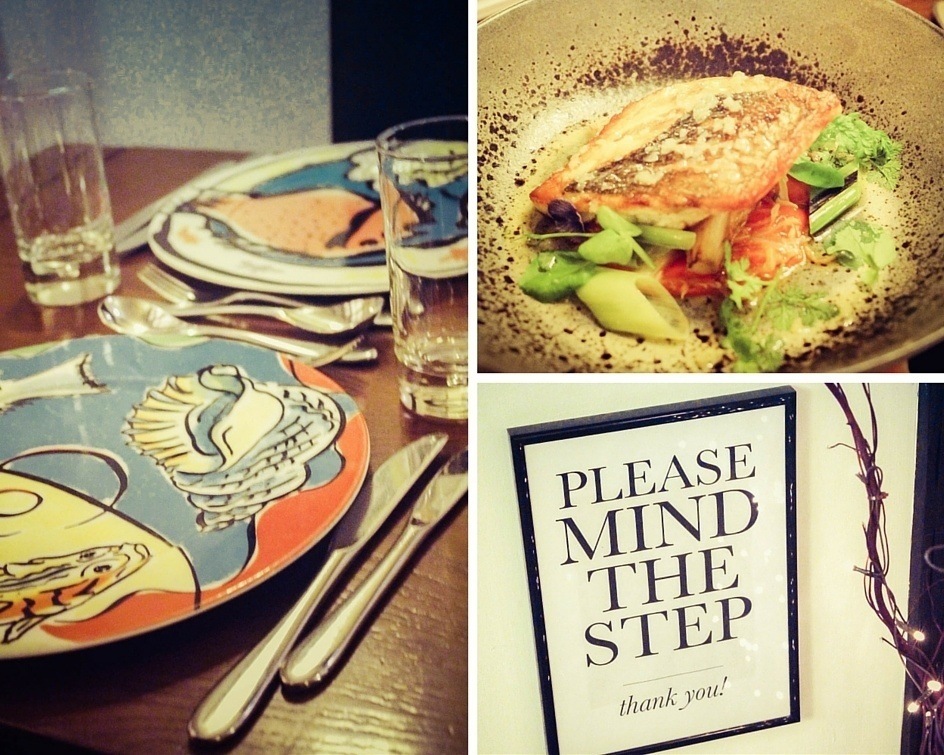 ---
Dinner at The Five Bells
After a sleepy Saturday afternoon tucked up by the log burner in Larkbeare Grange's guest lounge, Saturday night comes as a bit of a shock.
The blustery blackness has returned and I find myself venturing out into it, with directions from Charlie in hand, heading for my second Foodie Weekend stop: The Five Bells in Clyst Hydon– sister pub to The Jack in the Green.
Trusting my instincts rather than the directions, I get hopelessly lost and arrive late for my table.
The Five Bells is everything I'd expected from The Jack: clipped green lawns, coiffured rose bushes, 16th-century white-washed walls and an achingly-neat thatched roof. The countryside charm continues inside with smooth flagstone floors, sleek black-timber-clad bar and restaurant, and an understated livery of calming coastline colours dressing the main rooms.
It's such a contrast to The Jack in looks (and clientele) it's hard to believe both pubs are owned by the same team; the regulars at The Five Bells wear tweed and, fittingly, a shooting party is just finishing up after a good day's sport when I sit down for dinner.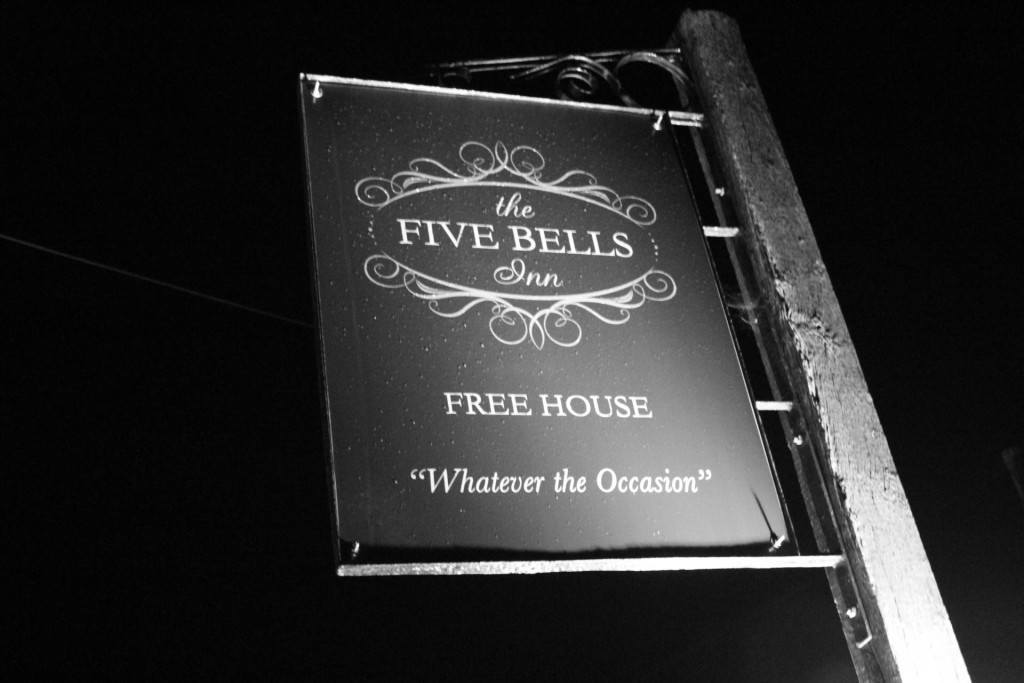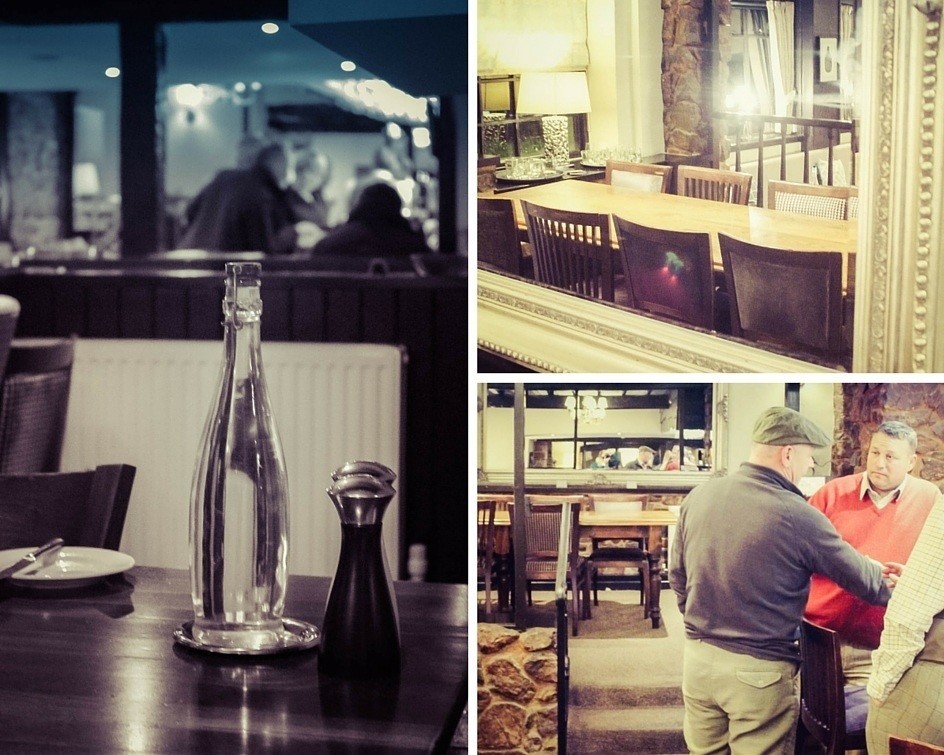 But like The Jack, this countryside charmer also boasts a Michelin Bib Gourmand and a buzzing kitchen of talent: the Head Chef from the Michelin starred Gidleigh Park at Chagford, Ian Webber, leads the team and there's 5-star service from the bar and waiting staff, too, who are attentive to my every gin-based need.
Classic pub food done well is the mantra here and everything I devour (no other adjective will do) that night proves it true.
Menus range from a set to a tasting menu and there's a vegetarian menu to boot. As per The Jack, The Five Bells offers seasonal deliciousness sourced from the Devonish countryside in which it has its heart.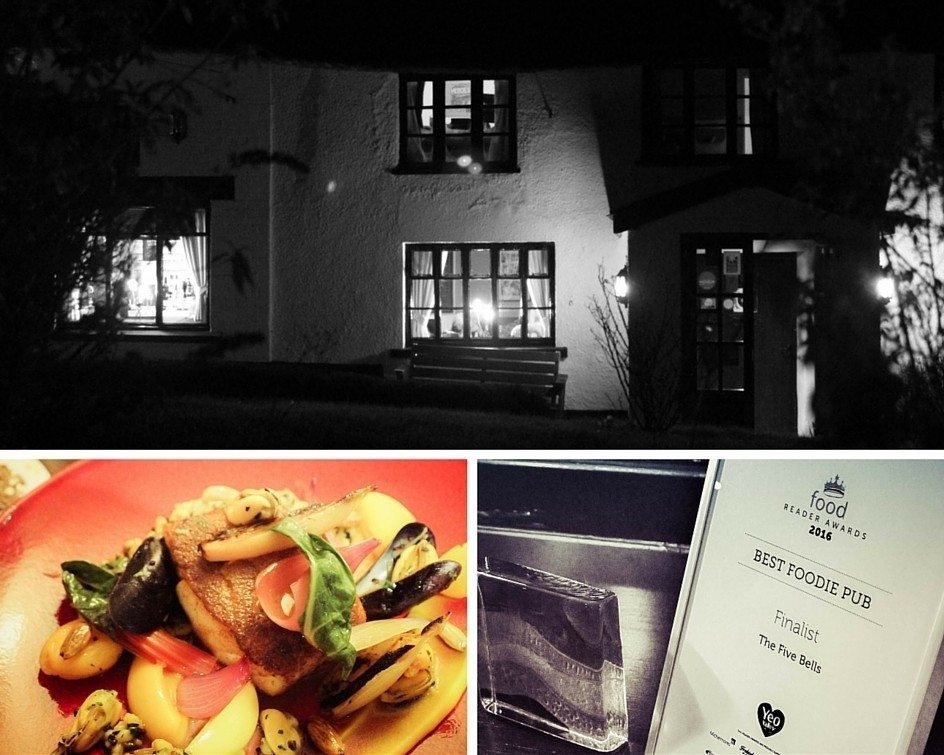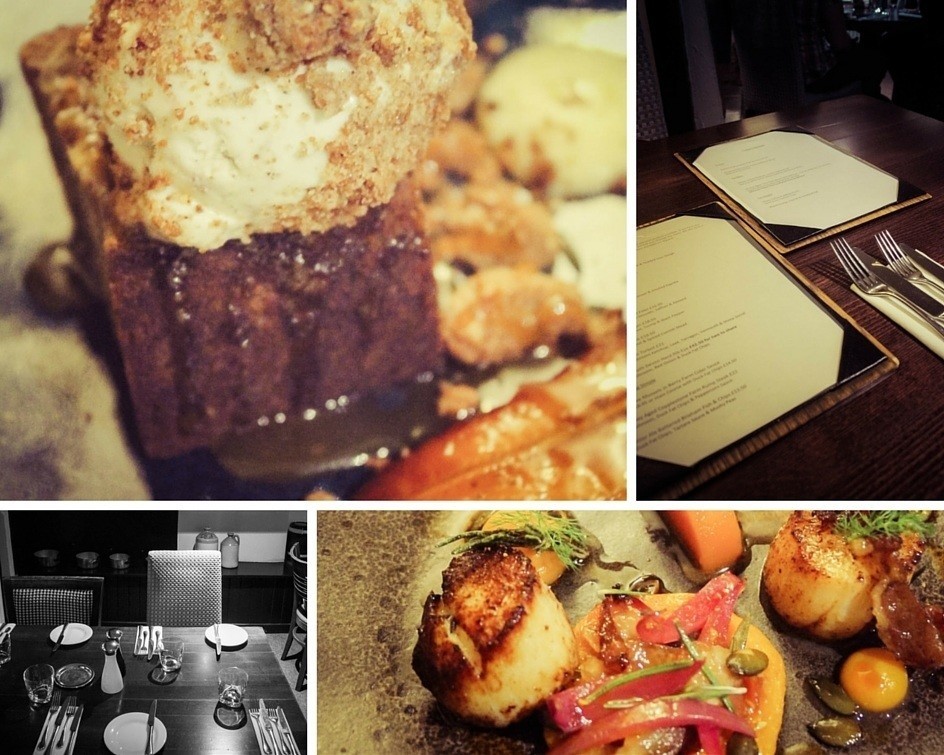 First up, I'm seduced by the scallops: Brixham Scallops with Butternut, Dorset Pancetta, Fresh Fennel Seed and Smoked Paprika – it's a starter that totally convinces me scallops have merit (previous dishes have left me underwhelmed before).
I then deep dive into Fillet of Lightly Curried Brixham Cod, Pickled Apricot, River Exe Mussels, Saffron and Almond. By this point my tastebuds are partying like it's the 1990s and Take That have just released a new single. Yes, the food is that good.
To finish, I tumble head-first into a pudding of Banana and Lime, Peanut Butter Ice Cream, Vanilla and Fudge, and nearly succumb to a food coma from the sweetness that assaults my synapses.
Two words: Ding. Dong. The Five Bells hits just as gastronomically hard as The Jack, although the inside Lindy Hops to a different tune, and I head back to Larkbeare Grange for my final night utterly convinced: the grass is greener in Devon.
Food: 9
Atmosphere: 9
Service: 10
Price: Mains £12 – £15, desserts from £6.50
"Green is the prime colour of the world. And that from which its loveliness arises." Pedro Calderon de la Barca.