🛌 Sleeps up to 5  | 🌳 5 eco safari tents by the River Wye | 🥐 Food hampers and on-site activities available | 🥂Ideal for romantic weekends and girls' weekends
One glance at the name of this beautiful glamping experience in the Wye Valley and you'll know why it's worthy of your weekend. By The Wye is, as you'd expect it to be by the River Wye in Herefordshire – and heavenly because of it.
However, the site's riverside location is just one irresistible part of this Wye Valley glamping package. Yes, the cool, clear waters pass just metres from where you rest, eat and relax – lulling you to sleep and stirring you awake.
But there's something else that soothes your senses: the rustle of leaves and the soft sound of the canvas fluttering in the breeze. By The Wye, you see, is a collection of 5 luxury safari tents that roost in the treetops, face the river and look towards the nearest town of Hay on Wye.
There is no pitching to be done here. No sleeping bags to unfurl. Your home for the weekend is ready for you when you arrive; each tent is cantilevered up on the banks of the river, so you can see eye-to-eye with the birds.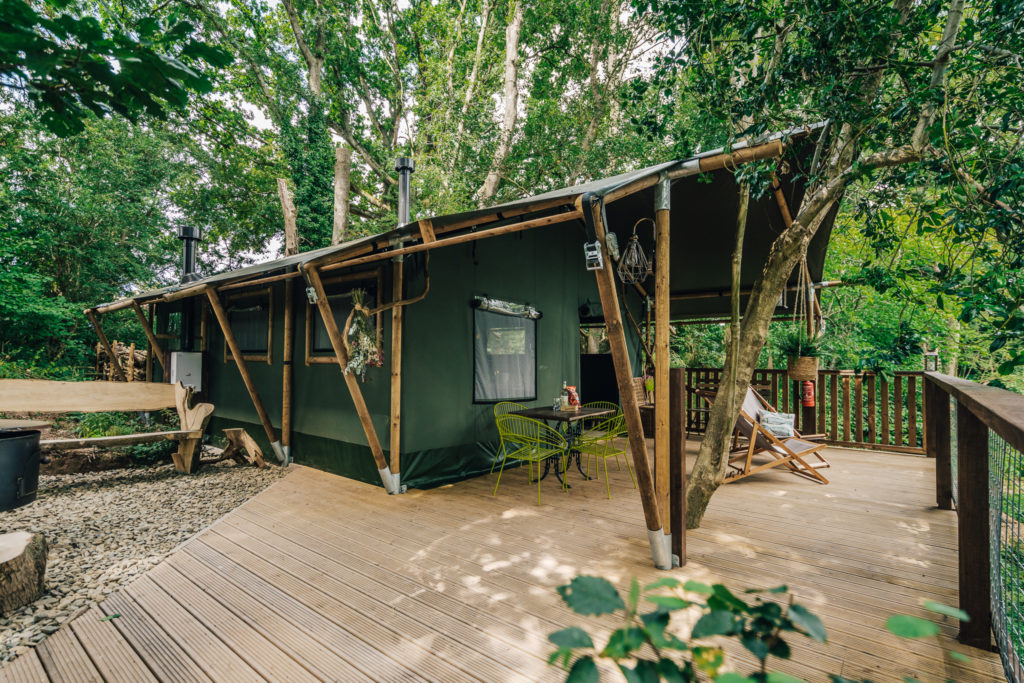 Each tent on this Wye Valley glamping site has slightly different features and personality so you can chose which best suits your needs (choose from The Cwtch, The Ivy, Ash, Holly and Meadow).
But all share boutique hotel comforts that make a stay here so wonderful, including beautiful beds, plump sofas, log burners, running water, flushing toilets, eco-friendly toiletries, covered decks, and fully-equipped kitchens.
Outside, there's a fire pit and separate picnic table near the water, as well as the dark skies of the Brecon Beacons spread overhead – so you can cook under the stars if you wish. Or, if you prefer, you could head into one of our favourite towns – Hay on Wye, which is a mere 20 minute walk away – for some local warmth and hospitality.
From £130 pn (min stay 3 nights)
Eco-friendly site; tents sleep up to 5
Meal boxes available
Complimentary starter pack of firewood
Free car parking
USB charging points
Perfect for families
Find it: ///fragment.thrashed.aged
Eye Candy