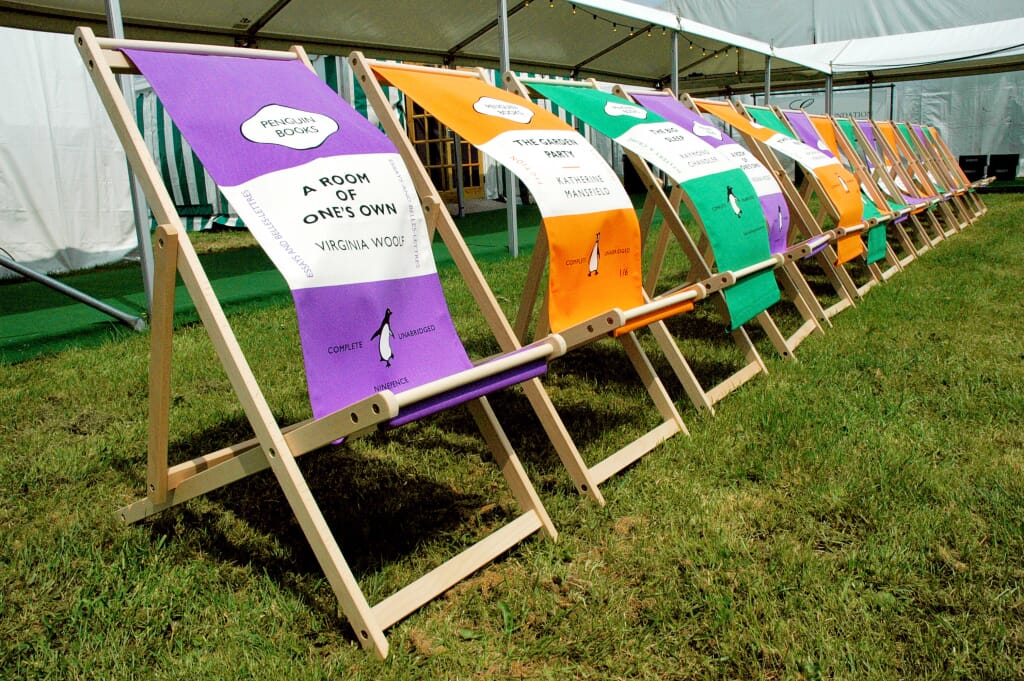 Of course, you've heard of Glastonbury; the world famous greenfield music festival. But have you heard, my friend, of the Hay on Wye Festival of Arts and Literature?
Hay is THE McDaddy of the literature festival scene. To the outsider, this 10-day festival might look like another parochial British distraction; especially given its obscure location in a quiet Welsh market town at the edge of the Brecon Beacons – Hay on Wye. But glance quickly at Hay's alumni, and you soon realise that it is an annual event that's anything but small time.
---
Why is it like Glastonbury?
Glastonbury may be a tsunami of musical greatness, but Hay on Wye is a monsoon of literary genius: Bill Clinton, Martin Amis, Jung Chang, Salman Rushdie have all spoken at Hay over the years, and every year the schedule of events and speakers just gets bigger, better and bolder.
In fact, Hay Festival is one of the world's top literary events, with sister festivals in Belfast, Beirut and the Maldives; Bill Clinton famously endorsed it as: 'The Woodstock of the Mind'. And Labour MP Tony Benn once said, 'In my mind it's replaced Christmas'.
Founded in 1988, by Norman Florence and his son Peter, who wanted to build the town's reputation as a book town, Hay Festival attracts upwards of 100,000 visitors every year alongside writers, ideologues, politicians and celebrities.
Hay on Wye is intimate in size, yet colossal on importance. Yes, you can camp, but not on-site. And unlike Glastonbury there are no huge fences to try and scale (if you're that way inclined). The site is accessible to all, whether you have a ticket or not. You buy tickets based on who you want to see.
---
What makes the Hay-on-Wye Literature Festival unique?
Despite attracting the kind of world-class literary brilliance you'd expect to find in London, New York or Sydney, Hay Festival has the same humble village vibe that you'd get at a fete; an atmosphere that sees families kick off their shoes and grab some R&R in deckchairs, whilst alongside them erudite performances, film screenings and readings ignite minds.
The main festival is set amongst fields of juicy-ripe Welsh countryside, ten minute's walk from the quiet village of Hay-on-Wye itself, under a lattice of tents and green-felted walkways. To get to the festival, you can park in the town car parks or head nearer the site itself where there are a scattering of charity-run carparks.
Is there any music at all?
Well, actually no. There is a rival festival in Hay which pops up in the grounds of an old chapel in Hay: How the Light Gets In is a highly popular philosophy and music festival (it's name comes from a Leonard Cohen lyric).
Although it's only 3 years old, How the Light Gets In is already pulling in the big names – philosophers AC Grayling and Mary Warnock and the poet Simon Armitage have been seduced to appear. As have musical VIPs, including Maria McKee, Rae Morris, and Cara Dillon.
---
Are there places to eat or shop nearby, perchance?
No festival is an island (except the Isle of White Festival, cough) and the carnival ambience drifts on the soft Welsh breeze all the way into the town.
Drift in its direction, and you'll discover a charming town that's more than happy to tap along to the festival rhythm: bands play, food stalls sizzle, pop-up shops spring up in homes, celebs wander the curving streets, and 'families kick off their shoes and grab some R&R' on any spot that's free.
It's a town that's fiercely protective of its individual character and local life – you won't find major high street chains here. Thank God. Instead, there's a scattering of independently-owned eateries, antiquarian shops and soul-pleasing boutiques. The Old Electric Shop, and Eighteen Rabbit get our thumbs up.
---
What's this about lots of book shops?
Yes, for us self-confessed book worms, visit Hay on Wye and you'll find two-dozen second-hand bookshops to titivate your grey cells – for Hay on Wye is nicknamed the 'Town of Books' and claims the mantle as the world's second-hand book capital.
Our advice? Weave Hay's spiderweb streets and make your way to these 3 excellent examples:
Murder & Mayhem – this curious shop is dedicated to true crime classics and detective fiction. The books aren't the only thing worth checking out: the interior and exterior decoration is fiendishly bizarre.
Richard Booth's Bookshop – Booth is famed for starting Hay's book kingdom reputation in 1962. Head to Lion Street and you'll find the eponymous shop, the largest in Hay with an elegant facade and equally handsome 3-story interior.
Castle Walls Books – a charming honesty bookshop set within the grounds of Hay Castle. During festival time, the walls also play host to half a dozen food stalls with picnic tables.
---
I'm sold – when can I go to the Hay Festival?
The Hay Festival runs for 11 days around the summer half-term holidays. Next year, 2023, it runs from Thursday May 25th – Sunday June 4th. To find out when tickets go on sale, and who's appearing next year, it's worth signing up for the
Festival newsletter.
How do I get to Hay?
Hay is approximately 75 minutes' drive from Gloucester, just over 4 hours from London, 45 minutes from Abergavenny and 40 minutes from Hereford.
Trains from London Paddington go to Hereford – usually with a change in Newport, though there are some direct trains with London Midland.
---