🕰 3hr gin experience | 🥂 Welcome G&T on arrival | 🍸 Gin tasters & cocktails throughout | 🥨 Light snacks | ❤️ Includes Cheltenham distillery tour | 😘 Up to 10 people per session | ⚡️ Brilliant for hen weekends or girls' weekends  |📍Staverton, Cheltenham | 👉 £150 for 2
Why we love the Piston Distillery Gin Experience in Cheltenham 
Not only has Piston Distillery cracked the code on the perfect London Dry, they've matched it with a terrific Cheltenham gin tasting and blending experience that'll put you all in high spirits. Expect three laugh-fuelled hours of gin learning and lovin' led by an exceptional team who'll keep the good times flowing. Whatever you do, remember to book a ride home.   
Piston Gin, born in Worcester in 2018 and founded by car enthusiast Nick Weatherall, has been taking the world by storm – racking up double gold, gold, silver and bronze in the San Francisco World Spirit Competition. Gin lovers in Cheltenham can now taste exactly why Piston is racing ahead thanks to the new Piston Distillery that's opened in a quiet spot by Staverton airport, just outside of town. Hallelujah.
Here, in a sleek loft space gleaming with mini copper stills and stainless steel overheads, your tipsy tasting and blending experience kicks off. First up, the brilliant Distillery crew serve you a cold Piston G&T of your choice from the drinks menu. Revved up and raring to go, you take your place at a copper still work station (set-up like a funky lab with a botanicals mixing menu, distilling beaker, empty 700ml gin bottle and three 'drink' chips that you can exchange for a cheeky tipple at the Piston Bar).
After a mini briefing, you head to the heart of Piston Distillery where you'll discover gin's starring role in the Dutch battlefields and its darker days in the gin palaces of London thanks to a deep dive into gin history. You'll also discover the secrets of gin alchemy, including the botanical building blocks of great gin and how to use the equipment for the best results. Plus, you'll get tips you can use to create your own gin blend.
Back at gin-blending base, your copper distilling still is pre-loaded with pure alcohol. Your next job? Mix and match your botanicals to create a blissful gin brew to bottle, name, label and take home. There are 70 botanicals laid out in jars for you to choose from. Simply roll up your sleeves and crush, touch, and taste the ones that take your fancy. If you get stuck, the Piston Distillery team will nudge you in the right direction; and you can record your decisions on your gin mixing sheet (in case you're a bit too giddy to remember what you choose later).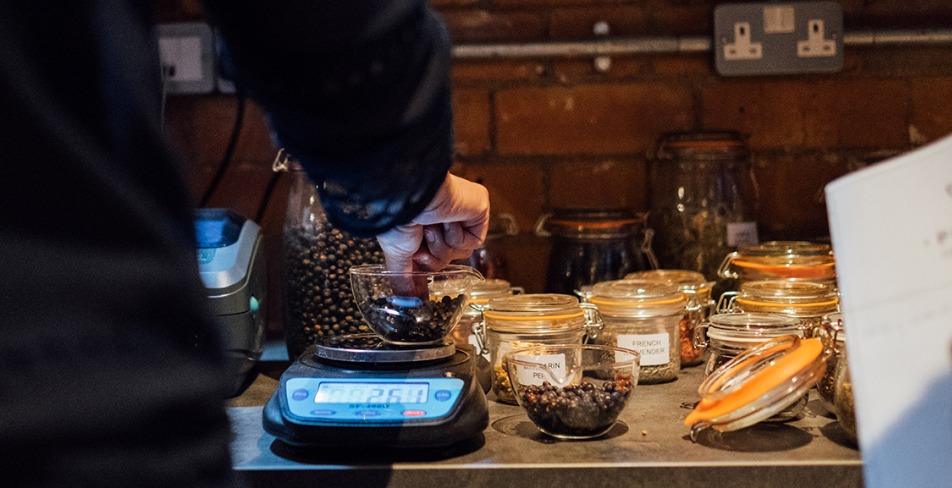 The whole gig is wonderfully jolly. In no time, you'll be comparing notes with new friends at the stills, exchanging ideas for names and giggling your way through the very attractive and exceptionally tasty Piston cocktail menu. When your bespoke gin blend is ready, the team bottle and label it for you to take home – and, if you're anything like us, you'll probably open immediately. Safe to say, this is one Cheltenham gin tasting and blending experience that'll definitely leave you Pist-on Gin.
"A great big thank you… for an amazing afternoon of gin school on Saturday and what a great place Piston Gin is. Super gin school experience and and great fun and was very impressed with the their knowledge of gin a credit to themselves and piston gin company. I can't fault any part of this experience and will definitely be coming back again."
The Essentials
Brilliantly immersive, fun gin tasting and making experience in Cheltenham
3 hr experience; 1-2 people per workstation
Includes a selection of free Piston G&Ts, along with lights snacks and nibbles
Enjoy an amazing selection of cocktails from the Piston Bar
Perfect your recipe using over 70 botanicals
Take home your own 700ml bottle of gin
Exclusive hire for birthdays, hen dos and corporate events available
Eye Candy