🌳 4 cool & quirky retreats  | 🛌  Sleeps 2 in each  | 🙆‍♂️ Adults only  | 🍃 Eco-friendly | ⛵️Private lake | ⚡️ Free-range alpacas and meet the wallabies |  🌙 Min stay 2-nights  | 👠 Great for Girls' Weekends and Romantic Weekends
---
£25 OFF 3-night weekend stays Frid – Mon
---
Why we love Acorn Glade Glamping near York for a weekend
"If Dr Dolittle took a staycay with his human friends, we're pretty sure it'd be at Acorn Glade glamping near York. This storybook site comes with its own menagerie of animals who like to stop for a chat as you sip your morning coffee. Including Sydney of Melbourne the wallaby and Hobnob the alpaca. So, take off your top hat, hang up your cane and get set for award-winning glamping that's as quirky as it is soul-soothing. PS: you don't need to speak 'wallaby' to stay here." 
Acorn Glade glamping near York is huge on personality. Set in three acres of lush meadowland in Melbourne, East Yorkshire, this playful, natural idyll has been mindfully created by fun-loving owners, Wendy and Andrew, to offer you an original break away.
Come here for a long-overdue get-together with your friends and you'll see why Acorn Glade has wall-to-wall 5-star reviews from past guests as well as a run of awards.
On site, you'll find 4 individual and bespoke retreats with gorgeous upcycled interiors, sleeping 2 adults, and two communal buildings: the Chicken Shed (a modern wash block and kitchen) and the Roost (a sitting and dining room with cosy seating, books, parlour games and crafting). Each unit overlooks the freshwater lake and is brimming with individual character – so much so, that many guests return just to experience a stay in the yurt, log cabins or new roundhouse.
The Stays
Rose Hollow | Log Cabin | Eco-insulated | Communal Toilet | Sleeps 2
A one-of-a-kind hand-built cedar cabin with uninterrupted views over the lake from the veranda. We love the diamond-shaped windows, irregular fairytale shape build and charming accessories, such as hand-stitched bunting and felted birds. There's a king-sized bespoke log bed, log burner with logs, USB charging point, solar lighting, table and chairs, single-ring gas burner and kettle, complimentary tea and coffee, hot water bottles and covered deck with double rocking chair.
Bluebell Lodge | Timber Lodge | Compost Toilet | Sleeps 2
A traditional wooden lodge that's loved by all who stay in her (especially artists and writers who crave her peace and tranquility). Throw open the double-glazed doors and laze in your doughy king-size bed as the sounds from outside wash over you. There's also a log burner with logs, single-ring gas burner and kettle, solar fairy lights, solar-powered lamp, composting toilet, and covered decking with double rocking chair.
Poppy Yurt | 16′ Wooden Framed Yurt | Off-Grid | Communal Toilet | Sleeps 2
Pretty Poppy Yurt makes for a sweet rendezvous for 2 of you. You'll find her in the wildflower meadow, with views over the lake that you can enjoy seated on your deck just outside. Inside, Poppy is as cosy as can be with a unique criss-cross wooden frame covered in white canvas and dressed with poppy-themed decor. There's a springy double bed to hunker down in, log burner with logs, single-ring gas burner and kettle, solar fairy lights and solar lamp, decking with bistro table.
Daisy Roundhouse | Wooden Lodge | Fully eco-insulated | Compost Toilet | Sleeps 2
Daisy Roundhouse is a deliciously-chunky 6 metre circular lodge with a wrap-around deck and a sensational view over the lake – designed by Wendy. Every inch of Daisy Roundhouse has been carefully handcrafted from larch wood. Inside, she boasts a magnificent thick-timbered bed that could've walked off the pages of a children's fable, along with a dining table and bench, log burner with logs, electric kettle, double-glazed tilt and turn windows, phone charging points, electric lighting, and fairy lights. There's also an attached private compost loo, amusingly called the 'Throne Room', which pretty much sums up the good humour and spirit of this wonderful glamping site near York.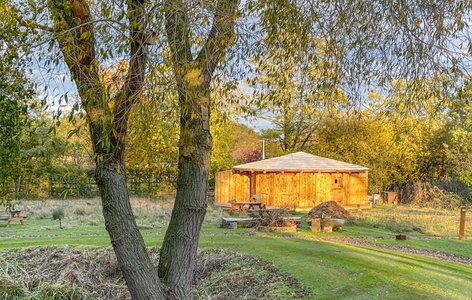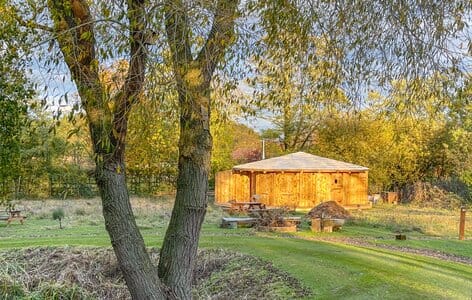 The Experience
Forget having to feed the dog or chase the kids (this is a grown-up only site). At Acorn Glade you and your pals can just chill, chat and catch-up, swapping stories in a peaceful bucolic bubble all of your own. Once here, you hardly have to lift a finger: pre-order freshly baked breakfast, afternoon tea, or birthday cakes and they'll be ready for you. Vintage bikes to hire are soon to be added to the site's bolt-ons, along with Indian head massage.
Added to that is the sheer tranquility of your surroundings. The water and woodland area of Acorn Glade is a designated Local Wildlife Site where you may see migrating birds, wild fowl, dragonflies and damselflies, as well as fish and amphibians.
If you wish to fish during your stay, you can: there's a still-water fishing lake stocked with an abundance of different varieties of fish (day fishing passes are available upon request). Or, if you want to watch the birds, there is a dedicated bird-watching hide tucked into the woodland area along with bird boxes dotted around the site.
And of course, the alpacas and wallabies will definitely make you smile – but please try to resist popping one in your handbag before you leave.
⭐️⭐️⭐️⭐️⭐️
'Best place on earth… FACT!!'
"Acorn Glade,️ where do I begin… I am completely in love with the place! We have been 3 times in the space of a year and we normally stay in Rose Hollow (which is beautiful by the way) but this time we stayed in the new Daisy, and my goodness it did not disappoint in the slightest! Go see for yourself, I promise that you won't be disappointed and it'll become a piece of your heart too!" TripAdvisor Review️

Award-winning adults-only glamping site near York
From £80 per night/minimum 2 night stay
Eco-friendly off-grid living without compromising on luxury
Set in three acres of wildlife-abundant woodland on the outskirts of the Yorkshire Wolds in Melbourne, York
Choose from 4 unique stays to holiday in
Bolt-on extras include: freshly baked breakfast, afternoon tea and birthday cakes
Coming soon: vintage bike hire and Indian head massages
Exclusive site hire available for groups
Duvets, pillows and linen are provided
Starter set of logs and kindling also provided
Fully equipped communal kitchen and modern shower block, the Chicken Shed
Cosy communal lounge with sofas, wood burner and dining table, the Roost
Easily accessible by car, with parking available
For days out, the historic city of York is only 10 miles away
10% Loyalty Discount for 3 or more stays
£25 OFF 3-night weekend stays Frid – Mon

Local gastro Pub within 10 minutes walk 
Eye Candy
Local Things to Do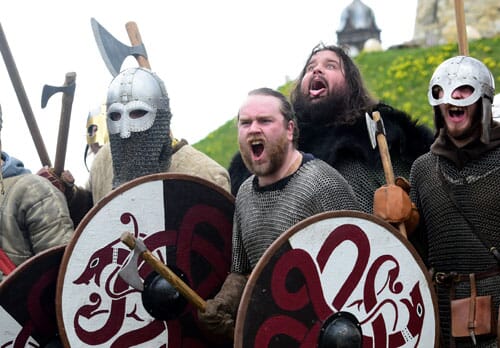 York City Pass: 20 Attractions for One Great Price
From £59
Ideal for weekenders looking for the flexibility, the York Pass gives you access to a number of the region's top attractions, including The Deep, Beningbrough Hall, and more without buying individual admission tickets. Includes: 24 Hour City Sightseeing and City Cruises York ticket