🛌 Three fantastically themed bedrooms  | 😘 Sleeps up to 6  | 🦩 16th-century fisherman's cottage in Brighton  | 🌊 Less than a minute to the sea front | 🥂 Great for intimate hen parties and birthday weekends | 🐶 Dog-friendly | Min stay two nights | From £203pn | Tried & Tested by our Claire, Chief Weekender
---
Exclusive Offer: Get Sunday night FREE when you book Friday and Saturday (quote: lookinglassweekend)
---
Why we love Looking Glass Holiday Cottage in Brighton for a Weekend
"Brighton's oldest fisherman's cottage is now a fantastical Alice in Wonderland play pen right in the heart of Lanes. With mischievous surprises, quirky furniture and magical interiors, this small and unique Brighton holiday cottage adds whimsy and delight to any short break, birthday celebration or hen gathering."
Looking Glass Cottage is a dopamine hit that'll keep your joy levels topped up well beyond your stay. To reach this unique 500-year-old cottage, tumble down a narrow alleyway set just off Brighton's famous Lanes. Open the little white front door and bid farewell to the world you know.
Inside the furnishings and decor tingle with the adventures of Alice and her friends. The cottage – which is over 500 years old – has been carefully and thoughtfully transformed with quality furnishings and imaginative touches. From the playing card themed wallpaper that flutters magical around the Mad Hatter's Lounge to the multiple mirrors and quilted silk ceiling of the Looking Glass Bedroom. All the charm of the storybook is here in some form, waiting for you.
But the Alice theme is not simply a gimmick to reel in guests. This cottage is a passion project; your host, Jacqueline, is a huge fan of Lewis Carroll's classic tale. Her devotion to the story is evident in the staggering attention to detail she's put into every room. We're talking pocket-watch doorknobs and teacup lamps, amongst other delightful surprises. It's no wonder, therefore, that Looking Glass Cottage has been featured in a number of architecture, lifestyle, and fashion magazines.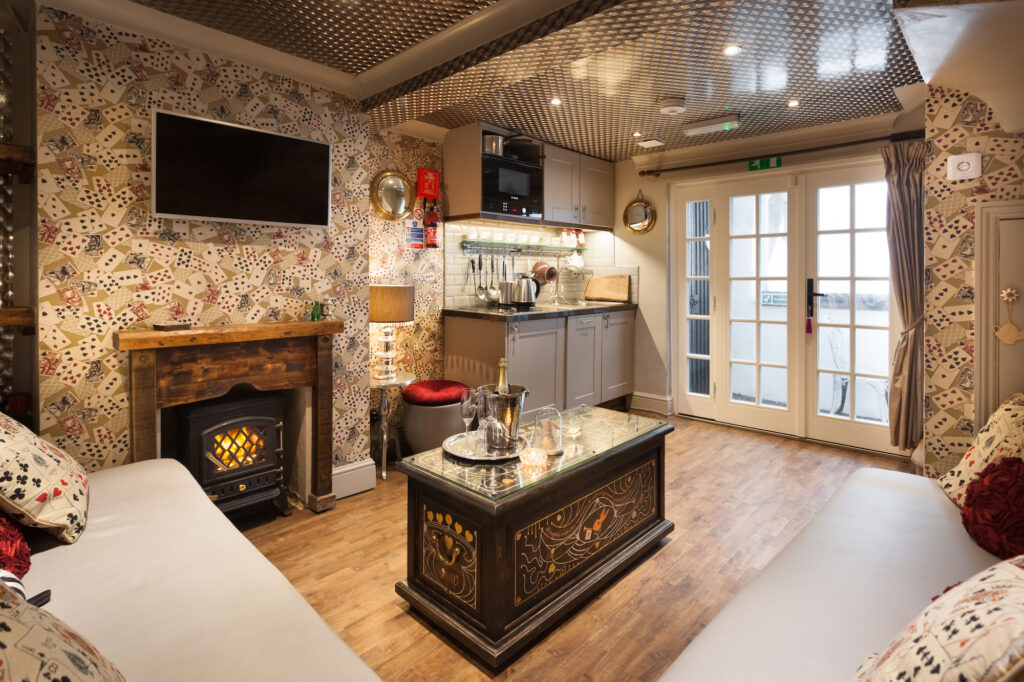 The Mad Hatter Lounge
You step into this charming open plan living room from the street. Magically decorated, it boasts two silver velvet sofa beds (where an additional two people can sleep), a mirrored looking-glass ceiling, fireplace, double doors to the south-facing terrace, and a dinky kitchenette with shimmery granite work surfaces. There's no oven or dining table for full self-catering, but you are surrounded by Brighton's best restaurants, cafes, takeaways and pubs so you won't go hungry.
The Bedrooms and Bathroom
Be prepared to squabble over the rooms. And here's why: there are three rooms, each one sublimely themed for full storybook immersion. Bedroom one is the Flamingo Dreams Bedroom (two singles or a double) with a silky quilted ceiling, upside-down flamingo wallpaper, Victorian corner sink and teacup side lamps. Bedroom two is the Looking Glass Bedroom (two singles or one double) with daintily illustrated wallpaper and vintage looking-glasses hung on the walls. There's also a quilted silky ceiling, washstand basin and mirror. Bedroom three is the White Rose Boudoir (one double) with vintage white rose wallpaper, a mirrored boudoir ceiling and washstand basin and mirror.
The bathroom is properly dreamy: a luxury wetroom with two showers, marble wash stand, WC and underfloor heating (and there's another toilet on the ground floor).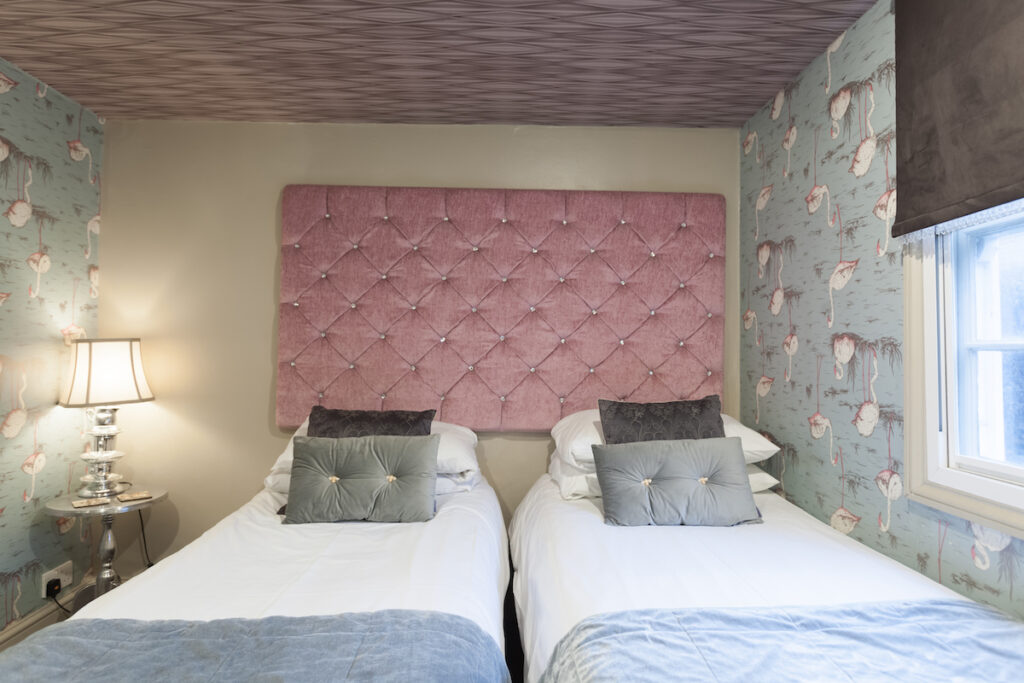 The Experience
A friendly, natural host, Jacqueline is happy to help you plan a Brighton staycation that you won't forget. If you're staying in Looking Glass Cottage as a small group of hens, she'll arrange a Mad Hatter's Tea Party delivered to your door, or point you in the direction of venues and suppliers to keep your hen spirits high, including cocktail-making classes and burlesque cabaret.
If you're here for your birthday celebration, she can help arrange a visiting hairdresser to help you tart up for a night on the tiles. If you're visiting Brighton for the first time on holiday, you're in good hands. The cottage is centrally located in Brighton's bustling and bohemian heartland (so all attractions are instantly accessible). And should you need local recommendations, Jacqueline will tell you where to go and where to avoid to get the very best out of this incredible seaside town.
Ready to step through the looking glass? Heels off – let's go
"From the second we started walking down the adorable narrow lane to Looking Glass Cottage, it was like falling down a magical rabbit hole into a peculiar subterranean world. The cottage is comfortable, perfectly equipped and cosy." Faye Tattam
The Essentials
Alice in Wonderland themed holiday cottage in Brighton, sleeping six in three bedrooms (2 additional guests can be accommodated on sofa beds in the Mad Hatter lounge)
Three bedrooms each uniquely decorated
Facilities include a small kitchenette, a luxury wetroom with two showers, plus a south-facing mini-terrace perfect for morning coffee or evening cocktails
There's no dining room or oven in the dinky kitchen but there are great cafes and restaurants on your doorstep
The house is a 16th-century fisherman's cottage and the oldest house in Brighton, so expect character and quirks (as well as steep stairs that may not be suitable for those with limited mobility)
Sits at the hearts of Brighton's trendy Lanes and is less than a minute from the sea
Your host is happy to add bolt-on extras to your stay, including a Mad Hatter's Tea Party, or recommend the best places in Brighton to eat and drink
Fabulous for a small hen party of up to 8. Should you want a bigger hen do, check out Jacqueline's other property in Brighton sleeping up to 24: Wonderland House
Small, well behaved pets are permitted but please make contact with the owner in advance to discuss this
Eye Candy
You Might Also Like