🛌 Six fabulously themed bedrooms  | 😘 Sleeps up to 24 hens  | 🦩 Stunning Regency hen party house in Brighton  | 🌊 Sea views | 🥂 Bolt-on hen party activities available | ⚡️ Award-winning and unique | Min stay two nights | From £25 pppn* | Tried & Tested by our Claire, Chief Weekender
---
Exclusive Offer: Get Sunday night FREE when you book Friday and Saturday (quote: wonderlandweekend)
---
Why we love Wonderland House in Brighton for a Hen Party Weekend
"This award-winning Regency party house is as bonkers and brilliant as it gets. An immersive, joyful celebration of Alice in Wonderland, it boasts themed rooms, whimsical furniture, dress-up costumes, magical props and fantastical activities. In short, it kicks other party pads into touch and will leave you all grinning like Cheshire cats."
If there's one thing your host – Jacqueline – at Wonderland House knows, it's that life is far too short to be taken seriously. Which is why her incredible hen party house in Brighton thumbed its nose at bland and turned its back on ordinary. Here, in this house, life is a celebration and celebrations deserve colour, imagination and a whole heap of wonderment.
No corner of Wonderland House has been forgotten, therefore; every space upstairs and downstairs is storybook in its detail and enchantment. In fact, stepping inside this five-storey party playground is like stepping onto an Alice in Wonderland set (minus the slightly creepy Johnny Depp).
Madhatter Banqueting Room
The heart of the house and the ultimate social space, the Madhatter Banqueting Room is as extraordinary as it sounds. Central to the space is The Enchanted Table which can seat up to 24 hens. The chairs are teacups, the floor is chequerboard, the shelves are stacked with vintage crockery and, at the end of the table – reserved exclusively for the bride-to-be – is the silver over-sized high-backed chair. Dreamy. Better still, there are delicious sea views rolling in from the bay window to enjoy as you quaff and scoff your Madhatter Tea Party (which you can also add on to your stay).
The Bedrooms
Wonderland House has six sensational bedrooms, sleeping 24 of you. Each room has been brilliantly decorated to represent different themes central to Lewis Carroll's story. Trust us, they are all so well done, don't be surprised if your hens squabble over who sleeps where. From the wonderful black and white Tweedles Room (sleeping two) to the reds of the Queen of Hearts Room (sleeping six) – via everything in-between: there's Alice's Room, the Flamingo Dreams Room, the Mirror Mirror Room and a Curiouser and Curiouser Room. You are, literally and figuratively, spoilt for choice.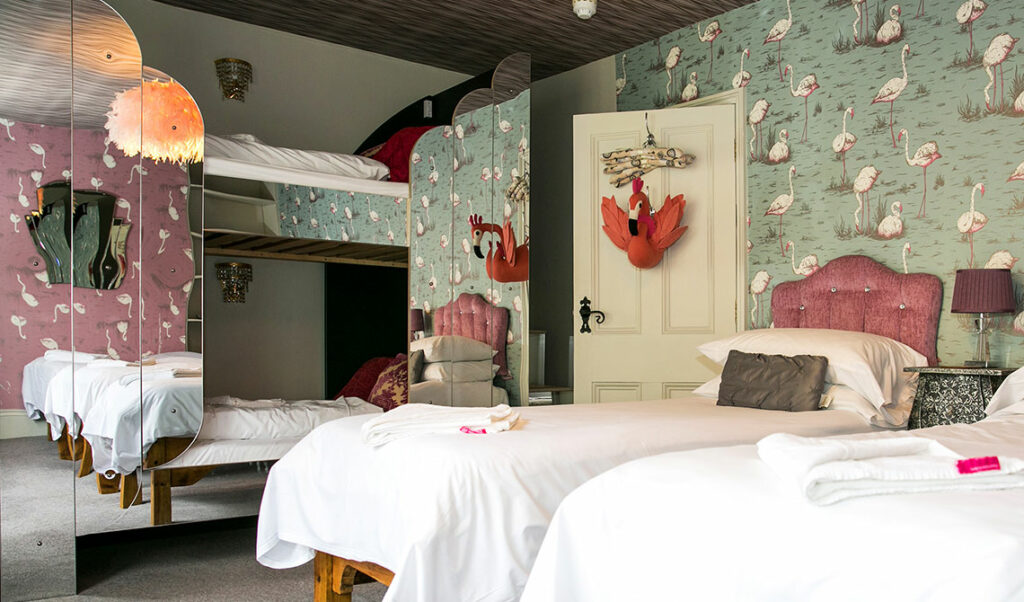 The Lounge, Kitchens and Bathrooms
Like the bedrooms, the lounge is flooded with colour and creativity. Playing cards tumble down the walls, silver and gold seats make comfy spots for your crew to gather and chat, a chandelier twinkles and sea views pour in through the large windows. There's even a double and single sofa bed to turn it into a seventh bedroom for three.
To help you dine and wine with maximum flex, there are two kitchens. The smaller kitchen is on the lower ground floor and the main kitchen is on the first floor. This one is open-plan and comes with two ovens, a five-ring gas hob, dishwasher, fridge, freezer and all the pots and pans you could need. Large scale breakfasts are easy thanks to three kettles and an eight-slice toaster; and the movable kitchen island can double as a cocktail bar. There are glasses for wine and champagne and tumblers for long cocktails. Drink me? Oh, go on then.
Even going for a wee is more interesting at Wonderland House! The three shower rooms are imaginatively styled, especially the Jabberwocky W.C on the top floor with dragons on the walls and a novelty tea-pot hand basin.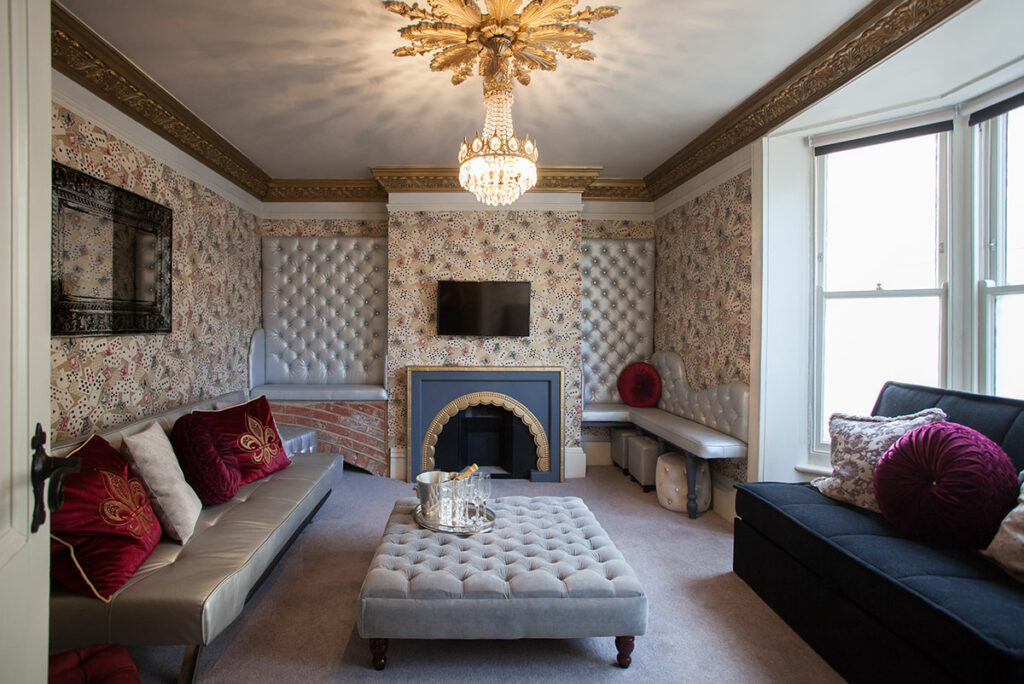 Bolt-on Hen Party Experiences
Naturally, there's an abundance of hen do fun waiting at Wonderland House, including costumes and silly hats to help you break the ice. And because you're so close to Brighton beach (it's just across the road), you can hop into your costumes and step out to bother the seagulls or stroll to Brighton Pier to bother the tourists.
You can also hire a private chef to cook you a meal or a hunky butler to serve you drinks, as well as try your hand at mixology, life drawing, chocolate making, or the Laughter Gym session. Whatever tickles your 'pipe-smoking caterpillar' fancy, Jacqueline – your host – can help create an unforgettable Brighton-based hen party or girls' weekend.
In short, Wonderland House in Brighton is the business. Of course, you don't have to be mad to stay here, but it does help.
The Essentials
Large hen party house in Brighton, sleeping up to 24 in six bedrooms
Weekends from £62.50ppn and £25pppn staying midweek

*

Minimum stay two nights (get Sunday night FREE when you book via Weekend Candy – quote wonderlandweekend)
Set across five floors with sea views and just across the road from Brighton beach
Individually named and designed bedroom sleeping two – three guests with two larger rooms that each sleep six
The Lounge can sleep up to 3 guests if you need more space
Four toilets and three showers, two kitchens and a fabulous Mad Hatter's Banqueting Room with teacup chairs, chequerboard flooring, and sea views
All bedding, linen, towels and hand soap provided
WiFi, Smart TV with internet access, iPod docks
Small outside patio with seating for two
Free parking within walking distance
Central Brighton with its thriving bars, cafes, shops, galleries and restaurants is only a few minutes' stroll away
Check in from 3pm, check out by 10:30am (Sunday checkouts can be as late as you like)
Ideal large party house for girls' weekends, birthday celebrations, large family reunions, and corporate getaways
* Based on 24 guests staying 3 nights mid-week (with the third night free). 
Eye Candy