🥂 1-bedroom East Sussex log cabin | 🛌  Sleeps 2 adults  | 🌳  Secluded Rural Location  | ⏰  Open All Year | 👙 Outdoor bath | 💦 Next to Bewl Water Reservoir
Why we love Daisy Chain Log Cabin for a weekend
"With its Prairie State good looks and acres of grassland to gaze at from the roll-top tub on the porch, it's easy to forget your in a corner of Sussex and not Illinois. Of course, you won't get bison passing this log cabin, it'll be English wildlife that hops on by. And that's just perfect."
Daisy Chain Log Cabin in Ticehurst East Sussex sits on top of a sandstone quarry with stunning views over the Sussex countryside and Downash Wood. Wander down into the quarry and you'll find the double fire pit, perfect for cooking under the stars, sharing a drink fireside, or foraging for fruit, nuts, berries and herbs when the season is right. That's if you leave the cabin at all. Because at Daisy Chain Log Cabin, staying in is the new going out.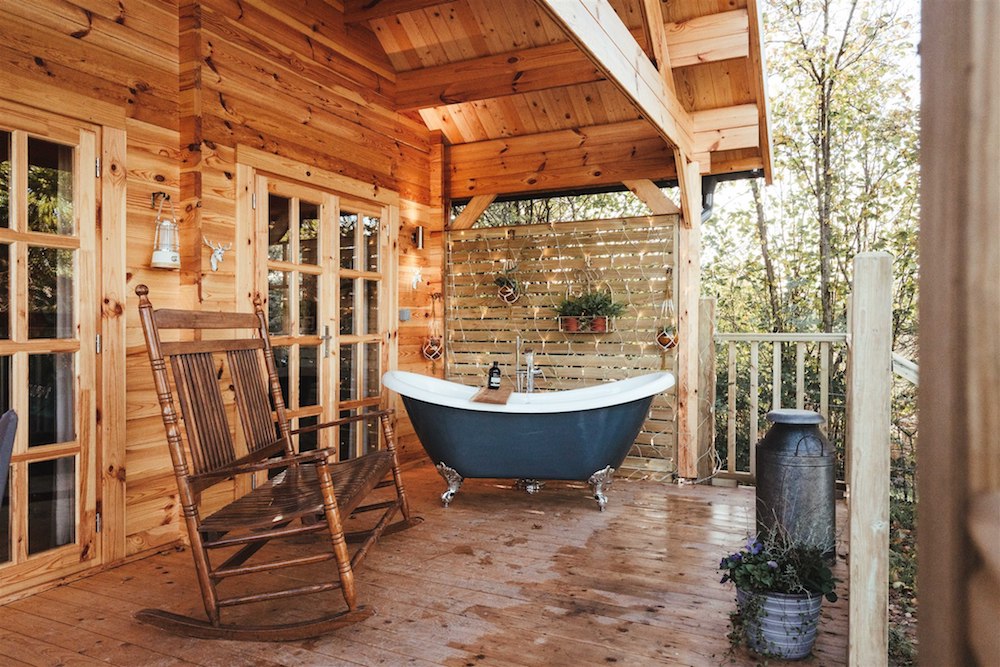 Inside, there's a sprawling ivy-green sofa to drape yourself over. Simply, light the log burner, grab a book from the little 'read it forward' library and plan not to move for the entire day. The views of the outside spill in through the glazed doors, which open out onto the large covered porch.
When it's time for a brew, the sleek kitchen is waiting just behind the spacious living area with everything you need, including a kettle, ​fresh locally-roasted coffee, tea, sugar, and a pint of fresh milk. When it's time for a bite to eat, you've a few options ready to go: cook indoors on the four-ring electric hob, decamp to the fire pit and cook up the trout you caught at Bewl Water Reservoir (just next door to the log cabin) or make your own pizza using the Ooni pizza oven on the porch.
Then, to finish your day, fill the outdoor roll-top tub with bubbles, flick on the fairy lights, slink in and let the stars be your muse. There's a king-sized bed waiting back inside if you're set on sleep or a rocking chair on the porch if you're not quite ready to retire. Best of all, if you choose to simply sleep, rise, and repeat the next day, you can. There's no-one around to watch what you do – and the owls really don't give a hoot.
Daisy Chain Log Cabin in East Sussex sleeps 2 adults in king-sized bed
Bedroom comes with ample space for a few nights away, including wardrobe with hanging, shelves and drawers
Large living space with log burner, dining table, sofa, armchair and smart TV
Fully-fitted kitchen with fridge, dishwasher, toaster and all the utensils, crockery, cutlery and pots and pans that you should need
Shower cabin with monsoon shower, flushing loo, basin, complimentary toiletries and towels
WiFi and good 4G and phone signal (depending on network)
Free parking in the Quarry with a 60 meter up hill walk to cabin (wheelbarrow provided to transport luggage
Food hampers can be pre-ordered before your stay from the local farm shop
Award-winning pub, The Bull Inn, sits at the top of the lane within walking distance
Daisy Chain Cabin is next to Bewl Water Reservoir where you can fish, paddleboard, cycle and wild swim
Not suitable for dogs or children (there's space for one baby with no charge; please bring own travel cot and bedding)
Eye Candy