🌳 Grade II Listed Country House | 🛌 3 Beautiful Rooms Sleeping 2 | 🍾 Use of Drawing Room, Dining Room, Card Room | ⛰ Panoramic Views of Sugar Loaf | Tried & Tested | 📍Snowdonia National Park
Why we love Pantybeiliau House B&B for a Weekend
"It's not often in life that you get the chance to play lord or lady of a beautiful country manor house, whilst being attentively waited on by generous hosts. But at Pantybeiliau House B&B near Abergavenny, you do. Not only can you bed down in one of the three sublime bedrooms, you also get an entire wing of this Grade-II listed house as your own (dining room, drawing room and card room). Oh, and there are fabulous views of Sugar Loaf, too – if you manage to leave your claw-footed bath to notice."
Pantybeiliau House B&B is a far cry from the B&Bs of our grandparents' age, where you'd only stay if you had no other choice. This exceptional Grade-II listed Georgian house is a destination in its own right; the result of your hosts (husband and wife team, Nicola and Harry) knowing a thing or two about fabulous hospitality, wow-factor decor and the power of a good breakfast.
Pantybeiliau House B&B sits in a quiet corner at the gateway to the Brecon Beacons National Park, eyeing Sugar Loaf with a competitive tip of its hat from within a sea of its own private greenery. Nearby, the village of Gilwern ticks to a slow Welsh beat and, just 10 minutes away, you'll find the pretty town of Crickhowell and the famous foodie haunt of Abergavenny, with its renowned festival and award-winning pubs and restaurants.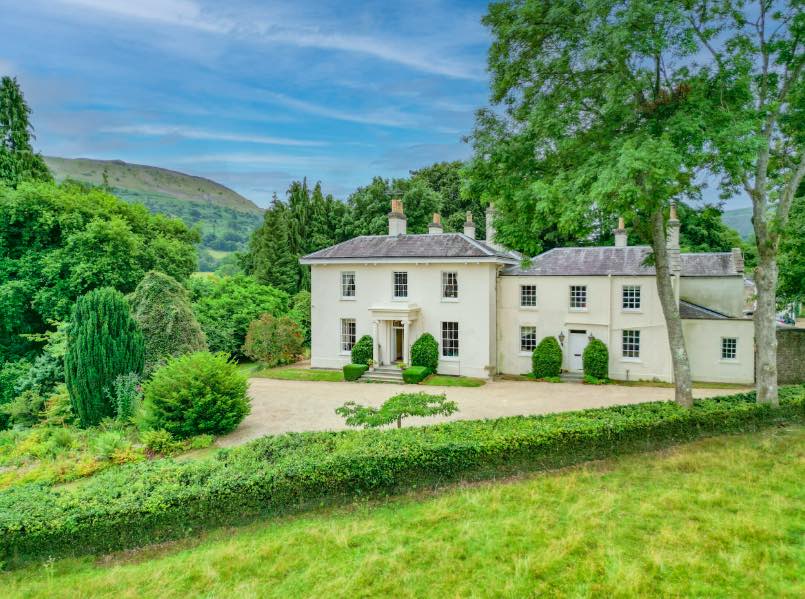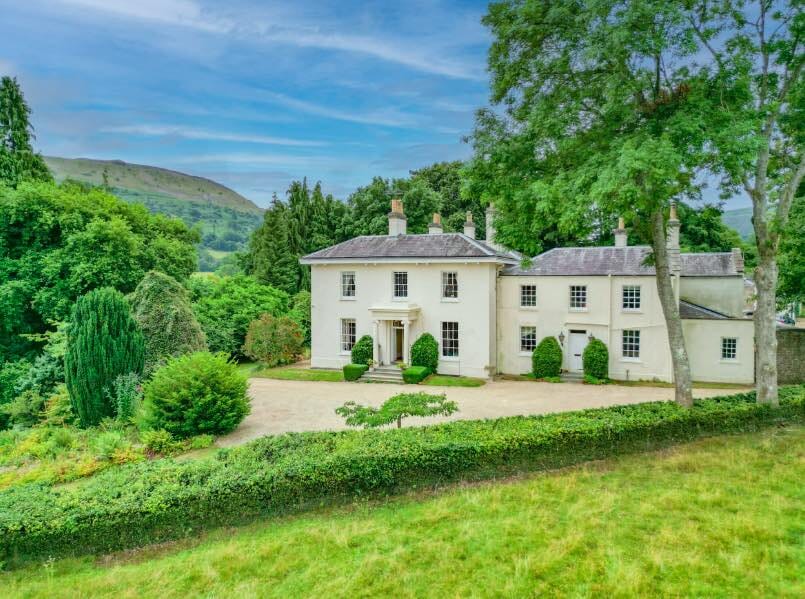 The House
Pantybeiliau House B&B is grand affair, with a sweeping driveway leading to the front door and an eclectic history waiting within. The oldest part of the house was built by local ironmaster, John Jayne, and dates back to the first part of the 18th century.
The downstairs has all the hallmarks of a stately countryside pile (antique furniture, gilt-framed paintings, chandeliers and brasses), but is entirely unstuffy. Step inside and you feel instantly at home because the house is, first and foremost, a home that the owners love dearly – and not a mausoleum to the past (you only have to look at the 21st-century tech in the bedrooms to see that).
There are three 'core' reception rooms in this bed and breakfast: an elegant dining room where breakfast is served, a homely drawing room where Harry will light you a crackling log fire, and a cards room where stacks of boardgames are ready to be played. In all the rooms, pictures beam with the smiles of family and well-loved heirlooms connect the family's history to its present.
Pantybeiliau House B&B is also a luxury guesthouse of two halves: there is the Georgian part of the house – which acts as the B&B, and next to it, adjoined by a private door, is the Victorian section of the house. It's here that Nicola and Harry live quite separately from guests yet within striking distance should you call – or ring (there is a doorbell to call them – and they will come running, trust me).
What this delightful split means is that you can rest into the Georgian part of this grand home as if it were your very own; curling up with a book in front of the fire or playing a board game without distraction. Should you want the place entirely to yourself and your loved ones, you can: hire Pantybeiliau House B&B as one neat package for 6 of you and you're sure of a splendid get-together indeed.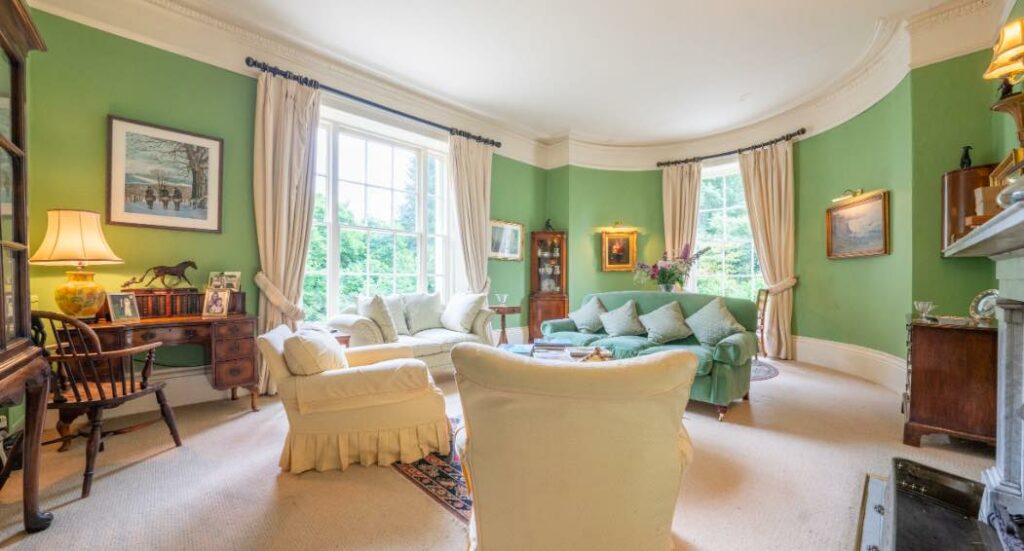 The Bedrooms
Climb one flight of stairs to reach the three elegant bedrooms; each with lovely views of either the garden or across the Usk Valley. The two smaller ensuite doubles, May and Lovell, are homely and elegant with lashings of comfort – from the thick carpet to the deep-set king-sized beds dressed with cushions and throws. Vases of freshly-picked flowers are thoughtful left for you along with luxurious robes to cloak yourself in after a bath or shower.
The showstopper room, however, is the Sugar Loaf Suite. It's a dazzle of eggshell white and fresh sage, with heavy country-garden curtains on the sash windows, an ocean of luxurious carpet and an unashamedly romantic free-standing four-poster bed owning the vast space. From beyond the bed, the colours of the Usk Valley spill in through the window, trying to steal back your attention.
There's a spacious sitting area, too, with comfortable armchairs and a smart mirror TV (so the tech blends elegantly into the decor). Then there's the bathroom, which will stop you in your tracks: walk through two huge wooden doors and prepare to gasp. A claw-footed rolltop bath stares dreamily out the sash window, whilst his and hers sinks await your toothbrush under a Bluetooth mirror (podcast and bath anyone?). There's also a state-of-the-art rainfall shower and a door that leads you onto the balcony with views over the sweeping garden. It is incredible.
The Experience
Breakfast is a feast, cooked by Nicola when it suits you and using produce either from the family kitchen garden or from local suppliers. Start with a health shot of pomegranate juice served in an heirloom glass, fresh grapefruit, a platter of homegrown fruits, and a selection of granola, muesli and yogurts. Follow it with a delicious cooked breakfast plus toast piled with homemade jams or marmalade. And remember to warn your waistline beforehand.
Coffee and tea is in endless abundance thanks to Harry's wonderful service and should you lack anything, don't be surprised if Harry or Nicola pop to the shop to ensure you get it. They made a special trip to bring me some oat milk, even though I insisted they didn't have to!
And therein lies the truth about Pantybeiliau House, to my mind. Not only is it grand in terms of its location and its Georgian architecture, it also comes with a mighty heart thanks to Nicola and Harry's excellent hosting. This is one B&B that's sure to make a big impression on everyone. Go immediately.
The Essentials
Gorgeous Georgian period country house B&B near Abergavenny with 3 double rooms
Two double rooms and one suite with four-poster bed
Sleeps up to 6 adults
Homecooked breakfast included (homemade delicious dinner available by prior arrangement)
Sits above the village of Gilwern, which is half a mile down the hill and has three pubs
Abergavenny, known as the Gateway to Wales, is 4 miles away
Stunning views over the Usk Valley towards Sugar Loaf
Within the Brecon Beacons National Park
Extensive grounds and garden to enjoy
Dogs welcome, with prior arrangement
Warm, non-intrusive hosting by owners, Harry and Nicola
Exclusive hire available for up to 6 guests
Eye Candy
Add An Experience