🌳 5 Handmade Timber Lodges | 👫 Sleeping 2 Adults | 🧘🏼‍♀️ Fitness Studio | 🚰 Outdoor Kitchen
🥂 From £100pn 
Why we love Toad Hall Lodges for a weekend
If you're a peace hunter. If you're a wanderer. If you've the heart of a wayfarer but are stuck in the 9 – 5 grind looking for a rip cord, this Suffolk glamping escape is it.
Tucked into nature (with cornfields, reed beds and marshes at the end of the road), Toad Hall Lodges is a quiet, intimate Suffolk glamping site for blowing the quotidian routine out of your prefrontal cortex. Even the names of Toad Hall's five timber lodges are a slow, restorative whisper in your ear: Feather, Lavender, Willow, Blossom, Pebble.
The rest of the site is the same. From the outdoor kitchen to the 'mini' lodges themselves, Toad Hall has been sympathetically built by nature-loving owners, Gavin and Emma, to blend in with the natural, hidden away surroundings. And pay homage to the silent beauty of this fen-studded, big-skied corner of England.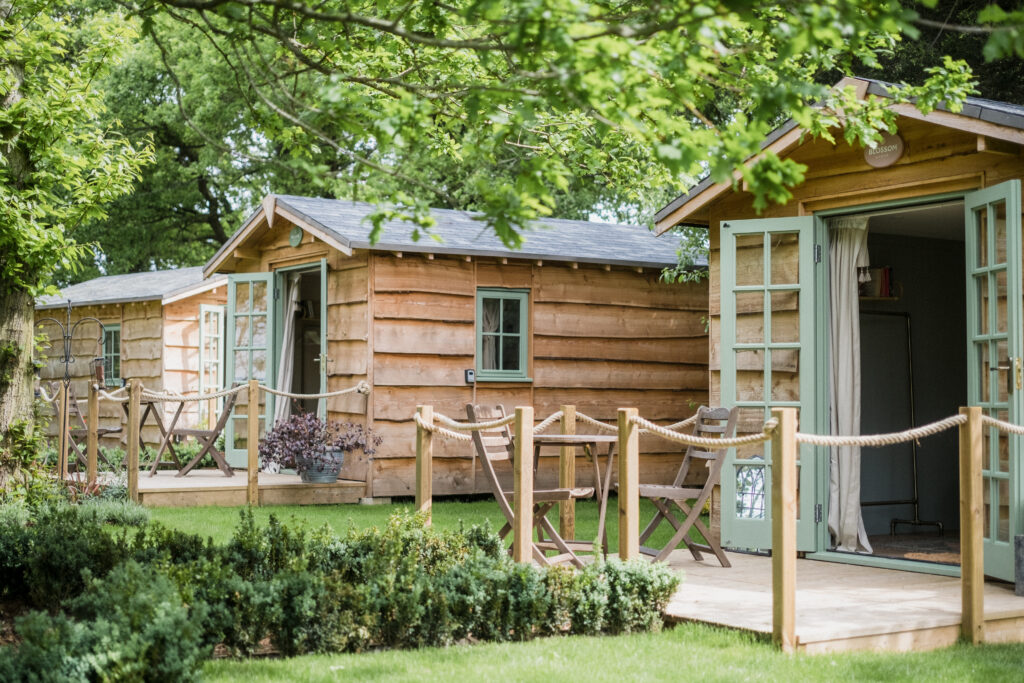 The Lodges
Every 'mini' lodge is a perfectly-formed package built from layered honey timbers with sage-green windows and French doors. Unnecessary distractions have been axed; the Scandi-style simplicity is beautiful and refreshing.
Inside each cabin, there's a peaceful, minimal space furnished for supreme rest: a proper bed with Margo Selby bedding and a memory-foam mattress, reading lamps and lights, a sprig of nature in a vase, a few carefully-chosen books and carefully-placed artworks. Oh, and a Nespresso machine (so you don't miss your morning coffee).
The French doors open onto your own private wooden deck where Suffolk waits quietly. There's barely any light pollution around these parts so you can fill your gaze with the galaxy at night, before falling asleep to hotting owls. In the morning, make an early brew and catch the sunrise: the Suffolk coastline is the first part of the UK to see a new day dawn so it's worth setting your alarm.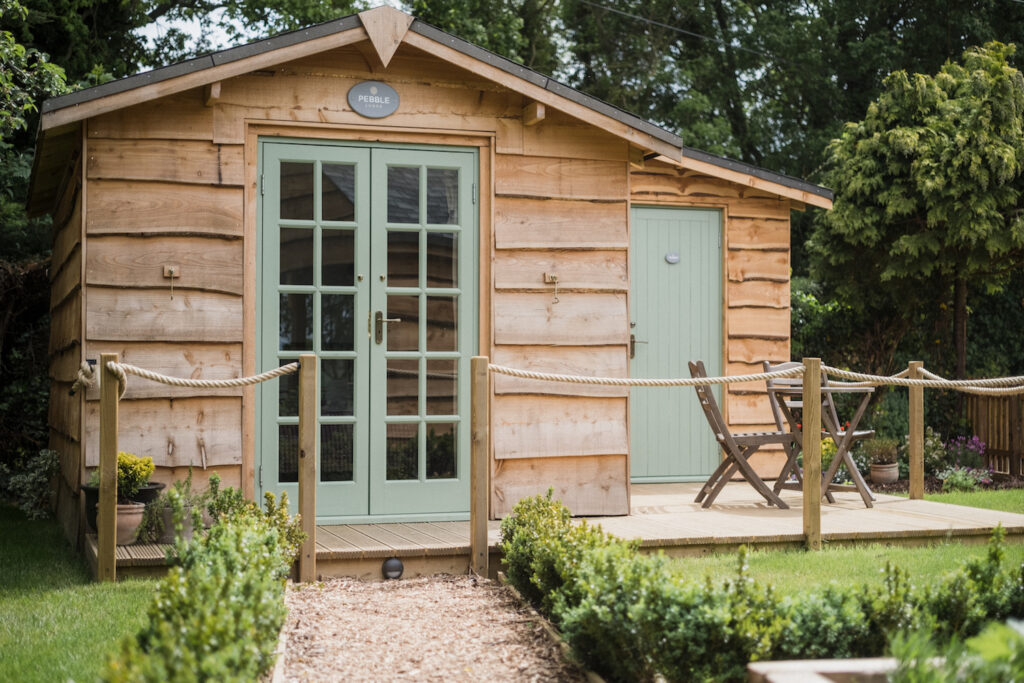 The Facilities
Beyond the cabins there's a large covered, communal kitchen with rolling views across the fields where you can gather around the family-sized table en-mass and feast in the fresh Suffolk air. The space is readied with a grill, hob, oven, kettle, toaster, big fridge and basic cooking ingredients, such as salt, pepper, cooking oil, butter and jam. For breakfast, you can pre-order a hand-delivered breakfast basket.
Your own private heated bathroom, with a shower, toilet, basin and mirror, awaits a quick hop away in the nearby courtyard. All bathrooms come with Designers Guild towels, luxury shower wash and Haeckles hand soap. Should you stay in Pebble Lodge, you've an en-suite shower and toilet adjoining your accommodation.
Better is still to come. Owners Emma and Gavin are passionate about being active in the great outdoors, and have created a bright, airy yoga and fitness studio overlooking open farmland. There's a communal deck out the back of the studio with fire pits, loungers and wonderful views, for those of you who prefer to keep a steady pulse. But for guests who want to burn off the urban cortisone, the studio is kitted out with a Peloton bike, boxing equipment and yoga mats.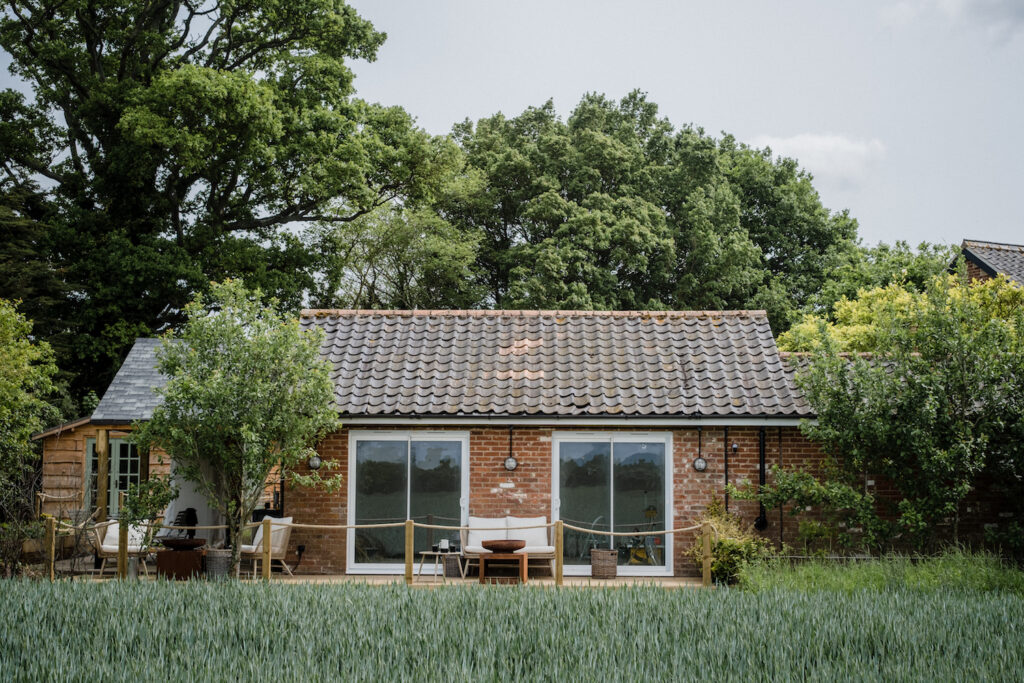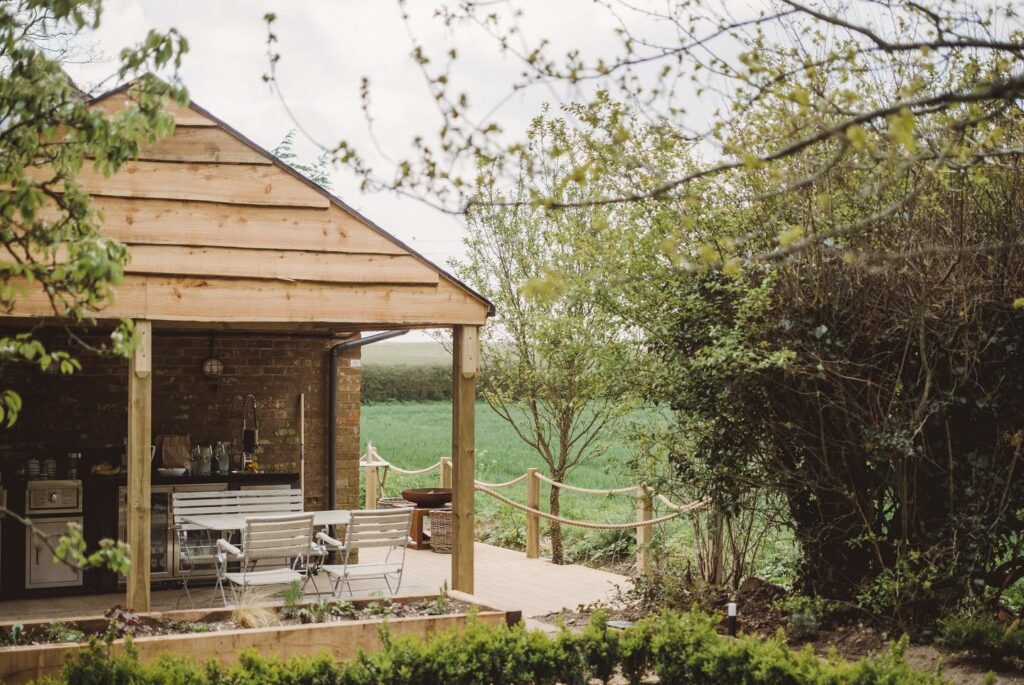 The Area
You'll find Toad Hall glamping tucked away in an orchard within Suffolk Coast and Heaths Area of Outstanding Natural Beauty. From Toad Hall Lodges, you're within easy reach of all the region's best forest walks, nature reserves and cycle trails. Indeed, you'll get a sense of how special this place is as you walk, run or cycle past reedbeds, and along the ever-changing estuary, spotting water voles, otters, herons and little egrets as you go.
Toad Hall is also perfectly placed to explore Suffolk's long coastline of sand and shingle beaches (where you'll scarcely see another person). From Toad Hall glamping, it's a short drive or a longer walk to the quintessentially English coastal town of Southwold with its jolly beach huts. You can hire bikes, paddle-boards and kayaks in Southwold. You can also take the nearby foot ferry across to Walberswick, a tiny village known for its crabbing festival and home to a couple of excellent country pubs, The Anchor and The Bell.
Should you fancy your weekend with a side helping of festival, then this is worth knowing: Toad Hall is just a 20-minute walk from the Latitude Festival site. Rock on.
Family-run glamping site in a quiet, remote location (no Wifi available)
Covered well-equipped outdoor kitchen
Bright and airy fitness studio available for guests to use
Available for group bookings (sleeps 10) – great for girls' weekends, wellness weekends, and family celebrations
All lodges have private bathrooms; Pebble Lodge is ensuite
Breakfast basket available to pre-order with yoghurt, museli, sourdough and fresh fruit
All five glamping lodges are open all year and have heating, sockets and USB ports
Walk, run and cycle right from the doorstep
A short drive from Southwold and only 20 minutes from the Latitude Festival site
No dogs or children allowed
From £100pn (with a £25 cleaning fee per stay)
Eye Candy