Riviera Rooms from £189 pp | Sleep up to 2 adults
You'll find The Mandeville Hotel tucked neatly behind the throb of London's Oxford Street, amongst a peaceful strip of grand Victorian buildings, 5-minute's walk from Bond Street station and a 10-minute strut away from the shopping heart of London. The hotel has 142 rooms, ranging from singles to suites, as well as its own distinctly Blighty-inspired restaurant next door: Reform Social & Grill.
What's special about it? Traditional in appearance, The Mandeville's towering red-brick and pillar frontage, flanked by a giant Union Jack and suited 'n' booted doormen, belie the explosion of French-inspired Riviera rooms inside. Sashay across the polished floor of the foyer, sail up to the fifth floor, and it's Maison Christian Lacroix, sweetie – not the Empire – that greets you.
Who's it best for? A) Theatre-goers – if you're in London for the theatre, The Mandeville is ideal; it's only two quick tube stops from the West End, and is pumped with enough glitz and glamour to make you feel like a star. B) Shopaholics – an Oxford Street hit is minutes away for high-adrenaline shoppers or for a more sedate purse-bashing there are plenty of boutique stores nearby.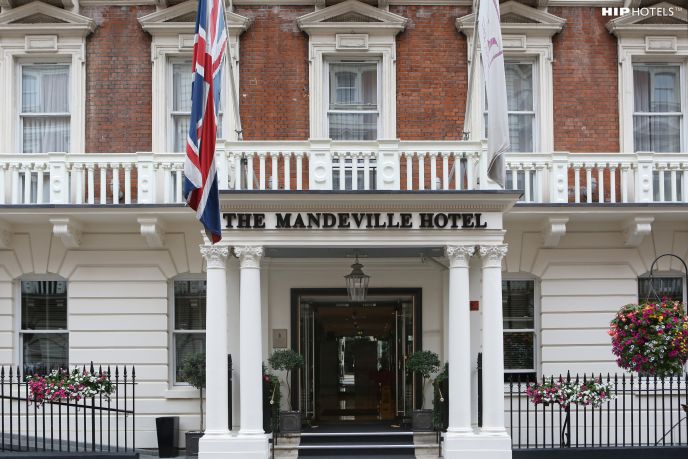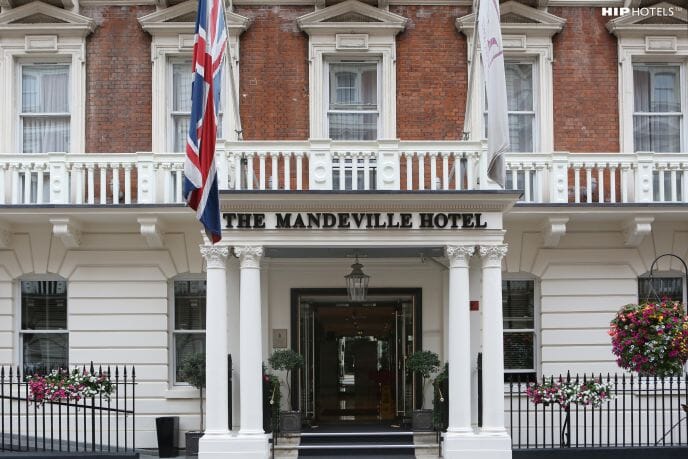 The Rooms
The hotel's fifth floor is made up of the Riviera Rooms: four Christian Lacroix-designed rooms – Jardin Exotique, Classic Lacroix, Midnight Blue, Jewel Box – each individually and expertly coutured to reveal a different show-stopping story of A-list Riviera life.
It's these that we checked out and recommend for a London staycation. Jardin Exotique is a tropical lush and luxurious room. Classic Lacroix is a black and white romantic room. Midnight Blue is a sultry and mysterious room. Jewel Box is a whimsical room with bejewelled designs.
We stayed in the Classic Lacroix room. Despite the room's slim size, we were instantly enchanted by its looks, beguiled by its lavish linen and furniture, and impressed with the hotel's luxurious touches: a Nespresso machine, large flatscreen Smart TV, Bigelow Apothecaries toiletries, USB sockets, Villeroy & Boch crockery.
What the room lacked in square footage, the bathroom more than made up for. Glinting with chrome and biscuit-coloured marble, the bathroom housed a huge shower and tub, heated floors and towel rails, and fluffy robes and slippers – a couple could easily exist for a weekend in the Classic Lacroix without treading on one another's toes.
Plus, the room felt incredibly private and quiet. We didn't hear any of the other guests and, despite us being in the heart of London, the noise of the metropolitan didn't make it past our Lacroix blinds. Which meant peaceful slumbers and very sweet dreams.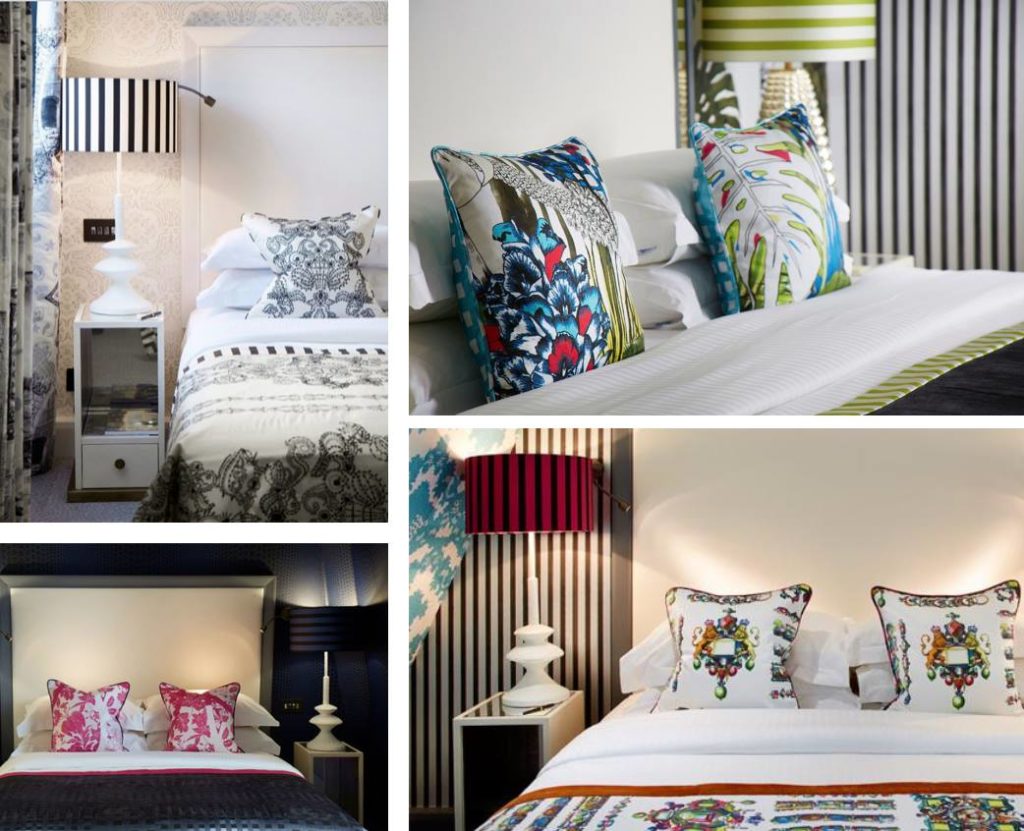 The Service
The trouble with boutique hotels, is they come with a boutique attitude – right? Not so at The Mandeville Hotel.
There was nothing snooty about the staff. Reception was cheery, friendly and the check-in and out swift; the doormen where more than happy to be snapped and the concierge, well, he was a fruit-burst of positivity and enthusiasm. With gusto he helped us plot the best route to the theatre and shared his love of Les Miserables.
But what we liked most was that the whole of the downstairs crew seemed like a genuine team – as well as behaving with correct decorum, they weren't afraid to crack jokes together or help one another out.
The Food
The rooms may be a carousel of French fancies, but the Mandeville's restaurant – Reform Social & Grill (where breakfast is served) – is a very British affair. The cocktail bar and restaurant has a distinctly gentleman's club swagger, with Chesterfield sofas and copper walls, and vintage posters exclaim self-confidently, "This is where the magic happens'.
But it is the menu that trumps the carefully-crafted ambience and styling. It has the deadly charms of a British playboy – sexy, inventive, with a wicked sense of humour.
Think savoury and sweet Yorkshire puddings (there's a separate menu for these; you get 3 for £8). Think your mum's home comforts: Toad in the Hole and Chicken 'n' Chips. Think school days' delights: Jelly and Ice-cream and Artic Roll. All reasonably priced (Mains from £12.50).
4-star hotel near Bond Street
Range of experiences on offer, including Couples Getaway and Loving Local
Cheaper rooms and luxurious suites also available
All-day dining at the Reform Social & Grill
Eye Candy